Raymond Lambert was working on Wall Street when he met comedian Steve Harvey, catching his first glimpse of the funny business that would change his life.
Harvey invited Lambert, a 1987 graduate of the University of Virginia's Darden School of Business, to see his show after the pair met while serving as youth mentors at a New York City school. Watching and talking to Harvey and his contemporaries, the investment banker developed a love of live comedy and realized that there were limited opportunities for comedians of color to perform. He decided to provide a showcase for that talent.
In 1991, Lambert opened All Jokes Aside, a comedy club on Chicago's South Side. After juggling banking and comedy for a year, he left Wall Street to manage the club full-time. During Lambert's tenure, All Jokes Aside provided early exposure and early paychecks to many of today's most famous comedians, such as Chris Rock, Jamie Foxx, MoNique and Dave Chappelle.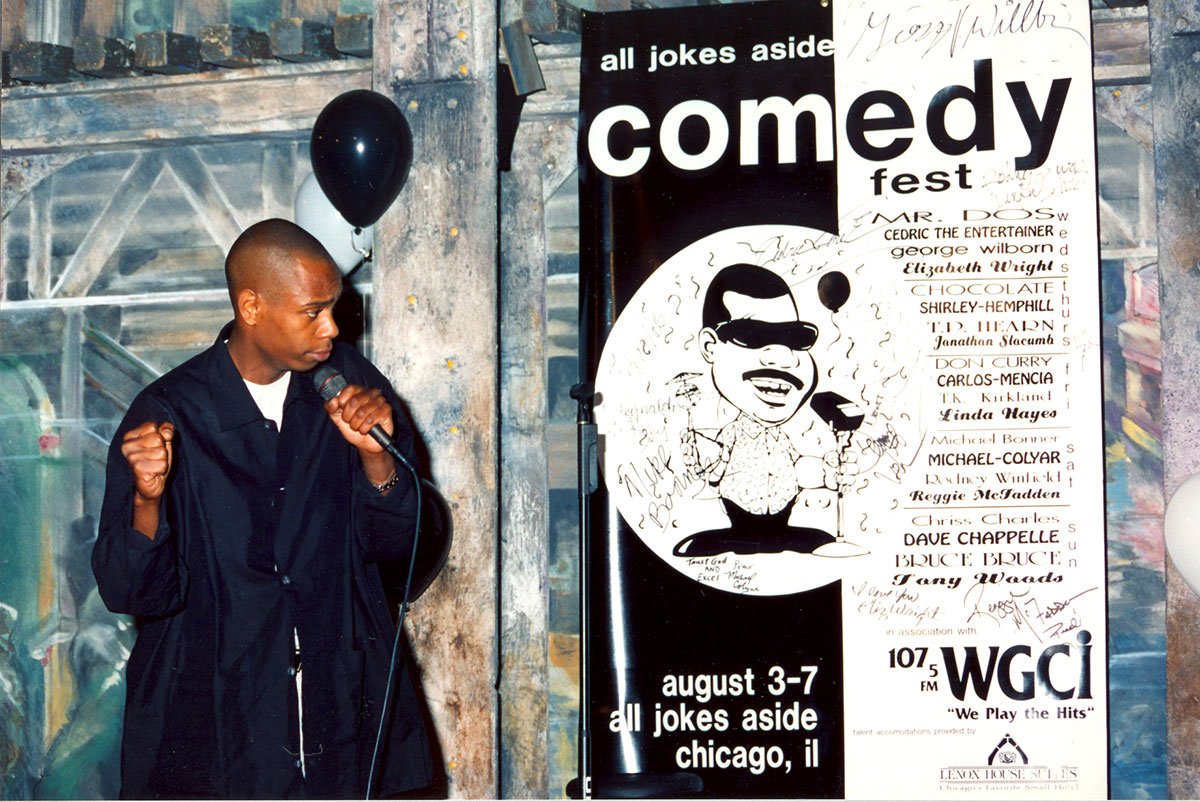 A young Dave Chappelle performs at Lambert's club.

The club's eight-year run inspired a documentary, "Phunny Business," co-produced by Lambert, and a new book, "All Jokes Aside: Standup Comedy Is a Phunny Business," co-written by Lambert and Chris Bournea.
As the book hit shelves Tuesday, UVA Today caught up with Lambert to learn more about how an MBA from Darden set him on a path to become a comedy icon.
Q. What led you to abandon the world of Wall Street for a stand-up comedy club in Chicago?
A. I had always wanted to own and operate a business. Entrepreneurship was not as sexy back then as it is today, but I knew I wanted to build something from scratch. When I met Steve Harvey and some of his fellow comedians, I discovered that there were not many clubs booking and showcasing comedians of color. I worked as a consultant producing several of the comedians' shows in Chicago. One thing led to another, and soon we were building a full-fledged comedy club.
Only two or three clubs in the country focused on comedians of color at the time, so I saw it as a huge opportunity and decided to give it my full attention.
Q. Was that Darden MBA still useful in the comedy world?
A. Absolutely, and it really became a competitive advantage. They call it "show business" for a reason – business skills are a critical part of being successful in the entertainment industry. The fundamental accounting, finance, marketing and organizational behavior skills that I learned at Darden all came into play. I approached All Jokes Aside as if it were a Fortune 500 company and that gave me a distinct advantage when compared to the stereotype of a club owner. It worked in our favor, with everyone from customers to comedians to investors and bankers.  
Q. Your former boss on Wall Street, Chris Gardner, was the inspiration for the hit movie, "The Pursuit of Happyness," with actor Will Smith portraying his ascent from homelessness to Wall Street. Gardner also wrote the forward for your new book. What have you learned in working with him?
A. He taught me that you have to pursue your dreams. Everyone may not be happy with your dream, but you simply cannot compromise that or you risk compromising your potential for happiness. "Always Pursue Happyness" was his mantra and ultimately he recognized that I was doing that, even if he was sorry to see me go at the time. Fortunately, we reconciled and have recently begun working together again.
Q. What made you the happiest as you opened your new club and guided its success?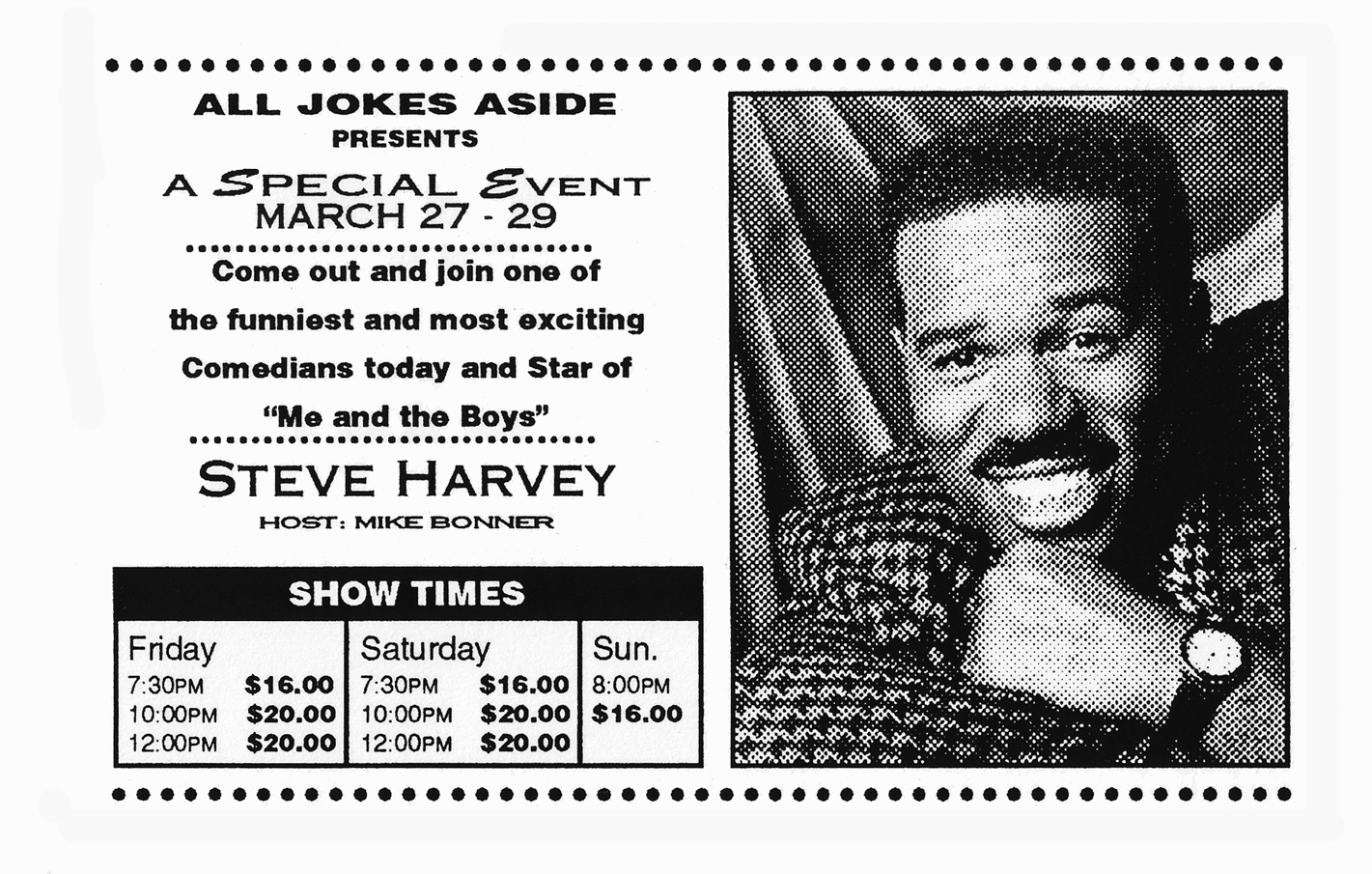 A flyer for a show by Steve Harvey, then an up-and-coming comedian performing at Lambert's club.

A. Darden gave me a great education in general management, and that was exactly what I enjoyed most at All Jokes Aside. I had my finger in so many pies; I could impact the bookings, the marketing, accounting. I met with investors, comedians and customers. I enjoyed all of it.
Working with incredibly talented, creative people brought me a great deal of satisfaction as well, and I got a chance to work with some of the greats. I am still in awe of those that I had the opportunity to work with. I had never actually made a full list of the headliners that came out of All Jokes Aside until we began the documentary, "Phunny Business." Looking at those names, I could not believe I worked with all of those people.
Q. What did making the documentary and writing this book teach you about your experiences?
A. The documentary really gave me the opportunity to look at everything from 30,000 feet and see the contributions we made to comedy. We really had an impact on people's careers and played a significant role in the lives of our comics and customers.
I also learned a lot about filmmaking, including that it is difficult to compress 10 years of history into 85 minutes. There were a lot of things that I wanted to expand on, but could not. Nobody wants to watch a four-hour documentary about me. Enough already. That is how the book came about. In the book, I have a bit more room to breathe, to tell more stories, go deeper behind the scenes and stretch out a bit.
Q. Can you give us a sneak peek of the book? What might readers be surprised by?
A. The book tells the story of my life as seen through the lens of All Jokes Aside – its successes, failures and lessons learned. Unlike the documentary, I talk about my childhood, education and career before All Jokes Aside. I also talk more about what it is really like to work with comedians, agents, lawyers and other characters that operate on the fringes of the entertainment industry.
Q. What are you working on now? Any plans to re-enter the comedy business?
A. For comedians of color, the landscape has changed quite a bit, though there are certainly still more opportunities for growth. I want to reimagine All Jokes Aside as a social mission organization, using the power of stand-up comedy as a change agent.
Right now, I am working on creating an annual event, taking place this August, that is intended to raise funds and awareness about the tragic crises affecting our youth in America, with a particular focus on homelessness, health and education.
I am currently serving as an executive producer on a new film, "Maya Angelou: And Still I Rise," a documentary about the life and times of Dr. Maya Angelou that will premiere at the Sundance Film Festival at the end of January. Outside of comedy, I am partnering with Chris Gardner again in the financial services world, working on a startup serving the unbanked and under-banked community.
Media Contact
Article Information
January 11, 2016
/content/qa-book-peeks-backstage-alums-famed-comedy-club-all-jokes-aside