On Feb. 1, the University of Virginia Cancer Center officially became a National Cancer Institute-designated Comprehensive Cancer Center – one of just 52 in the nation and the only one in Virginia.
"The UVA Cancer Center has a long and storied history of success with nationally and internationally recognized research, as well as differentiated clinical care that spans the commonwealth and beyond," Dr. K. Craig Kent, chief executive officer of UVA Health, said. "This achievement highlights the excellence that UVA Health provides across all of our missions and signifies that we are one of the nation's top academic health systems."
Earning the designation was especially satisfying for Dr. Thomas P. Loughran Jr., who made it his goal to earn the designation when he was named director of the UVA Cancer Center in 2013.
Loughran described it as "an incredible team honor that took fantastic institutional support."
He discusses in this Q&A what it took to receive the designation and what it means for the cancer center as well as for the patients it serves, across Virginia and beyond.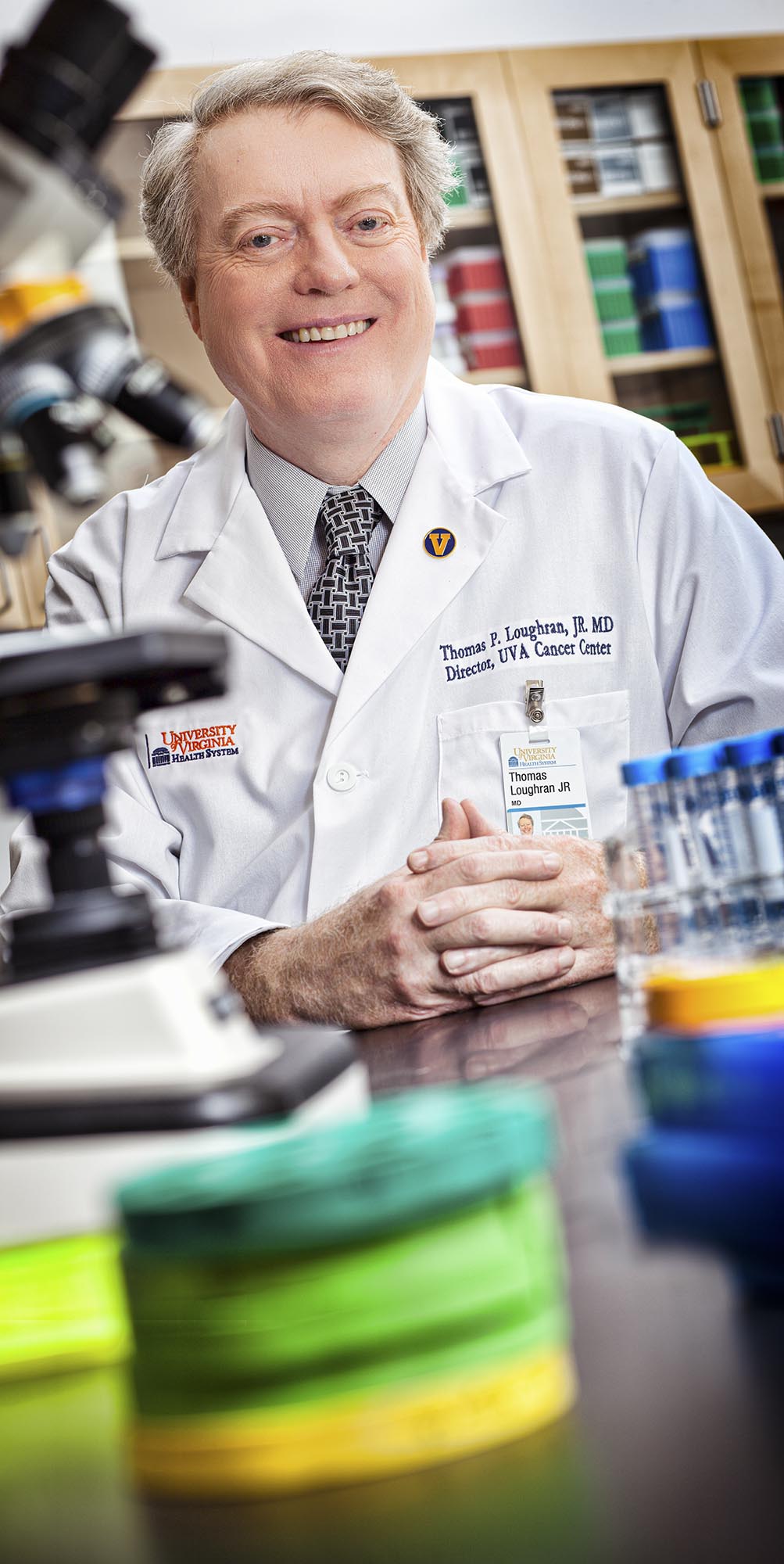 Q. What does earning the designation mean for the cancer center and the patients it serves?
A. We are now part of an elite group of cancer centers that includes institutions such as Memorial Sloan Kettering Cancer Center and M.D. Anderson Cancer Center. Being part of this group will help us recruit and retain top minds in cancer research and care. In turn, for our patients that means more and better access to innovative clinical research and the latest treatment options right here in Virginia. Our goal is that no resident of Virginia should ever leave the commonwealth to receive the highest-quality cancer care and treatment options they need.
This designation will help us continue to build on our excellent patient care and expand our research into breakthrough treatment options so that we can provide the best cancer care for everyone in Virginia, regardless of the cancer diagnosis they face.
Q. What did UVA Cancer Center have to demonstrate to earn the comprehensive cancer center designation?
A. The designation is earned through a scientific peer review process that includes a three-day site visit by distinguished scientists and directors of other National Cancer Institute-designated cancer centers. We had to demonstrate strength across four major criteria without any individual areas of weakness in:
The depth and breadth of our clinical, basic and population research.
Our interdisciplinary science, meaning how well we work collaboratively, not just with researchers across the health system, but across Grounds.
Our community outreach and engagement.
Our education and training programs.
The bottom line: We had to show how the UVA Cancer Center has taken maximum advantage of the strengths of the University to have tangible benefits for the people we serve. Our service area includes approximately 3.2 million residents from a large area that includes 87 counties throughout Northern, Central, Southside and Southwestern Virginia, as well as eastern West Virginia.
Q. What was the process your team undertook over the past several years to earn this designation?
A. It started by recruiting around 100 faculty members with a cancer focus. Our strategic plan built on our strengths and addressed priorities that included enhancing our clinical research and building a population research program at the center. Making that plan a reality took the collective effort of all our faculty and staff as well as tremendous leadership from our associate center directors, program leaders and the leaders of other programs and resources across the health system and the University.
Q. How does it feel to earn the designation?
A. It's tremendous. It's extremely satisfying to see a team set a goal and accomplish it with our first application for comprehensive status. It was very fun to be a part of it.
Q. Having earned this designation, what's next for the cancer center?
A. We want to continue to grow our scientific research programs with new faculty and new programs. One area of focus will be a new program that works to address disparities in cancer outcomes due to factors such as race and ethnicity, income and geographic location.
We also want to open new, innovative clinical trials to help us better understand and develop better treatments for cancer.
Article Information
February 7, 2022
/content/qa-how-uva-cancer-center-joined-elite-national-group