Dr. Leonard S. Schleifer started Regeneron in his New York City apartment in 1988, eight years after earning his Ph.D. in pharmacology from the University of Virginia, where he also attended medical school.
More than 30 years later, the company was one of the first pharmaceutical companies to develop an effective antibody treatment for COVID-19, an antibody cocktail called REGEN-COV.
The U.S. Food and Drug Administration granted an emergency use authorization for the drug, which can be used to treat mild-to-moderate COVID-19 in high-risk patients who could progress to more severe disease. A clinical trial, conducted at UVA Health and other sites, showed that the antibody cocktail was able to block symptomatic infections among people exposed to the virus. Perhaps the most high-profile test case, though, was former President Donald Trump, who received the treatment when he was diagnosed with COVID-19 in October.
In addition to its COVID-19 therapy, Regeneron has developed nine FDA-approved drugs treating conditions ranging from blindness to eczema or asthma, and most recently including a treatment for Ebola. Numerous other drugs are either in development or under review by the FDA.
On Friday at noon, Schleifer, who in 2020 won the Walter Reed Distinguished Achievement Award from the UVA Medical Alumni Association, will share some of his experiences in a virtual talk hosted by Dr. William Petri. Petri, a chaired professor of infectious diseases and international health at UVA and vice chair for research in the Department of Medicine, also earned his M.D. and Ph.D. from UVA and overlapped with Schleifer when they were graduate students. You can join the Zoom webinar on Friday with this link.
Q. When the pandemic hit, how quickly was Regeneron able to pivot to developing therapies for COVID-19, and how confident were you that you would be successful?
A. In our case, we had been developing the technology for decades. Our team of scientists, led by Dr. George D. Yancopoulos, had already successfully generated monoclonal antibodies for non-infectious diseases, such as high cholesterol or allergic diseases, and more recently we had been able to do it for Ebola [a treatment now under review by the FDA].
We knew pretty quickly that we could create antibodies that, when directed toward the COVID-19 virus, should be able to treat patients if they received the treatment early enough in the course of the disease. Overwhelmingly, that is how the data panned out.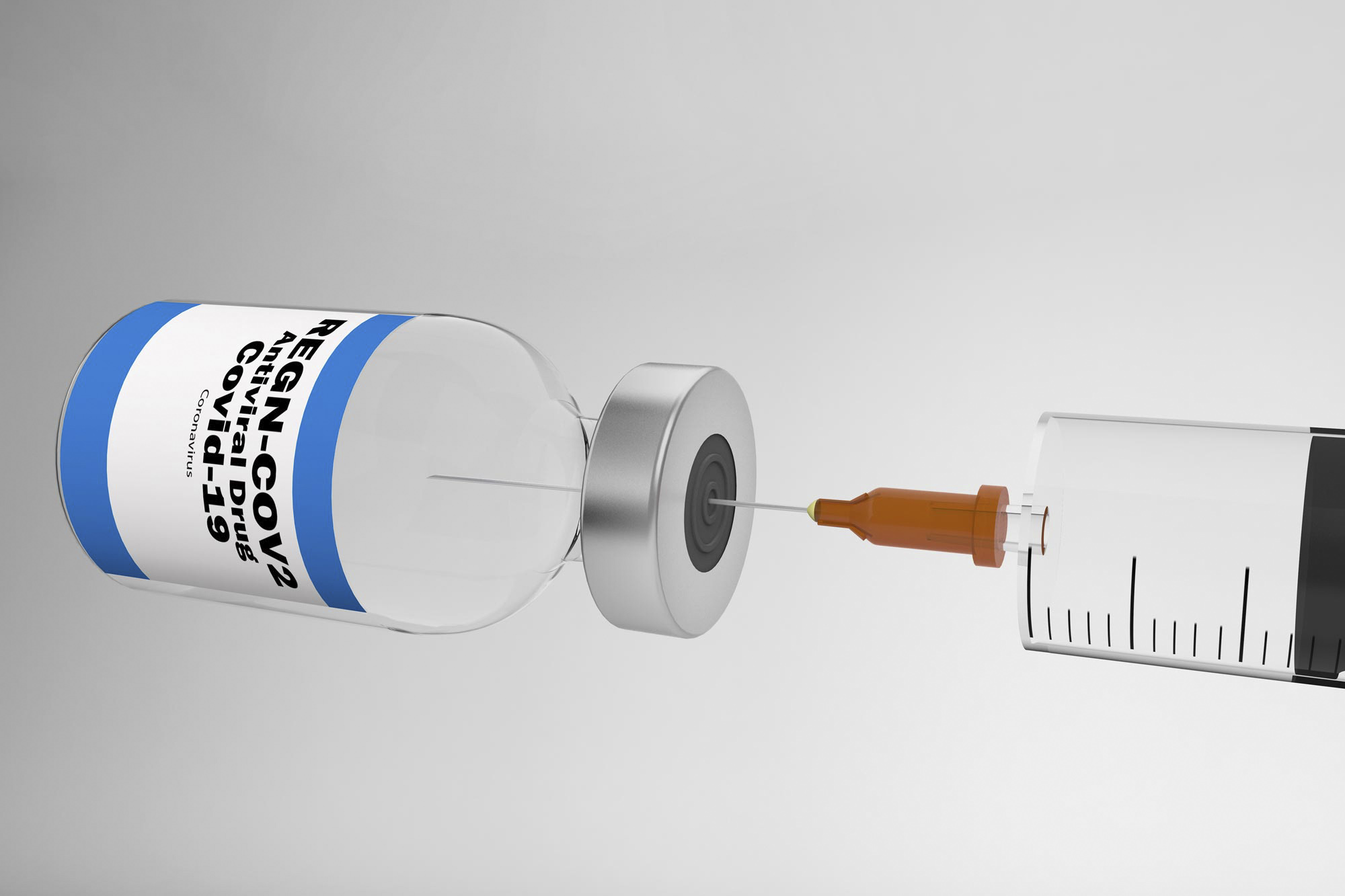 The FDA granted Regeneron's antibody cocktail emergency use authorization to treat mild-to-moderate COVID-19 in high-risk patients. (Contributed photo)
President Trump was a good example in some ways. He had some underlying conditions, with his age and weight, but he was treated pretty early, and I believe he was better off with that early treatment.
Q. How does the antibody cocktail treatment fit into the next phase of the pandemic, as vaccines are becoming more widespread?
A. Hopefully, the COVID-19 vaccines will prevent most infections, if enough people take them and if the virus does not mutate too much. However, even after this acute phase, there will be some people who take the vaccines, but who unfortunately do not generate the full immune response or get the full benefits. The vaccines are very effective, but they are not 100%, and some people might be at higher risk because they are immunocompromised or are on immunosuppressant drugs.
These people could benefit from receiving the antibody cocktail as a type of passive vaccine – a preventative measure that helps them avoid severe disease. If the FDA authorizes it for use in that case [in addition to the current emergency use authorization], I think it could be very beneficial.   
Q. What prior experiences helped you and your company during the pandemic?
A. Regeneron is unusual in that it is led by physician-scientists. Both myself and Dr. Yancopoulos are M.D./Ph.D.s, and our board consists of mostly physicians and scientists, including two Nobel laureates. I think this intense focus on the science and on the patients has really set us apart.
Q. What else are you looking forward to working on?
A. Unfortunately, there are still so many important diseases to be working on. Regeneron had a lot of early success treating retinal blinding diseases and macular degeneration. Our treatment has become the standard of care for those diseases. Beyond that, we have recently been working with a drug called Dupixent that we think could really bend the arc of allergic disease and change how we treat allergies, asthma, eczema, sinusitis and other allergic diseases.
We are also very focused on cancer and harnessing the power of the patient's own immune system to treat cancer. We are in the thick of that, and are very hopeful.
Q. You started Regeneron in 1988. What is like now, looking back at how far you have come?
A. It is amazing how fast 30 years can go by. I often say it feels like overnight success, but it is really 30 years of overnights. It has been an amazing and fruitful journey, and the most exciting thing about it is the group of people I have had the privilege to work with.
"That was a real privilege, to be around people and researchers of that caliber. I truly believe that the UVA Pharmacology department at that time was one of the greatest departments of pharmacology ever assembled in the history of American medicine. "

- Dr. Leonard Schleifer
Regeneron founder and CEO
Companies are made up of individuals that come together to form something special. I think we have something special at Regeneron. Science Magazine ranks the best companies in health care to work for each year, and Regeneron has ranked No. 1 for seven out of the last 10 years. I am very proud of that.
Q. How have your experiences at UVA helped you?
A. I was very fortunate, because my training at UVA was the best I could imagine in the world. I was not only at a top medical school, but I was in a graduate program where my thesis adviser, a young faculty member named Alfred Gilman, went on to win the Nobel Prize. As a graduate student, you choose a lab to work with, and I had narrowed my options to Professor Gilman's lab and another lab run by Ferid Murad. Both went on to win Nobel Prizes.
That was a real privilege, to be around people and researchers of that caliber. I truly believe that the UVA Pharmacology department at that time was one of the greatest departments of pharmacology ever assembled in the history of American medicine.
I came to Charlottesville as a bit of a fish out of water – a New York guy who had never lived out of New York state – but I made some of my closest friends in Charlottesville. The people in my class were just an amazing group who were so welcoming and so talented. For my wife and me, they made our seven years in Charlottesville a truly amazing time in an amazing place.
Media Contact
Article Information
May 4, 2021
/content/qa-regeneron-founder-and-uva-mdphd-alum-discusses-covid-19-treatment