It has been nine months since the Pfizer-BioNTech vaccine became available to individuals ages 16 and older under an emergency use authorization from the U.S. Food and Drug Administration. It has been four months since the FDA granted similar authorization for those 12 to 15 years of age.
At a time when COVID-19 cases in children are on the rise, according to the Centers for Disease Control, Pfizer-BioNTech released results Sept. 20 of a pivotal study on the vaccine's effectiveness and safety in children ages 5 to 11.
The trial gathered data from 2,298 participants and found that a 10 µg dose – about a third of the adult dose – built robust neutralizing antibody responses in children, similar to those seen in adults. As of Tuesday, the trial data was shared with the FDA for initial review, with a formal emergency use authorization request to be submitted in the coming weeks.
Under the anticipated timeline, an announcement from the FDA is expected to come between Halloween and Thanksgiving.
With a children's vaccine likely around the corner, UVA Today gained insight on the Pfizer study and vaccine rollout from Dr. William Petri, vice chair for research in the UVA Department of Medicine, a chaired professor of infectious disease and international health and the head of a lab studying COVID-19 vaccines and treatments.
Q. How did Pfizer conduct its study on children under 12?
A. The approach to all COVID-19 vaccine tests has been one of age de-escalation, starting with adults, and only when proven safe and effective are the vaccines tested on children.
The Pfizer study of children was conducted in more than 90 different sites in the U.S., Finland, Poland and Spain, with separate clinical trials set up for children ages 5 years to 11 years, 2 years to 5 years, and 6 months to 2 years. (Children ages 12 and up are already approved by the FDA to receive the Pfizer COVID-19 vaccine.)
In a press release on Sept. 20, Pfizer reported that several different doses of the vaccine were tested to find a dose that gave as good of an antibody response as in those 12 and up. For the 5- to 11-year-old children, only one third of the adult dose was needed to generate the same antibody response as in adults, with side effects no different than in adults.
Pfizer submitted the data for 5- to 11-year-old children to the FDA for their review a few days ago, with a hope for approval in the late fall. Clinical trials are still underway for ages 6 months to 5 years.
Q. How will rollout be administered?
A. This will be challenging, as children represent a significant proportion of the U.S. population (48 million children under age 12), with one in six living below the poverty level. Parental consent will of course be required, and a minimum of two doses required to be protected. I trust  that any vaccine hesitancy on the part of parents will be lessened through appreciation of how carefully and independently the FDA, the Advisory Committee on Immunization Practices and finally the CDC evaluate its safety, and that parents will also understand the importance of protecting their child from this potentially deadly infection.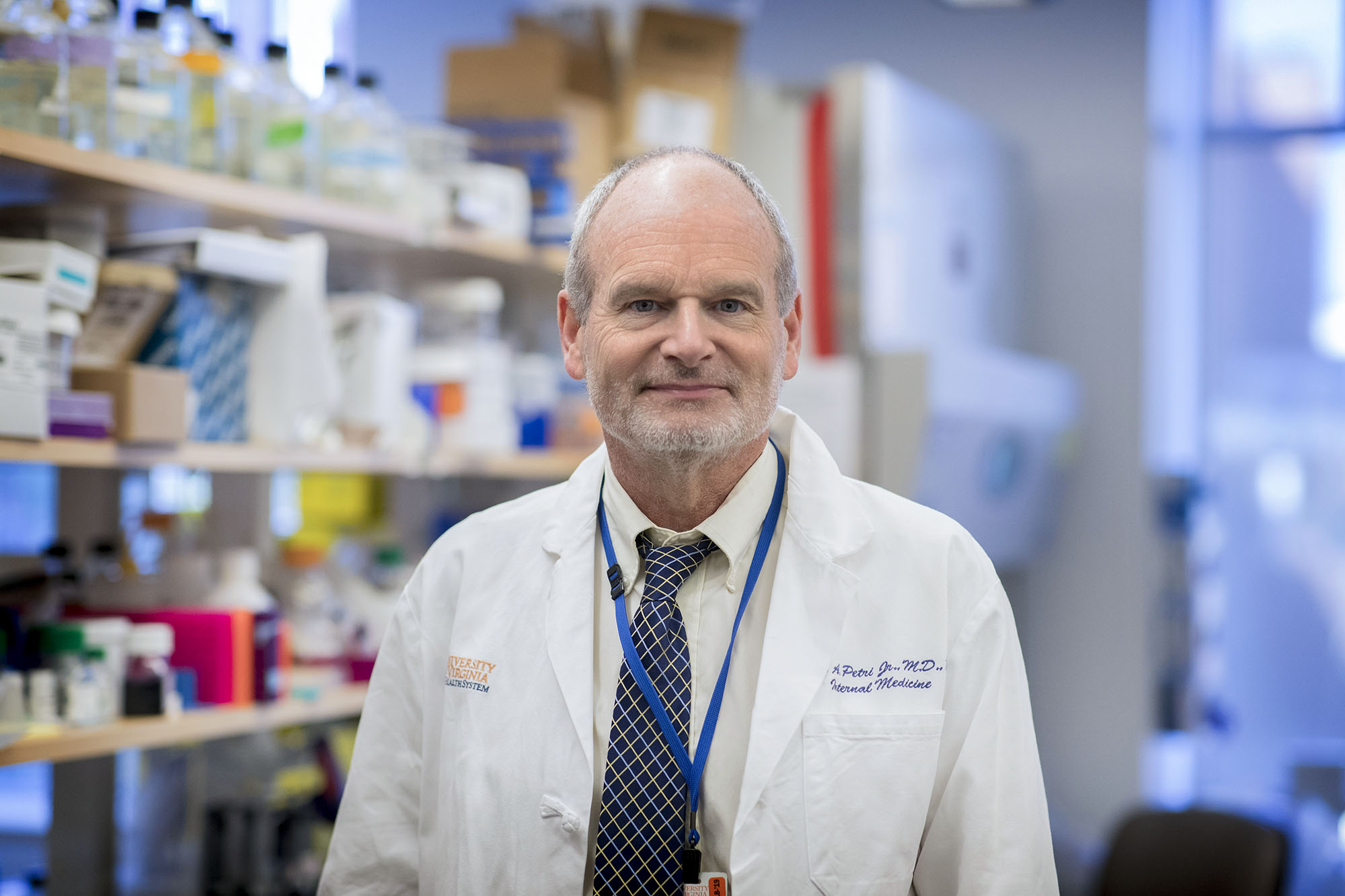 Dr. William Petri is studying COVID-19 vaccines and treatments. (Photo by Dan Addison, University Communications)
For the 5- to 11-year old children, it would seem efficient to vaccinate them in school, although with the logistical challenge this may not be possible, with vaccinations mostly at drug store pharmacies (as are the vaccinations for 12- to 17-year old children and boosters for adults right now).
Q. Will children receive a second dose? If so, what will that timeline/process look like?
A. Yes, the dosing interval is the same as for adults, 21 days between doses one and two. What we have learned in adults is that both doses are essential for protection against the much more transmissable delta variant. Earlier this year when it was mostly the alpha variant, even a single dose of these vaccines provided substantial protection. And it is too early to know if children will require a third or a booster dose.
Q. When might Moderna and J&J have a similar vaccine?
A. Clinical trials are underway, but not yet complete for the other COVID-19 vaccines. Moderna, for example, has an ongoing study of 13,000 children ages 6 months to 11 years and is also lowering the vaccine dose for younger children, while J&J has an ongoing trial for 12- to 17-year olds.
Q. When will a vaccine be available for children under 5?
A. It is important to note that the clinical trials for children under age 5 are still ongoing, and are separate from the trial of 5- to-11-year-olds that has been completed. The reason to for this is that the immune system of children age 5 and younger is different: the immune system is still developing or maturing from birth through these early childhood years.
For example, until age 2, children are impaired in the production of antibodies against polysaccharides, critical in protection from infections with encapsulated bacteria. In addition, the ability of antigen-presenting cells called dendritic cells to present antigens to T-cells is impaired. For the COVID-19 vaccine study, children under age 5 are receiving one-10th of the adult dose of the vaccine. The studies of safety and immunogenicity (ability to produce anti-coronavirus spike antibodies) in this age group will be completed within the next one to two months. Assuming that there are no unanticipated problems, the expectation is that a vaccine will be approved by the end of this year.
Q. Since the start of the pandemic, have there been a significant number of hospitalizations of children under 12?
A. Fortunately, only 4,200 children have been hospitalized so far in the pandemic in the U.S., although one-third of these were severe enough to require admission to the ICU. Deaths from COVID-19, estimated by the CDC, are 550 children through the end of September. While this is a tiny fraction of the 687,000 total deaths in the U.S., any death or severe illness in a child is tragic, even more so if it could have been prevented with a vaccine.
As a society we must continue to protect our children from the pandemic, by masking, social distancing and by all of us being vaccinated.
Article Information
October 4, 2021
/content/qa-vaccine-emergency-use-around-corner-children-5-11