January 6, 2021, will go down in infamy as the day a mob of rioters stormed the United States Capitol building shortly after President Donald Trump, in remarks at a park near the White House, egged on a crowd of his supporters.
In a defiant screed, Trump repeated his false claims that the presidential election had been stolen through voter fraud and that he, in fact, had been reelected. Joe Biden, he said, was not the rightful winner of the election.
Trump told supporters to "stop the steal" of the election and encouraged them to march in protest to the Capitol, where Congress was in the process of certifying the results of the election, in which Biden won 306 electoral votes to Trump's 232, and won the popular vote by more than 7 million ballots.
His remarks fanned his supporters to mount a violent attack on the Capitol, where they broke windows to enter the building, sacked offices and even took to the Senate floor. This as the world watched in shock; some lawmakers took refuge in the building, while others, including Vice President Mike Pence, were whisked away by security forces.
Late into the evening and well into Thursday's early hours, Congress reconvened to certify Biden's victory. But the insurrection left a death toll of five, and authorities continue to seek out and arrest members of the violent mob.
Micah Schwartzman directs the University of Virginia's Karsh Center for Law and Democracy in the School of Law. He is the Joseph W. Dorn Research Professor of Law and focuses on law and religion, jurisprudence, political philosophy and constitutional law.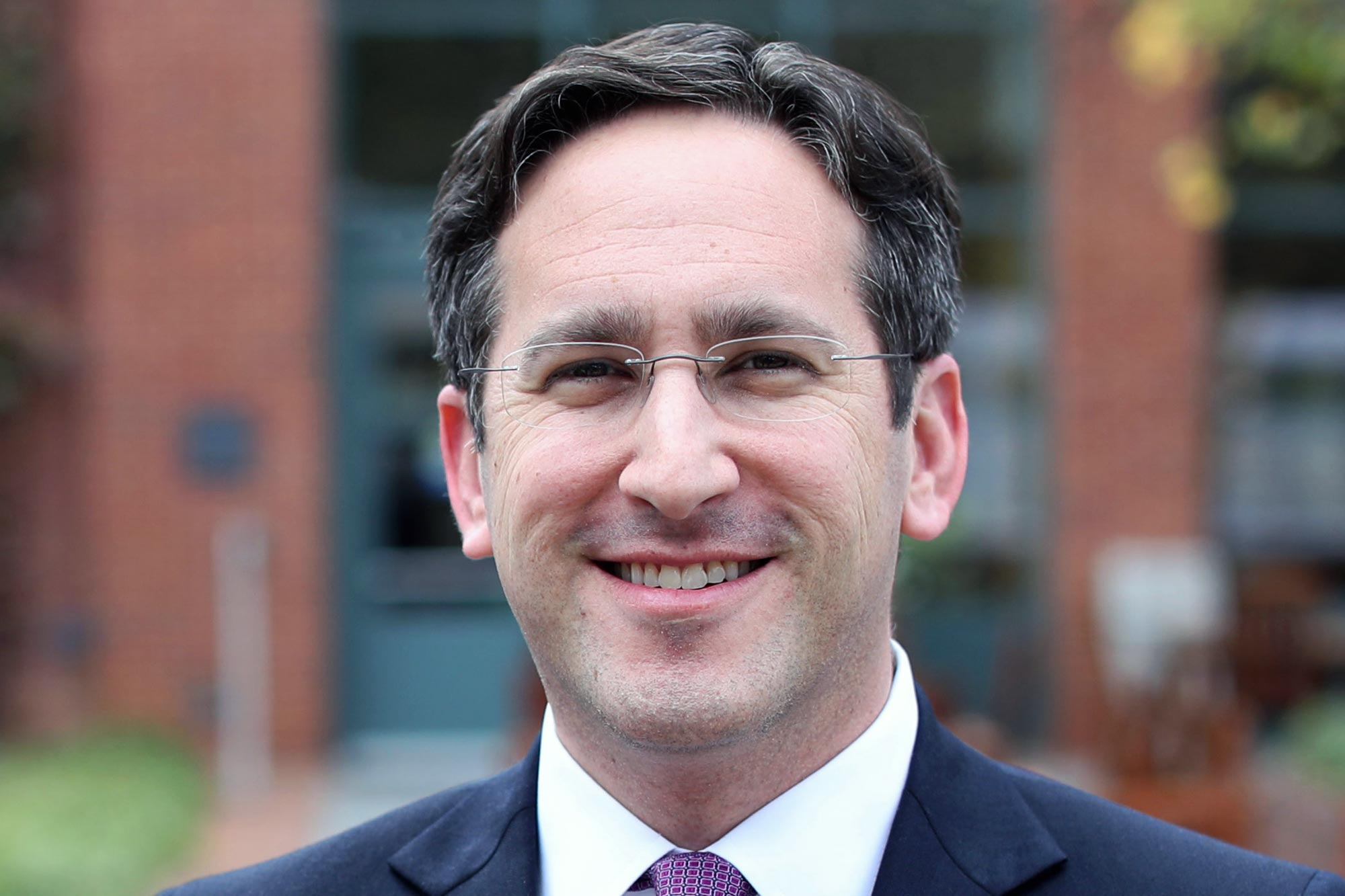 Micah Schwartzman directs the University of Virginia's Karsh Center for Law and Democracy in the School of Law. (Photo by Andrew Shurtleff)
UVA Today reached out to Schwartzman for his expert opinion on Wednesday's events in Washington.
Q. What do you think the events mean for how we think of our democratic institutions?
A. The attack on the U.S. Capitol was a disgrace to our democracy and a serious test of our most basic political institutions. How Congress responds between now and the inauguration of President Joseph Biden and Vice-President Kamala Harris Jan. 20 will be long remembered. 
Q. What impact could this have globally on our reputation as a democracy?
A. American democratic institutions have suffered years of degradation, but what happened on Jan. 6 was shocking, both here and around the world. The next administration, along with the other branches of government, must begin what is certain to be a long process of rebuilding our reputation as a leader among democratic nations. 
Q. What lessons can we learn from what has happened? What missteps can we avoid?
A. We have to learn to take seriously threats to fundamental institutions, principles and norms. We can't ignore those threats, or appease those who make them, because they might seem absurd, ludicrous, fringe, joking or too shallow or bumbling to pose any real risk.
Political violence doesn't happen all at once. It emerges from a process of degrading and breaking down trust in our democratic systems, including fair and open elections, and we have to be vigilant about protecting them. In addition to fighting misinformation and lies, we also have to push back on cynicism and glibness, which is the currency of so much social media. Our political ideals are easily ridiculed, and it can be fun to play along – right up until it's not fun and games anymore, but by then it's too late. Sometimes we have to say "No, that's not right – democratic norms and principles matter, facts matter, the truth matters."
Q. What steps can we take to repair the damage?
A. After many years of corruption and damage to our democracy, there is a lot of rebuilding to do, starting with protecting and expanding voting rights, restoring faith in the integrity of our democratic process and shoring up the rule of law. We need a president and a Congress that clearly, unmistakably and forcefully reject white supremacy, which was on display at the Capitol building on Jan. 6 as much as it was in Charlottesville on August of 2017. Our nation's struggle with racism is far from over, and we have to say that out loud. We also need to reduce the massive economic inequalities that have contributed to declining social and political trust, especially in the midst of the COVID-19 pandemic.   
Q. Soon-to-be Senate Majority Leader Chuck Schumer, House Speaker Leader Nancy Pelosi and many others are calling for Trump to be removed from office. What are the realistic legal options for that?
A. There are two options being discussed right now: impeachment and invoking the 25th Amendment, in which Trump's Cabinet, led by Pence, would have to determine the president is unfit to hold office. (Trump's term expires on Jan. 20, the day Biden will be sworn in.)
There are timing problems with both these approaches, and the vice president seems to have signaled some reluctance to pursue the latter. But there appears to be bipartisan support for removing the president, and it's possible we could see articles of impeachment drawn up in the House of Representatives. 
Q. To your knowledge, have there been other attacks on the U.S. Capitol and how do the events of Jan. 6 compare?
A. The insurrection of Jan. 6 was unprecedented in living memory. There has not been a mass or large-scale attack on the U.S. Capitol in 200 years – not since British forces burned the building during the War of 1812. 
Q. How far does the First Amendment go to protect Trump's incitement to riot?
A. The First Amendment provides strong protections for political speech, but under the Supreme Court's famous test from Brandenburg v. Ohio, speech is not protected if it "is directed to inciting or producing imminent lawless action and is likely to incite or produce such action." Members of Congress, including senators from both parties, have accused the president of doing just that – inciting a mob of armed supporters, who then proceeded to sack the U.S. Capitol building. 
Q. In legal terms, do you view what happened Jan. 6 as a coup? Something else?
A. I wouldn't describe the violent mob attack on the Capitol as a "coup," although it might have been part of an attempt at one. I think a coup requires more systematic seizure of power, usually by the military or by paramilitary groups.
But the rioters who stormed the Capitol might have thought they were trying to overthrow the government, and they succeeded in temporarily disrupting a critical part of our democratic process, which was the counting of electoral votes.
Some officials have called what happened an "insurrection" and a "seditious conspiracy," both of which are punishable under federal law. Those seem like better descriptions to me. 
Article Information
January 8, 2021
/content/qa-was-attack-capitol-coup-what-happens-now-expert-responds