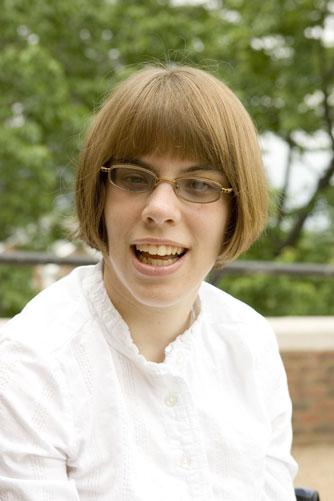 May 17, 2006 —Gwen Archard is not a complainer. But during her first year at the University of Virginia, she had more to complain about than the typical student: she was far from home, trying to fit in, and forced to deal with the weight of assumptions that people had about her.
Archard has cerebral palsy. She gets around in an electric wheelchair.
"Everyone would hang out on weekday nights, but on weekends they would go out to Rugby Road  … and leave me home alone," Archard says of life in her Alderman Road residence hall. Not that she ever said anything. "My parents raised me not to complain, to take the world as it is." Complainers, Archard believes, are passive, even self-pitying.
So instead of complaing she changed minds, opened eyes and smashed stereotypes.
Today Archard has a close-knit circle of friends, an active social life and a calendar packed with academic and extracurricular activities — the typical life of a U.Va. student. But her frustration over the lack of understanding about what it meant to be disabled on Grounds drove her to delve into the history of people with disabilities at U.Va., and to retrieve from the shadows an important part of the University's history.
Archard and close friend Jade Craig scoured University archives. Their big break came with the discovery in Special Collections of a photo taken in 1912 of a gathering of University alumni. One of the men was on crutches, and was identified as George Christian. Archard soon untangled his story. Wounded in the Civil War, Christian had attended the law school in 1865, where he met W. C. Holmes, another Civil War veteran who had been wounded in the arm. The men were taken in by Professor John B. Minor (namesake of Minor Hall) and helped each other overcome their physical obstacles: Christian took notes for Holmes, while Holmes helped Christian navigate Grounds.
Other names fell into place: Franz Stillfried, a graduate foreign affairs student in the mid-1980s born with osteogenesis imperfecta, or brittle-bone disease. Stillfried, who stood only about 3 feet tall, won the Sullivan Award while at U.Va. Archard later won a scholarship given in his name.
She learned about Evan Kemp, a law school alumnus and Equal Opportunity Employment commissioner who was an architect of the Americans with Disabilities Act. Confined to a wheelchair by a neuromuscular disease, Kemp was turned down by 37 law firms despite his high class rank.
But the story that sticks most with Archard is that of a student who had to crawl up the steps of Old Cabell Hall to get to class. "People tell me I have courage, but I'm just doing what I can," Archard said. "Courage is crawling up and down the steps at Old Cabell Hall."
The result of this research was "Trailblazers: The History and Lives of Students with Disabilities at the University of Virginia," an hour-long presentation that Archard and Craig have delivered to Student Council, at Family Weekend, and to other audiences. "People would come up and say, 'I had no idea,'" she said. "People don't know how to deal. There's no etiquette for talking to and about the disabled." Through opening a dialogue, Archard hopes to put these issues on the table.
"People assume you can't socialize," Archard said. "I call it the 'Rain Man' complex. And as a result, I have to act a certain way not to reinforce stereotypes."
Archard hasn't just catalogued the achievements of past trailblazers; she has blazed trails of her own. A foreign affairs major with a double concentration in East Asia and Sub-Saharan Africa, Archard spent two-and-half-weeks in South Africa last December through a program sponsored by the International Institute for Mediation and Conflict Resolution. She now plans on returning to South Africa to teach English in the townships — after a stint working for the Defense Threat Reduction Agency, a division of the Department of Defense. Her goal is to be a human rights lawyer. Archard, who is fluent in French and has studied Japanese, is looking forward to night classes in Zulu while in Washington, D.C.
Archard, who grew up in Media, Pa., attributes her adventurous spirit to her parents. "They raised me to be independent, but in the last three years it has backfired on them," she said. Archard's parents planned on her attending a smaller Pennsylvania state university that had a support structure in place for disabled students — "until they saw my SAT scores," Archard said.
Archard was first drawn to U.Va. by the strength of the politics department and her sense that the University could open doors to jobs and internships in Washington, D.C. A self-described "history whiz" in high school, she combined her competitive spirit and her longstanding love of history to co-captain the Quiz Bowl team at U.Va. to a sixth-place finish at nationals.
Archard is also a die-hard sports fan. She has missed "only two or three" home football games in the past four years. For a time she wanted to be a sportscaster, before deciding, "I wouldn't be involved enough in changing the world.
"I believe in the Jeffersonian tradition and the University as a living, breathing body," Archard said. "It's a student's duty to improve the University as much as you can. Knowing at least I've tried is really rewarding."