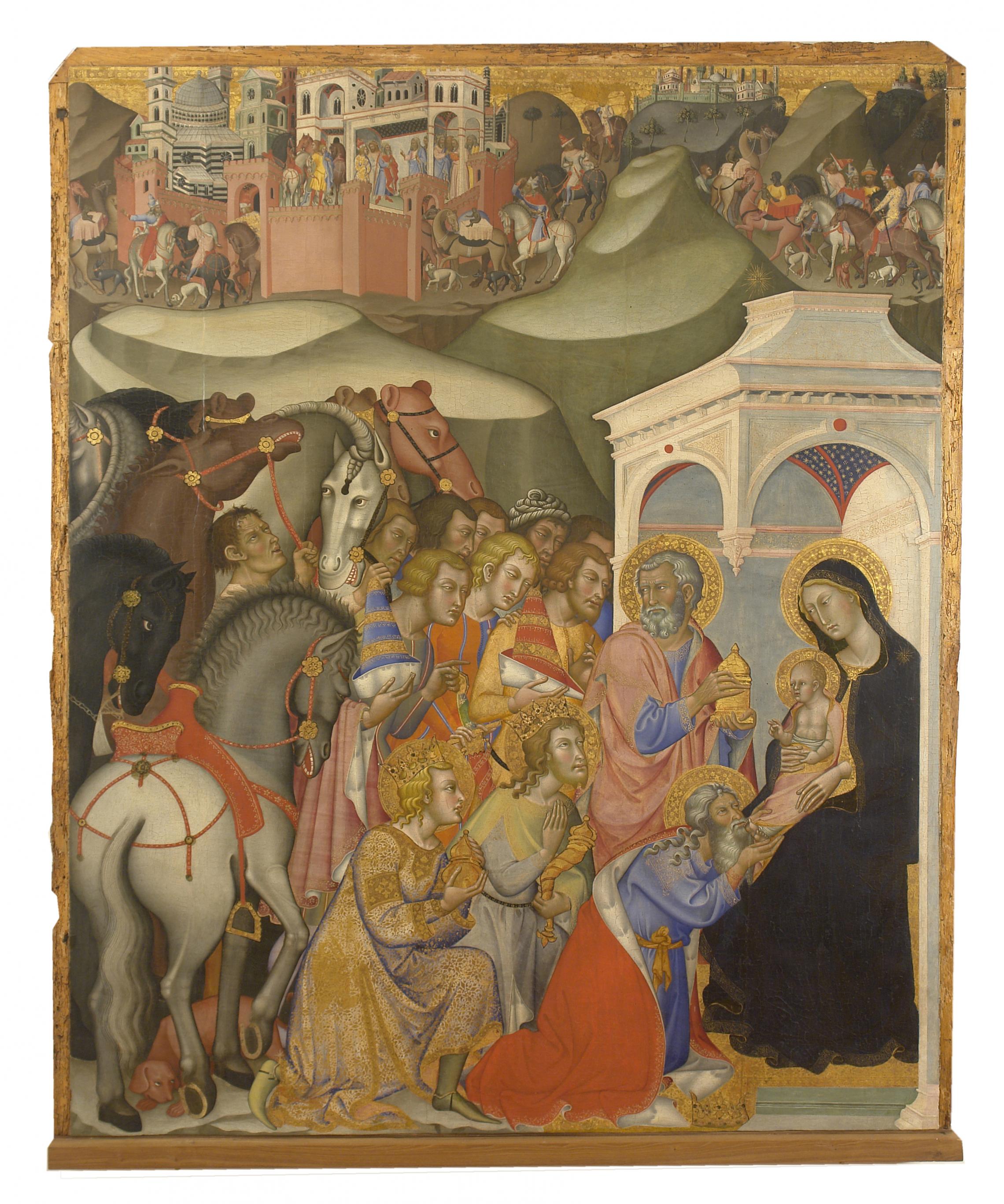 "The Adoration of the Magi" by Bartolo di Fredi, an altarpiece that once stood in one of the major churches of Siena, Italy, from its completion around 1385 until it was dismantled at the turn of the 19th century, will be reunited and on view at the University of Virginia Art Museum from March 2 through May 27.
After being dismantled, the altarpiece was divided into at least four portions: the main panel featuring the "Adoration of the Magi" remained in Siena; two portions of the predella, or lower register, ended up in the U.Va. Art Museum and the Lindenau-Museum of Altenburg, Germany, respectively; and a third portion of the predella, which is missing.
Bruce Boucher, U.Va. Art Museum director, curated the exhibit with Francesca Fiorani, an associate professor of art history in the College of Arts & Sciences. Dr. Anna Maria Guiducci, director of the Pinacoteca Nazionale of Siena, also collaborated.
Both the Pinacoteca Nazionale and the Italian Ministry for Cultural Activities and Heritage have given permission for this historic loan of the main panel during 2012. With the cooperation of the director of the Lindenau-Museum, the second surviving portion of the predella will travel to Charlottesville for the occasion. After its U.Va. showing, the altarpiece will be exhibited from June to early September at the Museum of Biblical Art in New York.
Boucher said the loan is an exceptional opportunity. "The purpose is to reunite the surviving components of an altarpiece that was arguably Bartolo's greatest masterpiece," he said.
"The exhibition builds upon a cooperative agreement between the University of Virginia Art Museum and the Italian Ministry for Cultural Heritage and Activities, which began in 2002. It will offer an exceptional occasion for faculty, students and the community at large to study a major Italian altarpiece, its complex history, its original location and its missing components and to view the reconstituted painting after centuries of disruption."
Also on exhibit will be two other Sienese paintings on loan from the Chrysler Museum of Art in Norfolk and the Bob Jones University Museum and Gallery of Greenville, S. C.
An illustrated catalog will accompany the exhibition, and an international symposium on Bartolo di Fredi and Sienese painting of his time will be held April 27 in at U.Va, to mark the exhibition and the reuniting of the altarpiece.
Museum programming is made possible through the support of the Joseph & Robert Cornell Memorial Foundation. This exhibition is in partnership with the Museum of Biblical Art, and is supported by the Joseph & Robert Cornell Memorial Foundation, the Samuel H. Kress Foundation, the Robert Lehman Foundation, U.Va. Art Museum Volunteer Board, the Office of the Vice Provost for the Arts, the U.Va. Center for International Studies, McIntire Department of Art, private donors, Albemarle Magazine, The Hook, Ivy Publications LLC's Charlottesville Welcome Book and WHTJ public television.