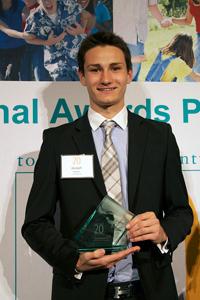 Joseph Linzon, 18, of Toronto, a rising second-year student in the University of Virginia's College of Arts & Sciences, has been named among the "Top 20 Under 20" in Canada.
Top 20 Under 20 is a national Canadian youth awards program presented by Youth in Motion.
Linzon earned his spot on the list for his invention, PowerSole, a shoe that converts kinetic energy into electrical energy with each step its wearer takes. Linzon was inspired to create the PowerSole after visiting Peru, where he witnessed the hurdles created by a lack of access to electricity – and especially the challenge of charging cell phones, a communication link and business tool for millions.
By harnessing the motion of routine daily walking, Powersole can "empower the powerless, literally, one step at a time," he said.
Linzon has filed a provisional patent for his concept. To produce the shoe, he plans to partner with an existing footwear maker and has already been in contact with major shoe company about licensing the technology.
"I am really trying to bring PowerSole into developing countries, those who can benefit most from this cheap, sustainable form of electricity generation," he said. "This award has really helped be realize that entrepreneurship can be used as a powerful tool to evoke social change."
Linzon, who plans to apply to the McIntire School of Commerce, was the runner-up last fall in the U.Va. Entrepreneurship Cup, for which he received $10,000. He also received a $200,000 investment from the inaugural Gallant Center Challenge at the McIntire School in April.
"We understand the challenges of being a successful young person in today's world – the dedication, commitment and energy that it takes to balance activities like volunteering, part-time work, running a small business, sports, theater and education, to name a few," said Akela Peoples, co-founder, president and CEO of Youth in Motion. "We also know that success is multi-dimensional. ... You have to be good at a number of things to attain your goals: communication skills, creative thinking, resourcefulness, ability to think and solve problems."
Linzon said he was "shocked" to hear of his latest honor. "Every summer I have picked up the Globe and Mail and read about the amazing recipients of previous years and I have always thought to myself that this would never be me," he said. "However, receiving this award has made me realize that even the most farfetched pipe dreams can become a reality with hard work and perseverance."
Linzon, the son of Patti Linzon and Earl Linzon, is a vice president of the Entrepreneurship Group at McIntire, a member of the diversity initiatives committee on the U.Va. Student Council and a volunteer for Madison House's Creating Assets, Savings and Hope program, which provides free tax-preparation services for low-income, elderly and disabled residents.
A graduate of Upper Canada College, he plans to pursue a master's of business administration degree and plans a career that explores the social side of entrepreneurship.
Lauren S. Purnell, a Ph.D. candidate at U.Va.'s Darden School of Business who taught Linzon in her business, ethics and society course, praised him for his tenacity.
"Joe stands out in the classroom not just for his preparedness and insight, but also for his ability to relate to his peers," she said. "His passion for PowerSole comes from more than a desire to develop a financially successful product; he is driven to make the world a better place. The structural disadvantage Joe witnessed in rural Peru inspired him to think of solutions."
Top 20 Under 20 is open to all Canadians under the age of 20, with the only requirement that their leadership and innovation have led to the betterment of their school, community, province and/or country. The assessment criteria look beyond academics to specific skills that have a positive impact on the everyday life of the community.
The program is sponsored by Intact Foundation, BMO Capital Markets, CTV, The Globe and Mail, the Institute of Chartered Accountants of Ontario, PepsiCo Canada, and many other organizations and corporations
– by Matt Kelly