Her parents flew Black Hawk helicopters in the U.S. Army, and Ashley Hendrickson arrived at the University of Virginia in 2010 on an Army ROTC scholarship, planning to serve in the military, too.
She didn't want to be a pilot, though. A graduate of Centreville High in Northern Virginia, Hendrickson planned to become a veterinarian. That changed when, at a function during which Army officers from a variety of branches talked to cadets about career options, a veterinarian spoke to the group.
"This man that they brought in was the most miserable person," Hendrickson said. "There was no excitement for his job, there was no joy in it at all. I didn't want to become that person."
"I turned around and there was this woman; she looked at my name [tag], saw my blonde hair and said, 'Are you Heather Hendrickson's daughter?' I had no idea who this woman was, but I told her, 'Yes, ma'am, I am,' and she said, 'I knew you when you were this big,' holding her hand at knee-level. She was all excitement and exuberance.
"Come to find out she'd served on the same airfield as my mother."
Perhaps it was destiny, perhaps the call of the family business. Whatever the case, she chose aviation "and I've never looked back," said Hendrickson, who's now a senior captain in the Army.
As if her ROTC obligations and her double major (English and religious studies) didn't take up enough of her time at UVA, Hendrickson also was a four-year member of the rowing team. She joined head coach Kevin Sauer's program as a walk-on not long after arriving on Grounds.
At Centreville High, the 5-foot-9 Hendrickson had run cross country. "Sports with balls are not my thing," she said. "I just go one direction really fast and for a long time. That's what I like to do."
And that made her a natural for rowing. At an event aimed at introducing first-year students to the various activities at UVA, Hendrickson met a few varsity rowers and something clicked.
"I was looking at all the pictures and talking to the people they had out there," she recalled, "and I was like, 'I've been running for all this time, but I'm built so much more like these women than I am a cross country runner. I'll give this a shot.' And the next thing I know, I was the only walk-on in my year to survive all four years of rowing."
Hendrickson and her husband, George Howard, a chief warrant officer in the Army, currently serve as instructor pilots in Alabama at Fort Rucker, the home of Army Aviation. That, coincidentally, is the same place she was born 30 years ago.
"I joke with my mom all the time that I've never been somewhere in the military that she hasn't already been," Hendrickson said. "No matter how hard I try to go anywhere else, I always get stationed at the same places that she's been."
Last week marked Veterans Day, a holiday that resonates with Hendrickson's family. "I'm really fourth-generation," said Hendrickson, whose great-grandfather fought in World War II. "Third-generation aviation, though. Starting with my grandfather in Vietnam, we've been flying as long as the Army's had pilots."
She lived with her family in Alabama, Chicago and Ansbach, Germany, before settling in Northern Virginia. Her parents were stationed at the Pentagon until they retired.
At UVA, she joined the tight-knit rowing family. She had little down time, and that's the way she liked it. In addition to carrying a double major, "I was also taking kinesiology classes," Hendrickson said, "because I was super interested in the functions of the body at the same time. I called it my mind-body-soul degree. Rowing helped me with the same thing."
Alas, her rowing career never took off. She battled a series of injuries and illnesses during her four years at UVA and remains grateful for the help she received from athletic trainer Keith Thomson.
"I'm still trying to figure out to this day how to get him in the back of a helicopter and work the legalities to pay him back for it all," Hendrickson said.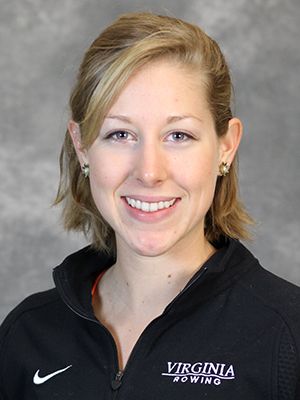 One year she had mononucleosis. Another year she suffered an Achilles tendon injury. There was also a wrist injury. Then, late in her third year, while training for the Marine Corps Marathon, Hendrickson developed a stress reaction in her tibia.
"So then I was completely out, right at the end of my third year, and it just crushed me," Hendrickson said.
When she returned to UVA for her fourth year, the coaching staff surprised her with a request. They asked her to serve as a mentor on the novice team, whose members are new to the sport.
"It's hard to be told that in your athletic career after you've been working on something for so long and so hard and just putting all those hours in," Hendrickson said. "And then you're asked to take a step back and help the greater good, and that's something that's very, very hard to do, especially for a collegiate athlete."
Looking back now, however, Hendrickson sees how valuable her experience with the novice team was.
"It was good capstone to my rowing career at school, because I could pay it forward, and then I also segued into my career," she said. "Every single thing that I do as an Army officer, it's never for me. It's never my glory. I don't get the satisfaction of the reward, and half the time I'm not even the one doing the work. I'm having to guide all these people into doing the work, and so now it's kind of that same thing over and over, where I'm like, 'OK, I'm going to give you these tools, but you're going to be the one that's going to take the team, take the name, and kind of further this whole journey on.'"
Rowing helped her in other ways. Her parents went through a divorce during her second year at UVA "and my whole life just imploded on itself," Hendrickson said.
"If I didn't have rowing, I don't think I would have the success in my career that I have today," she said. "You kind of hide in something that you latch onto. And so as my whole world was falling apart, I just fell into rowing headfirst, and I was like, 'School's there, everything's there, I can do all that stuff in my sleep. I'm going to take this thing that's really, really hard, and I'm just going to pour all of my energy into it.'"
The rowing coaches valued Hendrickson's contributions to the program, even if she never rowed in one of the top boats.
"Some kids just haven't got their wheels underneath them yet," Sauer said. "Their immune systems, their bodies are still growing and figuring things out. I think she's one of those kids. She was probably way better after she got out of college than when she was in college.
"Some kids are tapped out before college. Some kids are tapped out during college, and some kids are tapped out after college. I think she was one of those people [in the last group]. I just knew down the road she would be special. She just never got everything lined up perfectly for her to do everything she was capable of here."
Sauer wouldn't be surprised if Hendrickson one day rises to general in the Army. She excels at the task at hand, whatever that may be, and she's good with people.
"She has a seriousness of purpose without taking herself too seriously," Sauer said.
Hendrickson graduated from UVA in 2014 and then spent two years at Fort Rucker. After she completed flight school, she was stationed in South Korea, which she called "one of the best places for young aviators to cut their teeth."
She went to Korea as a lieutenant. She returned to the U.S. in May 2018 as a captain and took the Aviation Captain's Career Course, a 21-week program at Fort Rucker. She then moved to Fort Hood, Texas, to complete her key development assignment.
"I was basically the operations officer in charge of all air assets for the brigade," Hendrickson said.
When Hurricane Dorian hit the Bahamas in September 2019, the U.S. sent "aviation assets" to provide humanitarian aid, Hendrickson said, "and we were the Army's cut of those aviation assets."
Later, Hendrickson took over as the commander of the A/2-227th Command and Control Company, a position in which she was responsible for the safe and timely transport of generals and other military leaders.
Hendrickson will be up for promotion to major next year. For now, in her current position at Fort Rucker, she said, "I get to do all the fun stuff. I get to fly and teach students, like brand-new people fresh out of college and sometimes out of high school, how to fly an Army helicopter and start from the beginning."
She started off in helicopters and, until recently, had no desire to fly anything else.
"Sauer wouldn't be surprised if Hendrickson one day rises to general in the Army. She excels at the task at hand, whatever that may be, and she's good with people."
"I love coming to a hover," Hendrickson said. "It's like the best thing in the world, to be able to put the aircraft wherever you want it, whenever you think it. But when we took a break for COVID and everything really got quiet, I went and got my private pilot's license. So now I can fly a Piper Tomahawk [airplane]."
Her work challenges and inspires her. "My mom is pretty much a data analyst, and I'm a very analytical person. I'm always three steps ahead of everything, and aviation is so fast-paced, there is such a depth of knowledge that you have to have. We have to be at the same knowledge level as commercial pilots while also going into meetings for a million different other things and balancing all of it perfectly. For me, it's serving a cause that's bigger than myself, but it is also just so fast-paced, and it keeps me on my toes."
Even in times of peace, she's busy. Hendrickson has helped fight about a half-dozen fires from her helicopter. "Those are long missions, and they're tedious, but the hours just disappear, because there's a fire that is encroaching on this part of town that we cannot have. You're working with the firefighters on the ground, you're talking to them, you're coordinating all those moving parts while putting fires out."
Hendrickson's also flown medical evacuation and search-and-rescue missions. "We had a family member go missing last year, and so we combed the woods for him for hours until we finally found him. It's just cool the things you can use an aircraft for – it's a different way of solving the problem."
Helicopters don't have to follow the roads, she noted. "I have the luxury of getting overhead. Now I can look down on my problem and kind of solve the puzzle from the sky and help where I can."
She hasn't been back to Charlottesville since the pandemic hit, but she keeps up with her former UVA teammates. Hendrickson rowed in the Cavaliers' alumni boat recently at the famed Head of the Charles Regatta in Boston.
Rowing is a physically and mentally demanding sport that taught Hendrickson priceless lessons. No matter how painful a race may be, if rowers demonstrate enough persistence and commitment, "at the end of day you've passed the finish line," she said.
"It helped me realize how to be outside of myself and more giving to others and how to guide a team without really saying much, just doing it. And then it also helped me get that sense of myself, actually having those tools of discipline and being able to suck it up and get through the hard stuff."
Article Information
November 17, 2021
/content/rowing-alumna-flying-high-army