Comedian and actress Sasheer Zamata still remembers the moment she was hooked, and it wasn't when she first heard "Live from New York, it's Saturday night!"
It was in the University of Virginia's Culbreth Theatre in 2005, talking with an audience member who was powerfully moved by the play Zamata and her classmates had just staged.
The future "Saturday Night Live" star, then a second-year UVA student, was one of the leads in visiting professor Theresa Davis' production of "For Colored Girls Who Have Considered Suicide/When the Rainbow is Enuf," a series of monologues about overcoming oppression, violence, racism and sexism.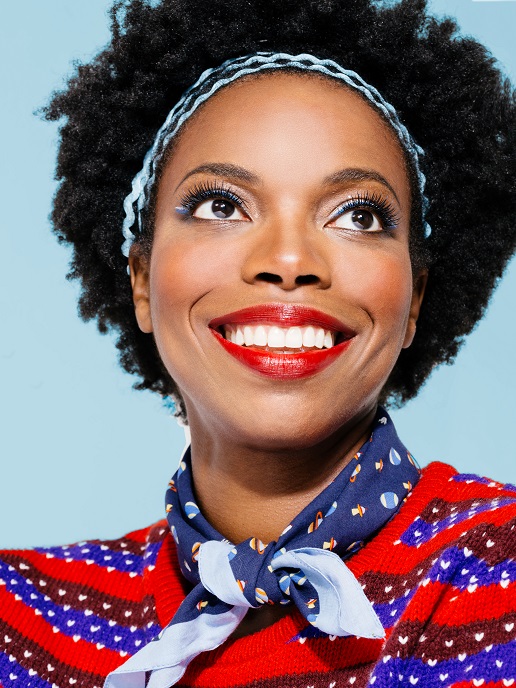 Sasheer Zamata
There had been several racial incidents on Grounds at the time – including racially charged graffiti painted on Beta Bridge and an African-American student harassed on her way to class – and Davis knew the play would strike a nerve. After the curtain came down, she made each of her student actors venture into the bright light of the lobby and talk with audience members about what they had just seen and the moments of despair and triumph, loss and love they had all just witnessed.  
Thirteen years later, Zamata – who will again perform at UVA in a special event for students on Aug. 30 – still remembers those conversations.
"It was so powerful; people had such a visceral reaction to what they saw," she said. "They were crying, hugging us, saying how much they connected with the work."
The audience left the building relieved by that collective catharsis, but Zamata walked out on a different high.
"That was the production that really threw me into the deep end, the one that made me want to continue performing," she said.
And so she has. Zamata, now 32, has ascended the ladder of the comedy world and her star is still rising.
In 2017, she wrapped up a three-year stint on "Saturday Night Live," during which – among many other performances – she impersonated political and cultural icons such as Michelle Obama and Beyoncé. Once free of the weekly grind, she wasted no time in releasing her first full-length comedy special, "Pizza Mind," touring the country and making her mark on the silver screen with films like Amy Schumer's 2018 comedy, "I Feel Pretty."
Along the way, she has built a reputation for not just making her audience laugh, but making them think, especially about issues of race and gender.
"Comedy can take things that might be sad and confusing and make you laugh at them for a few minutes," she said. "That is a good way to get people thinking about things from a different perspective, or just to start a conversation."
Like many alumni, Zamata can see with hindsight how her time at UVA helped launch her career. However, her success in comedy – or even her interest in it – was far from a foregone conclusion when she arrived as a first-year student in 2004 for her opening act on Grounds.
Entering Stage Left, From Indianapolis …
As a teenager growing up in Indianapolis, Zamata was primarily interested in musical theater. She was in her school's show choir and devoted many hours to rehearsals and performances. She liked a local improv group, Comedy Sports, and had done a few skits styled after "Whose Line Is It Anyway?" But she had not really thought about comedy as a career until a classmate offhandedly said she should be on "Saturday Night Live."
It was an impressively prescient remark that seemed wildly far-fetched at the time.
"That was the highest compliment I had ever gotten," Zamata said. "I remember watching shows like 'MadTV' and 'SNL' and thinking how cool it would be to do that stuff, but I had no idea how someone actually did it."
She would soon find out.
When Zamata came to UVA – her father was living in Virginia at the time – she decided to audition for The Whethermen, UVA's student improv group. She didn't make it.
Undaunted, Zamata and her classmate and fellow comedian, Natasha Vaynblat, founded their own comedy group, Amuse Bouche. It still thrives on Grounds today.
"It turned out to be a really cool thing and a nice way for students to do comedy without going through the one group that existed at the time," Zamata said. "It's great to have one; it's even better to have more."
For most of the next four years, the drama and media studies major honed her comedy chops in Amuse Bouche and learned the ins and outs of theater production from UVA's drama program, which required each student to explore every aspect of a performance.
"I took a lighting class and a stage management class. I learned how to direct, how to write plays – really every facet," Zamata said. "As a creator, that is so valuable.
"I feel bad for the actors who did not get that experience, and who don't fully understand that there is a whole team of people working hard to make the show happen, and to make you look good."
She was, according to her director, Davis, an extraordinary force on stage and off.
"Sasheer was so impactful as a student," said Davis, who is now a full-time professor at UVA and still stays in touch with Zamata. "She was incredibly intelligent and funny, and she was able to marry her art with her activism in a powerful way. She was an amazing young woman then, and she still is."
From Backstage, A Crash
Amid her performances, her classes and all of the other daily tasks that come with college life, Zamata came up against one dangerous and unexpected obstacle.
Like thousands of other students, she made the daily trek from her dormitory in the International Residence College to her classes. It was one of the most mundane parts of her day until suddenly, on a fall day in 2006, it wasn't.
That day, a speeding car struck Zamata as she was walking in a crosswalk on Emmet Street. She doesn't remember much, but she recalls bouncing across the car's hood, hitting her head and landing on the asphalt. She was rushed to the hospital, and though she escaped with no broken bones, the blow to the head gave her vertigo for six months.
As painful as it was, Zamata said the accident changed her perspective. She still sounds awed when recalling how so many people, from close friends to classmates who were near-strangers, reached out to her in the hospital and helped her as she recovered.
"I was kind of getting cynical and certain things in my personal life were making me distrustful of people in general," she said. "It really just restored my faith in people and made me appreciate the love they can give."
The accident made her want to spread more positivity in the world, with comedy as her medium of choice. It also, she jokes, cemented her real legacy at UVA – strips of flashing lights on Emmet Street's crosswalks that alert motorists to crossing pedestrians.
"I like to think that is the mark I left on UVA," she said with a laugh.
Set Change: New York City
After walking the Lawn in 2008, Zamata moved to New York City and set about the grueling task of making a career in performance.
She did lots of auditions and odd jobs, and all the while kept going to shows at the Upright Citizens Brigade, a comedy mecca that has launched stars like Zamata's fellow 'Hoo and comedian extraordinaire, Tina Fey.
Zamata learned about the group at UVA when they did a Q&A with Amuse Bouche and The Whethermen. She decided to take one of their classes in New York and "fell hard."
"I just loved it so much," she said.
"Saturday Night Live" producers frequently scout the Upright Citizens Brigade for talent, and like many of her castmates, Zamata submitted audition tapes for the show and dreamed of joining its ranks.
"I submitted an audition tape year after year until 2013, when they called me in for a test," she said. "The test was probably one of the best performances I have ever given. I left the stage feeling like I could not have done better."
"SNL" agreed, and Zamata was cast in January 2014.
Her casting received more publicity than most because the show had been heavily criticized for not having any African-American women in its cast. The media scrutiny was a bit difficult, Zamata said.
"It was weird to have everyone know that you were auditioning," she said. "But it all turned out well, and I am just glad I was on the show. I had wanted to do it for years and I got to live out one of my dreams."
'Live from New York, It's Saturday Night!'
One of Zamata's favorite memories from her three years on "Saturday Night Live" actually happened off-stage. Cast members have a few minutes of downtime during the nightly musical performances, and Zamata loved the chance to just take it all in.
"You can look at the audience, the performance and the cameras moving around," she said. "It's a nice reflective moment every Saturday where you can just be like, 'Yes! This is so cool!'"
Zamata played some recurring characters on "SNL," including Janelle, a teen who hosts a YouTube channel, "How 2 Dance with Janelle"; and Keeley, a contestant on "Black Jeopardy!" She also impersonated celebrities like Rihanna, Nicki Minaj, Tyra Banks, Beyoncé, and of course, Michelle Obama.
Of all of her impersonations, Zamata said, her stint as the former first lady stands out.
"Michelle Obama was my favorite," Zamata said. Obama herself apparently approved of the impression; Zamata met her at a White House event celebrating students recently accepted to college.
"She said, 'I see you have been studying me. Your impression is very good,'" a starstruck Zamata recalled. "I think I almost passed out. I was so happy she even knew who I was."
Zamata was on "SNL" during the 2016 presidential election, when the show became known for Alec Baldwin's satiric impersonation of then-candidate Donald Trump, and for its comedic takes on the contentious election news cycle.
"It was interesting. Strangers would come up to me on the street and say how important it is that we tackle some of the issues happening throughout the week," Zamata said. "We always tackle issues happening that week, but there was something different about the energy, the feeling of what was happening during the election. People were watching the show in a different way and I think it created some sort of catharsis."
As the show was gearing up for the first year of the Trump administration, however, Zamata was planning her next move. After three years of learning from her own performances, her castmates and a star-studded list of guests, she felt ready to break out on her own. She parted ways with "SNL" in January 2017, grateful for the experience and eager for what would come next.
Encore
"Now, I am looking to do more of my own stuff, things that are in my voice and that I have creative control over," Zamata said. "I am excited to get more of that out to the people."
The country got its first taste of that with "Pizza Mind," the full-length special that Zamata released in 2017. In it, Zamata displayed both a strong command of comedy and a refreshing candor around issues of racial discrimination and sexism.
"I am really proud of my special," she said. "I don't necessarily think of the stuff I talk about as controversial. … I think we should be talking about this stuff, about race and gender and class. These are the things that affect us as people."
When done well, comedy can be the perfect venue for taking on some of those challenges.
Audience members frequently come up to Zamata after shows to tell her how her performance made them think about something in a new or different way.
"Hopefully, they will go home and keep talking to other people about it, and realize that maybe these aren't taboo things we cannot address but things we can actually talk about," she said. "Maybe that is how change can happen."
Zamata has continued to do shows around the country, and she is eager to do another special like "Pizza Mind."
She is also working on expanding her film career. In addition to "I Feel Pretty," her film credits include "Deidra & Laney Rob a Train," "Sleight" and "Yoga Hosers." She has been cast in director Stella Meghie's film "The Weekend," due out in 2019, and is working on her own script.
"I still like television, but I also like film because you can tell one story, finish it and then move on to something entirely different," she said.
No matter the medium, though, Zamata said she is always looking for work that showcases powerful emotions like what she felt in Culbreth Theatre years ago.
"Comedy is what I gravitate to the most, but I particularly like dark comedy, or comedy with dramatic elements to it. That feels real to me, because that is how life is," she said. "I like work that shows characters with a full range of emotion."
As she tries to put more and more of her work out into the world, Zamata is aware that there will be flat moments alongside the hits. In fact, that informs her primary advice to current UVA students hoping for their turn in the spotlight.
"You are going to try stuff that will fail. You might hate it; other people might hate it. But if you really want to do what you are passionate about, you just have to keep trying," she said. "Eventually, the failing will not be as bad as it was, and it will turn into succeeding. It's a process, and as long as you know that and you are willing to put in the work, you can do anything."
Media Contact
Article Information
August 21, 2018
/content/sasheer-zamata-reflects-her-time-uva-how-it-launched-her-career