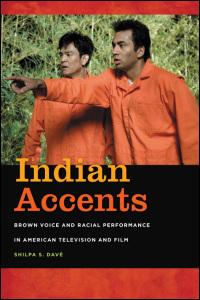 Shilpa S. Davé, assistant dean of the College of Arts & Sciences and assistant professor of media studies and American studies, "Indian Accents: Brown Voice and Racial Performance in American Television and Film." University of Illinois Press. 
In September, the Miss America pageant crowned Nina Davuluri as its first winner of Indian-American descent. Online sites were torched with comments of hatred and racism about Davuluri's heritage, leading many to question: Does the representation of South Asians in the media and popular culture play a role in society's view and acceptance of Indian-Americans?
Davé answers this question in her most recent book "Indian Accents," which explores the representation of South Asian stereotypes in popular culture. The book delves into the role that media plays in Western acceptance of the culture and individuals of South Asian descent.
Through the introduction of new concepts, such as "accent," "brownface" and "brown voice," Davé gives readers insight into the racial barriers that television shows such as "The Simpsons" and movies like "Harold and Kumar Go to White Castle" perpetuate for South Asians.
Davé takes readers beyond visual difference and explores variations of national origin, class and privilege. She compares today's struggles of South Asians to those that African-Americans once faced with "blackface, race and performance" and the societal barriers that continued as a result.
She goes on to present the work of South Asian actors who are resisting "brown-voice" performances and "showing how strategic use of accent can expand and challenge such narrow stereotypes," says the publisher.
Gita Rajan, co-editor of "New Cosmopolitanisms: South Asians in the U.S.," said Davé's work is "a truly innovative use of 'accents' as a methodological entry into understanding where South Asians are positioned within America and American popular culture. Persuasively argued and full of many sharp, insightful moments, 'Indian Accents' will be invaluable to scholars of American studies, Asian-American studies, ethnic studies and media studies."
— by Ashley Patterson
Media Contact
University News Associate Office of University Communications
anneb@virginia.edu (434) 924-6861