In the 21st century, women – once mostly barred from education at the University of Virginia – have become active members in every area of life and work on Grounds. Even now, they continue to break barriers and become the first in their fields – as with Teresa A. Sullivan serving as the first female president of UVA, and Carla Williams just hired to be the University's first female director of athletics.
During UVA's first century, the roles for women were severely limited.
When Caroline Preston Davis – whose grandfather, law professor John A.G. Davis, was famously shot by a student on the Lawn in 1840, an incident credited with spawning UVA's honor system – took advantage of her family connection to petition the University to allow her to study mathematics, she was required to take the final math exams in a separate room from the men. The University did not grant her a diploma, though she passed with distinction, but instead issued a certificate in mathematics to her in 1893 – because she was female.
Many changes in the latter half of the 20th century show the culture slowly becoming more welcoming, then accepting, and finally celebratory of women's inclusion at UVA. In March 2011, the UVA Alumni Association, with help from the UVA Women's Center, hosted a conference to celebrate 40 years of full coeducation and to recognize women's history and accomplishments at the University and beyond.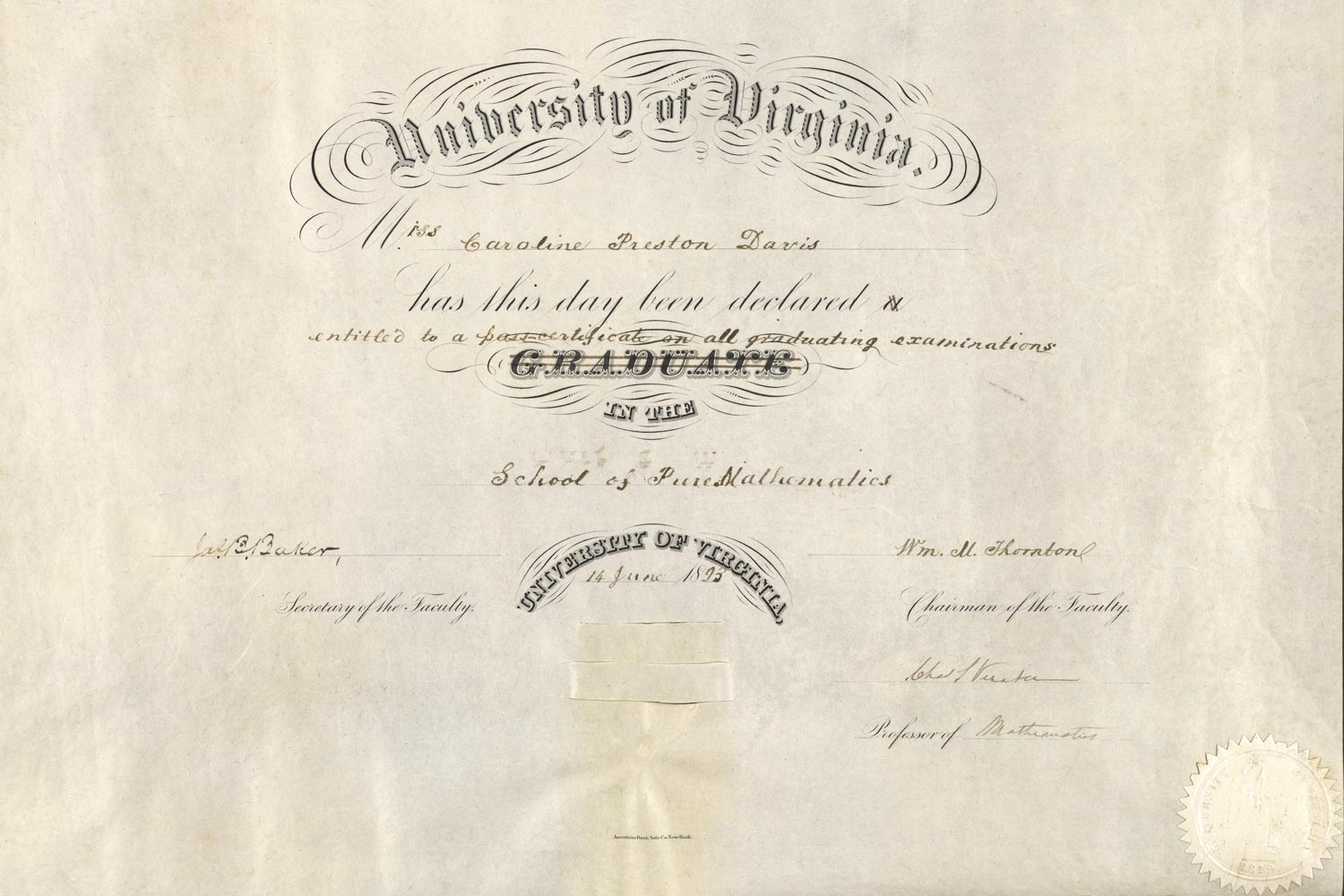 In 1893, the University did not grant Caroline Preston Davis a diploma, though she passed with distinction, but instead issued a certificate in mathematics – because she was female.
As part of the October launch of its bicentennial commemoration, the University recognized some of the first women to earn their undergraduate degrees. Another bicentennial event, this week's Women's Global Leadership Forum, is exploring the challenges and contributions women are making – and what remains to be done – in today's complex world.
Looking back, here are six memorable milestones for women on Grounds.
Summer School
In 1880, UVA hosted the state's first summer program, or "Normal School," for Virginia primary school teachers, drawing 312 women among almost 500 students. Only men, however, could earn credit and degrees for the courses they took.
Some summer classes, which began in 1907, were open to women, including art, home economics, livestock evaluation and cooking.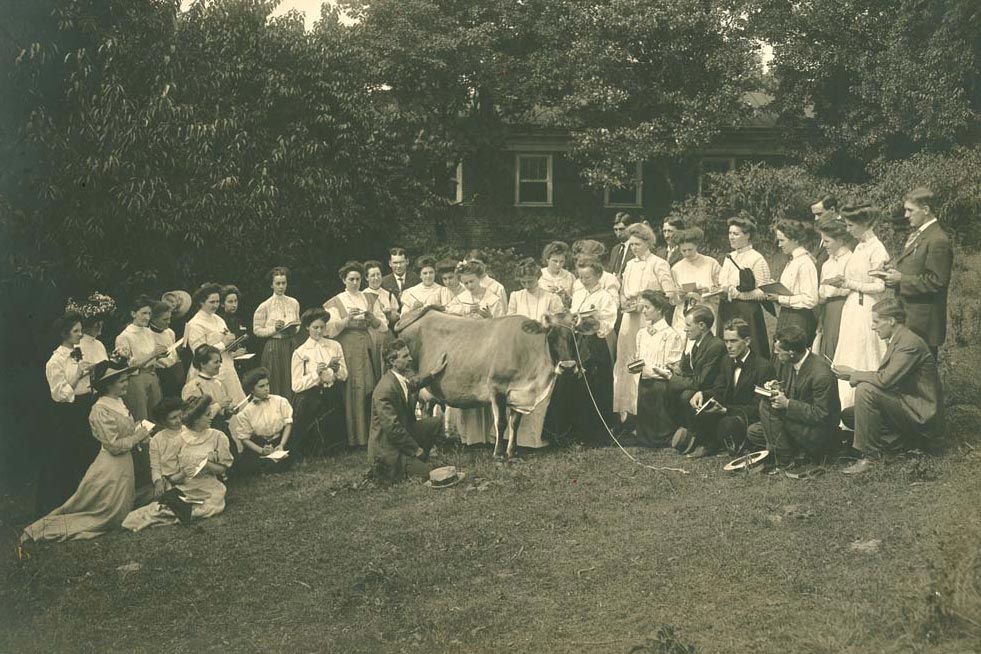 A summer agriculture class at UVA provides instruction in stock judging, or the evaluation of domesticated animals for breeding purposes.
Graduate and Other Professional Schools
Established in 1905, the department that eventually became the Curry School of Education first admitted women in 1920. Its first five female students earned degrees by 1922. From that time on, women constituted the majority of the student body.
Although the UVA Hospital created a two-year nurses' training program in 1901, the Curry Department of Education began offering a bachelor's degree for nursing students in 1928 and a specific Bachelor of Science in Nursing degree in 1949, while the School of Nursing was established in 1956.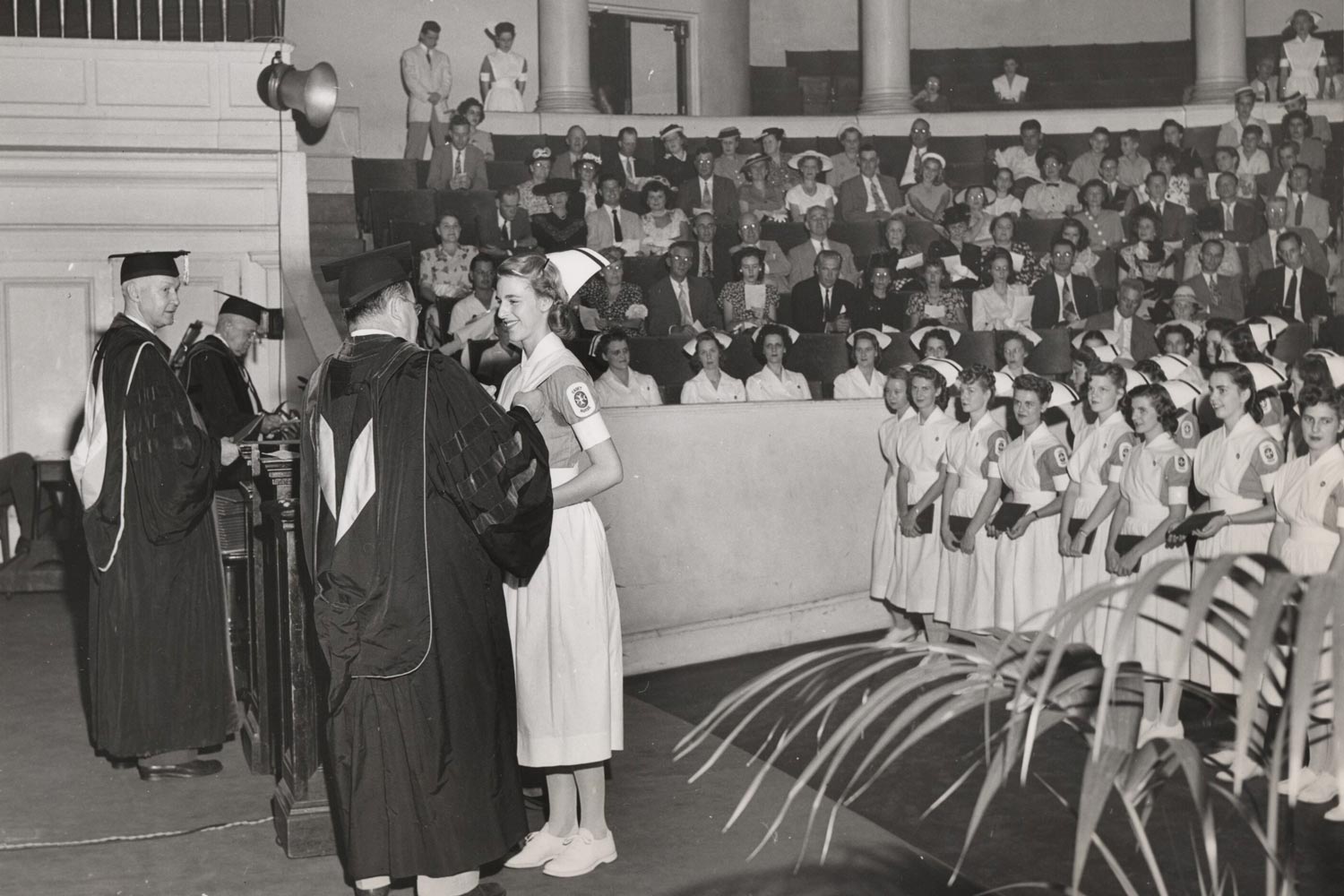 This nursing graduation ceremony was in 1947 during a period of increasing professionalism, although it would be two more years before UVA granted a B.S. in Nursing and nine years before it formally became the School of Nursing.
In January 1920, the Board of Visitors passed a resolution allowing women to be admitted into graduate programs and professional schools, and 17 women entered the University, joining more than 1,550 men. Three women enrolled in the Law School, four in medicine, three in education and seven in the Graduate School of Arts & Sciences. (Education was a department, but was included.)
The board sought to ensure that only "women of maturity and adequate preparation" gained admission to the University. It stipulated a set of requirements for female students in terms of age, character and academic credentials.
Full Coeducation
In 1969, Virginia Scott, a Charlottesville resident, sued the University in federal court for admittance to the College of Arts & Sciences. The late John Lowe, a 1967 UVA Law School alumnus for whom Scott worked, took the case. Dean of Women Mary Whitney resigned from her University position to testify in court for the female students. The court suggested the University consider accepting the lawsuit's plan to become fully co-educational within three years, and the Board of Visitors accepted. [See the recent UVA Today article here.]
In just the first year of full coeducation in 1970, 450 undergraduate women enrolled – 39 percent of the class. Many of them transferred from other colleges, including Mary Washington College, which was established in 1944 as the women's college of the University of Virginia. (It became an independent school in 1972 later and began admitting men.)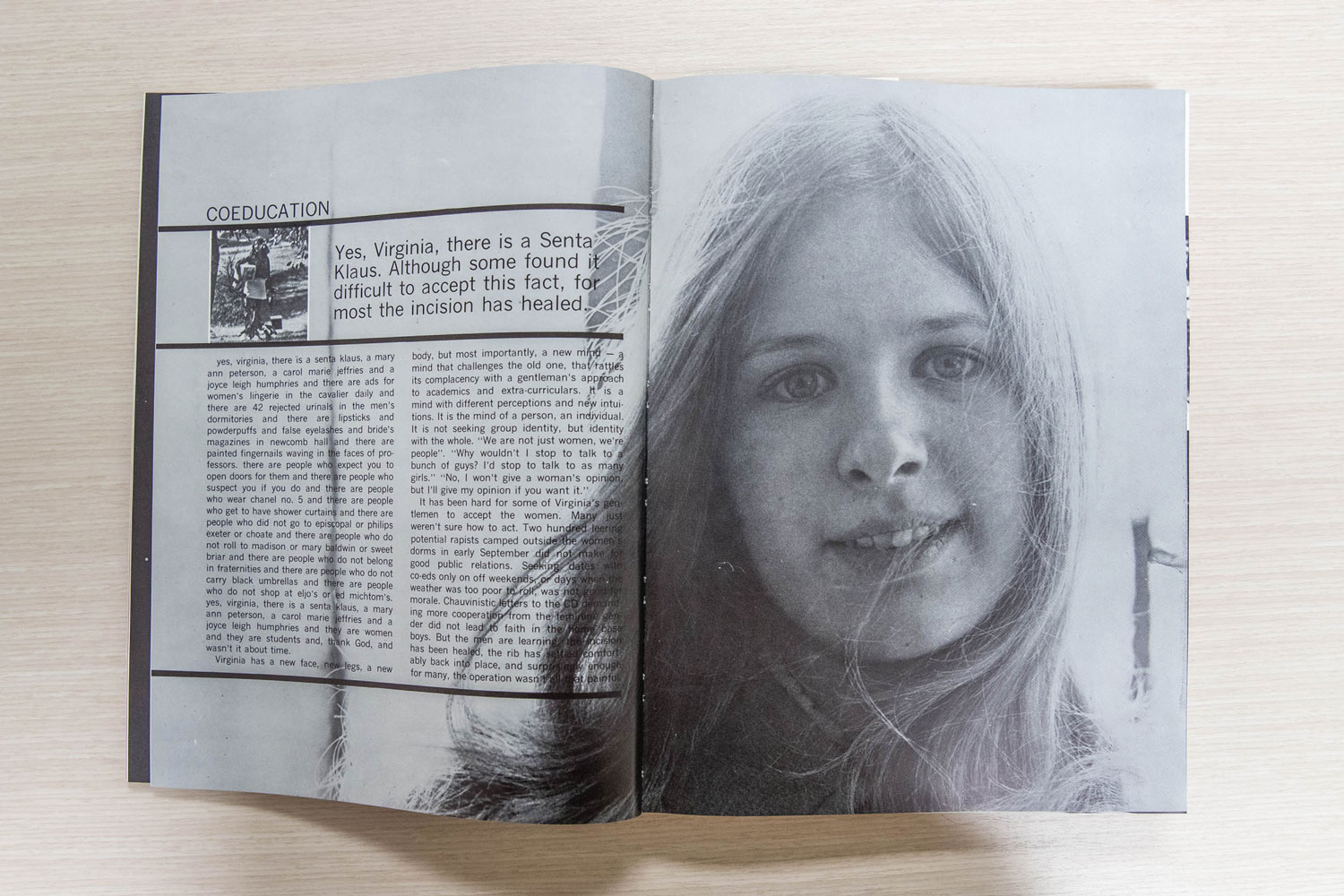 This 1971 Corks and Curls article focused on coeducation. By 1980, the number of first-year women on Grounds exceeded men for the first time. (Photo by Sanjay Suchak, University Communications)
In 1972, one of those transfer students, Cynthia Goodrich, moved into 28 East Lawn, becoming the first female Lawn resident.
By 1980, the number of first-year women exceeded men for the first time. Overall female enrollment exceeded male enrollment for the first time in fall 1995 and has continued to do so ever since. 
This year, women make up 56 percent of the Class of 2021.
Women's Studies
In 1979, the College of Arts & Sciences' dean at the time, the late Robert Kellogg, asked Sharon Davie, a lecturer in the English department who had earned her Ph.D. there, to start a women's studies program. With a Ford Foundation grant for curriculum transformation, Davie laid the groundwork for the interdisciplinary program that began offering a major in 1988.
Davie went on to become director of a separate Women's Center in 1989. Ann Lane, hired a year later as a full professor with a joint appointment in history, took over and developed the women's studies program. She was director from 1990 to 2003 and retired in 2009.
Renamed "Women, Gender and Sexuality" in 2012, the program became a full-fledged department in January 2017, and began offering a new graduate certificate this fall. UVA psychology professor Charlotte J. Patterson was named director in 2011, and became chair in January 2017. Today, the department has 15 faculty members; some are part-time, and some have joint appointments in other departments.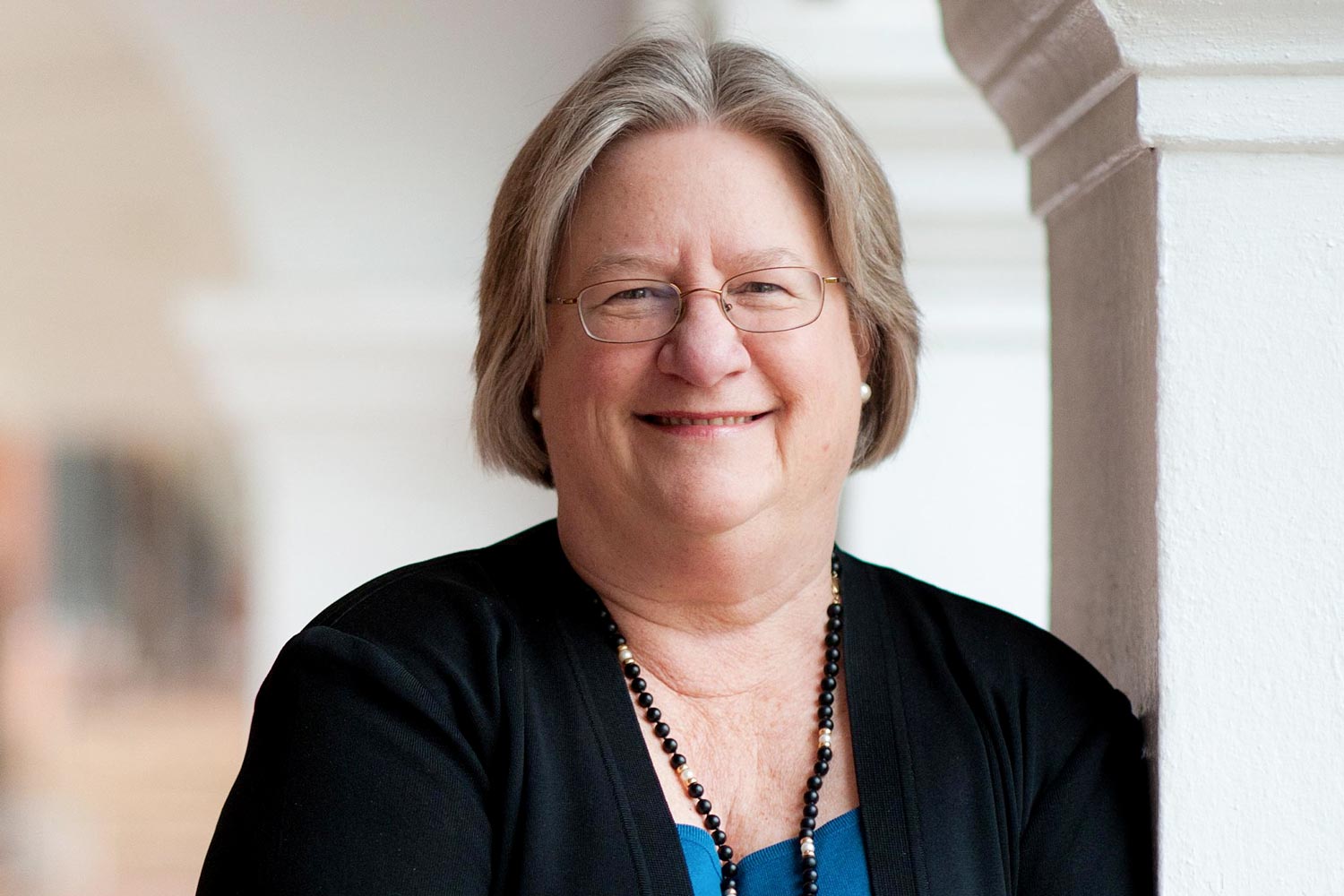 Psychology professor Charlotte Patterson was named chair when Women, Gender and Sexuality became a department. (Photo by Sarah Cramer Shields)
Last year, more than 1,200 students enrolled in Women, Gender and Sexuality classes. By the end of April this year, 127 students had declared it their major or minor (99 majors and 28 minors).
Dedicated Women's Center
In 1987, then-UVA President Robert O'Neil created a two-year Task Force on the Status of Women, which eventually led to the Women's Center's founding in 1989, after thousands of students, faculty and staff petitioned the University to establish such a center. Separate from the academic program, the center offers programs that foster leadership, engaged scholarship, safety and well-being. Its services and opportunities to the UVA community range from academic internships to counseling services to public talks.
The center stewards two award traditions that recognize the accomplishments of women: the Distinguished Alumna Award, first given in 1991, and the Elizabeth Zintl Leadership Award, presented to a UVA faculty or staff member, established in 1998.
In 2014, Maxine Platzer Lynn, a 1951 Curry School alumna, pledged a $3 million endowment to the Women's Center to support its meaningful impact on the University. She describes her time at UVA as giving her "a great sense of community and of the importance of giving back." She intended that her gift give today's students the same opportunities by enabling the Women's Center to continue its mentoring and outreach to all students, irrespective of gender.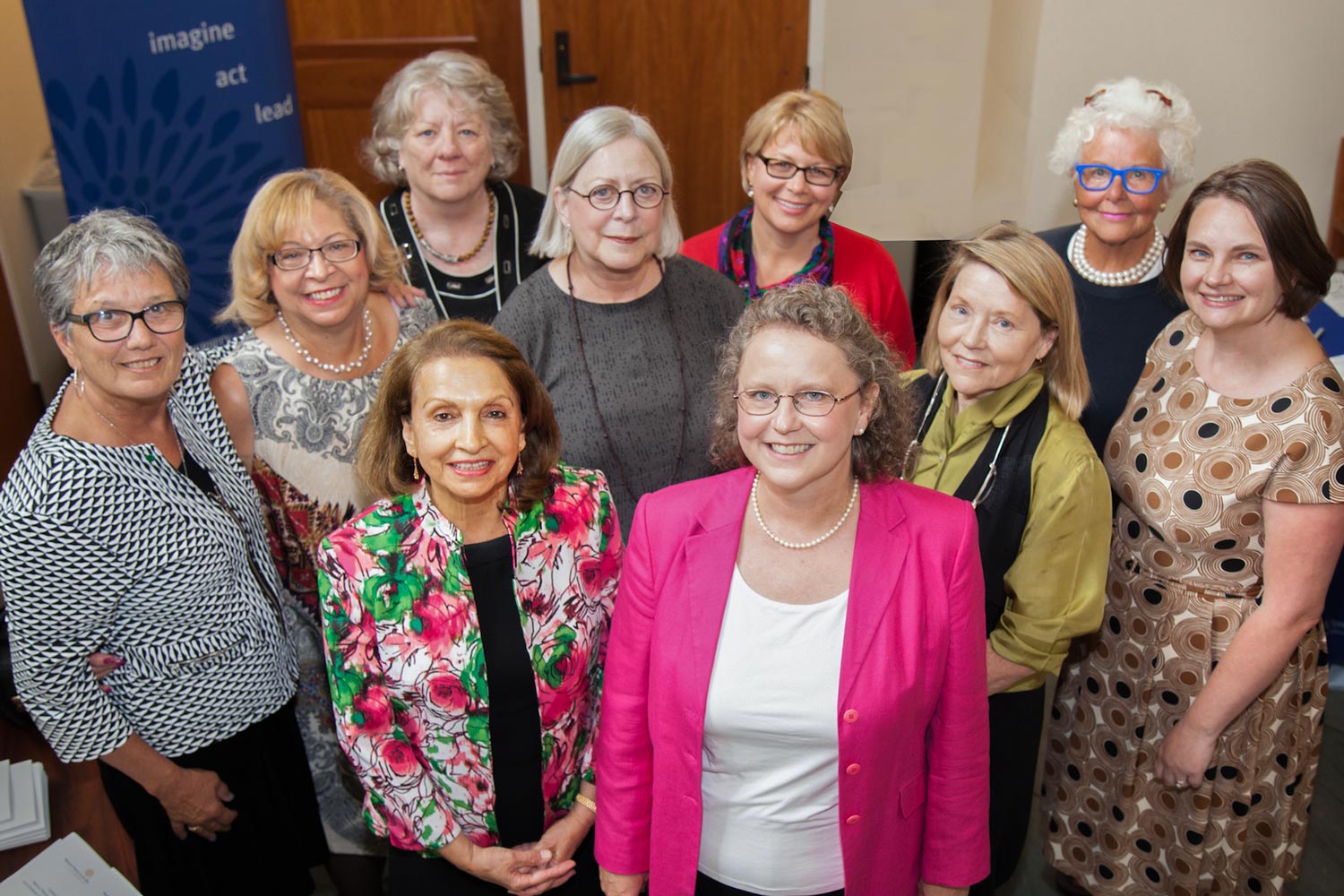 Some of the past 22 Zintl Award winners and Women's Center Director Abigail Palko, far right, gathered in 2016 when engineering professor Pamela Norris (in front with glasses), won the award. (Photo by Peggy Harrison)
Sharon Davie led the center for 25 years, retiring in 2015. Abigail Palko was hired as the second director and came to UVA in July 2016.
Athletics
With full coeducation, a women's intercollegiate athletic program followed. Club sports such as tennis, field hockey and basketball started in the fall of 1971 and achieved varsity status two years later. In 1975, federal Title IX regulations for intercollegiate athletics went into effect; by 1976, the women's athletics program had expanded to include swimming, diving and lacrosse. Today there are 13 women's varsity sports.
Jill Haworth Jones and the women's cross country team won national championships in 1981 and 1982. Jones, who graduated in '83, was among the first women to receive an athletic scholarship at the University.
Under women's basketball coach Debbie Ryan, who held the post from 1977 to 2011, the Cavaliers were Atlantic Coast Conference tournament champions in 1990, 1992 and 1993, and regular-season champions 11 times between 1984 and 2000. They played in the NCAA Final Four tournament in 1990, '91 and '92.
Dawn Staley played in the NCAA Tournament in all four of her seasons at Virginia, including three Final Fours. Twice named college player of the year, she made her only championship game appearance in 1991, when UVA lost to Tennessee in New Orleans, 70-67, in overtime. Playing for the U.S. Olympic team, Staley racked up three gold medals. Staley, now the head women's basketball coach at the University of South Carolina, led the Gamecocks to the 2017 NCAA championship.
In the 2016 Summer Olympics in Rio, Leah Smith, a 2017 UVA graduate who majored in media studies, earned a gold medal as a member of the U.S. women's 800-meter freestyle relay team and a bronze medal as an individual in the 400-meter freestyle.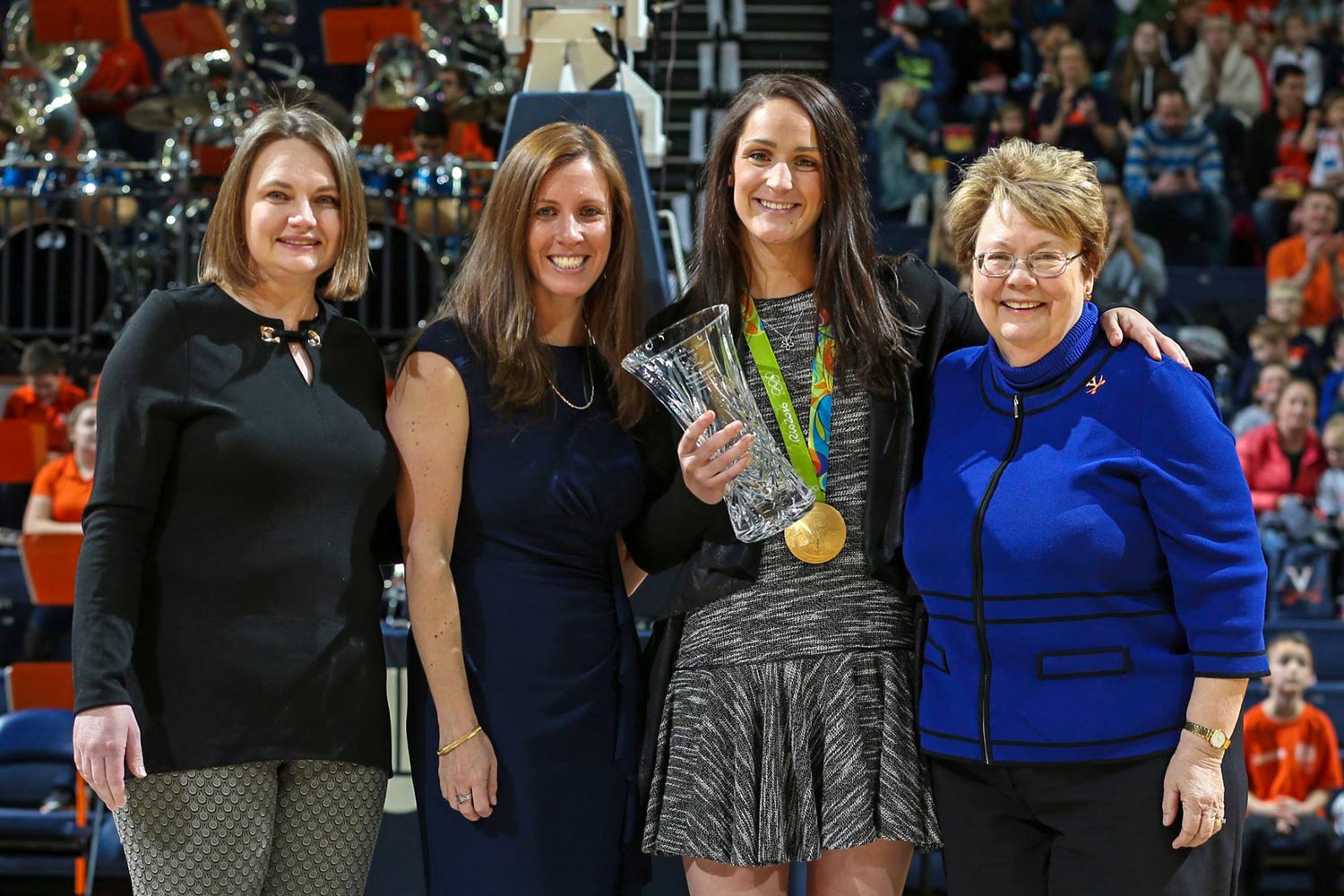 Gold medalist Leah Smith, center, was honored at the National Girls and Women in Sports event in February, with, from left, Women's Center Director Abigail Palko, Valerie Richardson of Athletics and UVA President Teresa A. Sullivan. (Photo by Matt Riley)
Article Information
November 15, 2017
/content/six-memorable-milestones-women-uva