Six University of Virginia sculpture students have earned a professional commission to have their work displayed in Charlottesville.
The students, all enrolled in associate studio art professor William Bennett's advanced sculpture class, created six pieces for Main Street Market, a large building on West Main Street, home to several restaurants, shops and grocers.
Allen Cadgene, the market's owner, approached Bennett in the fall, looking for art to provide visual interest in the building's open, airy hallways.
"He wanted to dress up the space a bit, and I thought it would be a great place to share our students' projects," Bennett said.
Bennett's students presented models, drawings and simulations of their proposed designs to Cadgene, who was enthusiastic about each of the six proposals. With his approval, they worked on their sculptures for the rest of the fall and spring semesters, installing the final products last week. They will remain on display indefinitely.
"It was good for them to get this real-world experience," Bennett said, noting each student was paid for their work. "It raises the stakes a bit, and also raises the rewards."
Take a look at the six sculptures below.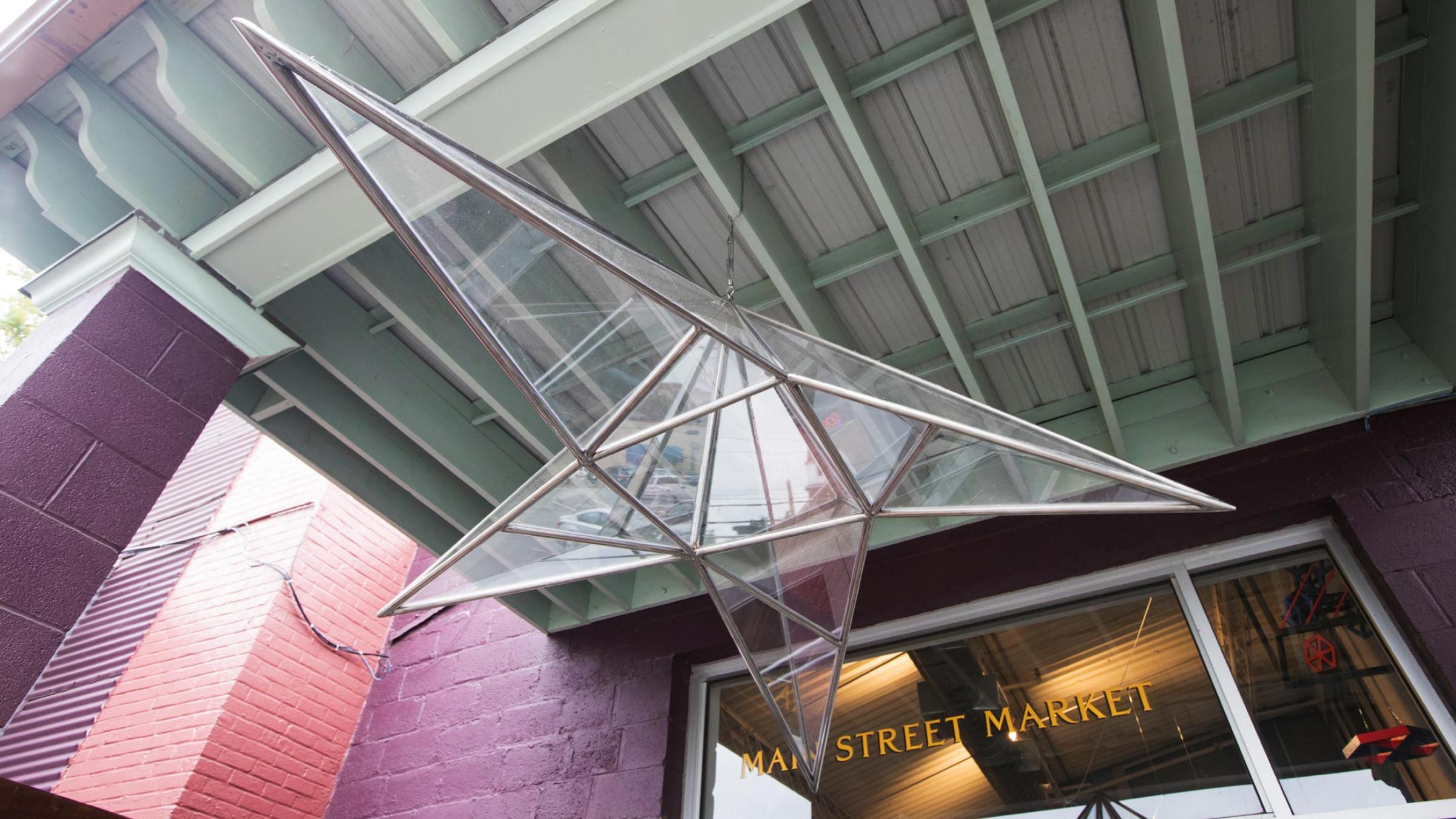 Fourth-year student Charlotte Barstow, who is studying anthropology and studio art, created her sculpture, "Echo," to hang outside the market's main entrance. The industrial rafters of the market's indoor space inspired the steel frame, while the glass was designed to capture and reflect light.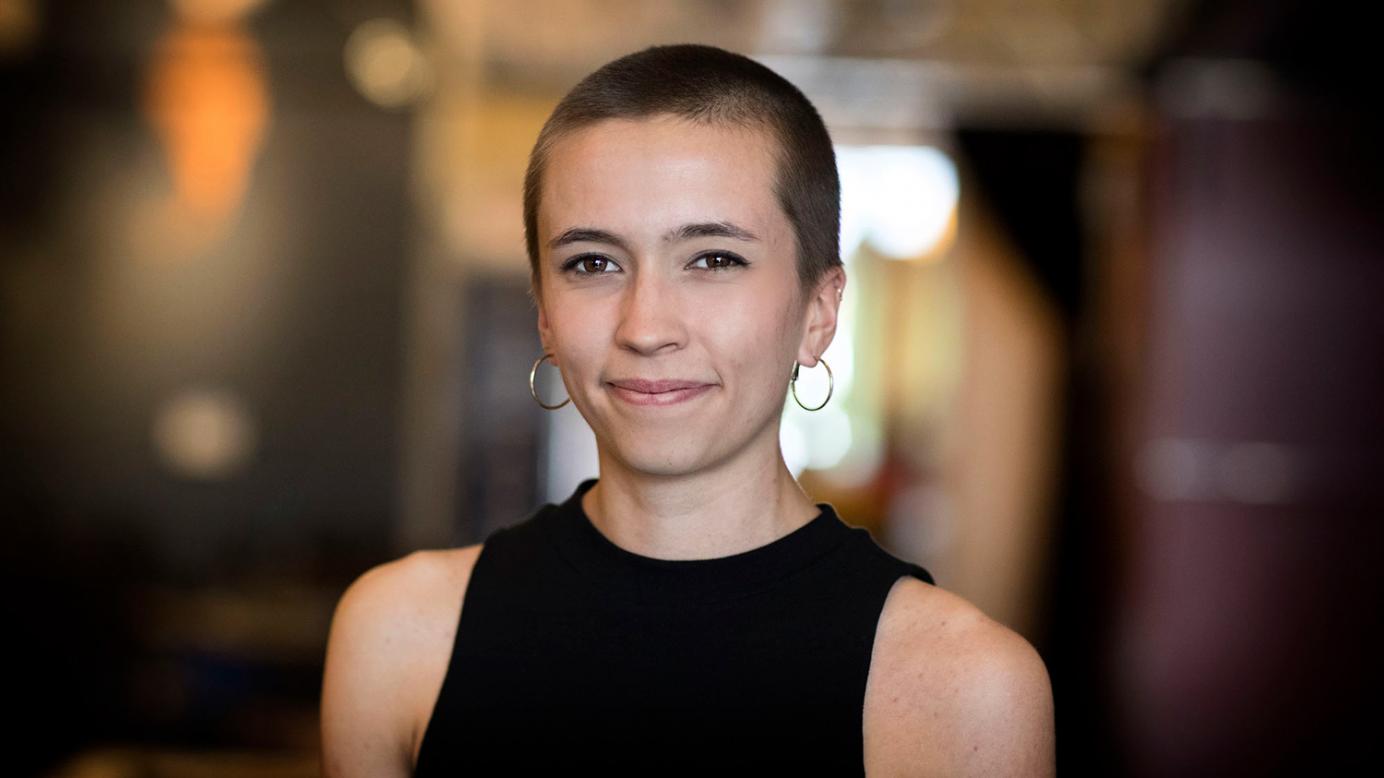 "I wanted this piece to become an active part of the Main Street Market space, engaging the visitors who come here and taking on a life of its own," Barstow said. "Especially in the morning, when the sun hits it, it casts all sorts of reflections, which all move as the piece moves. It takes on an active character in that way."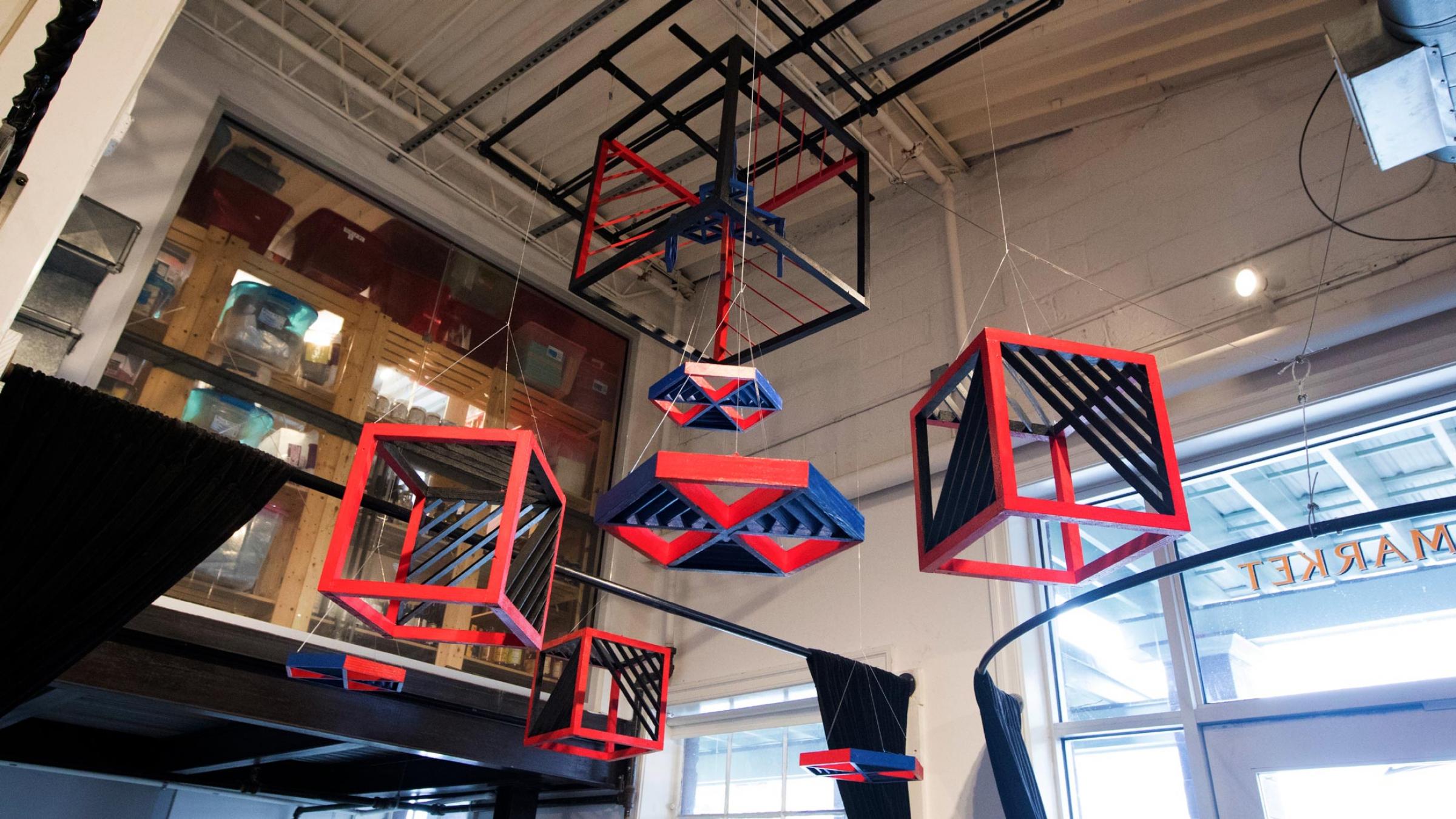 Sculpture student Chris McDaniel designed his brightly colored, geometric sculpture for the market's foyer after studying the lines and angles that make up hexagons and cubes. The piece is called "RACA," short for "radioactive cube assembly."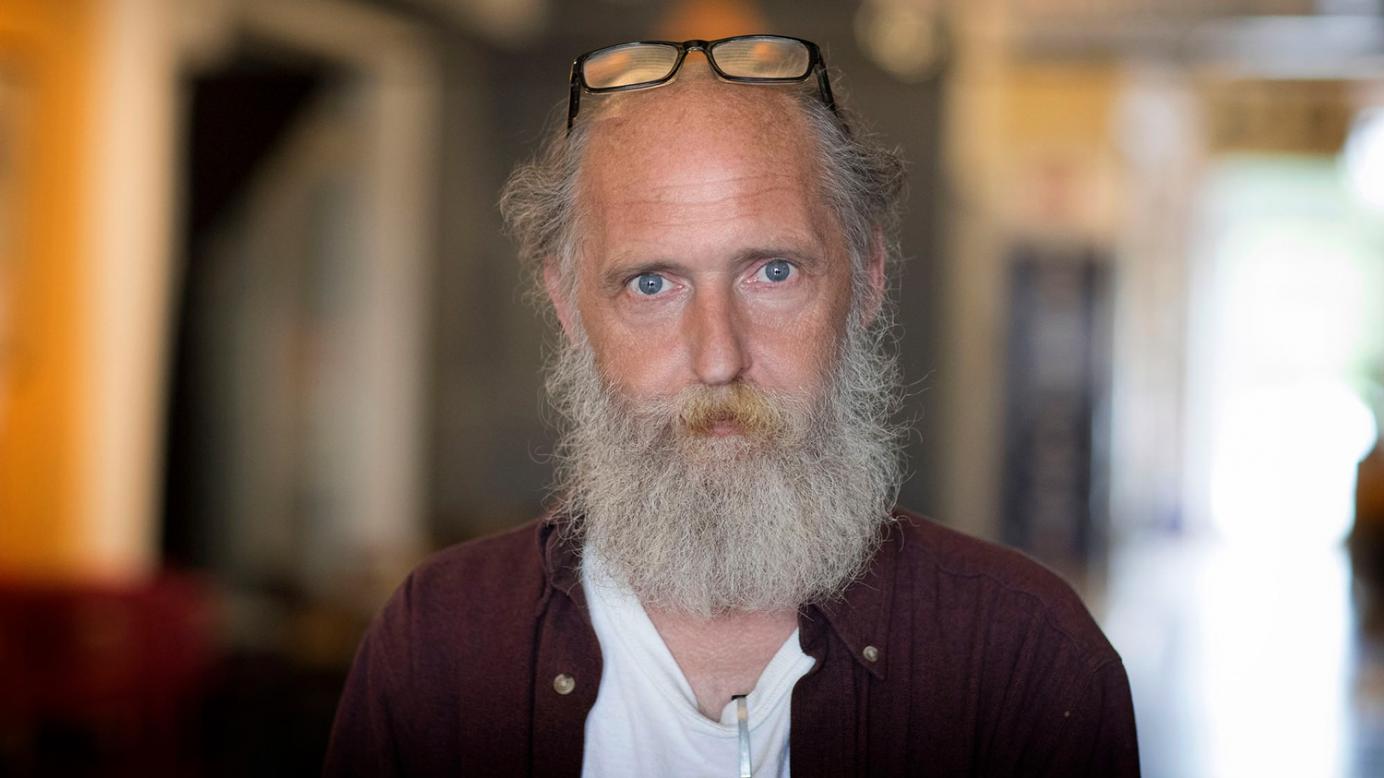 "I like to play around with geometry," said McDaniel, who works part-time as a chef to fund his studies at UVA. "The shape of a hexagon, and how it looks when unfolded in two dimensions, was really the driving engine for everything."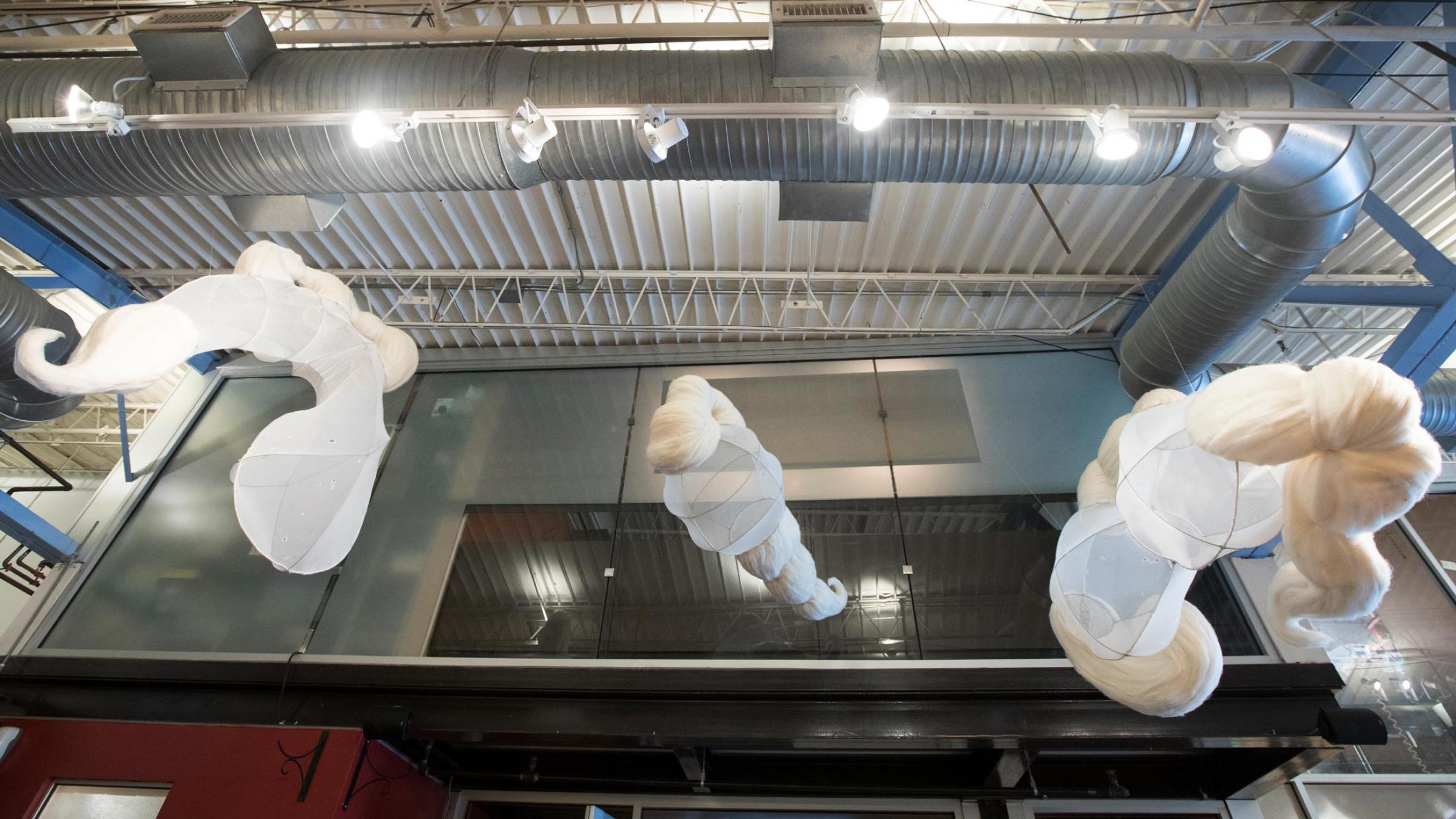 Third-year psychology and studio art student Caitlin Peterson decided she wanted to bring a piece of Charlottesville's skies indoors. She used nylon mesh, wool and chicken wire to create a series of airy, fluffy clouds that shift as you change your point of view, much like clouds floating overhead. She titled the piece "Nepho," a Greek word for cloud.
"The piece emulates the experience of looking at the clouds and seeing them from different perspectives, but rather than the perspective shift being dependent on the movement of the clouds, it is dependent on the movement of the viewer," Peterson said.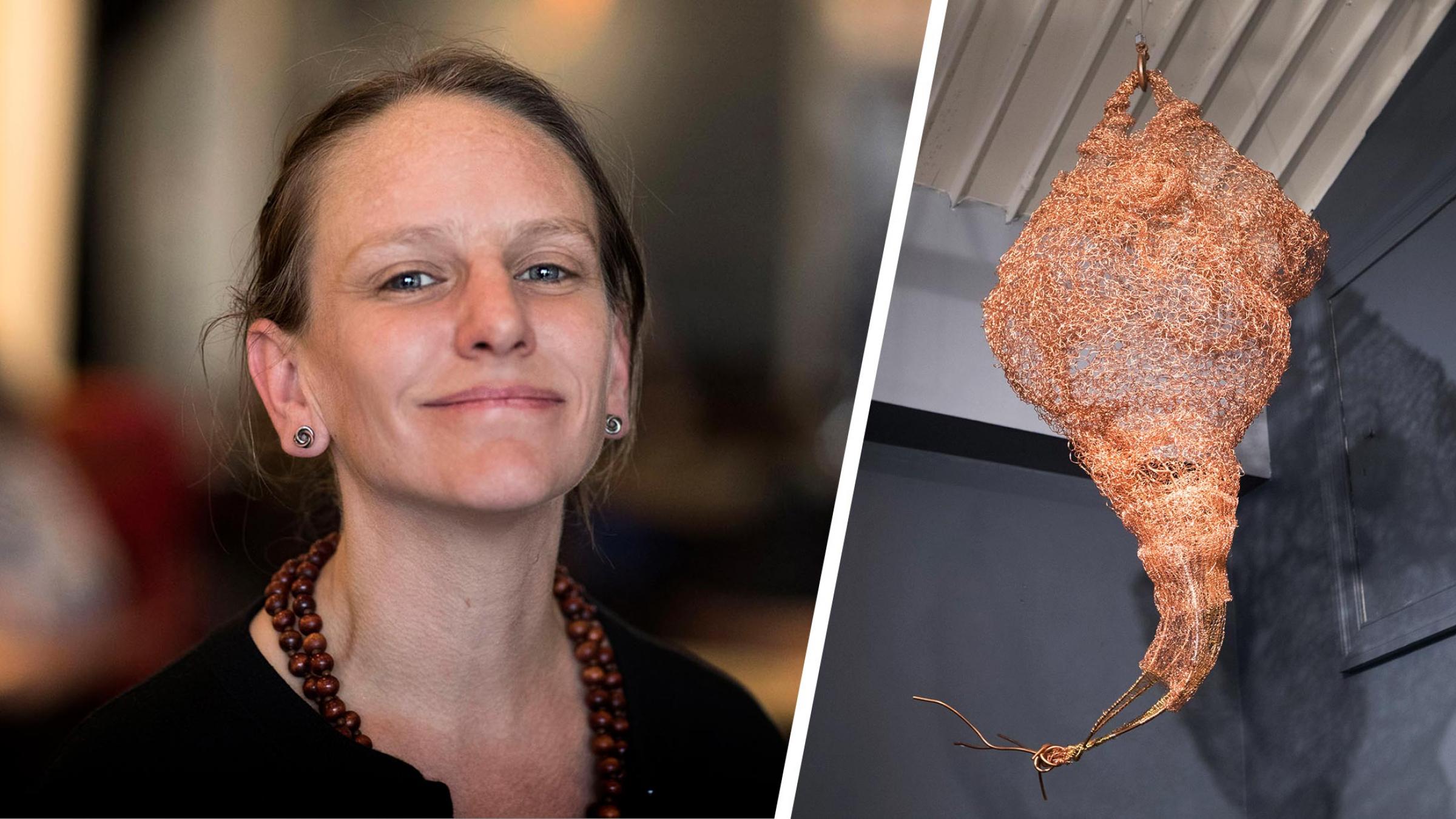 Interdisciplinary studies student Amanda Downing, a librarian in Charlottesville's public library system, has completed her third semester of sculpture classes at UVA. She created her piece, "Nesting in Wing," by crocheting thin copper wire into a bright, airy nest.
"It was important to me to make a structure that was nest-like or homelike, that looks very delicate and yet holds together with a lot of strength, much like hives, birds' nests and even human homes," Downing said. "As a public librarian, I see a lot of people in transition, and I have thought a lot about that search for home."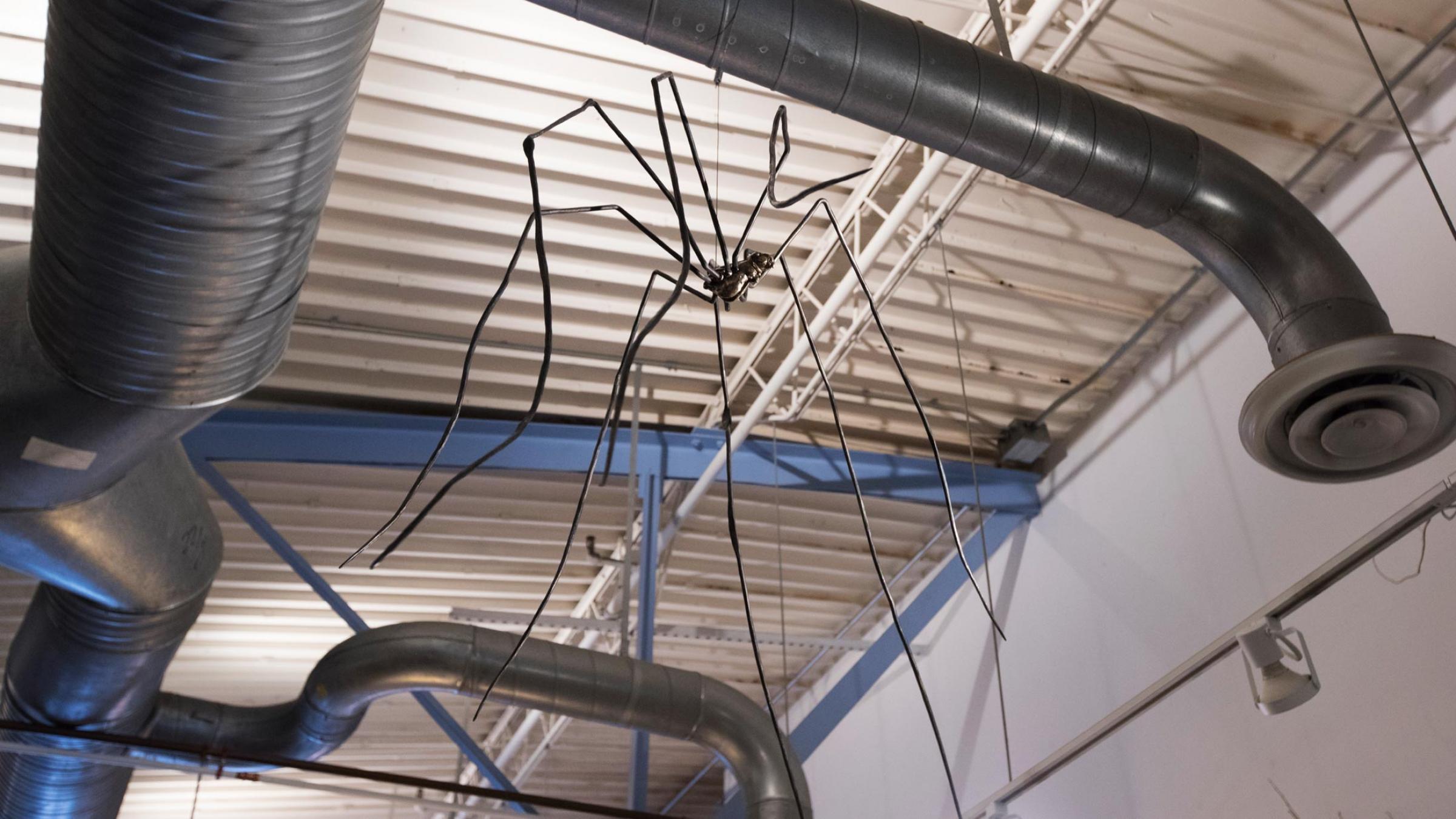 Painter, elementary school art teacher and sculpture student Ann Clark created "Nesting Spider," for the market's garden shop, one of a series of large insect sculptures she has been working on. The spider's body is cast in bronze – Clark's first time bronze casting a sculpture – and her legs are forged steel.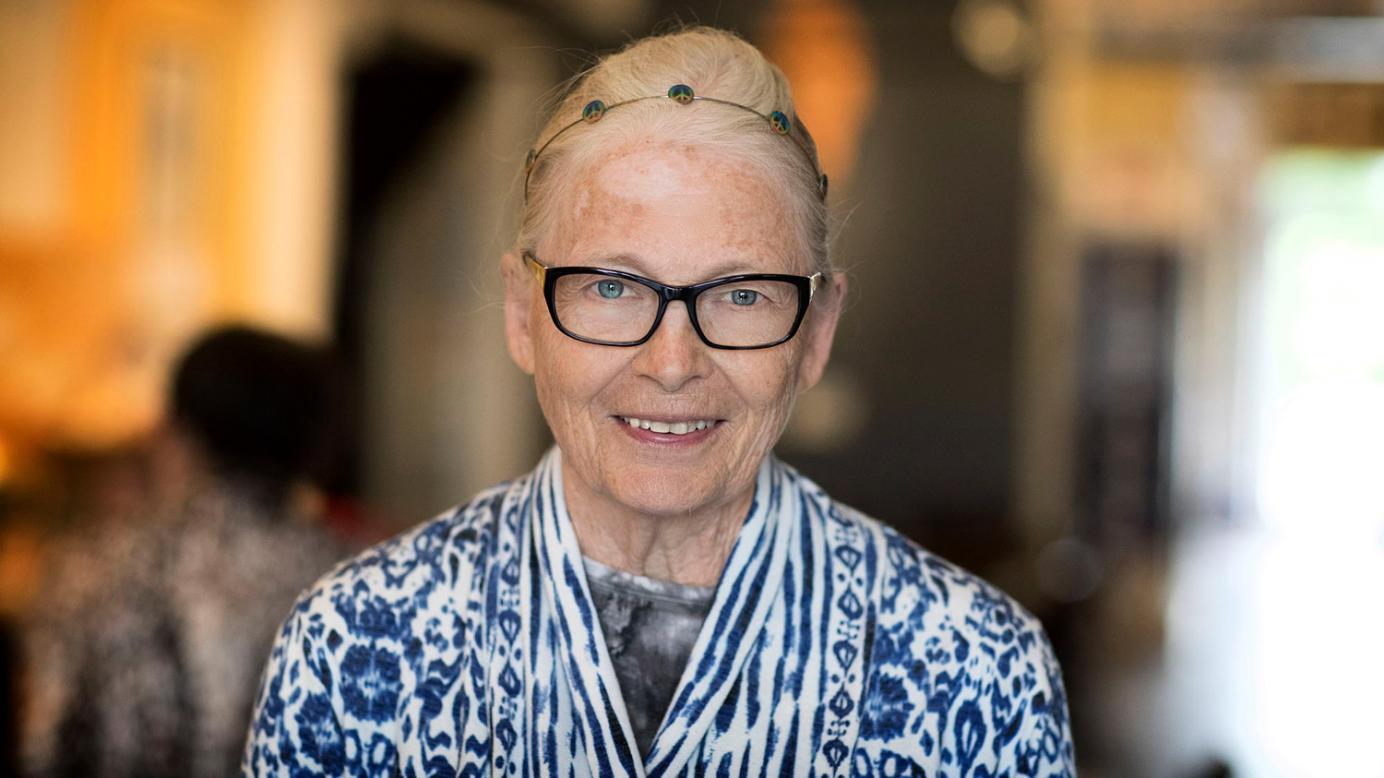 "Many of us were using techniques that we had never done before," Clark said. "This project has really good for all of us, and I really enjoyed it."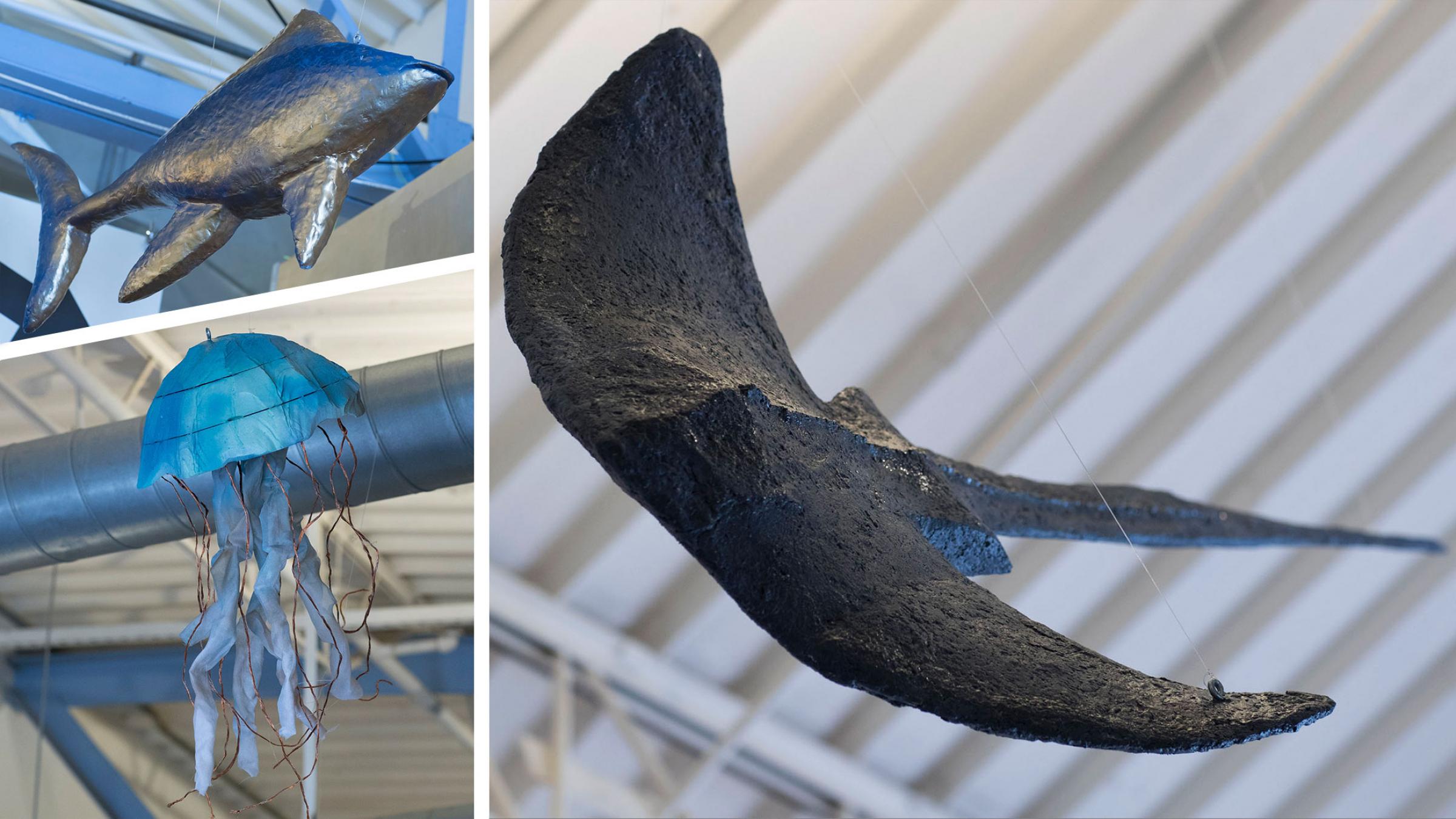 Third-year psychology student Margaret Wiwuga, who grew up in Charleston, South Carolina, was tasked with creating a sculpture for the market's seafood shop, Seafood at West Main. For her piece, titled "Undersea Visions," she created a series of Styrofoam fish sculptures and used several different techniques – from welding and papier-mâché to a blowtorch – to give each fish a unique look. Little dots of clear glue are carefully placed to create shine, making the fish appear as if they just emerged from the waves.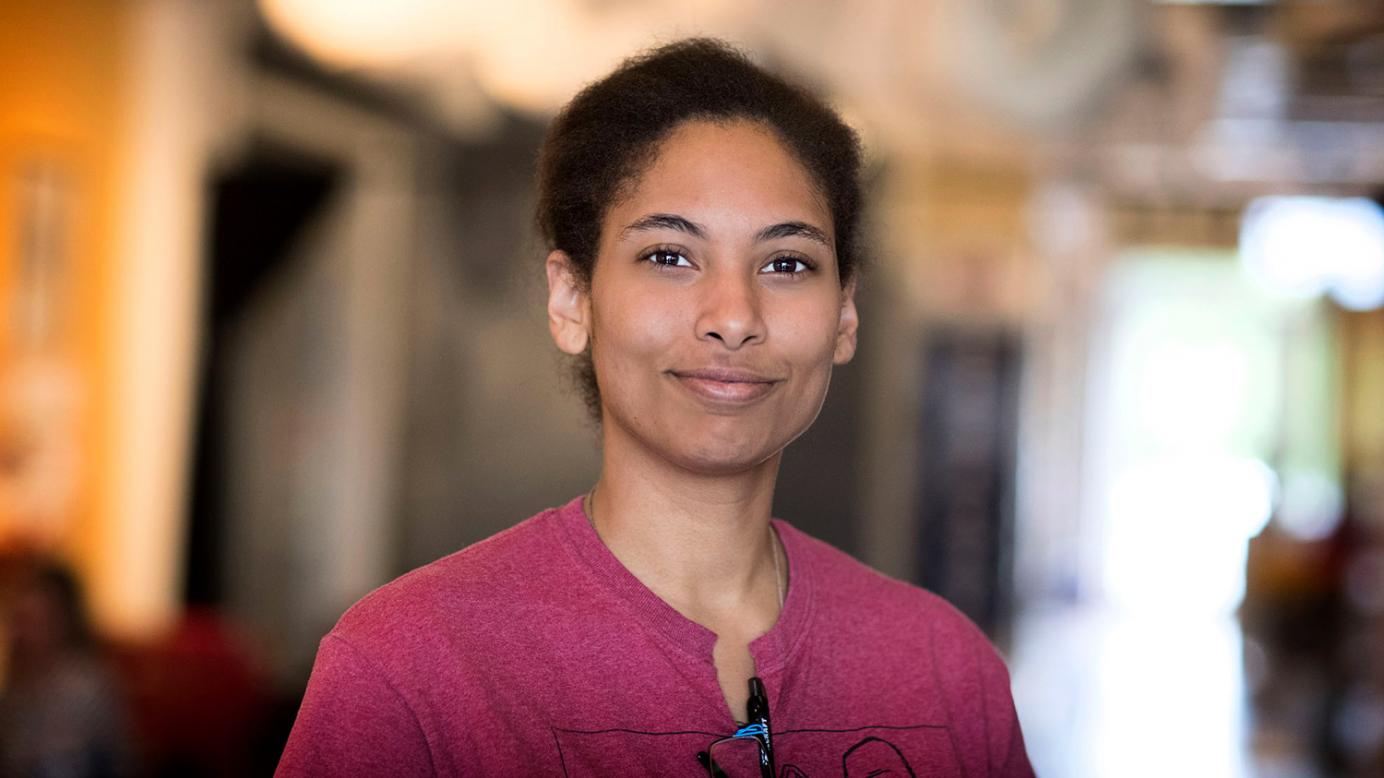 "I have always liked to doodle and draw, but it was not until I got to UVA that I started exploring other media," Wiwuga said. "I have loved experimenting with bronze and aluminum, and Styrofoam was really fun to work with and experiment with as well."
Article Information
May 09, 2017
https://news.virginia.edu/content/six-uva-sculptors-leave-their-marks-market