Marc Blatt was a second-year student at the University of Virginia when he responded to one of his first calls as a volunteer at the Charlottesville-Albemarle Rescue Squad.
It was a harrowing situation. A mother and her two young children had been in a bad car accident. They were hurt and frightened. Marc was a nervous novice. As if that were not enough, another roadblock emerged: the victims didn't speak a word of English.
Blatt had, of course, been through emergency medical services training, but what he lacked was what he needed most in that moment: medical Spanish language training.
"You've taken the class and learned all the lingo, but you've never had to put it into practice before," he recalled. "There's no flow, you are nervous – you've never really spoken to a patient before – and they spoke only Spanish."
Reading the situation, Blatt's partner decided the best use of his time in that moment was to direct traffic, because he did not speak Spanish. That left the Potomac, Maryland native alone with the family, trying to use his Spanish as best he could to assess their health and calm their nerves. It was not easy, and afterward Marc sought to make sure incidents like that are fewer and further between.
In fact, the Echols and Jefferson scholar had already laid the groundwork for more learning by enrolling in a medical Spanish language course, taught through the UVA in Valencia program, that he would take the following summer.
The double-major in Spanish and economics said he wanted to take the course not only for the medical language training, but to improve his proficiency.
Back in the United States the following fall on an EMS shift, Blatt worked three calls from Spanish-speaking patients in a single night. That solidified his determination to improve emergency responses to the Latino community.
He turned for advice to Gustavo Pellon, an associate professor of Spanish, who agreed to be Blatt's independent study adviser. The plan was to create a medical Spanish tutorial for first responders.
Now, Blatt just needed a partner to help create and teach the course. It would be too much for one person. To him, there was only one logical choice: fellow Echols Scholar Sabhi Singh, a first-year dorm mate and medical Spanish classmate.
Following her stint in Valencia, the neuroscience and Spanish double-major returned to Charlottesville and volunteered to interpret for Spanish-speaking patients at the UVA Medical Center. Singh, too, was a volunteer at the rescue squad.
"I have been pretty struck by the number of very sick Spanish-speaking patients that I've had. I've back-boarded two Spanish-speaking patients. That is something that we do very rarely," she said, speaking of the full immobilization technique first responders use in the event of potential spine injuries.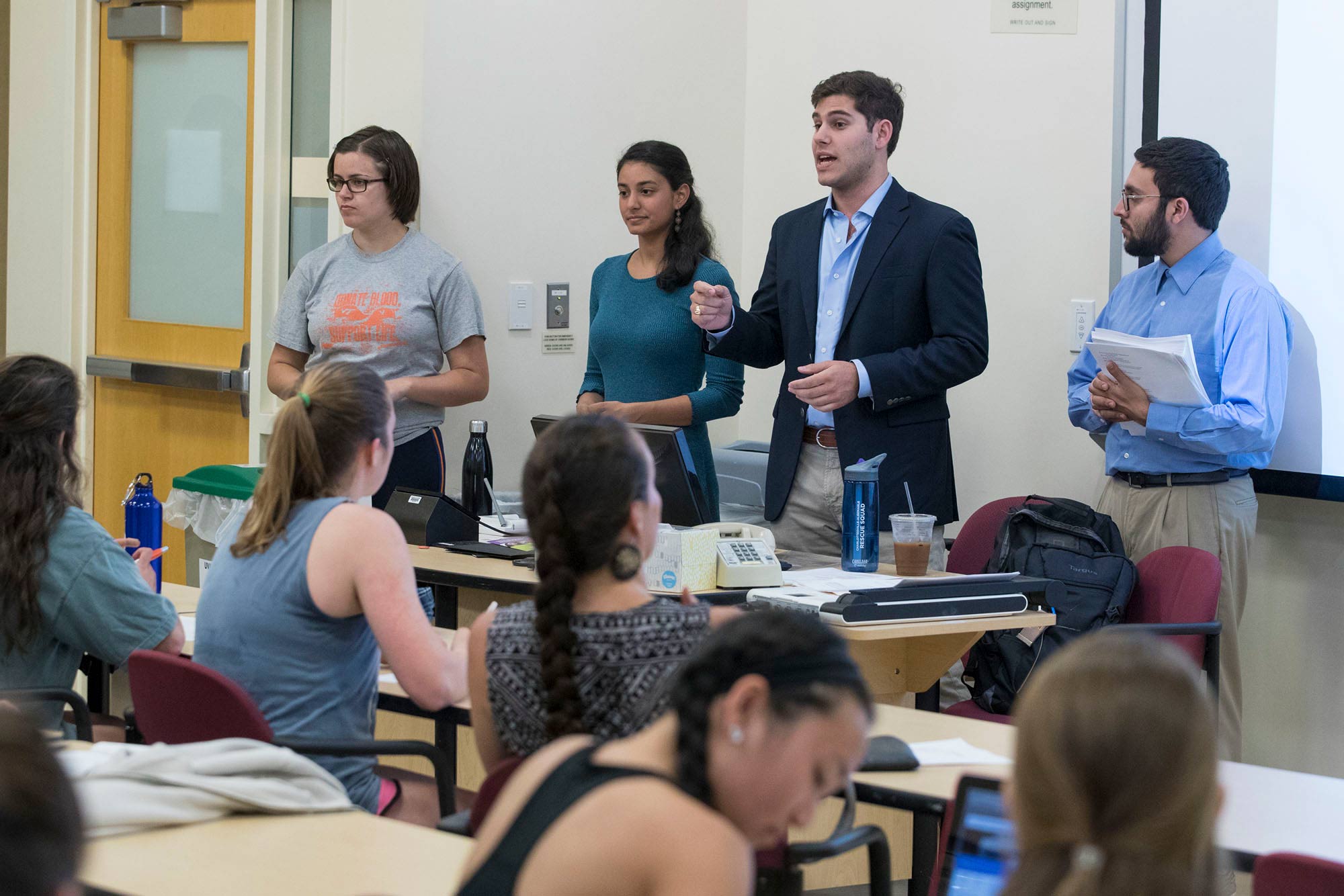 Sabhi Singh and Marc Blatt, second and third from the left, tailored their EMS medical Spanish course to nursing students and offered it during two packed sessions in April. (Photo by Dan Addison, University Communications)
"These patients spoke no English at all, and you think, 'Had I not been there, this patient would have been loaded on a stretcher – no assessment would have been done; you can't tell the family members what's happening.' So it's such a decreased quality of care compared to what our English-speaking patients get," she said.
With Singh onboard, Blatt spoke with Tom Joyce, executive director of the Thomas Jefferson EMS Council, about creating medical Spanish training for EMS workers. It had been at least five years since such a course had been offered. With advances in medicine and technology, Joyce agreed it was time to offer a new program.
In March, Blatt and Singh gave three sessions of their medical Spanish language course to EMS workers, some of whom drove nearly two hours to attend at the Charlottesville-Albemarle Rescue Squad building on McIntire Road.
The class was tiered to be relevant to Spanish speakers of various levels and offered instruction on basic communication with patients, teaching such phrases as "Hello, my name is Sabhi. I will be taking care of you today." (In Spanish, that's "Hola, mi nombre es Sabhi. Yo se que cuidarte hoy.")
Theresa Carroll, senior assistant dean for academic and student services in UVA's School of Nursing, got wind of Blatt and Singh's EMS course and saw an immediate demand for something similar in the school.
She offered to handle all of the logistics, and the student instructors, now both fourth-years, tailored their curriculum to nurses. A few weeks later, in April, they held two packed sessions in McLeod Hall.
Although the school year has ended, Blatt and Singh have graduated and both are preparing for medical school, they have one more summer project. They are working with a fellow first responder to create an app for their EMS curriculum.
"Steven Young, who works at our rescue squad and who majored in computer science at James Madison University, is doing the coding," Blatt said.
The team is thinking the app will also have an audio component. All of the work is pro bono and the app will be free.
Blatt and Singh are hopeful it will get a lot of use. "Every day that Spanish isn't out there is another day a patient gets spoken to in loud English," Blatt said.
Article Information
June 5, 2017
/content/sos-new-student-run-medical-spanish-course-helps-first-responders