The glistening fall sunlight on Thursday afternoon was a striking counter to the opening talk at the University of Virginia's second annual storytelling event, Double Take, which began on a somber note.
Third-year students Eleanor Thompson and Ja'Mel Reed took to the dimmed auditorium stage in Old Cabell Hall to remember their friend, Rehan Baddeliyanage, who died last spring while on vacation in Puerto Rico.
The crowd listened attentively as the pair described meeting Baddeliyanage as first-year students and being immediately drawn to his kind and thoughtful nature. "Many of us took to calling him 'Dad,'" Eleanor Thompson said.
Baddeliyanage was not fond of the nickname, but grudgingly agreed to go to a Father's Day meal with Thompson, who, spending the summer in Charlottesville, was missing her family.
Thompson said after learning of Baddeliyanage's death last spring, returning to UVA was hard. Even worse, the person best suited to help her cope with the death of a friend would have been Baddeliyanage himself. Last year, he'd stood on the very same stage, sharing the sad story of the passing of his own friend and roommate, John Paul Popovich, or J.P., as Baddeliyanage called him.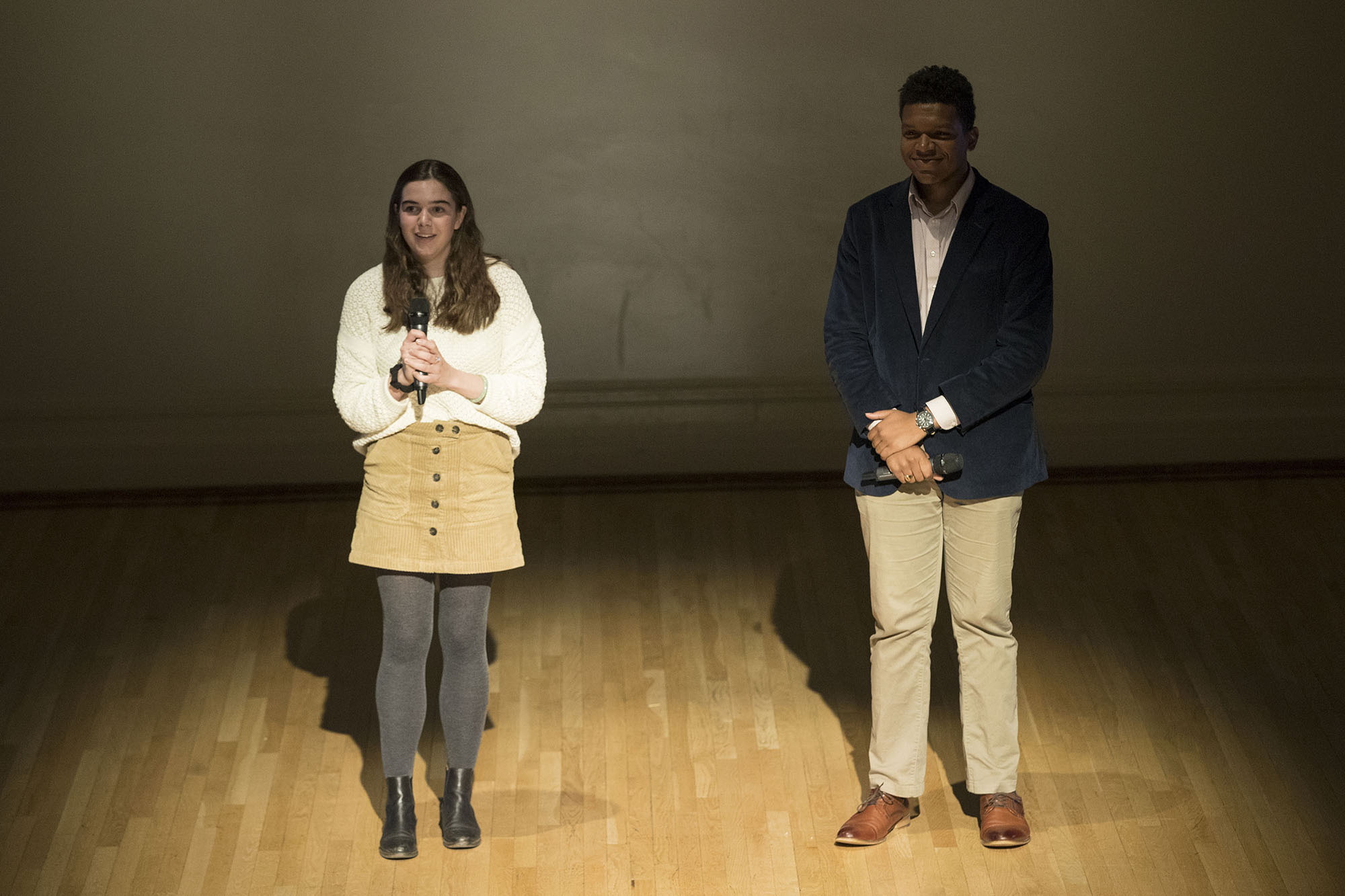 Third-year students Eleanor Thompson and Ja'Mel Reed remembered their friend, Rehan Baddeliyanage, a beloved UVA fourth-year who died last spring.
After Baddeliyanage's death, Reed said he had to battle feelings of anger when he saw others happy. "Rehan, I know he would not have wanted me to do that. Rehan taught us a lot of lessons throughout his life," Reed said as his parents listened from the audience, his mother dabbing tears from her eyes.
Thompson and Reed were two of 10 speakers at Double Take, which debuted last fall during UVA President Jim Ryan's inauguration weekend.
They were followed by other students, staff and faculty members, including Provost Elizabeth "Liz" Magill.
Kayla Dunn, a fourth-year Lawn resident, shared her story of being a first-generation student at  UVA.
"For me, coming to UVA was an accident," she said. "As a first-generation, low-income student from Lancaster, Pennsylvania, I had no idea what I was doing applying to college. With a mom who never graduated college and a dad who never graduated high school, collectively we had no idea what we were doing."
A guidance counselor told Dunn about Questbridge, a program that matches high-achieving students with top colleges around the country. She was matched with UVA and arrived as a first-year student, feeling decidedly out of place. Others seemed to have it all together; doubts began to creep in. Had UVA made a mistake in accepting her? Had she made a mistake in coming?
Walking despondently down the Lawn one evening, Dunn heard a voice in the darkness: "Hey! Hey you!" Though she was sure no one was calling out to her, she turned toward the voice.
She spied a couple of students she'd met at a meeting of UVA's Latinx Student Alliance. The trio gathered, and talked about their shared experiences being first-generation students from low-income families. Dunn said she felt a wave of belonging wash over her.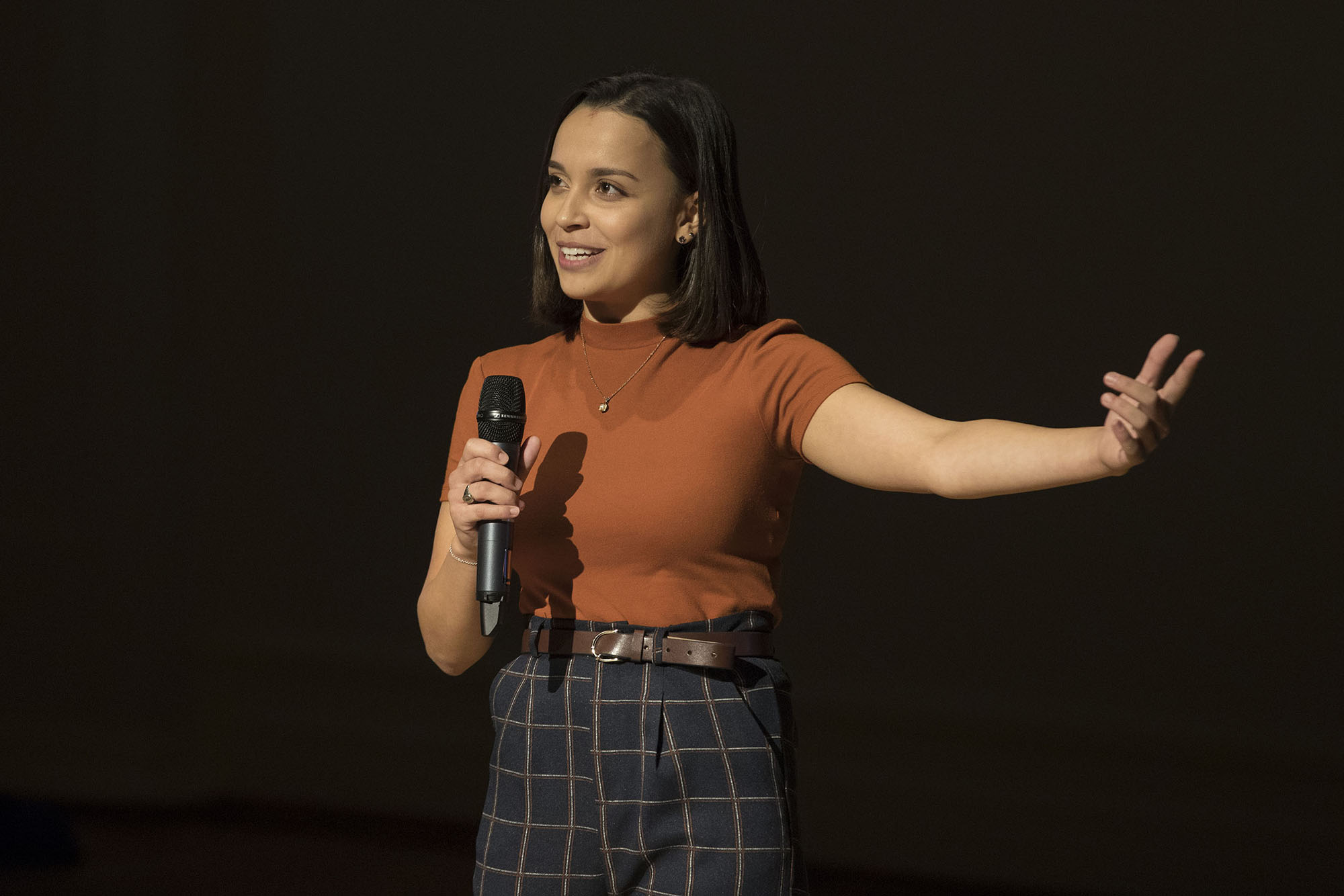 Fourth-year student Kayla Dunn talked about finding a community at UVA as a first-generation student.
"Now looking back, I now realize that that moment shaped my UVA trajectory forever," she said. She joined the club and went on to be its president in her third year.
"And now as a fourth-year, and, fortunately as a Lawn resident, I can only dream – I can only dream to be that 'Hey you!' to someone else," she said.
Other stories shared Thursday were similarly powerful and personal. When fourth-year student Zachary Phillips arrived at UVA, he was struggling with his sexuality and fell into self-imposed isolation.
"I felt very alone. I felt I could not trust anybody," he said. "I didn't want to trust anybody – I completely shut down."
He grades suffered and considered transferring. After a summer of regrouping, Phillips made a "Year of Zach" list of goals for his second year. The final entry was to find happiness. Another was to apply again to the University Guide Service, which turned him down his first year.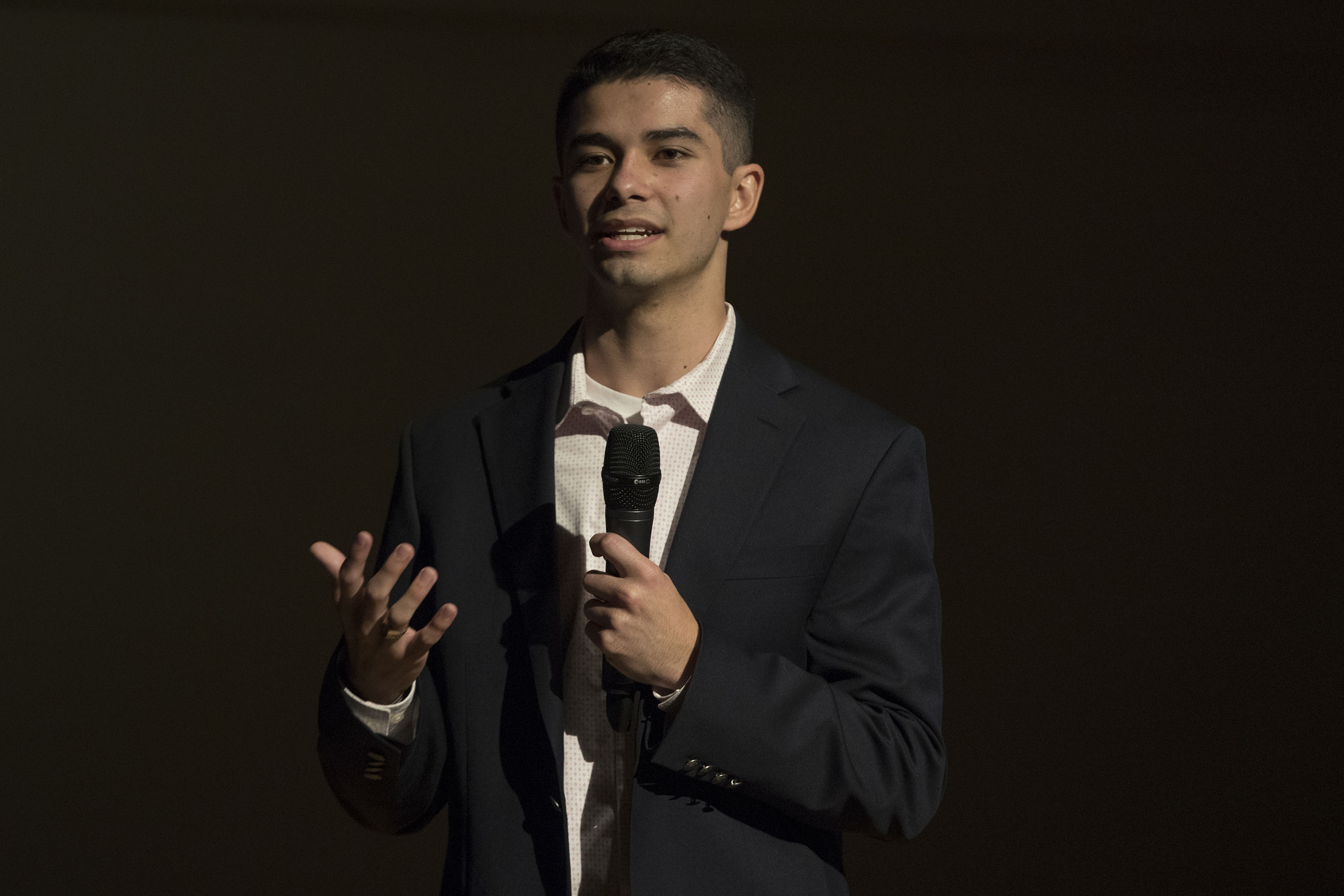 Fourth-year student Zachary Phillips found acceptance and friendship in the University Guide Service.
He was successful, and later chose to let his guard down with a friend in the group and told her he was gay.
"She looked at me and she said, 'Zach, you are fortunate enough to have joined an organization that's going to love you for who you are.' ... And that was the first time anyone told me that I was going to be OK," he said.
Phillips eventually shared his news with his immediate family members, whom he said have been wonderfully supportive. News has not yet filtered out to his extended family, but he noted that his talk was being recorded. "So, surprise, Grandma!" he said to laughter.
Provost Liz Magill closed out Double Take with an intimate talk about her Catholic family, her upbringing, how her name has shaped her, and how she has shaped it.
"My name is Liz Magill, and when I was born in 1965, my parents gave me a different, but beautiful name, Mary Elizabeth Magill," she said. She was known as "Little Mary" to "Big Mary," her mother.
This changed when, as a second-grader, she began to sign her school papers simply "Liz." It took several years for her five siblings, parents and church members to finally accept her as Liz.
She said the name change was not a repudiation of her family or her faith; she'd had an idyllic childhood. "But somehow, second-grade 'Little Mary' thought she wanted to be a little different," she said.
Her parents were practical people, "and they always had a smile to the outside world," she said. "'Put a nice face on it,' my mother used to always say."
For Magill, higher education and her professors changed what she wanted to do with her life. She also had struggled with the treatment of gay people and women in the church in which she'd been raised. "So maybe that's why I shed the Mary," she said.
In the end, you can't forget your history, she said, noting that her name in the Double Take program was listed as "M. Elizabeth Magill."
"So why am I keeping the 'M.'? It's partly to honor the past," she said, "To honor that family I was given."
Magill said the initial is also about who she is today: a daughter, a sister, a wife, a mother, an aunt, a provost. "I'm Mary Elizabeth Magill, but I go by 'Liz.'"
Article Information
October 24, 2019
/content/storytellers-share-tales-loss-identity-and-belonging-double-take