A new student initiative at the University of Virginia is challenging negativity by encouraging people to see goodness in the world – even in the smallest gestures, like holding open a door for a stranger.
It's sort of the University of Virginia's version of "Humans of New York," but with a twist.
A student group, Unsung People, is focused on spreading stories of kindness. Its web platform is filled with heartwarming tales and eschews the sadness and regret that is sometimes showcased in some of Humans of New York's storytelling, which features interviews with thousands of people on the streets of the Big Apple.
"HONY is this one guy, and he engages with these people and collects these stories," said Unsung People founder Shreyas Hariharan, a fourth-year McIntire School of Commerce student from Bangalore, India. "We want to spread out through teams and universities around the world and also have everyone be that student-positive journalist."
His idea was born in 2015 in a traffic jam on the streets of Bangalore.
"I was coming home one day," Hariharan said. "I saw this ambulance I was stuck behind. What usually is the case is that the traffic police are not able to clear the traffic because there is nowhere to go, so even good-natured people can't move. I saw this auto rickshaw driver just get up and he somehow managed to convince people to move out of the way" so the ambulance could pass.
Later that day, it occurred to Hariharan that he had just witnessed an incredible act of kindness. He decided then and there that he wanted to share that type of story with as many people as possible, so that being kind would become contagious.
Fast-forward to this year, and Unsung People has chapters in India and at UVA and the University of Florida, with a nascent club at the University of North Carolina at Chapel Hill.
Unsung People collects and shares stories of kindness in several ways. Some are collected from interactive, monthly events around the world. Writers in the club pen in-depth "CloseUP stories," spotlighting inspiring community members. They also share simple stories of kindness collected from monthly community events and online submissions.
On a mild day in February, the UVA team held an event in the amphitheater on Grounds. Club President Michael Bateman, a second-year global environment and sustainability major from Greensboro, North Carolina, said two photographers and two videographers were on hand to record stories.
That day, second-year student Tucker Wilson stepped in front of one of the photographers with a broad smile to thank his roommate.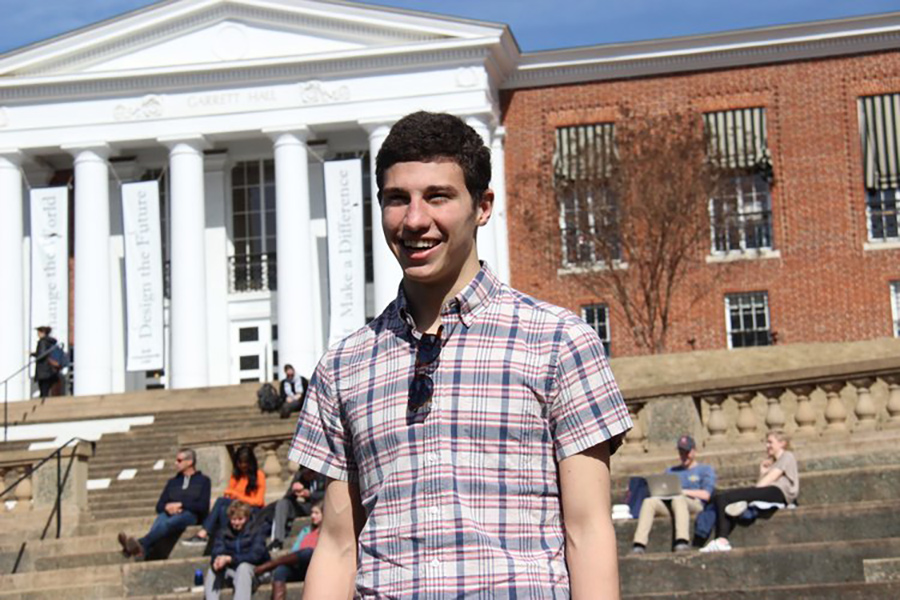 "The person I want to thank is Chris Allen, my roommate. He has been putting up with me a lot lately. Last night I took a nap from 6:30 to 9 p.m. and he made sure to stay out of the room the whole time. He is just always there for me. No matter how I inconvenience him daily, he is always accommodating toward me. That is so special because it is his room, too. Yet he is never hesitating to leave the room if he has to do something early in the morning, or making sure it is clean to come home to at night. He is awesome all around and I wanted to thank him for that. Thanks, Chris!"
Bateman's favorite story is about a student who lost his class ring at Lighting of the Lawn. "There were thousands of people on the Lawn," he said. "A couple of weeks later, he gets an email from a law student, who says 'Hey, I found your class ring on the Lawn.'"
The law student had read the inscription inside the class ring and tracked down the owner. "He found the initials and looked them up in a database. Clearly he went above and beyond what was expected," Bateman said.
Why is sharing these types of stories so important? Hariharan blames a growing lack of trust in the world. "I think one possible reason for this is our consumption of news. Something it does is portray the world as more dangerous than it is.
"I think when people are not trusting of other people, especially other random people, they don't do good themselves."
The name of the phenomenon Hariharan is describing is "Mean World Syndrome," a term coined by George Gerbner, a journalist and scholar who studied the effect of media consumption on people. He found that violence-related content makes people believe the world is more dangerous than it actually is.
In fact, Bateman said the world really is getting better. "There are fewer people in poverty than ever before. We've eliminated so many terrible diseases and we are making progress on so many others," he said. "Crime has come down relative to the past 50 years. The world generally is getting better. But if you were to turn on the local news or the national news, you certainly would not think so."
Which brings the members back to the mission of Unsung People: that when people tell stories of goodness, they are also motivated to perform acts of kindness. 
"Over the last year, first I've seen a change in me," Hariharan said. And a lot of people have told him that more than ever before, they are noticing and appreciating acts of kindness. "I think that has been our biggest impact so far," he said.
Article Information
March 31, 2017
/content/student-group-fights-evil-good-one-story-time