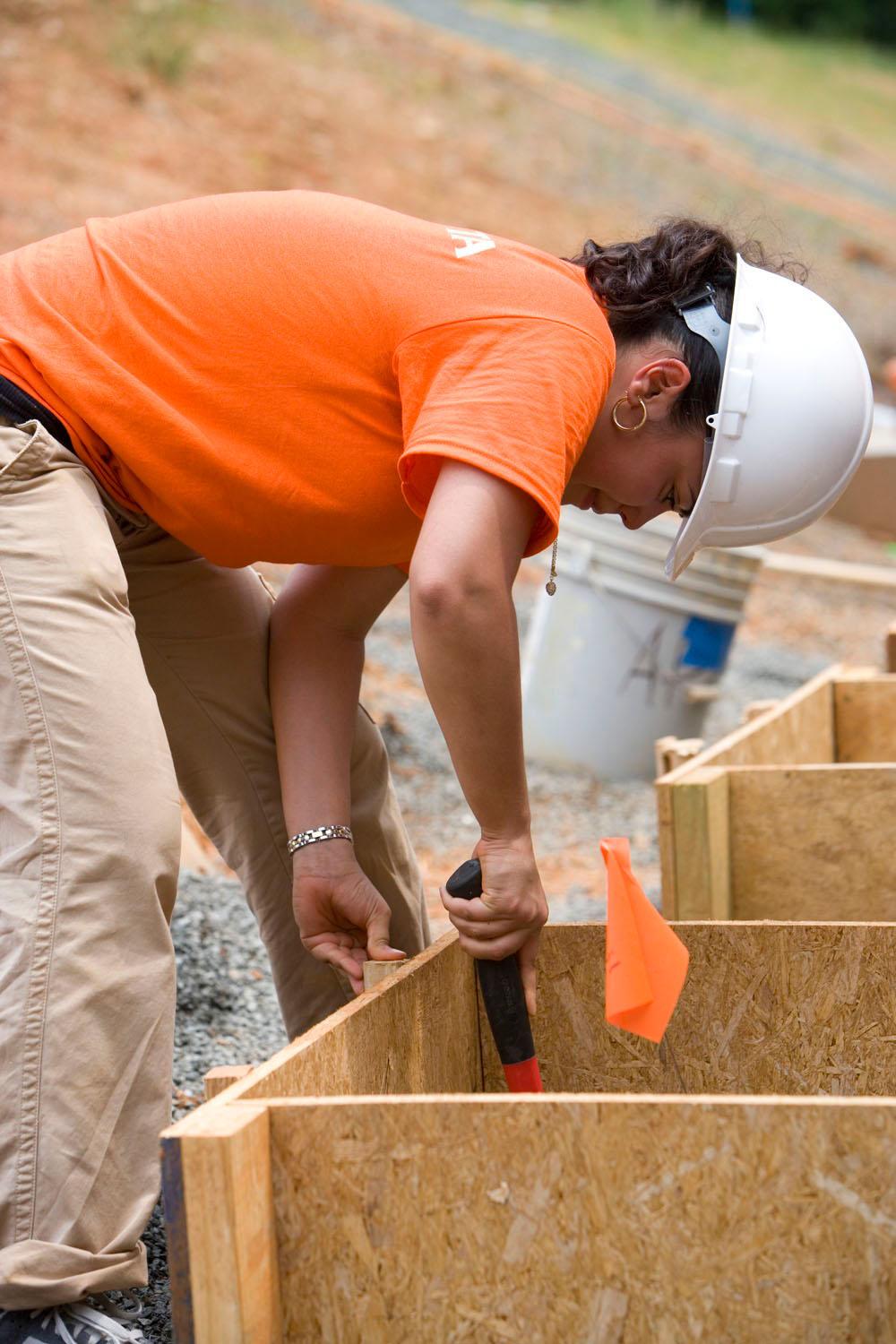 June 9, 2008 — Three University of Virginia student volunteers talked about how best to move a 12-foot sheet of drywall up three stories of scaffolding outside the partially built Habitat for Humanity house. After one failed attempt, they changed places and successfully handed the unwieldy piece from one person to the other up to the top. It was one of several lessons in teamwork they practiced while spending the sweltering afternoon of June 4 on the community service project.
The trio was among almost 40 leaders of student organizations who were on Grounds for an intensive, weeklong training program, dubbed "Leadership 2008." The annual program, sponsored by the Office of the Vice President for Student Affairs, is designed to familiarize student leaders with offices and resources at the University, as well as the administrators responsible for them. The program gives the students opportunities to focus on leadership issues and enables them to get to know one another better.
"Leadership is not an individual job," said rising fourth-year Michael Chapman, vice chairman of the University Judiciary Committee, in charge of selecting and training first-year students. "You have to work together."
His partners, Blaire Hawkins and Nadine Natour, agreed. Hawkins, vice chairwoman for investigations on the Honor Committee, said, "It's important for organizations like the Honor Committee [to attend Leadership 2008], because it touches everyone at the University. This program will help us be more effective in the future."
Natour said it was an "exciting opportunity" to connect with other student groups and learn more about U.Va. and how it runs. Nator, co-chairwoman of the Middle East Leadership Council, she said she thinks more students should be exposed to the people and resources this group was learning about.
Several in the program said they had wanted to work with Habitat for Humanity and would consider volunteering again.
That was good news to Habitat's site supervisor, Robert Harris III. He said 90 percent of volunteers for the greater Charlottesville nonprofit are U.Va. volunteers — until summertime. Four crews working just one afternoon made significant progress, he said.
"Even one student working every day would be great," said Harris, who likes to say his mission working with them is "fun and safety."
"It's worthwhile for everyone involved," said Maynard Malixi, president of the Asian Student Union.
He and a couple of others built wooden bases for a porch.
Added one of them, Michael Horton, a chairman of the Office of African-American Affairs Peer Adviser Program: "It's fun working with each other and knowing we're making a difference."
Sabrina Mendez, president of the National Pan-Hellenic Council that oversees historically black Greek organizations, said she was glad to help people in the Charlottesville community.
As for the rest of the leadership program, which comprised sessions with deans, department heads and faculty members, Mendez said the networking would definitely help hers and other groups.
In addition to the talks and activities, including a trip to the Miller Center of Public Affairs, the program included meals hosted by different offices and schools, providing another occasion for students to discuss issues. Rachel Burger, co-president of the Queer Student Union, said she had the chance to reach out to other organization members to help them "feel more comfortable with our community."
At the breakfast with African-American Affairs and the Office of Diversity and Equity, she asked about how to get more minority students involved in the QSU. "We want to help them integrate these parts of themselves," she said.
For Horton, it was gratifying to see the administrators and professors so interested in what the students want to change.
Rising third-year student, Ashley Singletary-Claffee, a facilitator and public relations co-chairwoman of Sustained Dialogue, echoed Horton. "It's great to get their support," she said. "It's interesting how much they think of us. … it's empowering."