A very determined student managed to bring the 2019 national conference of a leading alliance for low-income and first-generation college students to the University of Virginia, where the administration is working hard to make UVA the first destination for similar students.
This spring, the Alliance for the Low-Income & First-Generation Narrative, known as AL1GN, came to UVA's Grounds thanks to Joshua Farris, a first-generation, low-income student from a small Virginia town called Shawsville.
Farris attended the 2018 student-led AL1GN conference in Washington, D.C., and immediately fell in love with its mission to provide a forum in which first-gen and low-income students can work with faculty and staff to improve the college experience.
Farris, who graduated in May from UVA's Curry School of Education and Human Development with a degree in youth and social innovation, said that before he'd attended the 2018 conference, he often felt alone and isolated at UVA. "I felt like I didn't belong and that this was a very specific issue to me because of my background," he said.
"But then when I go into this conference and heard that this was something that a whole population was struggling with, and met other people and bonded over that. It was very empowering," he said. "So much so that at the end of the conference I had decided, 'We're going to have this at UVA.'"
Lo and behold, when Farris returned from the conference, the University was holding a focus group on the needs of first-gen and low-income students. He joined the group, and his circle began to grow. The fact that UVA President Jim Ryan – himself also a first-gen student – was making it a priority to support that student population really made Farris feel like bringing AL1GN to Grounds was his destiny.
But he knew he couldn't do it on his own, so he teamed with first-gen student Ellie Brasacchio, who was recently elected Student Council president, to co-direct the conference.
An AL1GN subcommittee was created in Student Council and a team of students worked for months to bring the conference to UVA.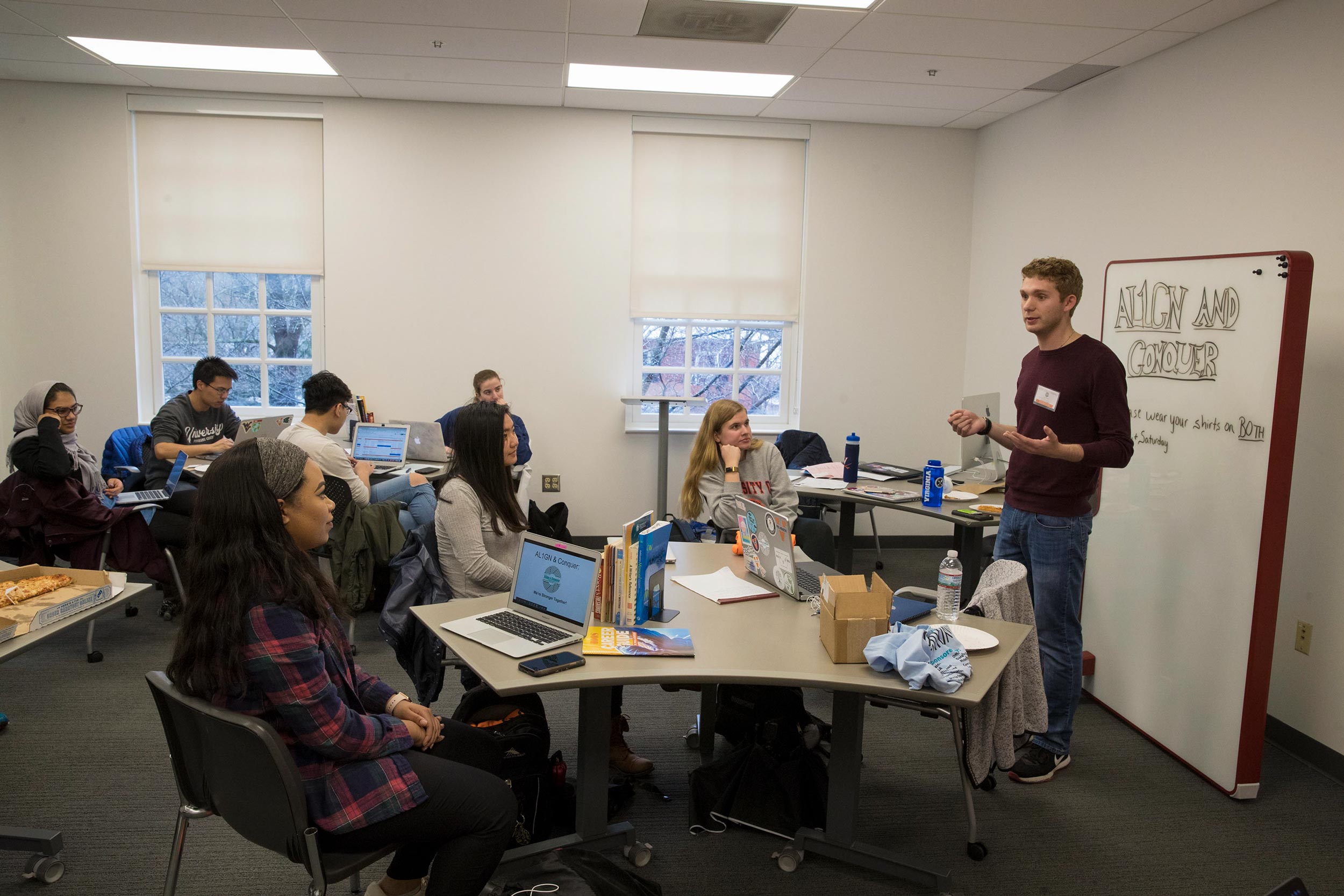 Farris and his team hold a planning meeting for the conference. (Photo by Dan Addison, University Communications)
Together, they raised more than $67,000 from schools and units across Grounds to help pay for lodging, food and program materials. Ryan's office alone donated $10,000 to the conference.
Farris arranged his class schedule so that he could dedicate all of his final semester to working on the conference, which stretched over three days in March and drew nearly 200 students and administrators from UVA and 20 schools around the country. Day one examined the issues first-gen and low-income students face. Day two focused on solutions, and day three examined what to do with all the newfound knowledge.
During the conference, several people shared their personal stories. Farris' is particularly poignant.
When he was a boy, he said he thought it was normal to go visit his father in prison on Sundays. He thought it was normal that his mother worked so much that he hardly got to see her. For many months, he and his family were homeless because they'd been evicted.
In the sixth grade, Farris realized he no longer wanted to live this way. "From that point on, I dedicated my life to school," he told the audience.
In December 2014, Farris received an email. "And all I had to do was read the first three words," he said. Reading from the letter, he said, "'Dear Josh, Congratulations…'
"I'd just received a $120,000 scholarship for the University of Virginia," he said.
He said he thought that hard part of his life was finally over, but found it hard to relate to the people he met when he arrived at UVA. Thus, began his effort to bring light to himself and other first-gen, low-income students.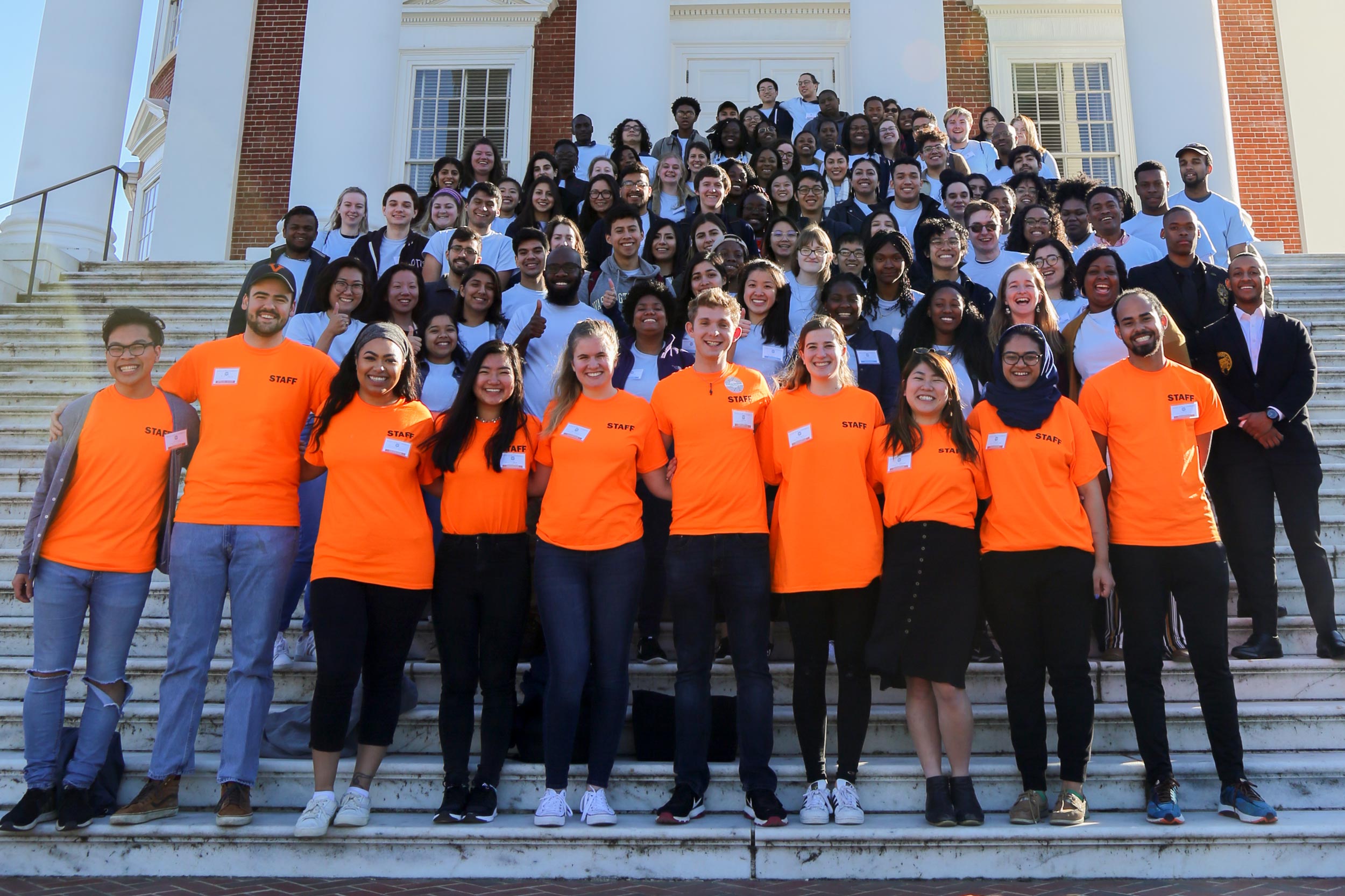 Ellie Brasacchio, fifth from the left, and Farris, co-directors of the conference, post on the stairs of the Rotunda with other staffers and conference attendees. (Contributed photo)
That work culminated in a 37-page final report he and Brasacchio wrote about the AL1GN conference, which was distributed to participants and UVA administrators, including Ryan.
It contains several recommended support systems for first-gen, low-income students at UVA, who constitute 11% of the student body, according to the 2018 student census.
Part of the report reads, "While many initiatives surrounding first-generation and low-income students focus specifically on financial barriers, we recommend that in addition to these initiatives institutions must support inclusion in all aspects of university life through informal and formal support structures and direct action to mitigate barriers to inclusion. Due to the all-encompassing natures of poverty and privilege, it would be impossible to adequately address all the barriers experienced by first-generation, low-income students and we instead recommend focusing on two important aspects of campus inclusion: support structures and intersecting identities."
For Farris, there are three recommendations he hopes come to fruition:
The creation of a board of first-gen, low-income students, faculty and administrators to better aid in communicating concerns that exist among the student population.
The promotion of participation in clubs and other activities outside the classroom for first-gen, low-income students, who often have less time for extracurricular activities because of work or family obligations.
The creation of spaces and offices for first-gen, low-income students, similar to spaces like the Women's Center and the LGBTQ Center, where students can go to feel welcome and to be connected to resources available to students like themselves.
Farris will be pleased to know that Ryan's draft strategic plan, "A Great and Good University," includes an emphasis on attracting and supporting first-generation students.
Article Information
June 6, 2019
/content/students-lead-charge-make-uva-destination-first-generation-peers