Looking around his hometown in Northumberland County, part of Virginia's rural Northern Neck, third-year University of Virginia student Denzel Mitchell saw many opportunities for political engagement and debate, but fewer sources of reliable information and discussion.
He decided to fill that void, and this summer created a podcast, "Main Street Speaks," with two fellow UVA students, second-year student Tahi Wiggins and third-year student Avery Shivers, both also from the Northern Neck.
"I wanted to create a media source for people in my hometown to stay informed about current events, specifically about politics and history," said Mitchell, who is majoring in political and social thought and economics. "I wanted young people, especially, to have ways to be more informed, as most of the publications we have are physical newspapers that younger people don't tend to read."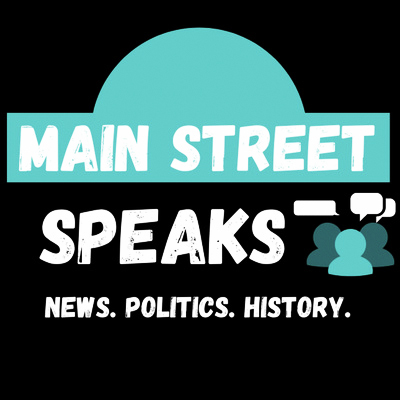 Episodes so far have focused on protests and police reform, local elections and the pandemic's impact in rural communities. (Contributed image)
He initially developed the idea as part of the Mount Vernon Leadership Fellows program, which was cancelled due to the COVID-19 pandemic, but returned to it and reached out to Wiggins and Shivers after George Floyd's death ignited nationwide protests against police brutality.
Now the trio, who have known each other since high school, have used their time at home to launch the podcast, taking on a new topic each week and discussing national news with a local angle.  
"We are not trying to add more political divisiveness, but to fill a void of information," said Shivers, a third-year student in the Batten School of Leadership and Public Policy. "We want people to talk about what happened at the last Board of Supervisors meeting, what the School Board is considering right now, or what the sheriff's department is doing. We want to fill that void for people who have a craving for local politics."
For each episode, the students take turns doing a deep dive into research and reporting, and then discuss it together beforehand and while on the air. The podcast's first episode, which aired June 16, focused on local Black Lives Matter protests and the calls for police reform that began to surface across the Northern Neck after Floyd's death.
The next episode offered an overview of primary candidates ahead of the June 23 elections, including the Democratic primary for Congressional District 1 and the Republican U.S. Senate primary, and discussed voting issues amid the pandemic. Another episode, released July 1, looked at how the pandemic is affecting rural communities like those Mitchell, Wiggins and Shivers grew up in.
"People talk about how great telehealth can be for rural areas like ours, but many don't have a reliable broadband connection," Mitchell said. "Many people also don't have easy access to health care facilities if there is an outbreak here."
Subsequent episodes will focus on some of the Virginia state laws that came into effect July 1 and how they could affect rural areas, and on the cultural shift that has occurred since the Black Lives Matter movement gained local momentum. For that one, the three hosts will attend a physically distanced event that Shivers' mother has planned with the pastor of a local, predominately Black church, bringing people from across the community together for a candid conversation.
"We will be recording from there," Shivers said. "It should be a really interesting discussion."
All three said working on the podcast has taught them more about political activism in their area, and brought them into contact with fascinating people.
"Sometimes, it can feel like national and state issues don't really reach this area, but with the protests against police brutality, for example, there were local protests and still are," said Wiggins, a Jefferson Scholar at UVA. "To me that was surprising, but it showed me that if you look for political will, it is certainly there. I hope we can help people look for it, and showcase it."
"I want to connect with people who are just as driven as I am to make some sort of impact bigger than what our small town expects."

- Denzel Mitchell
"We've had a chance to really engage with local organizers, as well as with pastors and religious leaders who have been very proactive and engaged in these conversations," Shivers said.
Mitchell, who has been politically active since high school and recently worked for Francis Edwards' campaign for the House of Delegates, has enjoyed connecting with "people who are just as driven as I am to make some sort of impact bigger than what our small town expects."
"There are so many people in this area who are doing amazing things, or who have done amazing things in their careers," he said. Recently, he talked with an older member of the community who was the first African American chief information officer for the federal government, during President Bill Clinton's administration.
"He helped put Wi-Fi and email in the White House for the first time," Mitchell said. "There are just some amazing people who live here, even if this area is not 'well-known.'"
He hopes the podcast will help encourage young people to get involved in local politics, and increase civic participation.
"I hope that, through this, we can find other young people who are interested in making an impact in our area," Mitchell said. "I bet there are many others out there. We may even know them, but they just never had the platform to speak out. I hope our podcast can offer that."  
The students plan to continue the podcast through the fall semester, and they believe it can appeal to rural communities well beyond the Northern Neck.
"We will keep reporting on issues local to the Northern Neck, but we are also discussing issues that are relevant to rural communities across the country," Wiggins said. "Hopefully the things we are talking about will resonate with a larger audience."
Creating the podcast has been a nice way to feel connected while quarantining at home, she said, and to tap into the conversations and debates that make living and studying at UVA so interesting.
"I'm really grateful to be able to have these conversations every week – laughing, thinking, bouncing ideas off one another and collaborating to produce something we are all proud of."
You can follow along with Main Street Speaks on Twitter and Facebook, and listen to the podcast on most common podcasting apps.
Media Contact
Article Information
July 8, 2020
/content/students-main-street-speaks-podcast-speaks-rural-america-northern-neck