A large crowd gathered on Friday to celebrate the opening of the latest hotspot to grace Charlottesville's famous Corner district: the University of Virginia's new state-of-the-art student center.
Known simply as 1515, the student center – located in a renovated  building that dates back to 1896 – consists of three floors of specially designed spaces where students can relax, hold meetings, study, socialize and put on performances. Each aspect, from the layout to the furniture, was designed in a collaborative effort among students, University officials and Nalls Architecture, headed by alumnus Robert Nalls.
The gleaming facility was officially opened with a ribbon-cutting ceremony on Thursday, and a large grand opening celebration was held on Friday.
Join UVA Today as we explore the new building and see how each floor of 1515 has something unique to offer students through photographs by Jack Looney.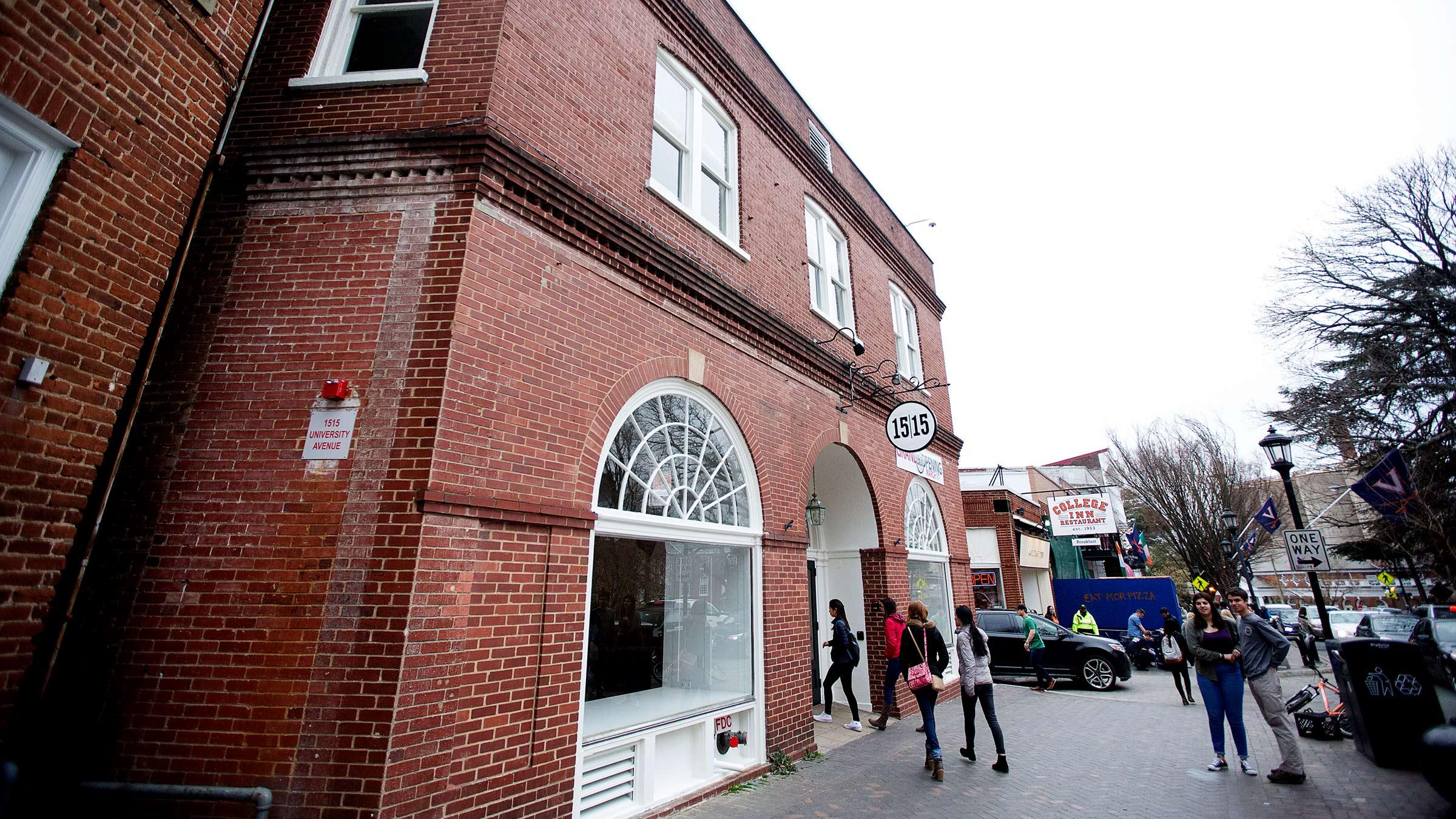 Past generations of students will remember 1515 as Lloyd's Rexall Drugstore and later as a bookstore and gift shop. Today, the building is still owned by the Lloyd family and the University has entered into a 10-year lease with them to use it as student space.
Visitors who step inside will find that the designers retained some of the distinctive features from the building's earliest days, including tin-embossed ceilings.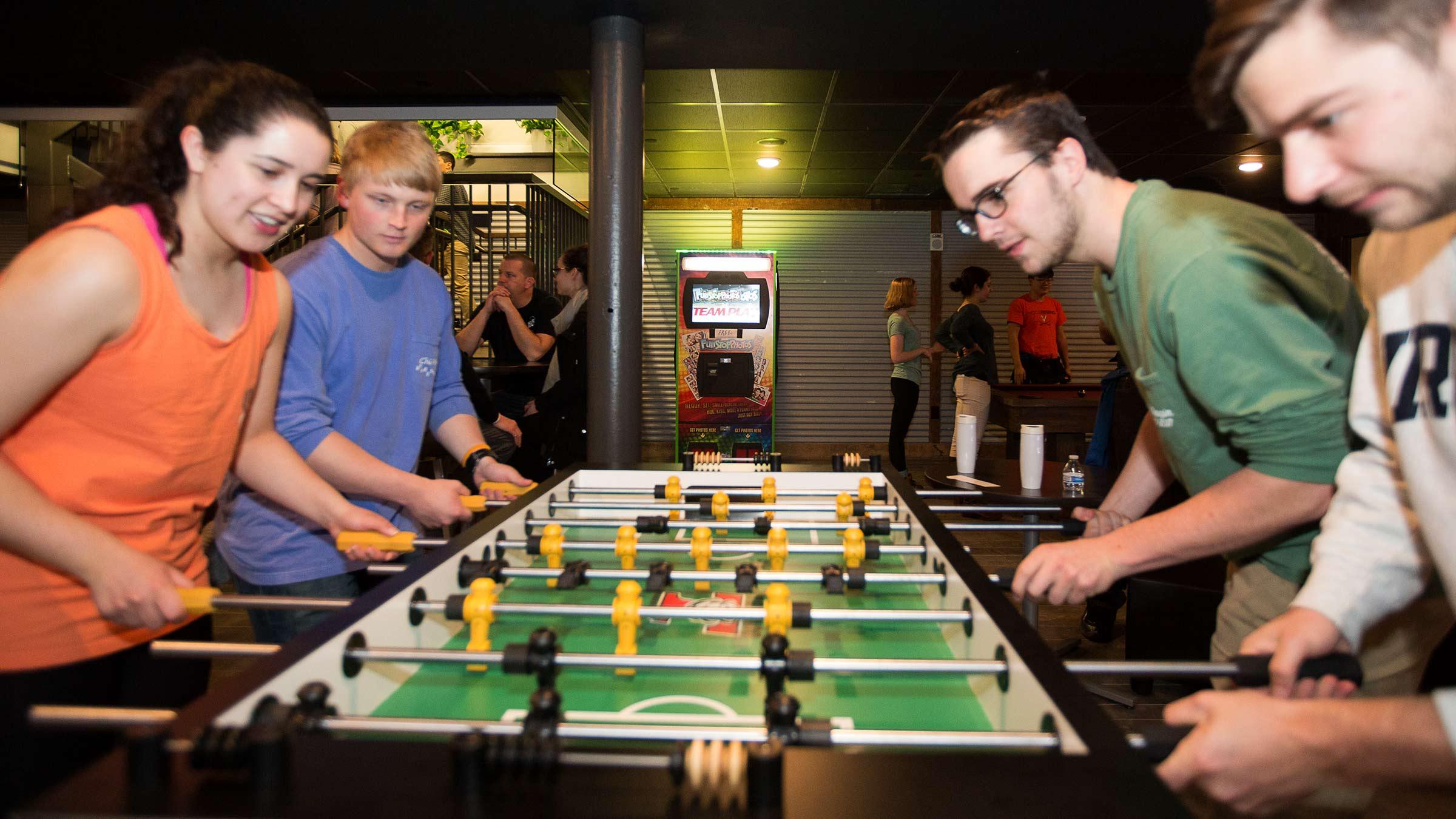 The basement floor of the building is a recreational area with games like air hockey, foosball, pinball and pool, all available to students for free. Three television monitors and a photo booth also are located in this area, along with a separate room for rehearsals or meetings. The UVA Parents Fund donated funds toward all the games, and the Class of 1992 provided a major gift in support of the building as a whole.
When student leaders cut the ribbon on the main floor on Thursday, they were opening up a versatile space with ample seating, a large stage area and an in-house café called Crumbs On the Corner.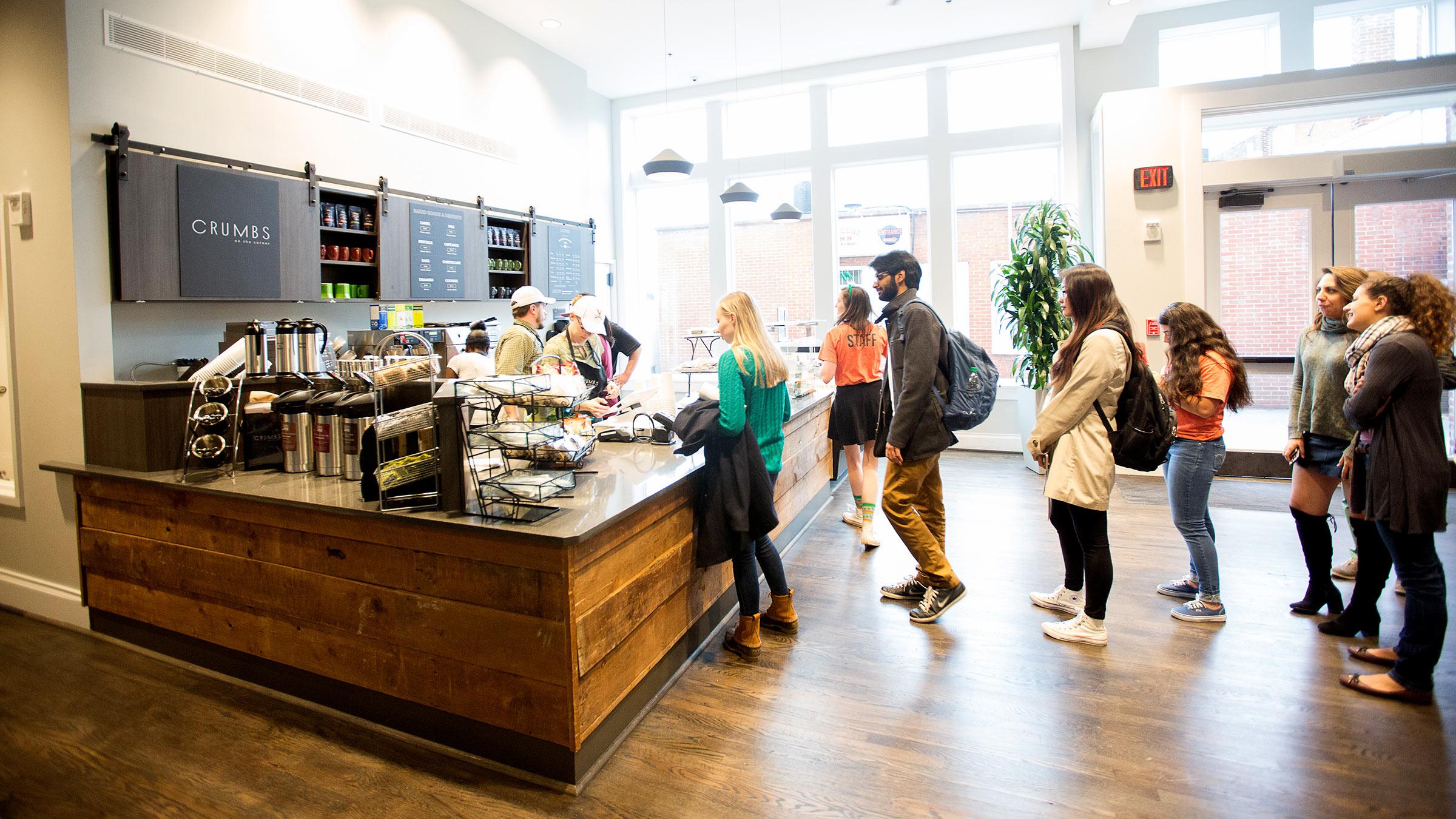 Crumbs On the Corner will be open on the main floor from 5 p.m. to 1:30 a.m. every day so students can fuel evening study sessions and other activities with gourmet desserts and coffee from the café. A line was quick to form once Crumbs began selling its inaugural sweet treats on Friday.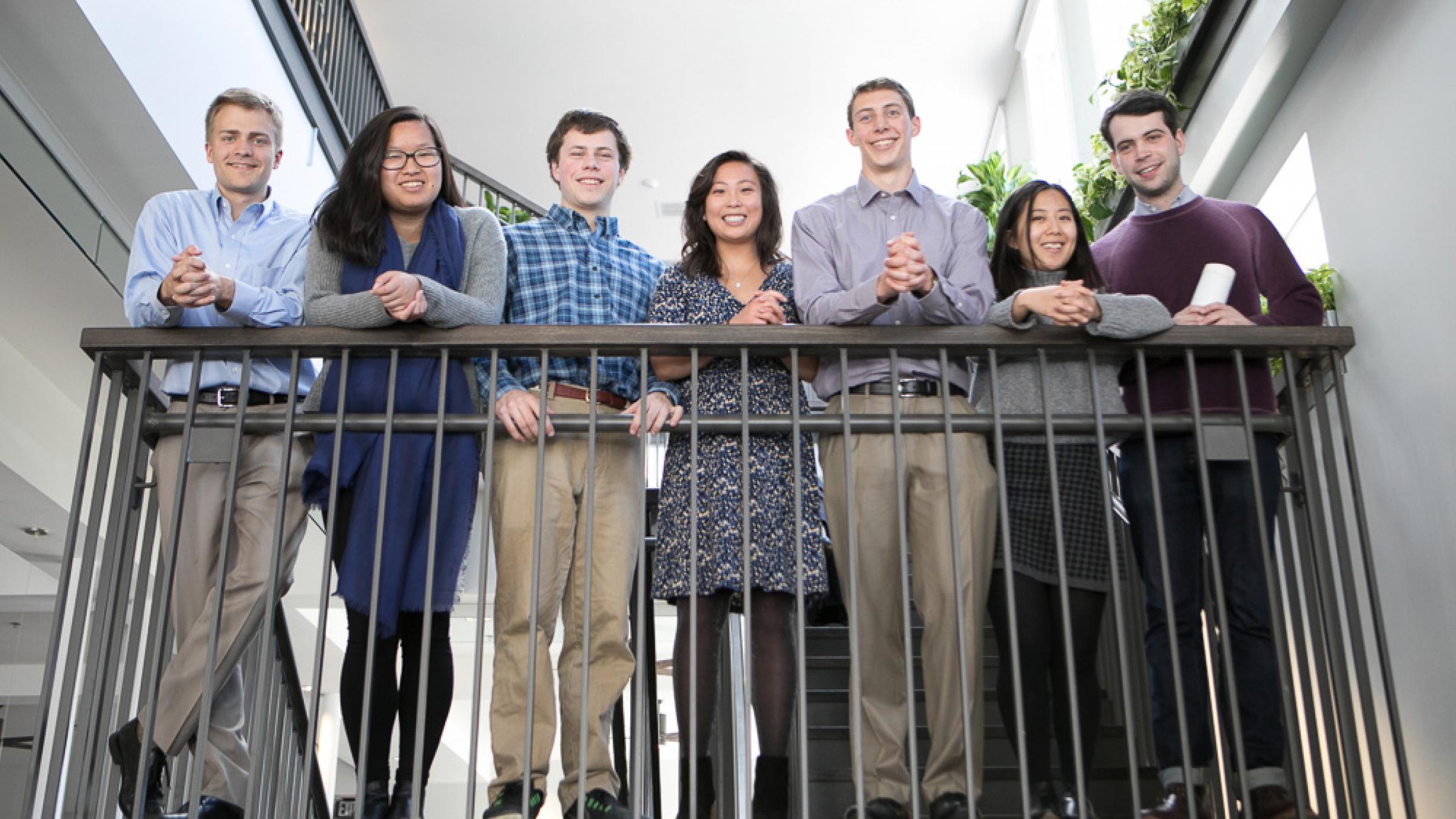 Student fingerprints are everywhere in the design and management of 1515. They worked with UVA administrators every step of the way to ensure that the new building meets the needs of the student body.
Above, student members of the planning committee meet to celebrate Thursday's ribbon-cutting. From left to right, Dakota Lipscombe, Lianne Provenzano, Samuel Baughan, Brittany Hsieh, John Bond, Yae Ji Cha and Abraham Axler.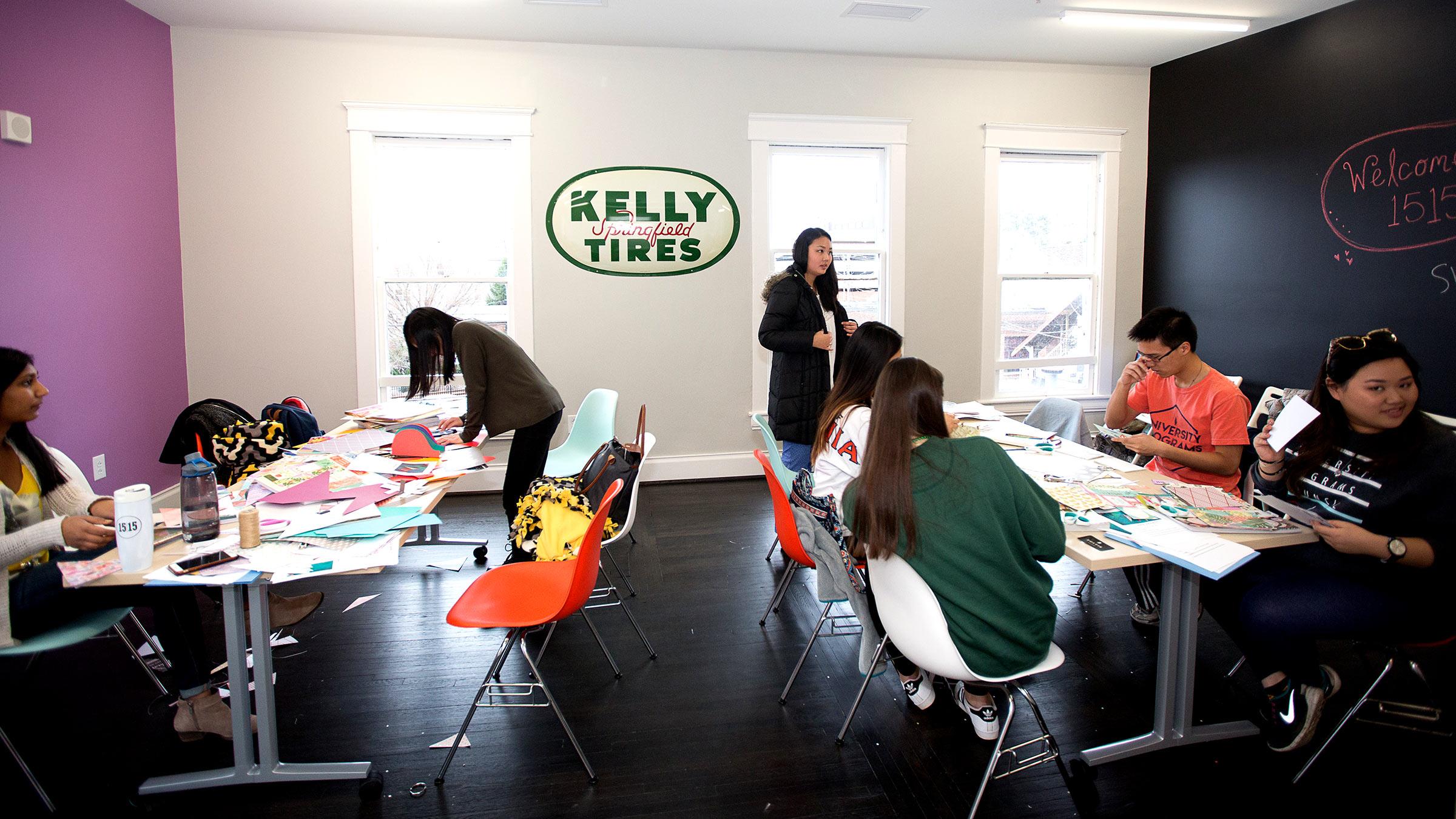 The upper floor of 1515 is designed to feel more "homey" with multiple smaller spaces intended to spark creativity and promote collaboration. One such area is "The Garage," which includes long tables for students and a full wall chalkboard for sharing ideas.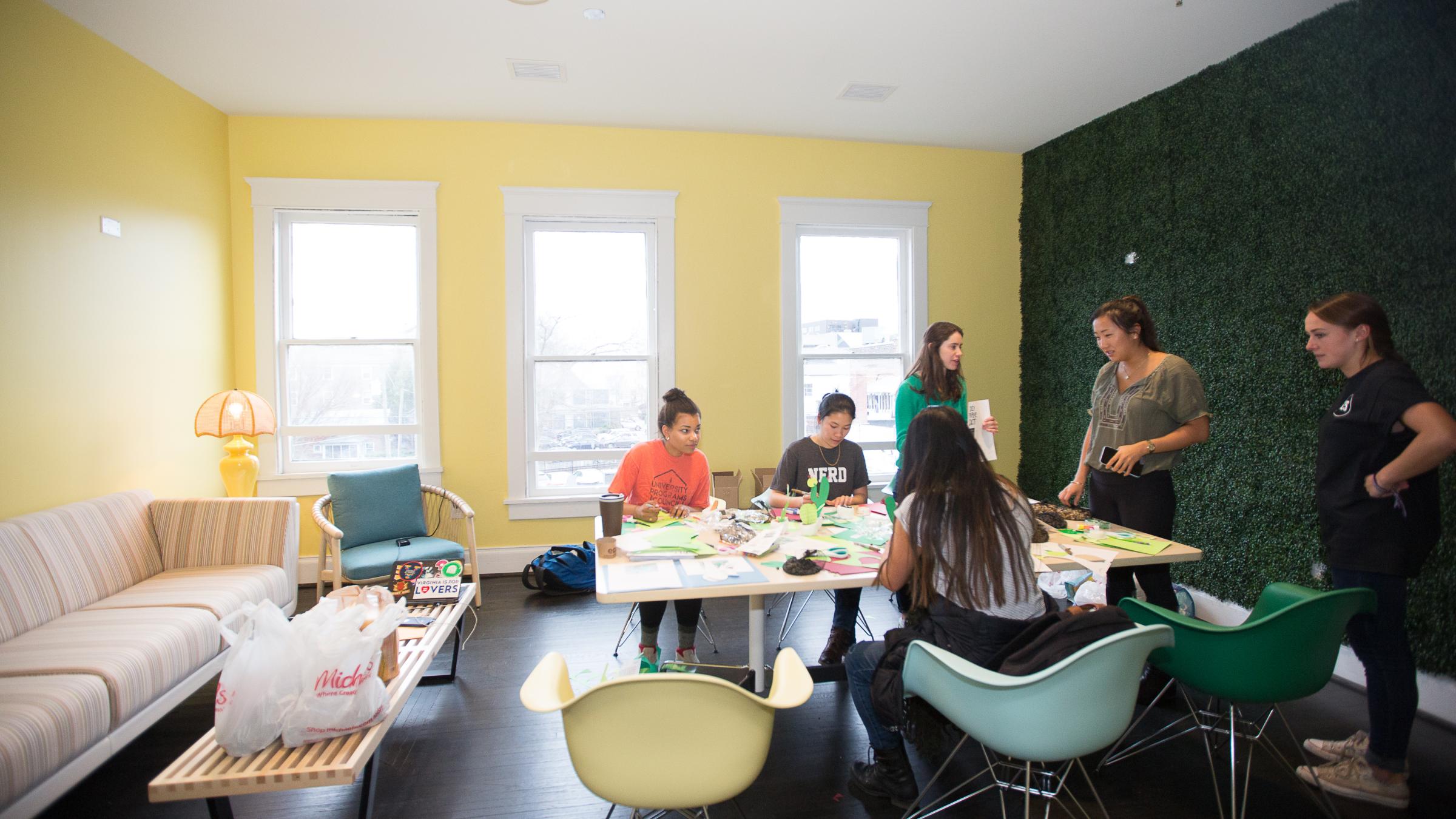 Spaces like "The Sunroom" offer a cozy workspace and evoke cheerful settings like a sunny garden. Students held a crafting event in "The Garage," "The Sunroom" and other rooms as part of the first activities to take place there on Friday.
Article Information
March 21, 2017
https://news.virginia.edu/content/students-move-new-1515-building