As the final notes of Monday night's dress rehearsal faded away, the group of University of Virginia students remained silent for just a moment, held under the spell of what they and their classmates had created.
Three plays – just ideas in September – have now been fully realized on stage, brought to life by student writers, actors, directors, designers and technicians. They will premiere Wednesday night during the UVA drama department's inaugural New Works Festival, designed to highlight undergraduate student playwrights. The festival runs through Friday, with free tickets available through the UVA Arts Box Office.
One play – "The Lookout" by third-year student Olivia Comm – is a gritty mystery chronicling three men stuck in a lighthouse, startled by an unexpected visitor. The second – "Viewing Pleasure" by fourth-year student Nancy-Wren Bradshaw – is a wry comedy about two women experiencing the dawn of television on a remote Air Force base. The third – "Wake Up Music!" by third-year student Micah Watson – is an emotional portrayal of a community's heartache after an African-American teenager is killed by police.
Take a look at some scenes from the dress rehearsal.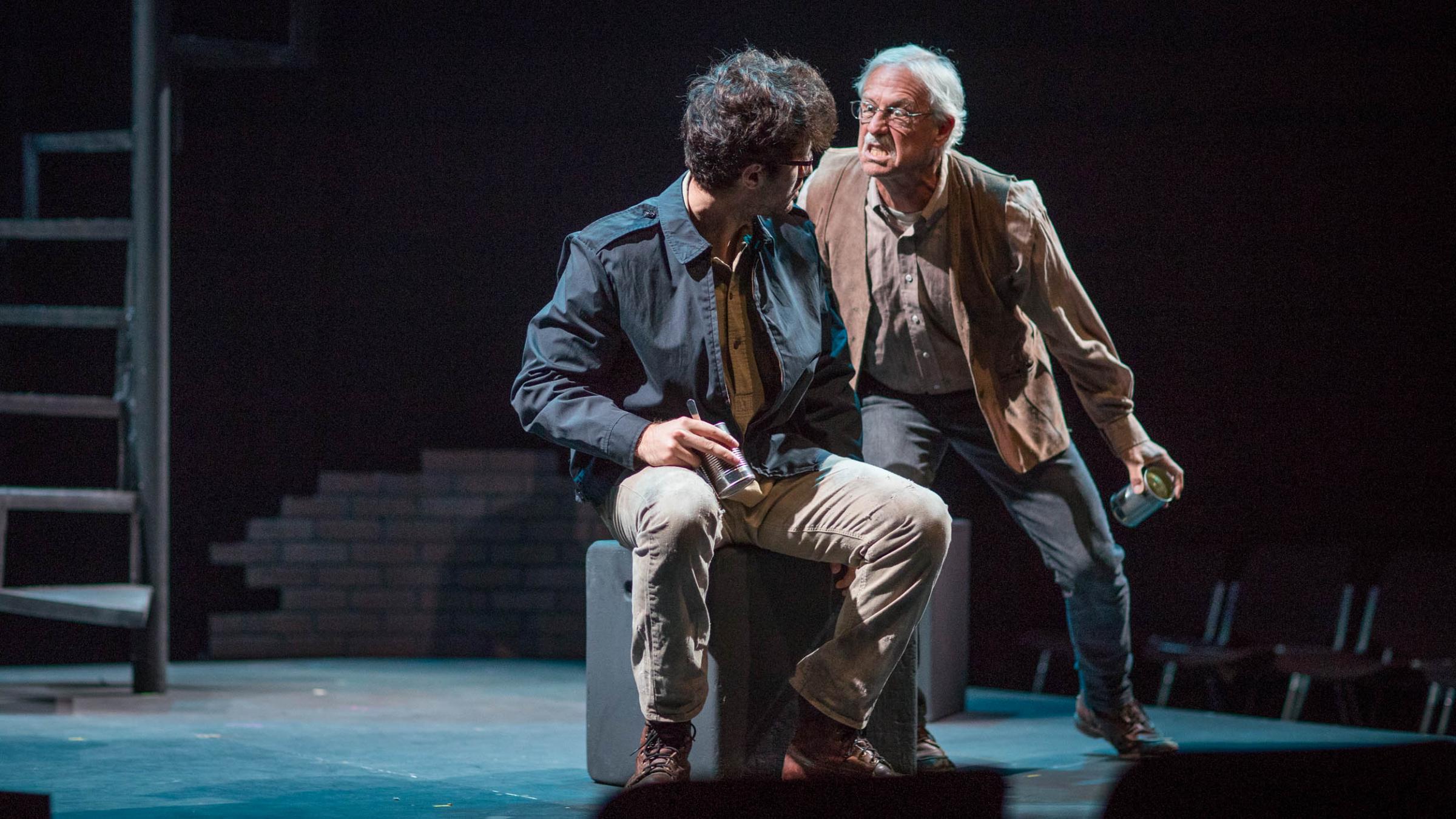 "They are very different plays, so part of the fun of this festival is seeing something not based only on one theme or style," said associate drama professor Doug Grissom, who teaches playwriting and mentored all three writers. Grissom and fellow drama faculty member Dave Dalton created the New Works Festival this year.
Above, third-year student Shayaan Rasul and drama alumnus Ron Berube rehearse "The Lookout," directed by third-year student Christine McLennan. It is the first of the three plays presented each night.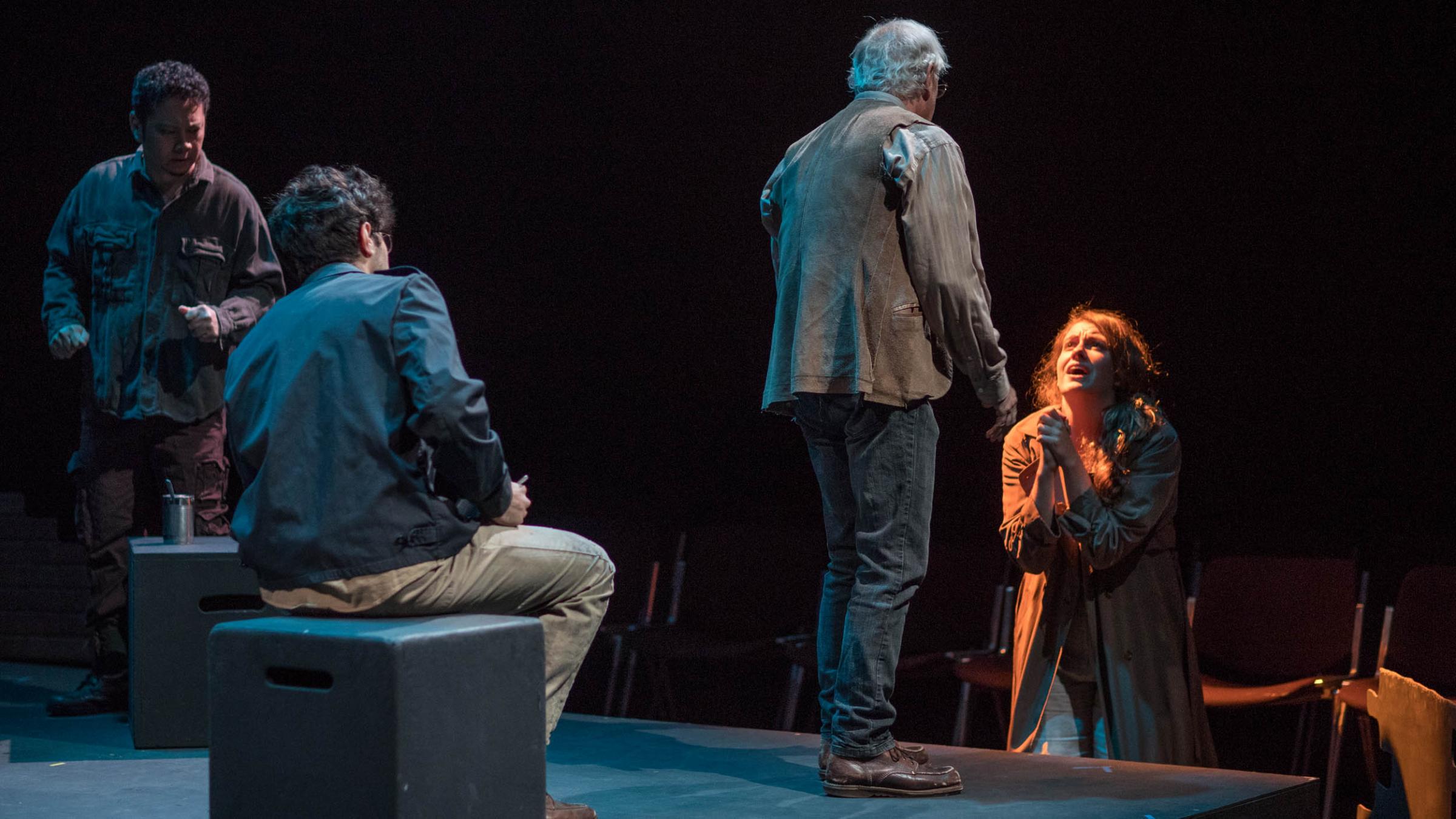 In addition to creating opportunities for writers and directors, the festival offered undergraduate actors, like first-year student Savannah Edwards, shown above in "The Lookout," another chance to get onstage. Grissom and Dalton hope it will become an annual opportunity.
"We have done new student plays on an ad-hoc basis, but we decided to carve out a slot in our season just for new works that have come through our playwriting program," Grissom said. "It also gives our student designers, directors and actors more ways to hone their skills."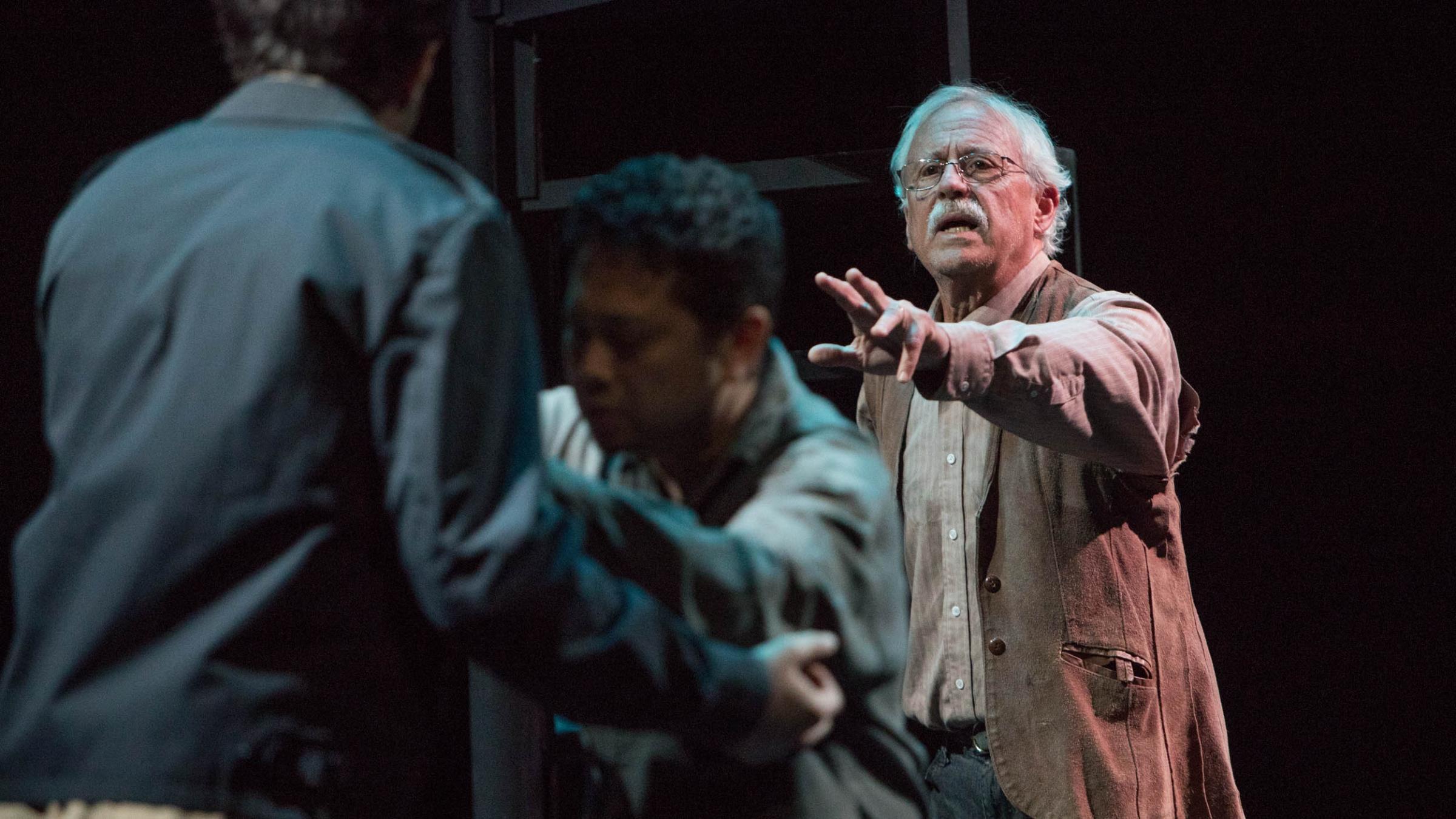 Comm, the first-time playwright who wrote "The Lookout," said hearing the actors rehearse her lines for the first time was a surreal experience.
"It was also really cool to see how the director interpreted it, or how the actors interpreted it, sometimes in ways I had never imagined," she said.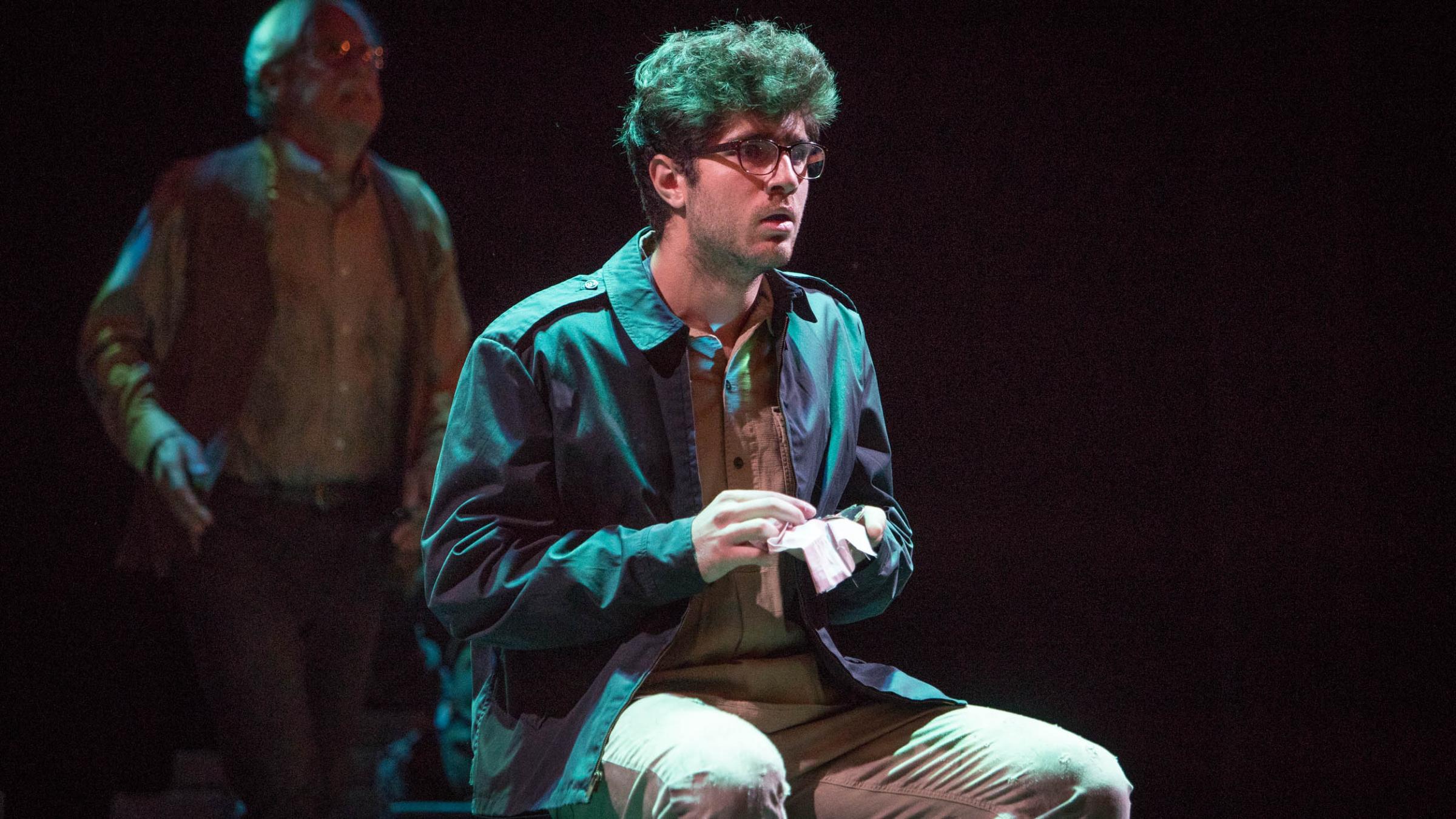 Third-year student Wesley Diener, one of three student directors, said the festival offered the perfect combination of student leadership and faculty mentorship.
"I see it as a middle ground between student-run theater and other department productions, which involve more faculty and graduate students," Diener said. "We were really challenged to step up, and I have enjoyed it so much."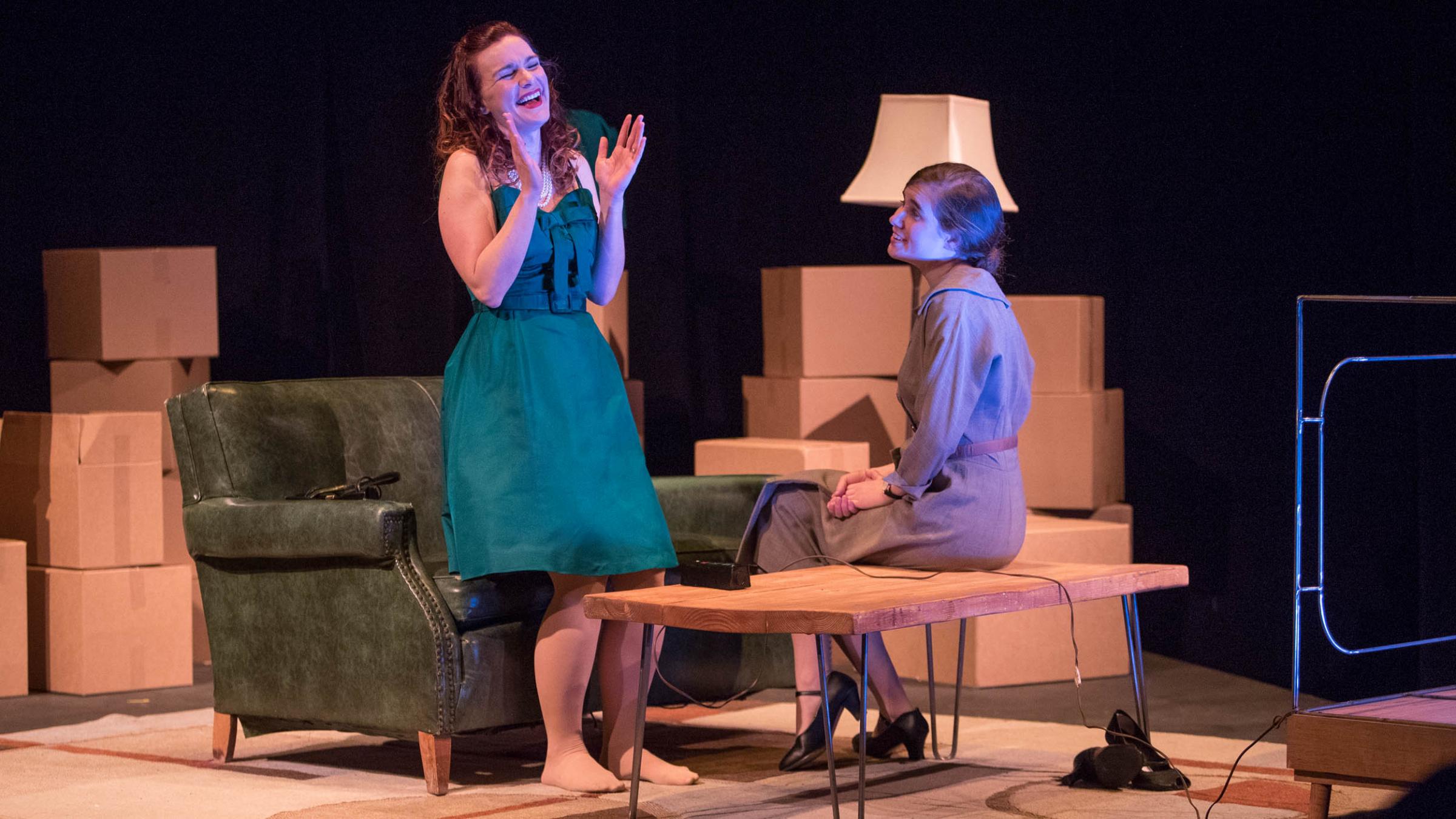 Diener directed "Viewing Pleasure," written by Bradshaw and starring drama graduate student Alisa Ledyard and second-year media studies student Elizabeth Steimel, shown above. The experience taught him a lot about collaborating with writers, actors and designers.
"We had such a strong connection about the process," he said.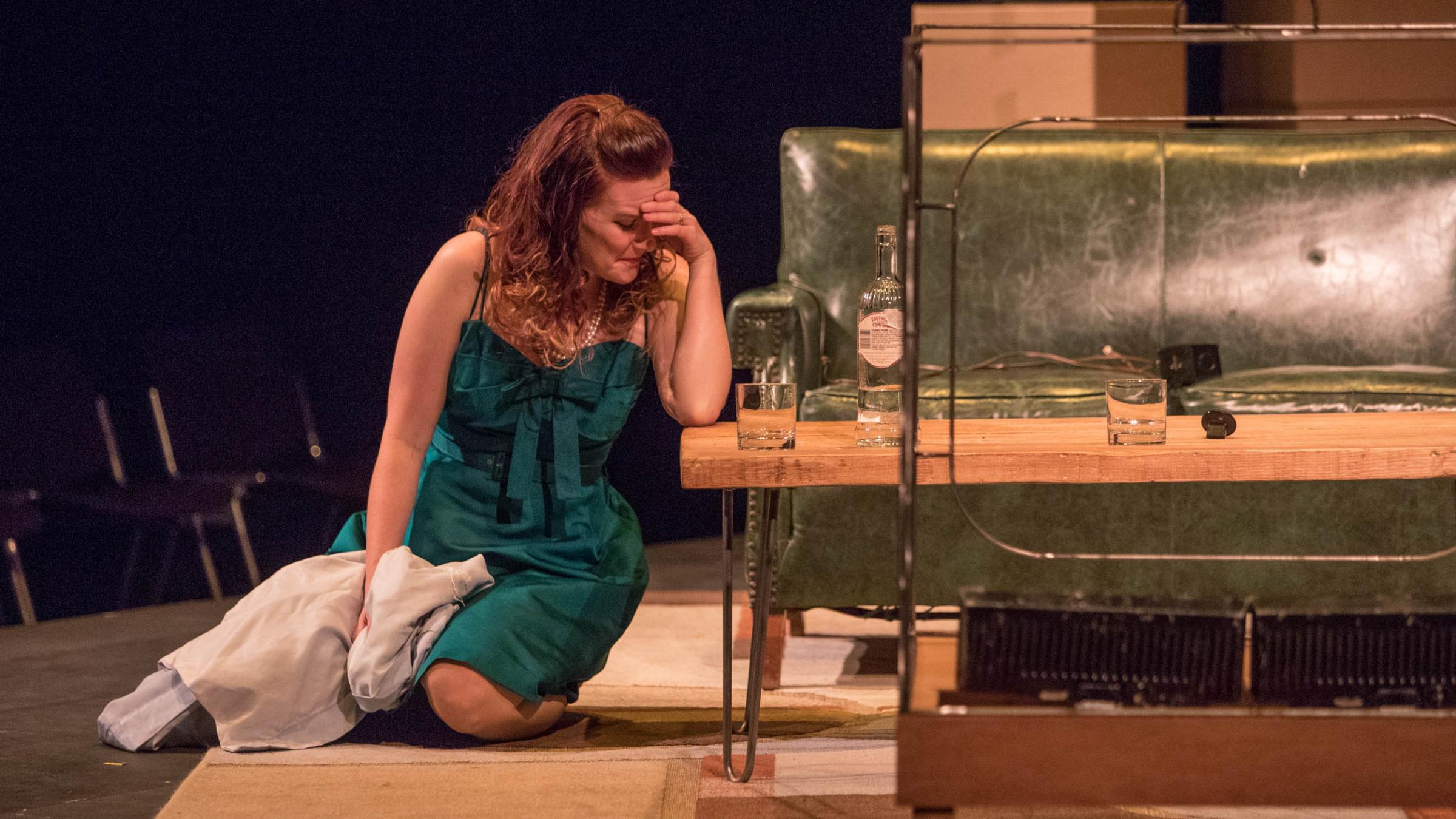 Bradshaw wrote "Viewing Pleasure" after studying the introduction of broadcast television on military bases for another UVA class.
"We talked about how it really made people feel more at home in their communities, particularly in the Air Force," she said. "I wanted to challenge that narrative by thinking of people who would not feel as comforted by it."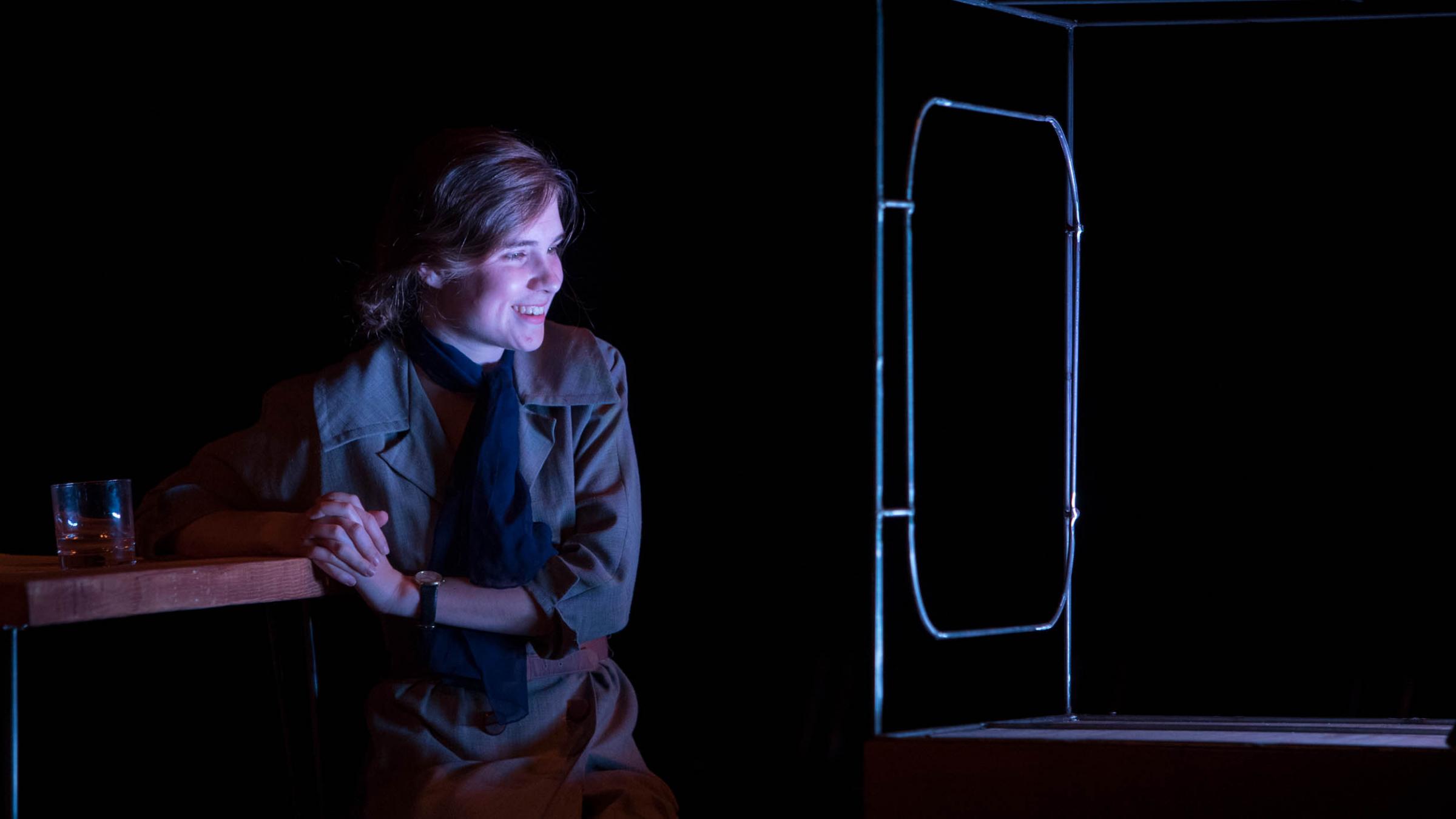 Her two protagonists, Florence and Cathy, shed light on how women might have felt in a male-dominated world. Bradshaw credits the actors, Ledyard and Steimel, with bringing those emotions to life.
"It is so validating to see someone or a group of people understand your work and work out how to play it," she said. "So much talent has been added to it since I wrote it."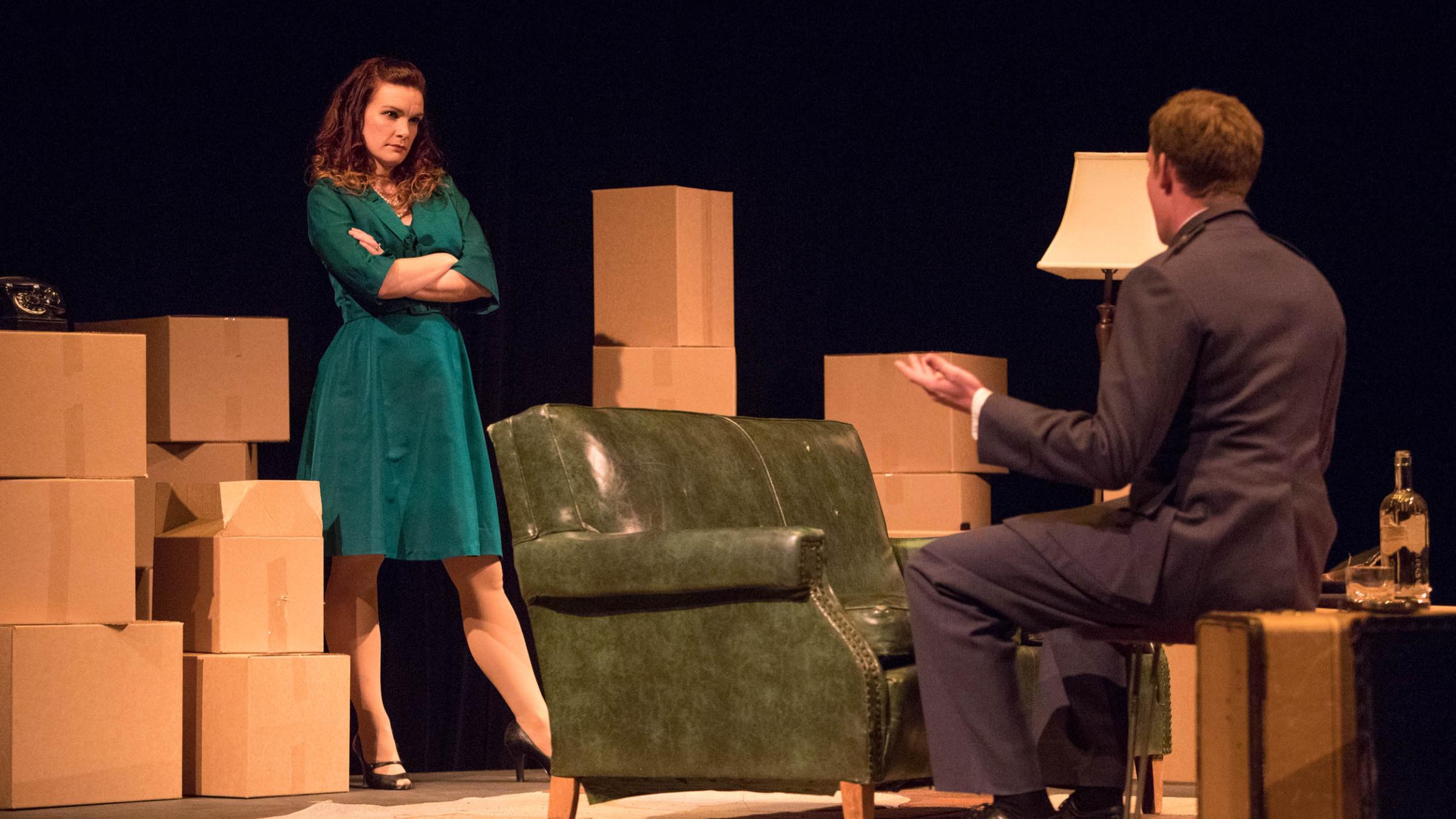 In total, more than 40 students worked on the plays, many putting in up to 20 hours per week of rehearsal, plus independent work writing, planning, memorizing lines, making costumes and more.
"It was quite a time commitment, but very worth it," Diener said. "I think we all hope and plan on continuing work like this in the future."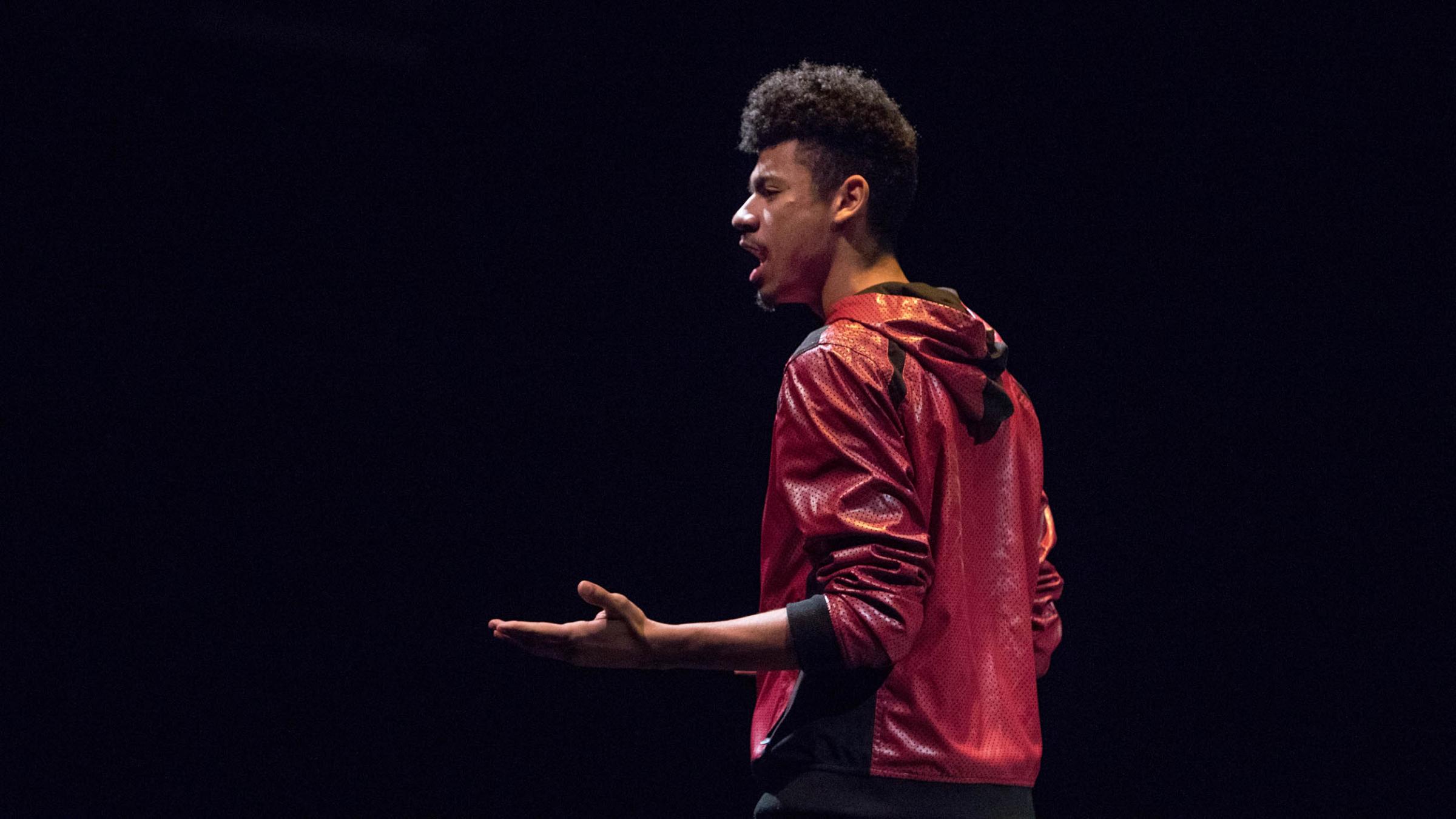 Fourth-year student Edward Alexander, above, narrates the festival's third and final play, "Wake Up Music!," which also includes a live DJ, third-year student Shaunn Warmuth.
Written by Micah Watson and directed by graduate student Kevin Minor, "Wake Up Music!" was inspired by several police shootings that dominated news coverage in the summer and fall.
"Last summer, we saw the deaths of Terence Crutcher, Keith Lamont Scott and Alton Sterling, and those three police brutality incidents hit me really hard," Watson said. "The entire summer, I was thinking about ways that I could respond to that artistically."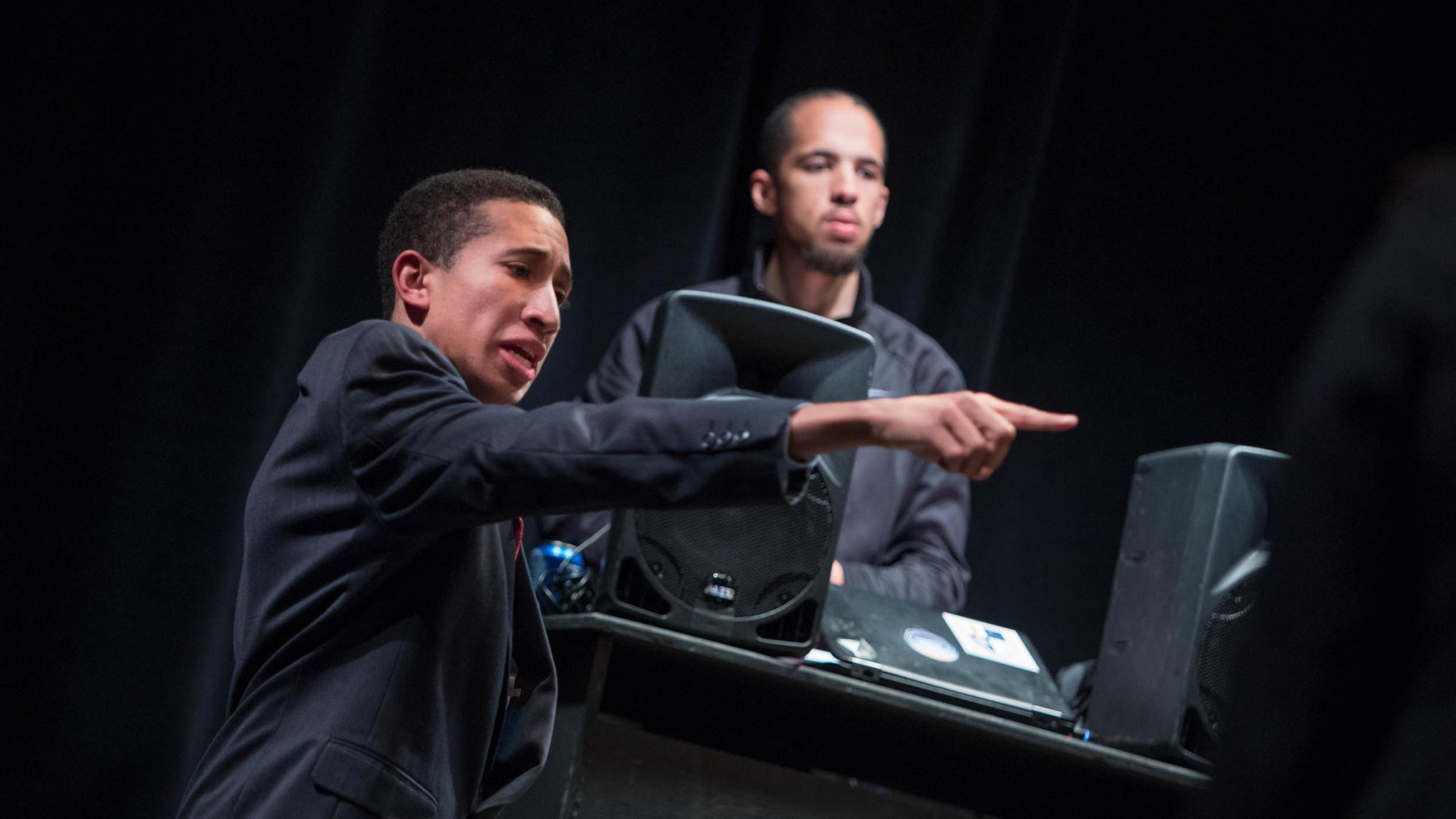 The play was also informed by Watson's interest in the infamous Emmett Till murder trial that helped fuel the Civil Rights movement in the 1950s and 1960s. Similar to Emmett Till's uncle Mose Wright, Watson's lead character, played by third-year student Jordan Maia, above, feels compelled to testify in court even as he worries about the repercussions of telling the truth.
The actor said he immediately connected with the story when Watson, a good friend, presented it to him.
"I think it is an incredible script," said Maia, who plans to pursue acting after graduation. "This was one of my first times working with a playwright who is still living, and it happened to be one of my close friends. It was great."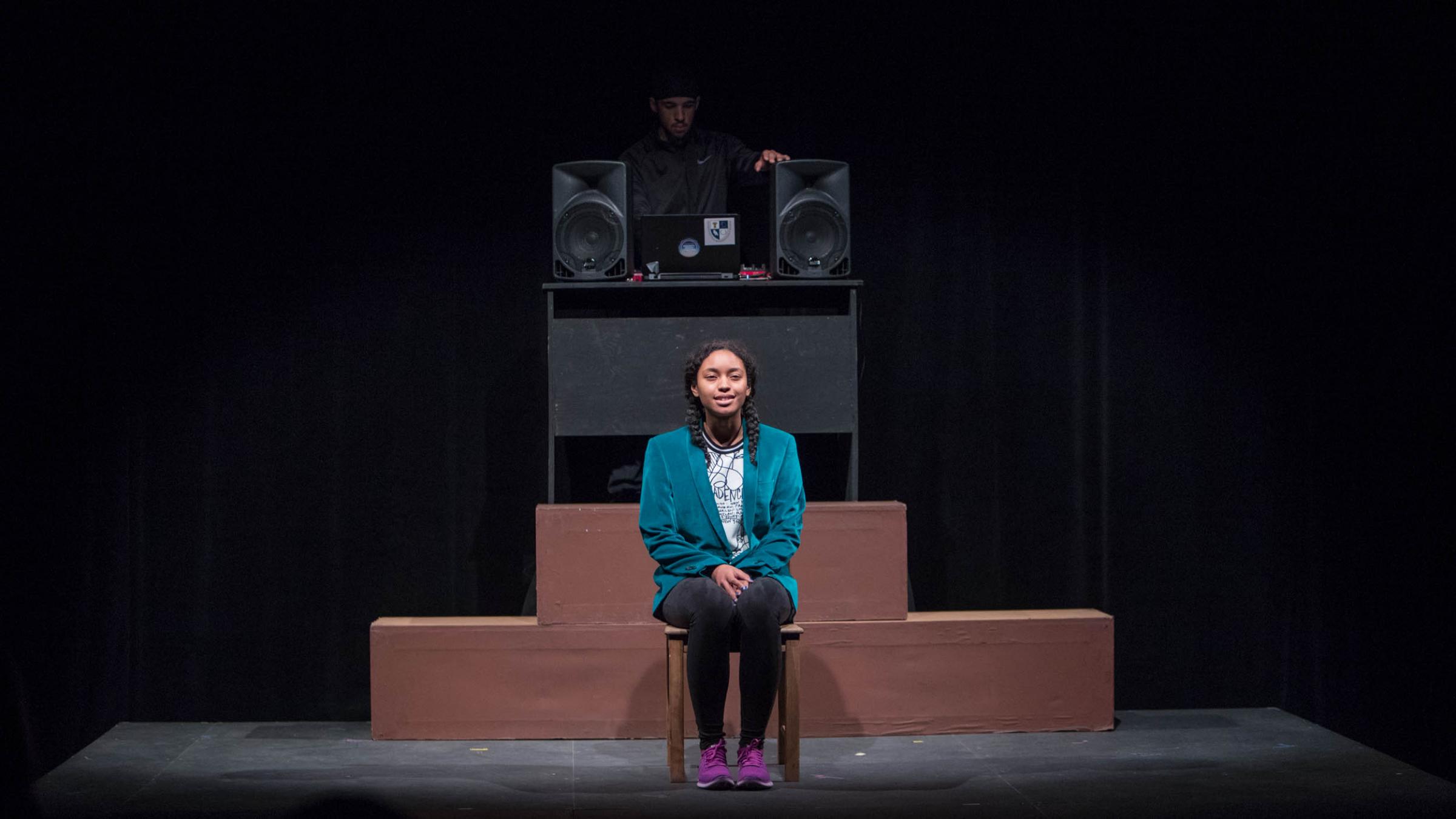 One of the main characters, played by second-year student Tiara Sparrow, above, lost her brother when he was shot by police. Watson hopes her play reminds people how such losses can linger in a community long after news coverage has moved on.
"As a writer, Micah has incredible vision," said third-year student Luke Williams, who plays a lawyer. "Everything she produces is incredible art, but also very real and socially-oriented. I'm in this play because I believe in the mission and the cast is incredible."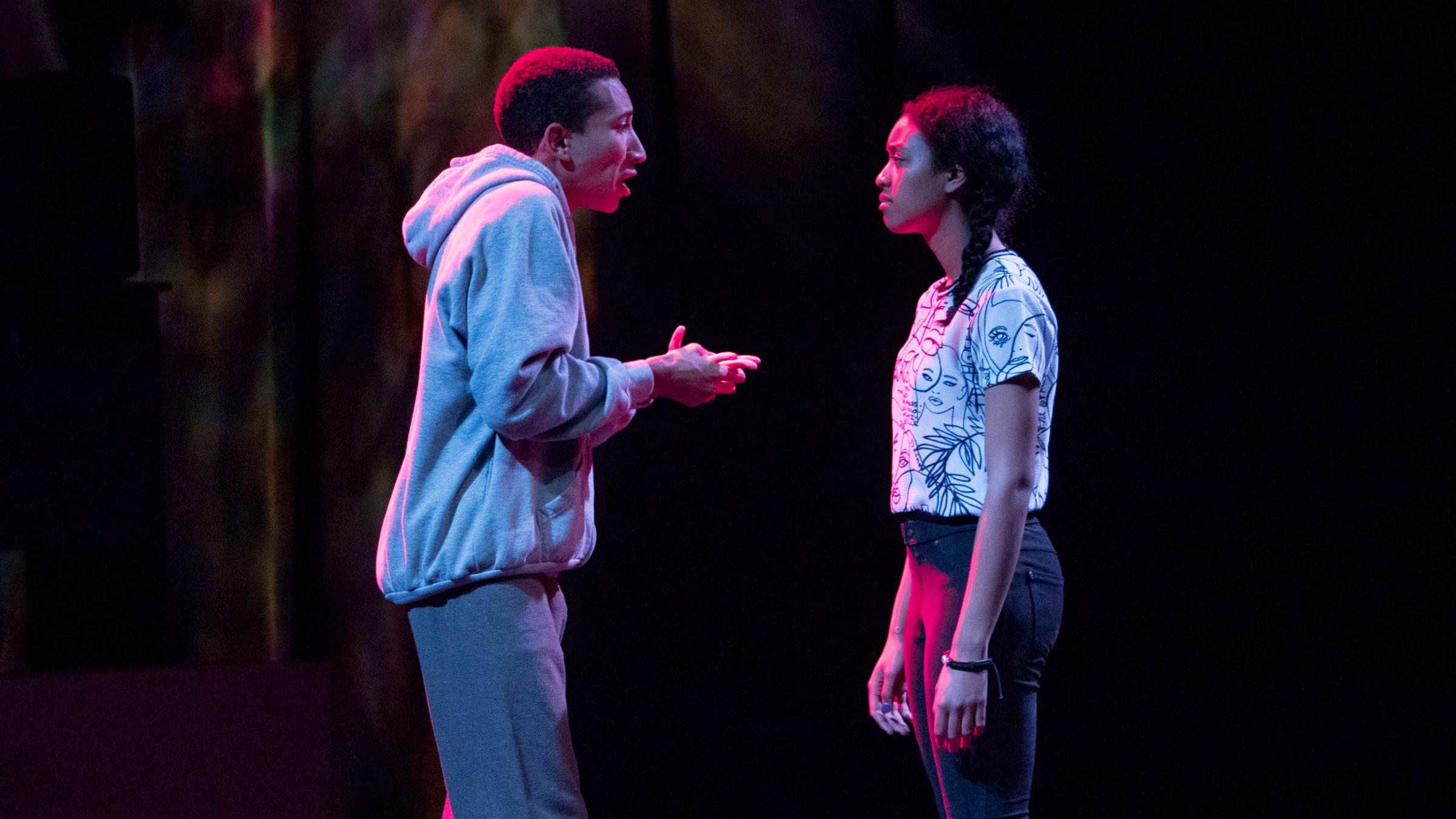 Watson said the whole experience heightened her determination to pursue a career as a playwright.
"I had this moment where the actors and directors started to take ownership of my writing. It was mine, but it also became theirs," she said. "It was so cool and uplifting. It made me think I might actually be able to make it in this business." 
Media Contact
Senior Writer and Assistant Editor of Illimitable Office of University Communications
cfn8m@virginia.edu 434-924-6856