University of Virginia President Teresa A. Sullivan on Aug. 4 issued the following statement:
To the University community:
On August 12, several groups are planning to participate in the "Unite the Right" rally in Emancipation Park in downtown Charlottesville. Although the groups represent a variety of ideologies and agendas, many of them express beliefs that directly contradict our community's values of diversity, inclusion, and mutual respect.
UVA is public in the most profound and meaningful sense of that word; we are committed to the public good, and we seek to recognize and represent the great diversity of the public in our Commonwealth and in the country. We believe that diversity is an essential element of excellence, and that intolerance and exclusion inhibit progress. We also support the First Amendment rights to free speech and assembly. These rights belong to the "Unite the Right" activists who will express their beliefs, and to the many others who disagree with them.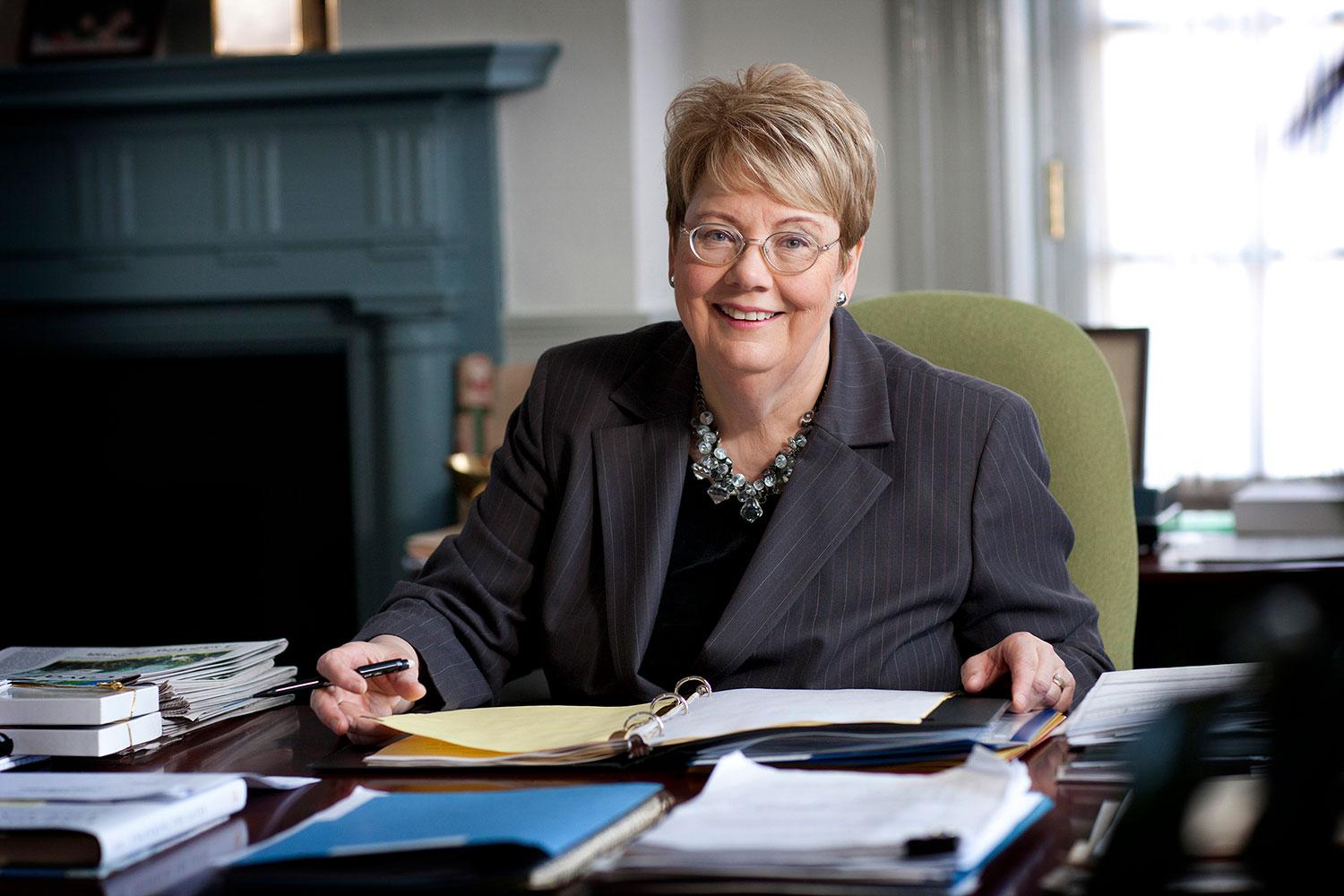 UVA President Teresa A. Sullivan (Photo by Dan Addison, University Communications)
One may stand up for one's beliefs without physical confrontation. I urge students and all UVA community members to avoid the August 12 rally and avoid physical confrontation generally. There is a credible risk of violence at this event, and your safety is my foremost concern.
Moreover, to approach the rally and confront the activists would only satisfy their craving for spectacle. They believe that your counter-protest helps their cause. One advocate of the rally said, "We should aim to draw the SJWs [social justice warriors] out in Charlottesville and create a massive polarizing spectacle in order to draw as huge a contrast as possible. They will reveal themselves to be violent, intolerant, opposed to free speech, the insane enforcers of political correctness, etc." The organizers of the rally want confrontation; do not gratify their desire.
I encourage you to participate in events on Saturday, August 12, that are open to the community and planned by UVA. A group of faculty and staff will be prepared to facilitate discussions on topics such as constitutional rights and citizenship; community dynamics and polarization; and local history. Several University libraries will be open. Athletics has two free events scheduled on Saturday. The men's soccer team will host Wright State in Klockner Stadium at 1 p.m., and beginning at 4 p.m., Athletics will host its Fall Sports Meet-the-Teams event followed by Scott Stadium Movie Night. Additional details about these and other events scheduled for August 12 will be announced early next week. I encourage participation in these UVA-sponsored events.
With the August 12 rally coming just a few weeks after the KKK rally in July and amid the continued divisive rancor in our national discourse, we are reminded that the struggle for equality, inclusion, and civility requires a prolonged and persistent effort. Let's do our part to continue this important work.
Teresa Sullivan
Article Information
August 4, 2017
/content/sullivan-issues-message-university-community-regarding-aug-12