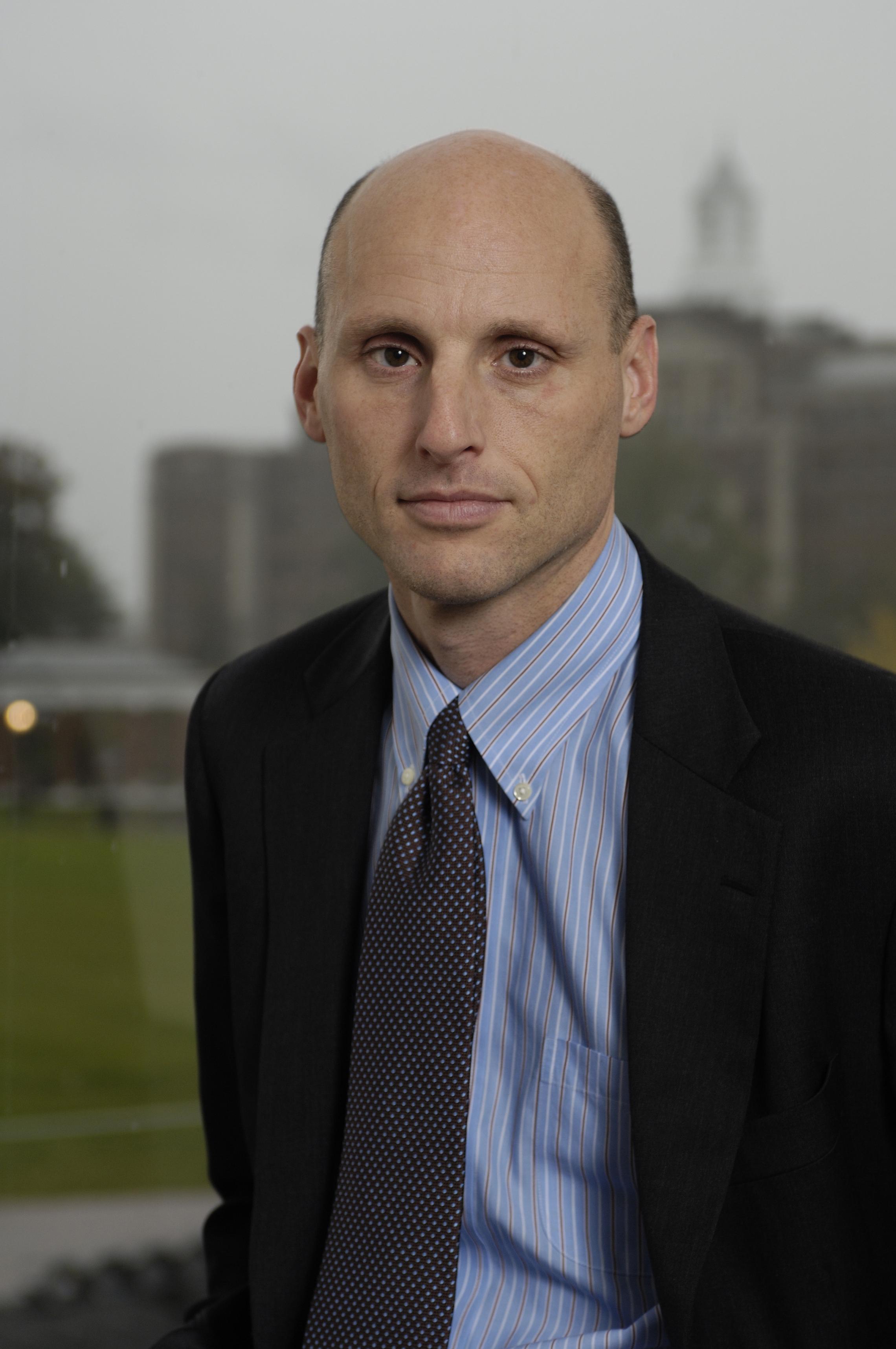 May 12, 2011 — University of Virginia President Teresa A. Sullivan today named Michael Strine executive vice president and chief operating officer, effective July 1.
Strine, 45, is currently vice president for finance, chief financial officer and treasurer for The Johns Hopkins University. He will succeed Leonard W. Sandridge, who will step down on July 1 after 44 years at U.Va.
"The University and its community have long been the beneficiaries of Leonard's extraordinary leadership," Sullivan said. "I believe that we have found in Michael a worthy successor. Michael has a well-honed understanding of the academic environment and is sensitive to the dynamics of a university with a world-class research environment as well as a top-ranked undergraduate program. He also has a deep understanding of academic medicine."
Sullivan said she was impressed with Strine's many accomplishments, his energy, his sense of mission and demonstrated ability to lead and collaborate. "These are exactly the skill sets we need as we enter a new era at the University," she said. 
At a special meeting today, the Board of Visitors approved Strine as an officer of the board. The board will officially vote on his appointment at its June meeting.
Strine, who joined Johns Hopkins in 2008, oversees its $4 billion operating budget as well as capital budgets, financial reporting and compliance, treasurer, payroll, purchasing and sponsored research.
At U.Va., he will oversee the financial affairs of the University and each of its schools and divisions, including the Medical Center. In addition, several key operational and administrative areas, such as human resources, facilities, real estate and public safety, will report to him.
Sullivan said that U.Va. engaged in an exacting yearlong search, and she lauded the work of the search committee, led by Carl Zeithaml, dean of the McIntire School of Commerce.
Strine said he was drawn to the University for a number of reasons, including its place in history and its aggressive aspirations.
"I think this is an important time in our country in terms of valuing, in particular, great public institutions of higher education," he said. "And U.Va is the model of excellence in public higher education."
He said he was impressed with Sullivan's track record, as well as by how effectively she has engaged with the University since her arrival in August. "She quickly set a tone of openness and transparency and a pace for change that is inspiring. Being on her team is a great honor, and I look forward to the challenges ahead."
While Sullivan lists the characteristics that made Strine the top candidate – intelligence, integrity, commitment to education, and strategic thinking – he portrays himself in more modest terms.
He talks about lessons his public-spirited parents taught him regarding the importance of serving one's community. "Public service was something that was expected and normal," Strine said.
Early in his career, he believed that teaching was the way to fulfill that family goal. After six years teaching public policy and finance at three different universities, he entered governmental finance administration in his home state of Delaware, looking to make a difference in the lives of citizens. Finally, he returned to higher education, but in administration rather than academics.
"I realized that in the modern era, universities are the important engines of economic development, providing for jobs, research and health care innovations, community building and, of course, education," Strine said. "Higher education has the ability to affect public policy issues that touch all of our lives."
He acknowledged he's a bit daunted by the legendary stories of his predecessor, and while on a recent trip to Charlottesville pointed out Leonard Sandridge Road to his 12-year-old daughter, Charlotte, to make the point. Her response was, "Wow!"
Strine, who has met Sandridge, said he believes they share similar values. "Administration and finance exist to promote and serve the mission of the institution," he said. "I see it as a humble position to support the great work of the faculty and the students."
He said his approach is that of an educator and a coach – and even something of an artist. "I believe in strong teams and helping those around me to achieve their goals and do great work. I expect the same of myself." 
But he does not see himself as a traditional finance person. "I think I might have pursued art if I hadn't gone into finance. I try to incorporate creativity and perspective into my work … and often see putting a financial plan or set of priorities into action as if composing layers of paint into a painting."
He cited as his greatest achievements at Johns Hopkins the building of strong relationships based on trust and collaboration; injecting sustainable process improvement and customer service into the culture of finance and administration; helping the university through difficult economic times while still preparing for the future; integrating academic priorities and measures of success into the budget planning process; and aligning resources and systems in support of the institutional mission.
As U.Va.'s executive vice president and chief operating officer, Strine's major responsibilities will be to:
•  Serve as a financial and business partner and adviser to the president, provost, Board of Visitors, vice presidents and deans.
•  Lead all phases of U.Va.'s financial and capital planning and budgeting processes, including the implementation of a responsibility-based budgeting paradigm.
•  Collaborate with the provost to develop and adopt a new funding model for the University that recognizes likely changes in state funding levels, research support, philanthropic giving and investment returns.
•  Drive the development of financial and operational policies and procedures that integrate space, fiscal and human resource considerations to advance U.Va.'s instructional, research and public service missions, including clinical care.
•  Enhance the customer service culture within the financial and operational functions of the University, ensuring that internal "customers" and external stakeholders view centralized services as responsive and value-added and with a focus on improving the undergraduate experience.
•  Collaborate with the vice president and CEO of the Medical Center and the vice president and dean of the School of Medicine to lead further improvement of clinical services.
•  Collaborate with the provost and the president to establish a set of longer-term strategic priorities for 2011-15, including the response to the state's priorities from the Governor's Commission on Higher Education.
•  Ensure that U.Va.'s financial, capital and operational resources are deployed with integrity and aligned with the University's goals.
Prior to joining Johns Hopkins, Strine was for three years the chief financial officer for New Castle County, Del.  From 2003 to 2005, he was the executive director of the Delaware Public Policy Institute, where, among other duties, he led a comprehensive assessment of the efficiency and effectiveness of Delaware's system of education finance. From 1997 to 2002, Strine worked as the chief of policy and operations for the Department of Finance for the state of Delaware.
He received his B.A. from the University of Delaware in 1986. He went on to earn an M.A. in 1990 and Ph.D. in 1992, both in political science, from Johns Hopkins.
Strine is married to the former Sharon Reardon.