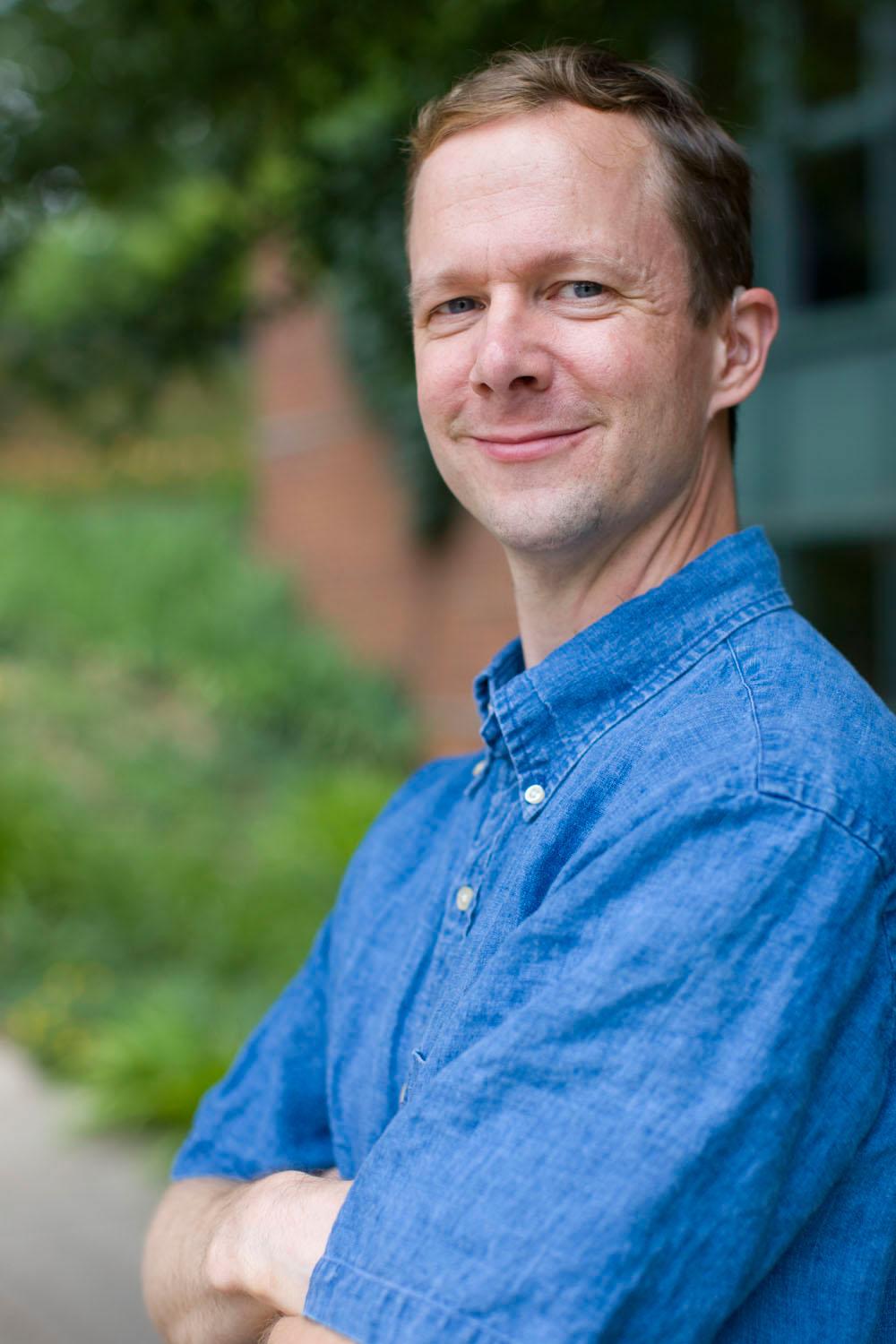 Summer's here, and the time is right for … going to class.
At the University of Virginia, about 4,500 students are taking advantage of the summer sessions to fulfill major requirements and take interesting electives. Among this year's notable courses is an examination of amnesia in film, a look at deafness in literature, the sociology of eating, and exploring kinfolks, families and relating in the African diaspora. Look for  profiles of Summer Session courses here each Wednesday for the next few weeks.
July 29, 2008 — This summer, students at the University of Virginia have been given the chance to look at traditional literature and film with a new eye — or a new ear.
    
"Deafness in Literature and Film," taught by Christopher Krentz, an assistant professor of English and director of U.Va.'s American Sign Language program, is one of the University's summer course offerings. Krentz examines the representations of deaf people in literature and film during the last two centuries, including works by mostly unknown deaf authors, either written in English or performed in American Sign Language on film.
 
Krentz, who began to lose his hearing at the age of 9, said the class is a confluence of his scholarly and personal interests. He recently published a book on deafness in 19th-century American literature.
"The class offers fresh perspectives on canonical authors like Mark Twain and Flannery O'Connor, who sometimes write about deaf characters, and on influential films like 'Johnny Belinda,' released in 1948," Krentz said. "It's fascinating how literature and film reflect and shape the destiny of certain groups. In the 19th century, there was no film, radio or computers; writing is how deaf people expressed their humanity. I want to enhance students' appreciation of literature, to approach it in a fresh and new way, as well as to increase their appreciation for a group historically seen as deficient or pitiable. I hope they will appreciate this not just for their understanding of deaf people, but for all of humanity."
 
Education for the deaf in the United States started in the 19th century, and as more deaf people became literate, they began to publish their own works. 
"The minority gained a voice," Krentz said. "They began to challenge stereotypes – they were not evil, stupid or insane."
As education for the deaf became more visible, authors such as Mark Twain included them in their works.
"Twain had life experiences with deaf people, as he lived a mile from a school for the deaf in Hartbrook, Connecticut," Krentz said. "He was intrigued by the differences and similarities among people, and that's reflected in his work.
"Some accounts written by hearing authors weren't interested in the deaf experience; deaf characters were used mostly as metaphors, as symbols of innocence, purity, or evil."
Film made it possible to capture American Sign Language, and overcome the difficulties in conveying the three-dimensional expressiveness of the language.
"The earliest recordings of American Sign Language go back to 1902," Krentz said. "And during the Silent Era, film was totally accessible to deaf people, as it put us on the same level as mainstream moviegoers. In fact, Charlie Chaplin was even coached by a deaf person in pantomime. In recent times, we've had a deaf actress, Marlee Matlin, in a key role on film, winning an Academy Award for her performance in 'Children of A Lesser God,' which came out in 1986. Her success has helped create opportunities for other deaf actors to participate in more mainstream productions."
The course also examines the works of deaf performers, such as poet Clayton Valli, who composed and edited all his work in American Sign Language and captured it on film.
"This juxtaposition allows us to consider how literature and film reinforce or challenge stereotypes and help to shape a minority group's social status," Krentz said. 
 
This is the fourth time Krentz has offered the class.