In the weeks following the Valentine's Day shooting at Marjory Stoneman Douglas High School in Parkland, Florida, high school students protesting gun violence have grabbed and held the attention of the country and inspired hundreds of thousands to take to the streets during Saturday's "March for Our Lives."
The students' call for stricter gun control is the latest example of how youthful activism can and has changed political discourse in America.
For University of Virginia students in Aniko Bodroghkozy's "Media and Protest: Case Study of the 1960s" course, it's also the latest example of their classwork coming to life.
"The March for Our Lives protests and walkouts are really similar to protests in the 1960s, many also led by students," third-year media studies and government student Jade Baker said.
When Bodroghkozy developed the course, she was focused on another seminal moment that riveted the country: violent demonstrations by national white supremacist groups at UVA and in Charlottesville on Aug. 11 and 12.
The media studies professor, who is an expert on 1960s social change movements and media coverage of them, thought it might be helpful for her students to learn more about how earlier protest movements shaped American politics and how media coverage factored into those changes.
"After what happened here, and seeing that we seem to be in a new era of turmoil and protest, it seemed useful for me to take what I know about the 1960s and design a course that asks students to make useful connections between that period and our present moment, through the lens of media coverage," she said.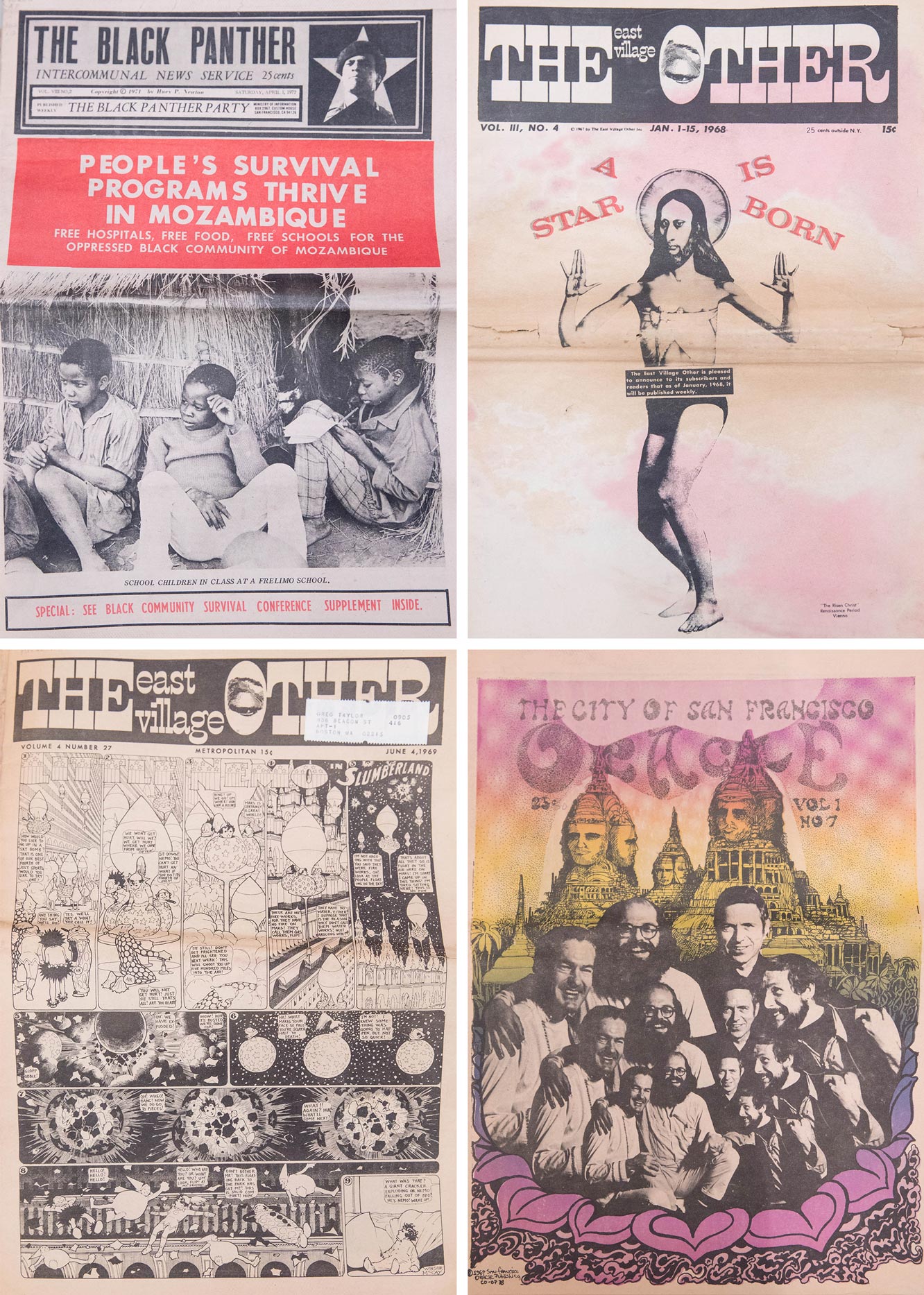 Among other comparisons, Bodroghkozy's class has discussed media coverage of '60s protests and today's Black Lives Matter movement or gun control demonstrations, the resurgence of youthful activism that marks both periods, and the media tools that have helped carry the protests to the public.
Students have seen some of that media firsthand through the extensive collection of 1960s underground newspapers housed at UVA's Albert and Shirley Small Special Collections Library. The papers, produced by the Black Panthers, women's liberation groups and other protest organizers, offer a glimpse of how they tried to share their mission directly with the public.
"The various movements of the '60s realized that they could not get their message out or recruit through mass media channels," Bodroghkozy told her students as they assembled in the Special Collections Library one night, surrounded by stacks of carefully preserved newspapers. "They had to develop their own forms of media."
Much like students have used social media to build today's gun control movement, Bodroghkozy said, 1960s protestors used new offset printing technology to cheaply and easily produce their newspapers.
"This is analogous, to some extent, to the social media tools that protest groups like Black Lives Matter use, or that the students of Marjory Stoneman Douglas High School are using to build a gun control movement at this very moment," she said of the protest papers.
Each student spent several hours before a recent class studying one particular publication and preparing a presentation for their classmates.
Among other topics, they talked about how the papers compared with mainstream media coverage; different biases they noticed; the sex classified ad sections in some papers, used as a scandalous but necessary means of financial support; and the use of language, images and cartoons to recruit readers to a cause.
Students also highlighted connections with their own experiences of modern protest movements.
"I've seen a strong connection to what happened here in August, especially in how the counter-protestors were treated unfairly for wanting basic civil rights," Baker said.
Third-year student Yahya Abou-Ghazala said he took the course because he wanted to learn more about media coverage of pro-democracy protests in the Middle East. Abou-Ghazala grew up in Missouri with Syrian and Palestinian parents and has traveled to the Middle East often to visit his extended family.
"I am very interested in the concept of protest, because that is something that is very prevalent in the Middle East," he said, recalling the Arab Spring uprisings of 2011. "I have always been intrigued by how the media portrays protest movements."
Abou-Ghazala studied newspapers produced by the Black Panthers, which he said did a good job of cutting through preconceptions and pinpointing the movement's goals and methods.
"They are often portrayed as violent and reckless, but reading the papers, you realize how orderly and organized they were," he said. "It's really captivating."
He compared the Black Panthers papers with the blogs, videos and social media posted that many Arab Spring demonstrators shared directly from their phones as they pushed for more democratic governments.
"Those really gave you a sense of what was happening on the ground, especially when compared with what was released by the state or the mainstream media. Readers could have a completely different idea about what is going on," he said. "This class has taught me how to bridge those two narratives, taking what you see in the mainstream media with a grain of salt and corroborating with actual footage and reporting."
Abou-Ghazala said that reading the newspapers themselves, as well as seeing other news clips and articles that Bodroghkozy has assigned, has given him a more tangible idea of what America was like in the 1960s.
"What makes this class special is we are not only learning from scholarly articles, we are learning about an event through the public eye, through media as the event unfolds. These are the same sources that people were watching at the time," he said. "It kind of puts us in the '60s, as opposed to only reading about it retrospectively."
Baker agreed, and said she has enjoyed finding similarities to her own political questions and concerns.
"Professor Bodroghkozy told us on the first day of class that, 'History does not repeat itself, but it often rhymes,'" a quote often attributed to Mark Twain.
"I have seen that so much in this class," Baker said.
Article Information
March 28, 2018
https://news.virginia.edu/content/teens-march-uva-students-connect-1960s-modern-protest-movements