If you are a studio art student, your final exam does not necessarily resemble a traditional test. More likely, it's a painting, film, photograph or even a multi-hued flag, hand-dyed and sewn.
Fourth-year studio art students at the University of Virginia have spent all year carefully planning and creating their thesis projects, which were displayed in a four-week Ruffin Hall exhibition concluding last week.
Some students used film, sound and animation to bring their art to life. Others who are painters, photographers, printmakers or sculptors used their chosen medium to share messages that are important to them. Some offered pleas for sustainability, examined the virtues and vices of pop culture or delved into psychology and history. Others used their art to explore and share their own culture and heritage.
UVA Today met with eight of these student-artists at the end of the semester. Take a look at their final projects below.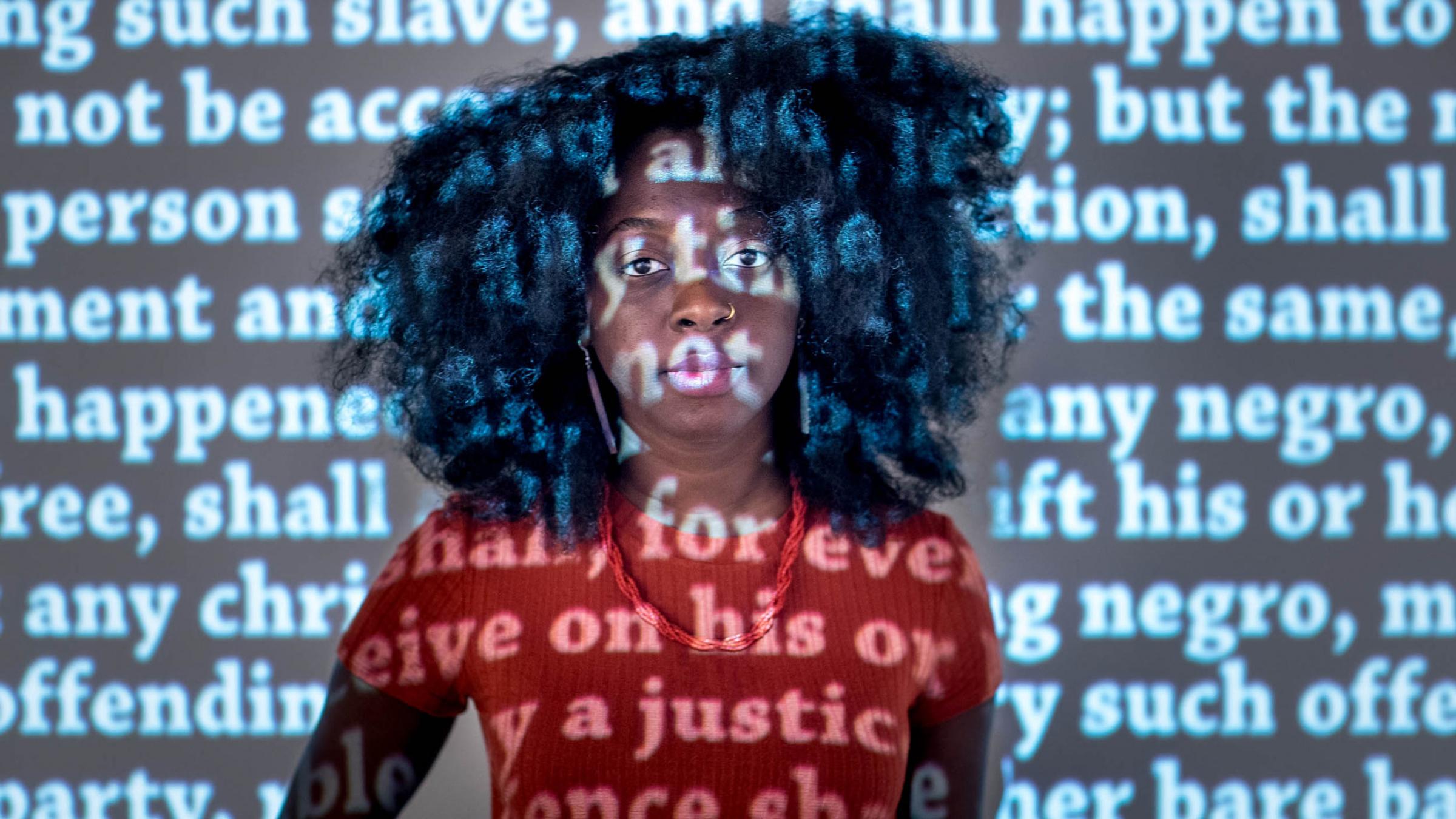 Kemi Layeni: "OmniPresent"
Kemi Layeni's multi-media installation explores the legacy of slavery in the United States. Her work was paired with that of Aunspaugh Fifth-Year Fellow Zuhal Feraidon, whose paintings focus on Islamic culture and art.
Layeni's exhibition included three projections. One, on the floor near a mound of decaying flowers, showed the names of enslaved men and women, including those who helped build UVA and the White House.
A second projection displayed a poem that Layeni wrote, while a third scrolled through Virginia General Assembly laws legalizing slavery and protecting slave owners.
The entire ensemble evokes powerful images of slavery without showing images of slaves.
"There are no bodies in the work, but the presence is still there," said Layeni, who also majored in English and African-American studies. "The viewer becomes activated by smelling, walking on or seeing and hearing certain things, and since there are no bodies, the viewer can become the body."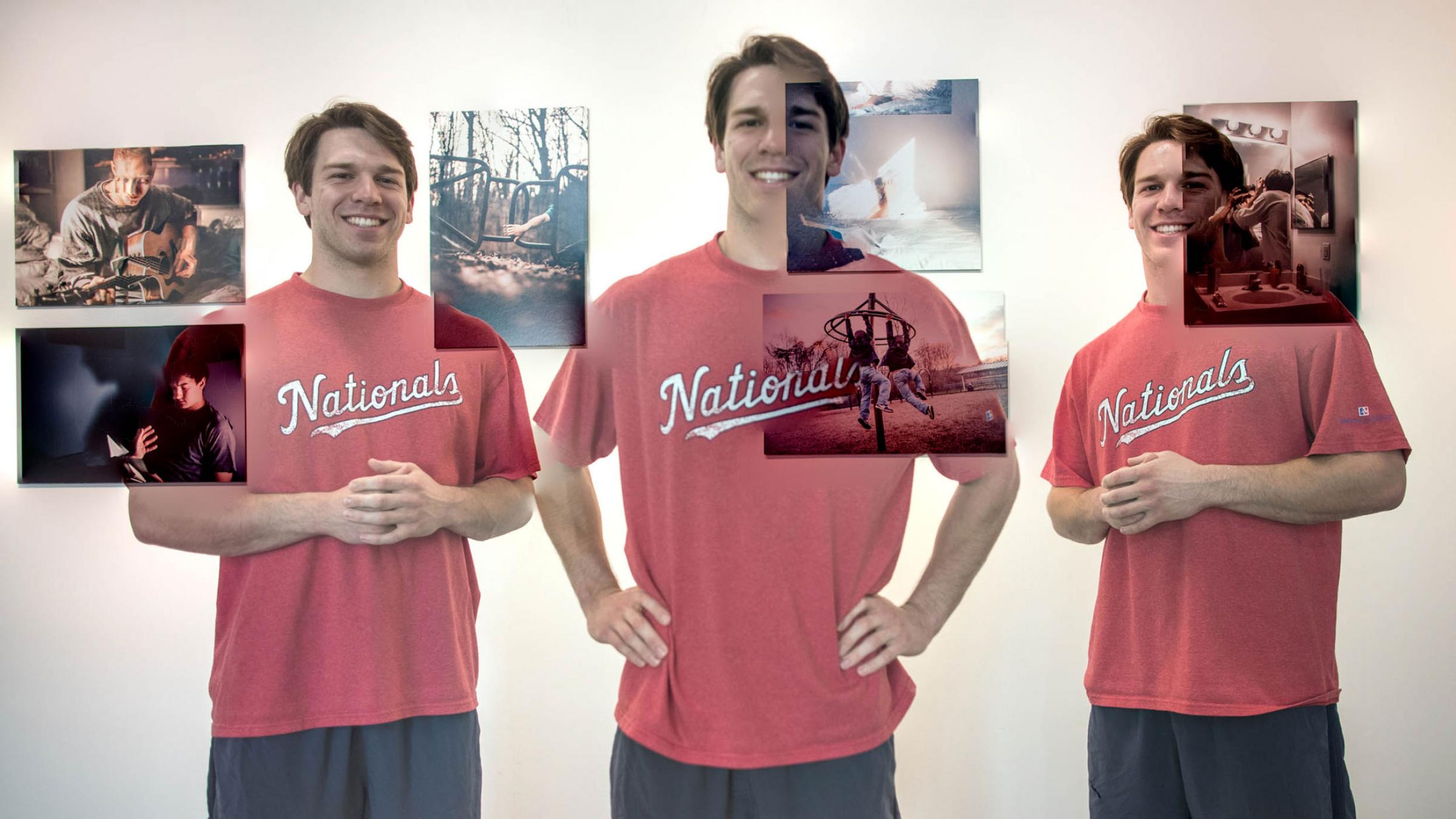 Jason Murphy: "As It Appears"
Photography student Jason Murphy, also a midfielder on the University's lacrosse team, was a painter in high school and picked up photography at UVA. His final exhibition features photos that look realistic at first glance, but trick the viewer with an unexpected distortion or surprise.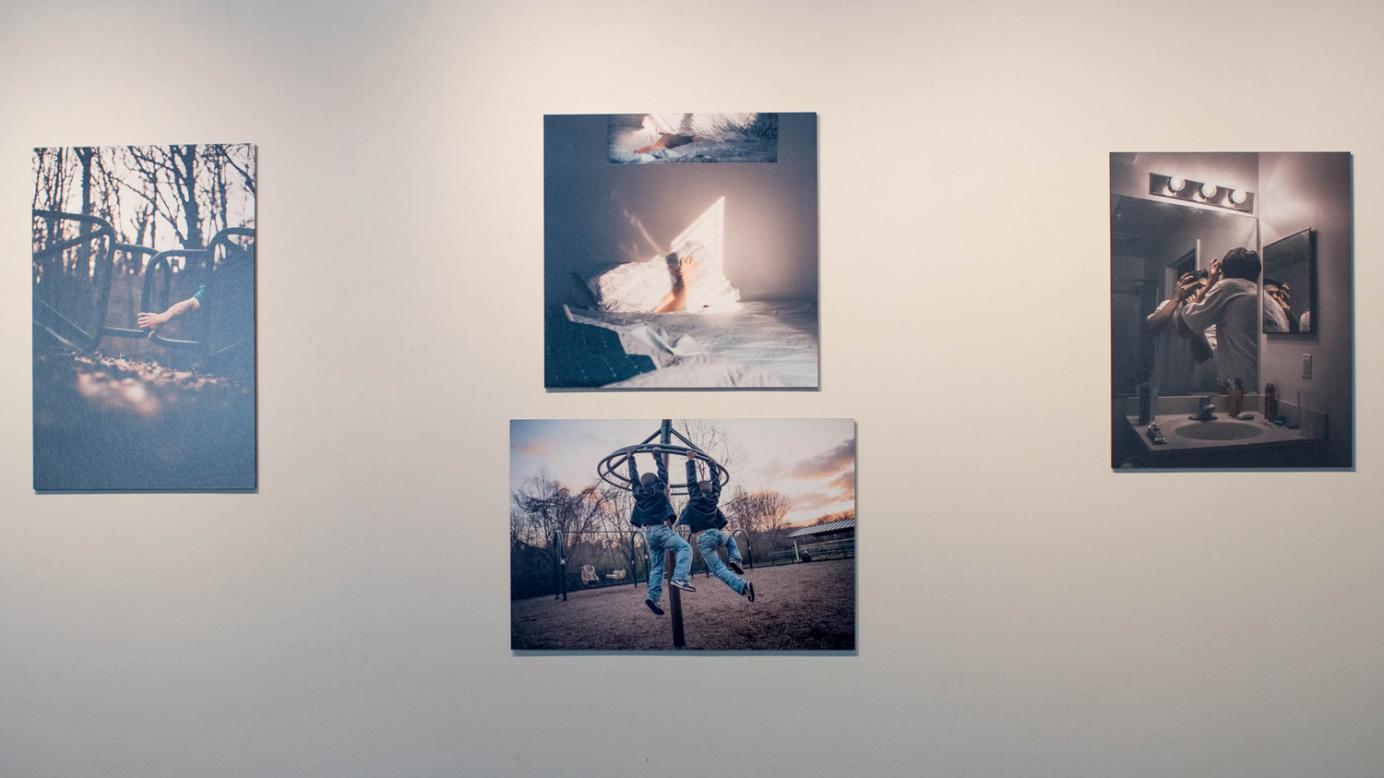 Each photograph, Murphy said, is designed to make viewers question their perception.
"Your eye tends to just fill in gaps automatically," he said. "My work here tries to counteract that influence. If you look a little closer or a little longer, you start to pick up on things that are different from what you wanted or expected to see."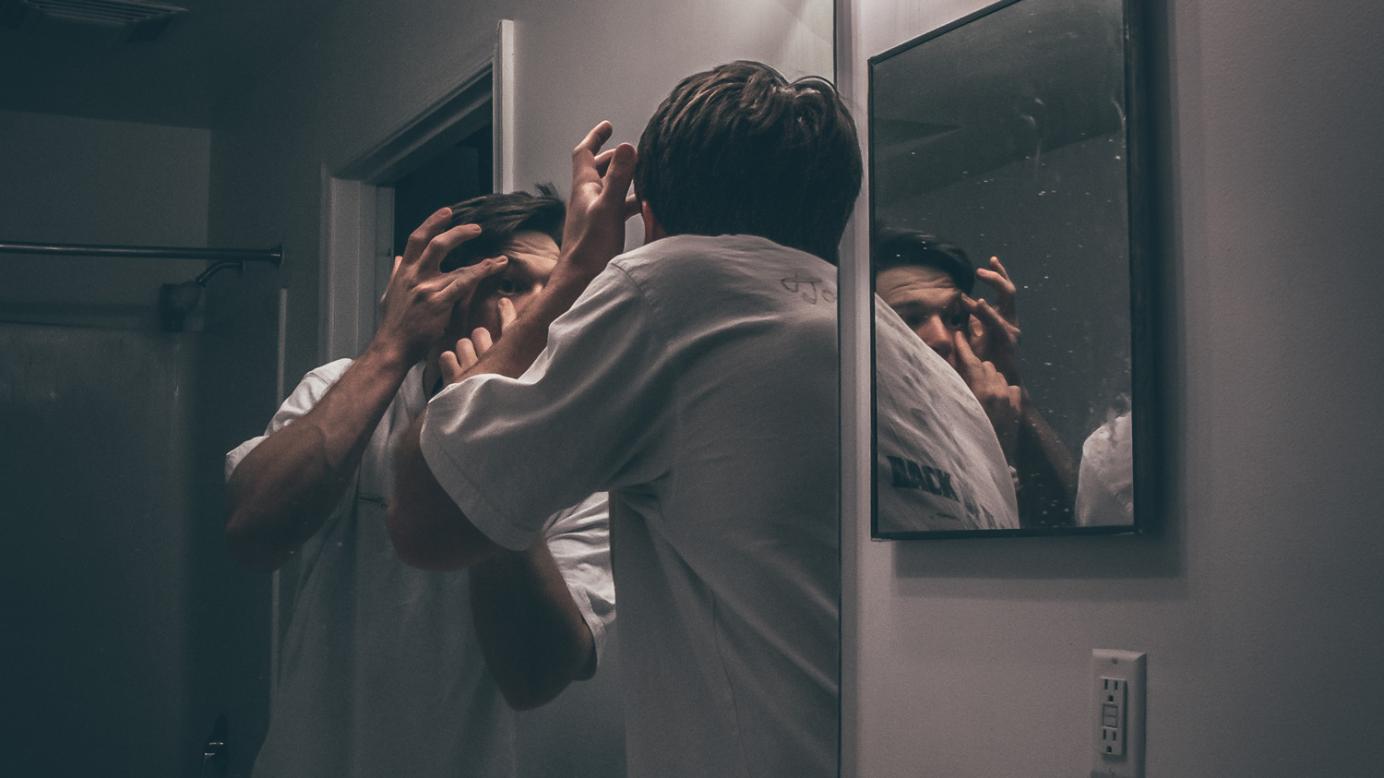 A closer look at one photograph, at left, reveals gaps where Murphy's body should be. He used Photoshop to create each effect, and often drafted his lacrosse teammates as models.
After graduation, Murphy will need both his art and lacrosse skills for a summer job coaching and providing photography, social media and other creative services for a San Francisco lacrosse league.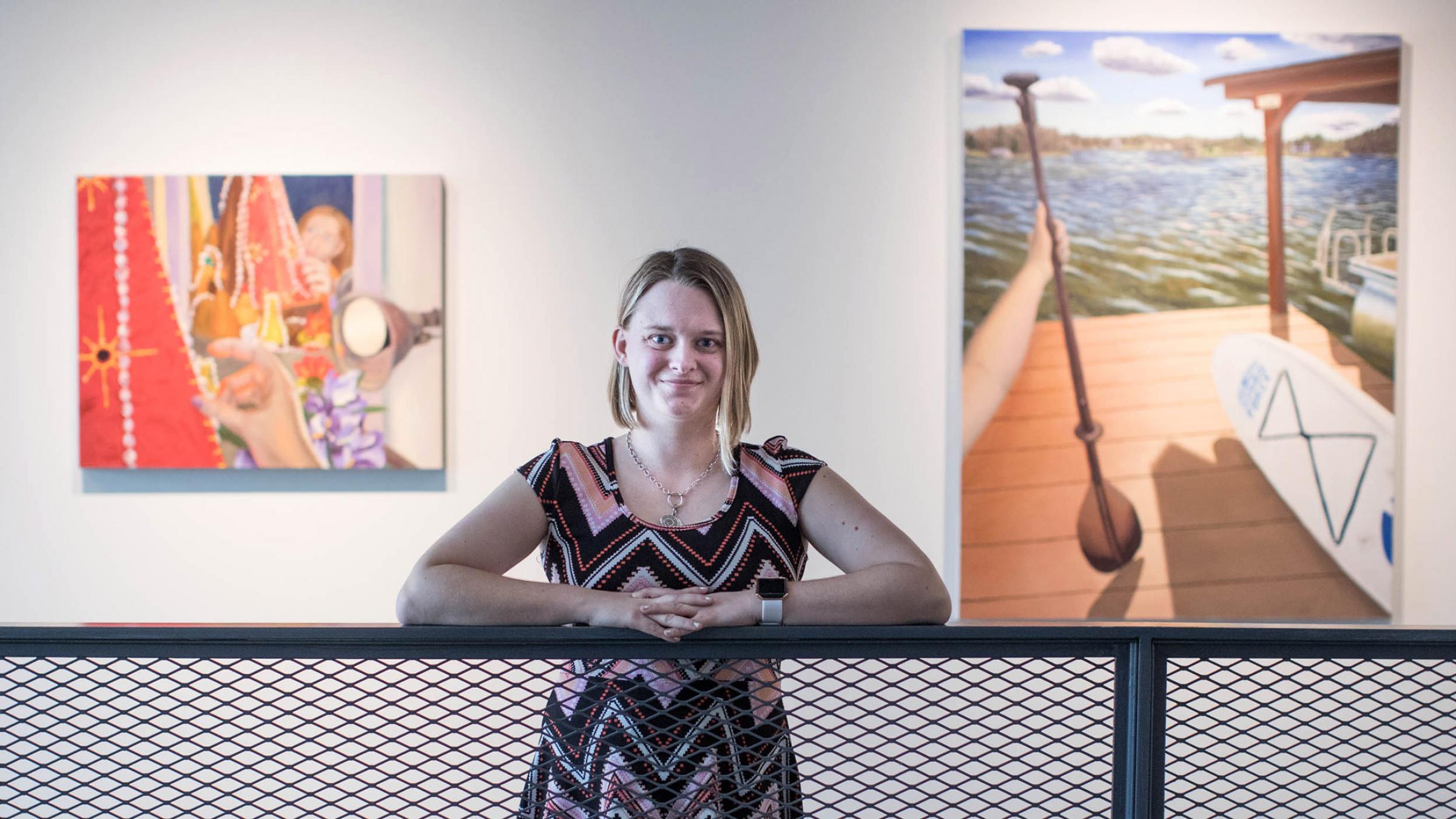 Nicole Miller: "Walk in My Life"
Biomedical engineering student Nicole Miller wanted to offer viewers a glimpse of her four years at the University.
"I took on a first-person persona, so that you would always see my hands or feet incorporated in the images," said Miller.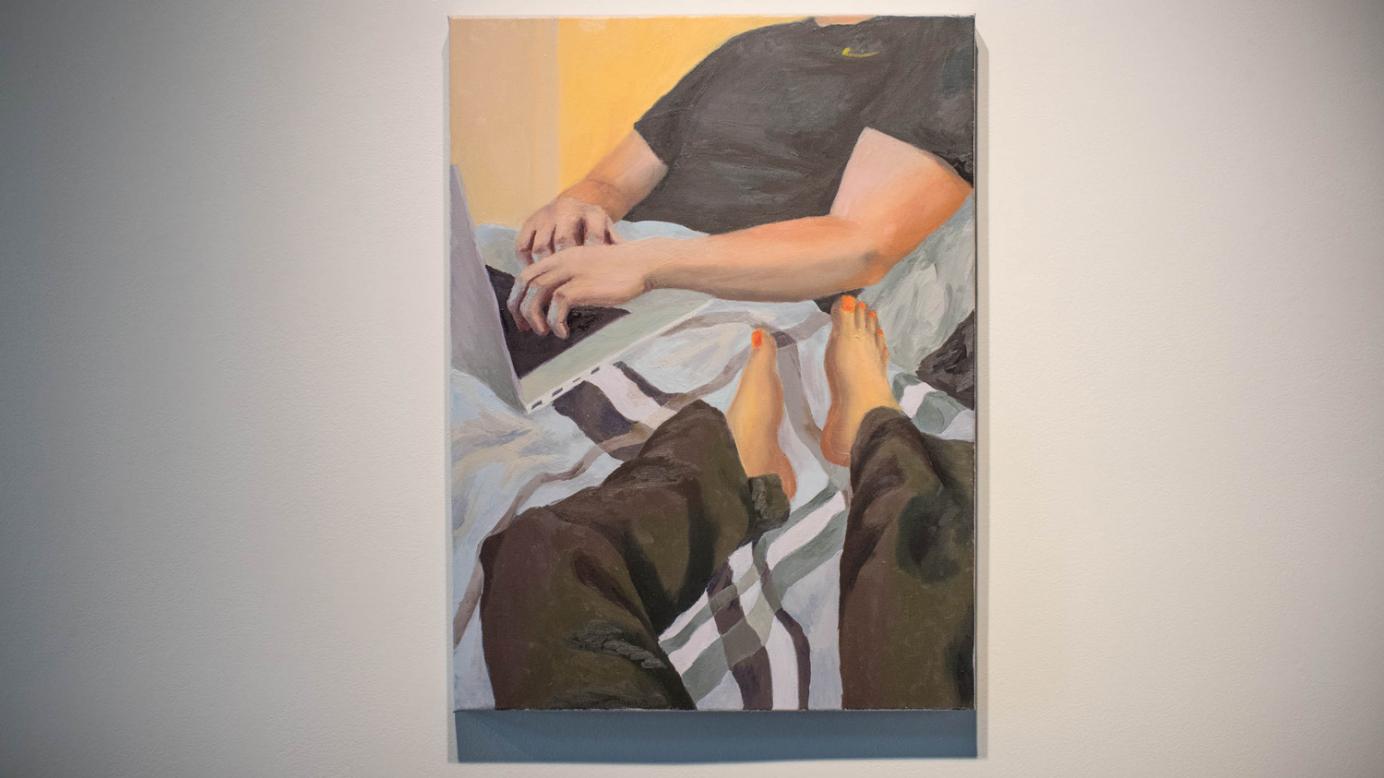 The paintings show scenes from Miller's daily routine and spots around Charlottesville, as well as a favorite vacation spot, Hyco Lake in North Carolina.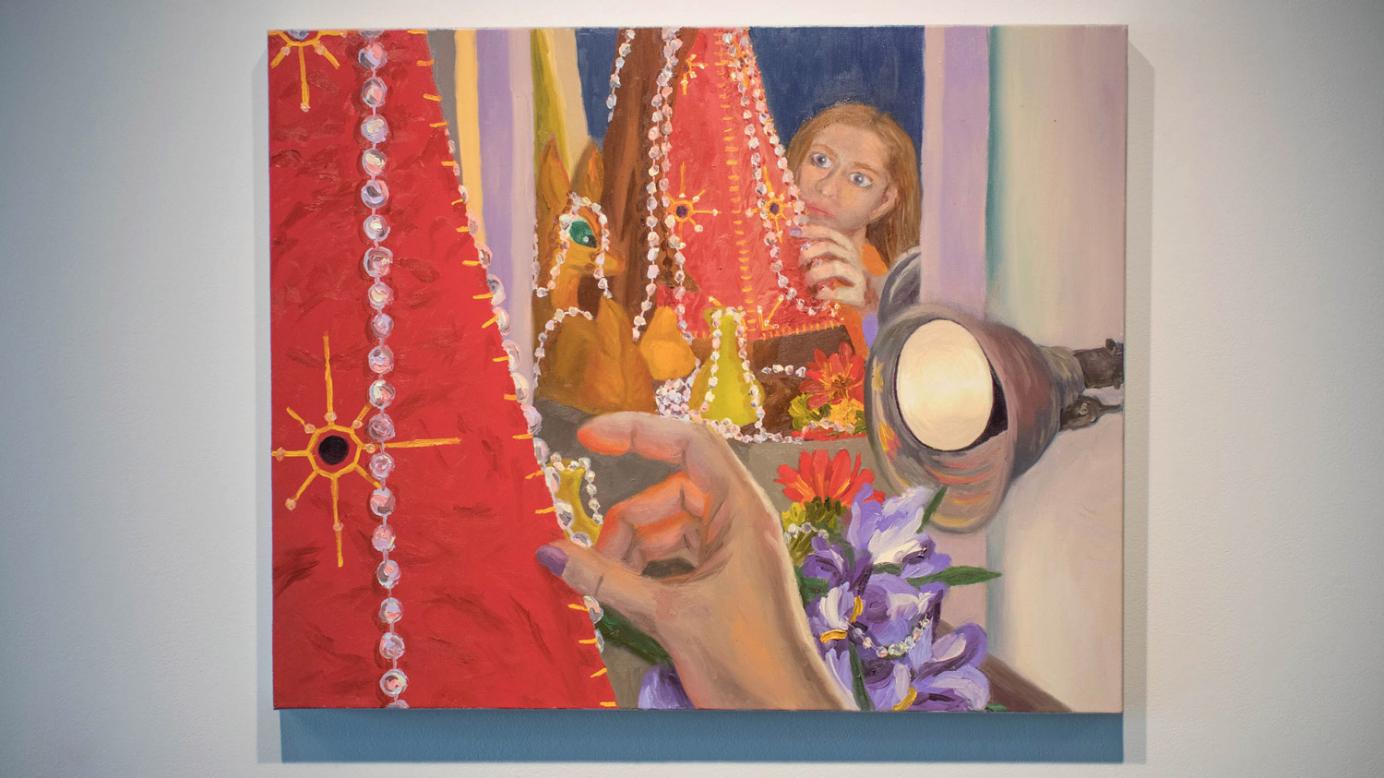 Miller, who said that she has enjoyed the balance of studying studio art and biomedical engineering, has accepted a post-graduation position in one of UVA's cancer research labs.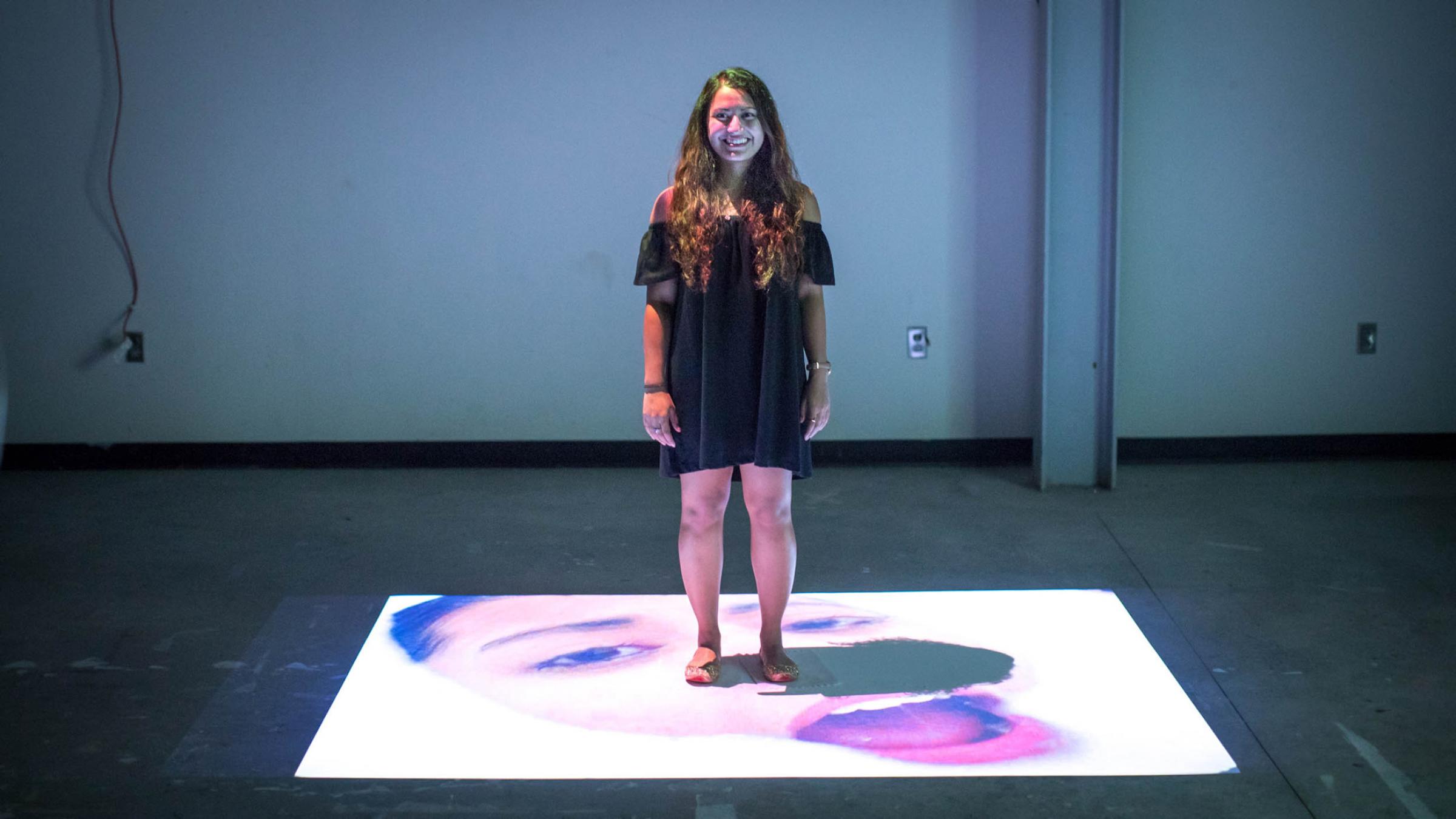 Sanjana Sekhar: "hyphen-ated"
Fourth-year student Sanjana Sekhar was born in India and moved to Connecticut at age 5. She used her thesis project to explore the unique position of "third culture kids," which she defines as "those who are constantly navigating between two or more cultures, those who never quite know the answer to 'where are you from?'"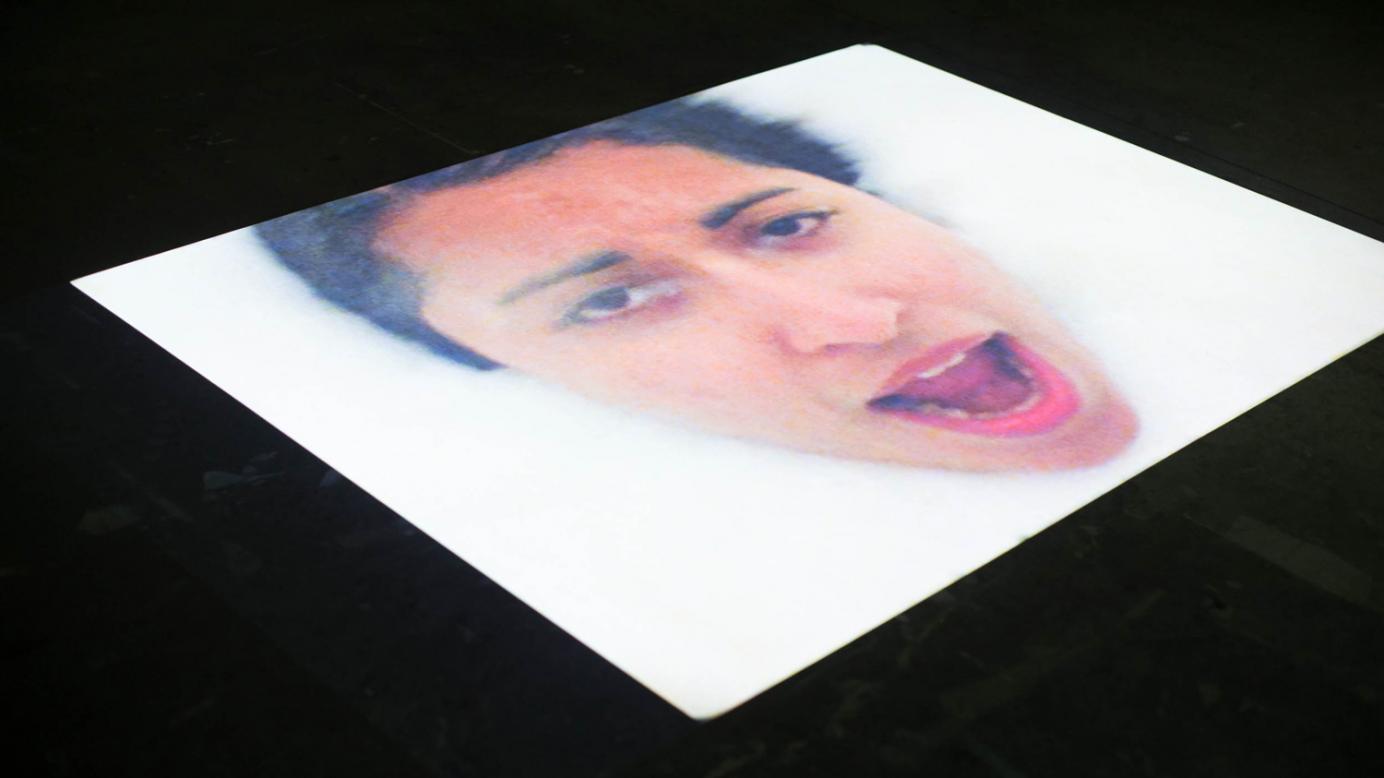 Her multimedia installation included two projections. One – which she admits was tricky to film – represented an awakening to color after whitewashing, symbolized by Sekhar repeatedly emerging, gasping, from a tub of milk. The second showed her doused in brightly colored powders from the Indian festival of Holi.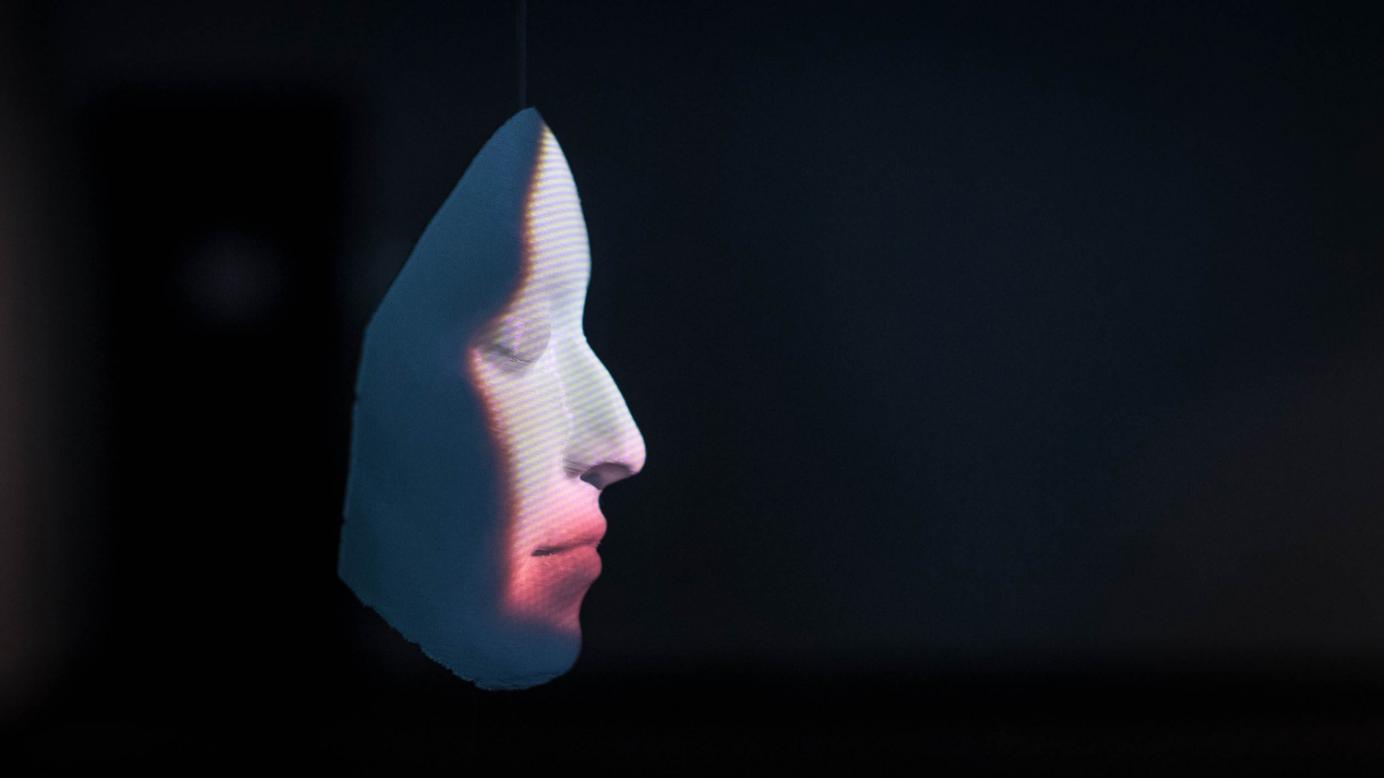 The installation also included a 3-D-printed mask of Sekhar's face, with abstract footage of a traditional Indian sari projected onto the life-size print.
"I wanted to balance the American childhood that I loved with that connection to my home and culture in India," she said.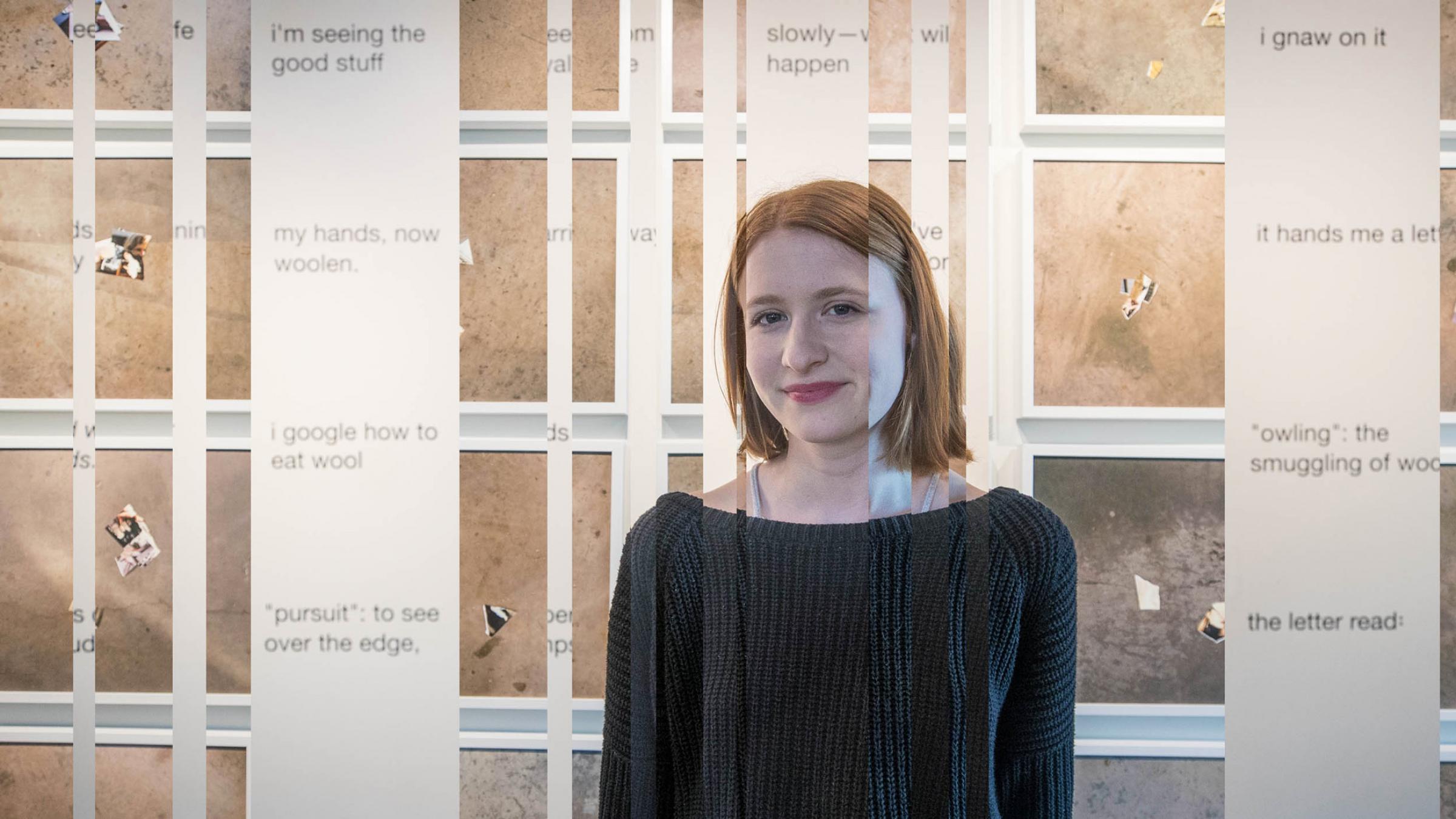 Liza Pittard: "Loom"
Photography student Liza Pittard's exhibition studied the psychological process of recalling memories. It included two 36-inch-by-20-inch grids, one showing photographs of torn, older photos copied from her parents' collection and one showing text fragments pulled from journal entries Pittard wrote throughout the semester. Some phrases are connected to the corresponding photos; others are not.
"I wanted this to go outside of photography, to think about how you might read images and create a narrative from that, as you do language," she said. "I am trying to invoke that psychological experience."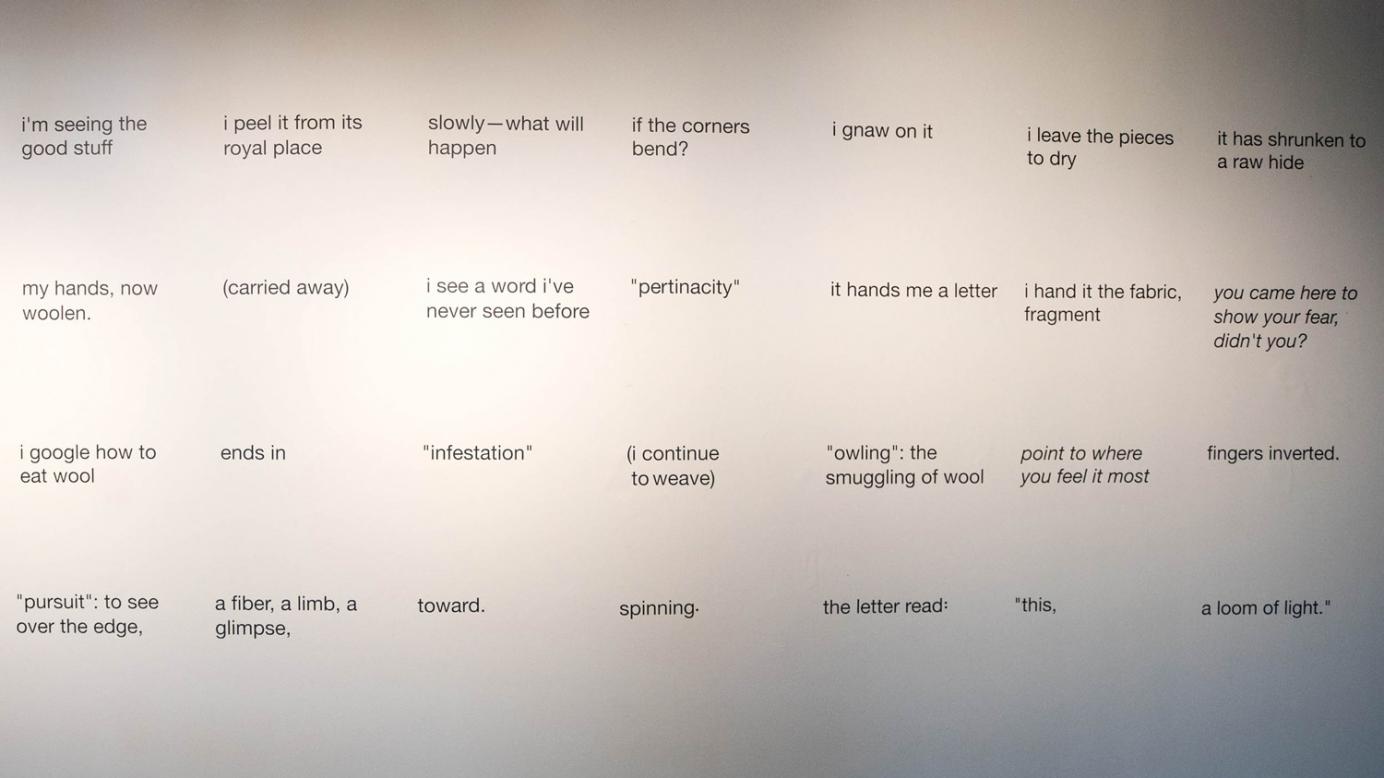 Pittard, who is also studying art history, has been an intern at The Fralin Museum of Art at UVA for two years and will help curate an exhibition there this summer. After graduation, she hopes to pursue a Master of Fine Arts degree and eventually teach art.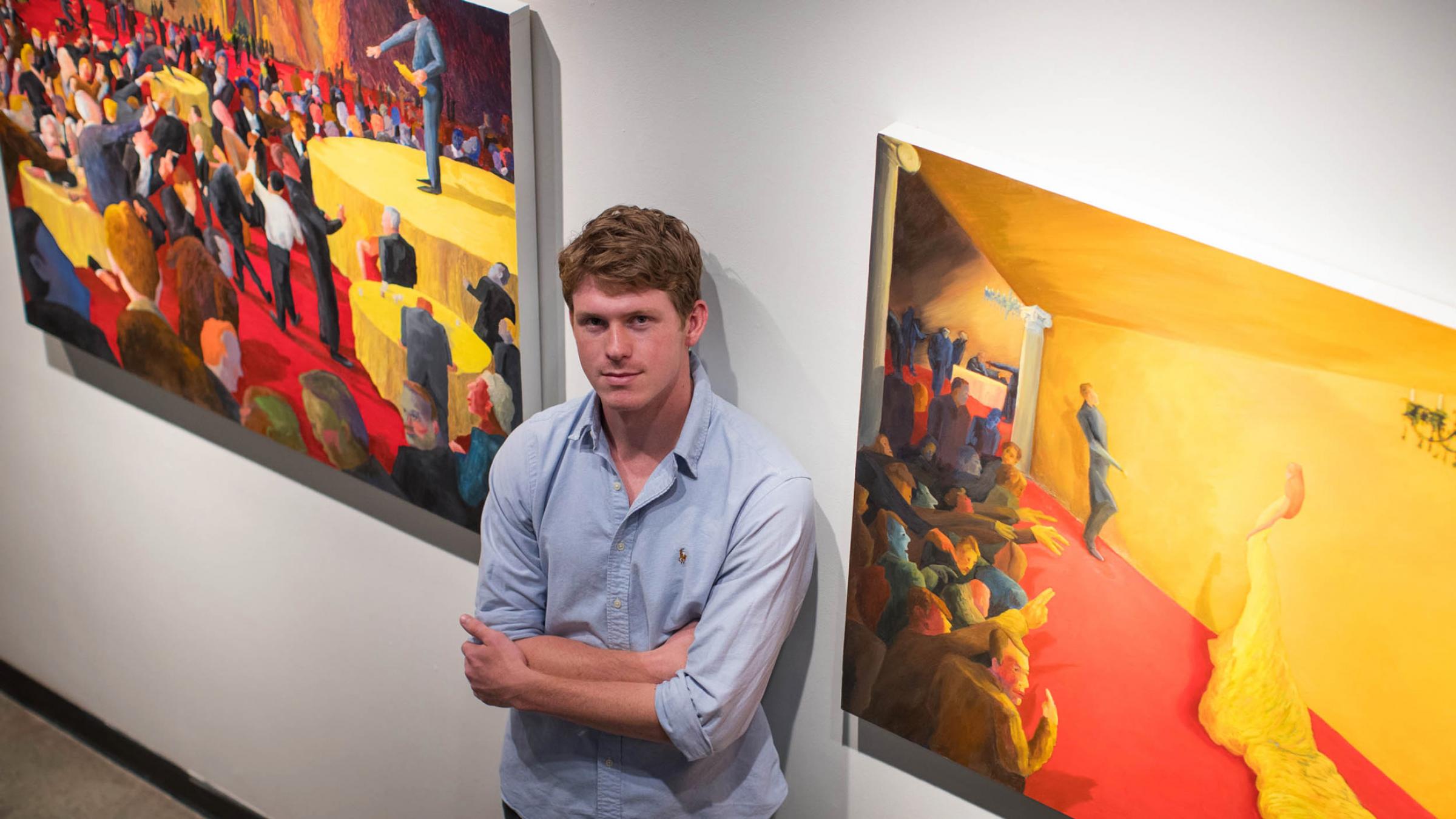 Jackson Casady: "Hollywood Disco"
Commerce and art student Jackson Casady grew up in the glow of Hollywood, the child of a Los Angeles-based writer and producer. He has worked in studios including Universal Studios, Warner Bros. and New Line Cinema. His thesis included a series of paintings examining what he calls the "glamorous and grotesque" nature of Hollywood.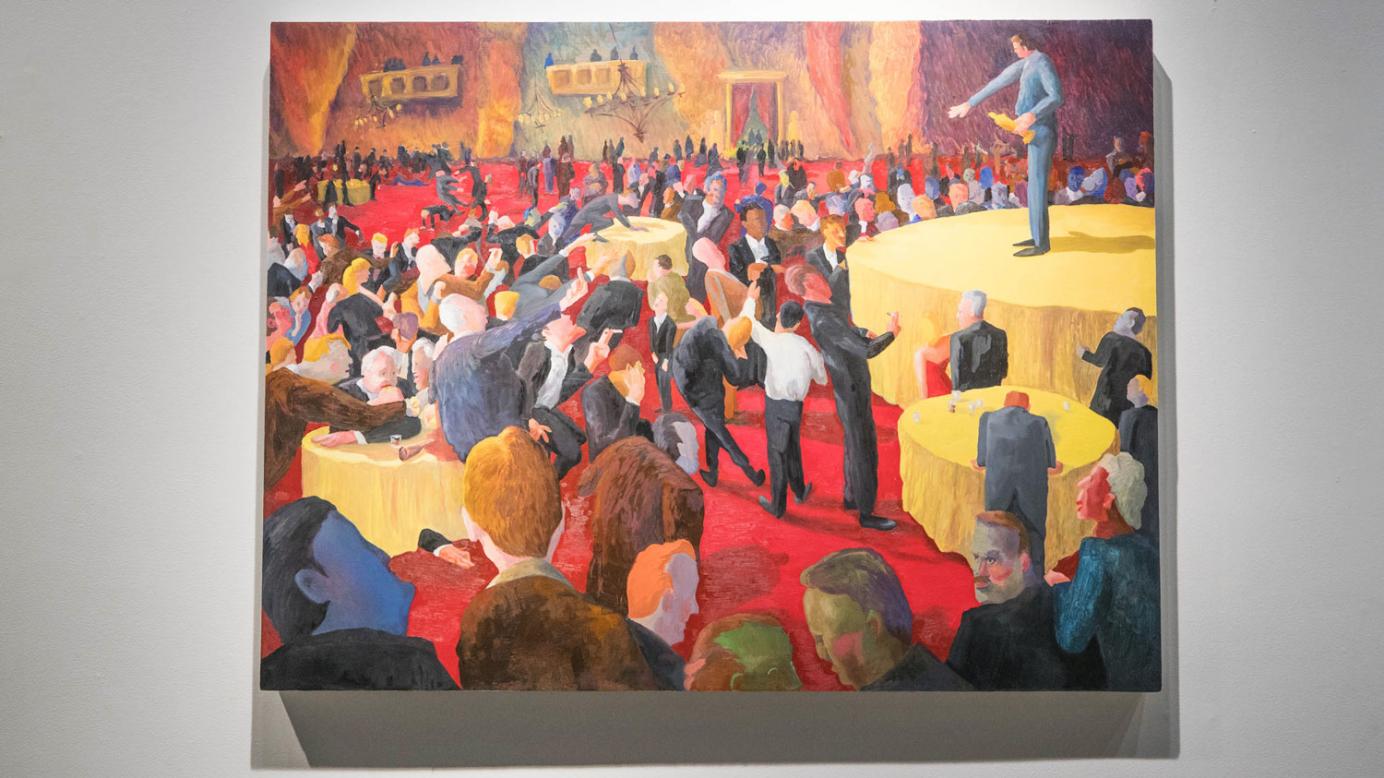 "Hollywood is interesting, it's different, it's intriguing and it's all about storytelling, which I love," he said. "But there is also, in film and in the culture of Hollywood, a specific male gaze toward the idealization and objectification of people, especially women, as well as a conspicuous whiteness."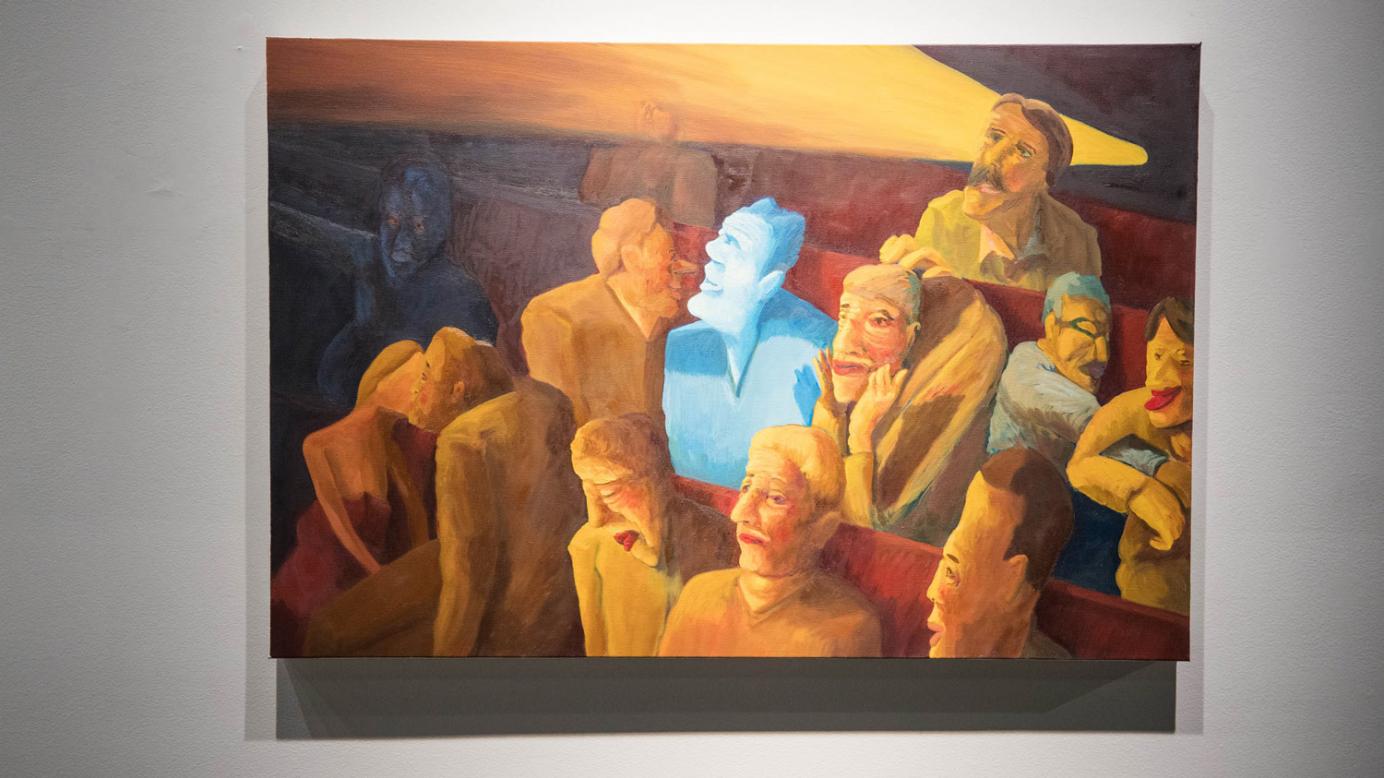 "I wanted to critique its exclusivity, even its monstrosity," Casady said. "There are a lot of grotesque elements in these paintings."
Casady, a triplet who attended UVA with one of his brothers, has applied for a fifth-year fellowship to continue working on his art and honing screenplays he has developed. Eventually, he hopes to pursue a Master of Fine Arts degree and return to Los Angeles to explore opportunities in the entertainment industry.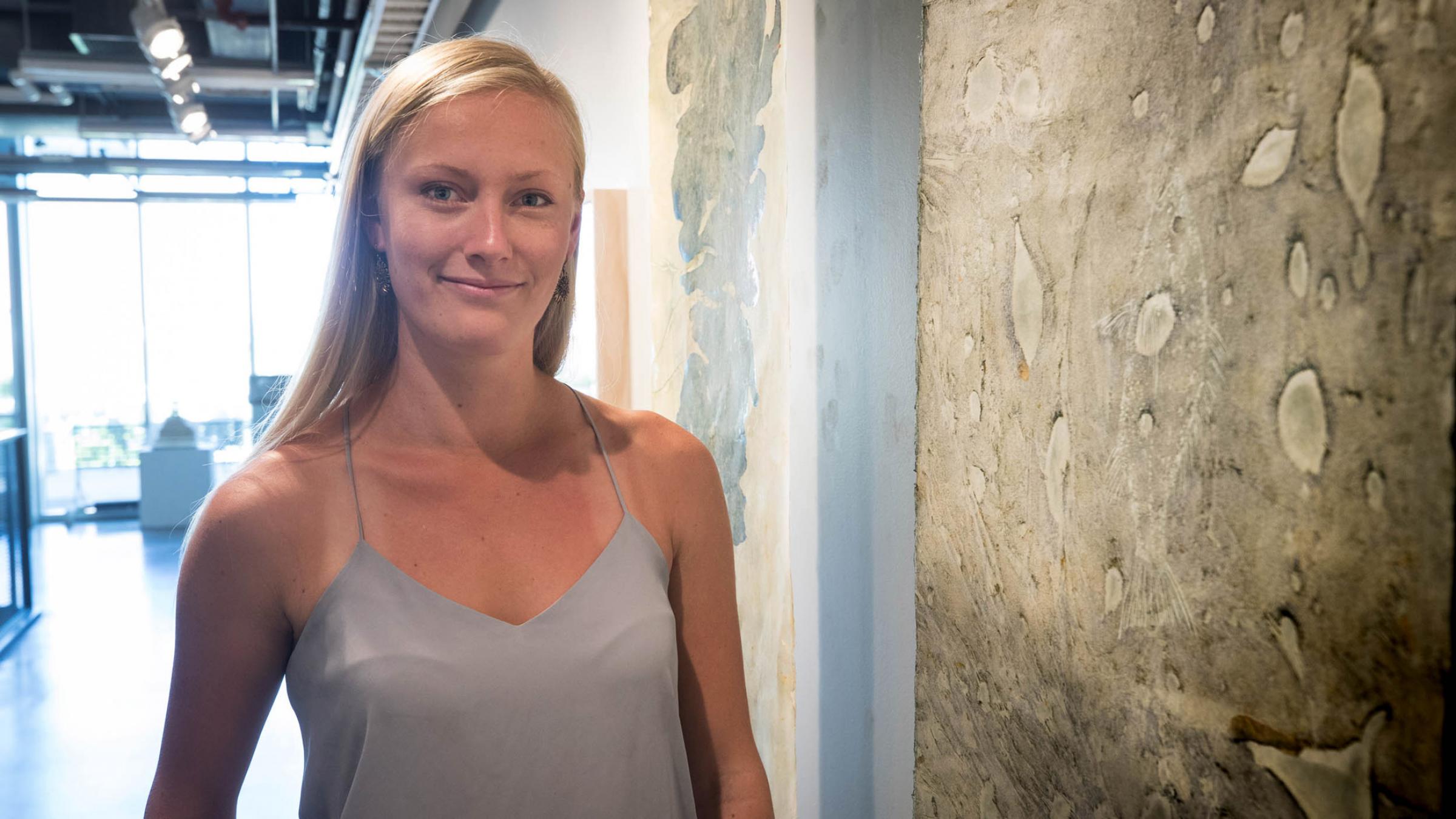 Mary Collins: "Muddied Waters"
Environmental science and printmaking student Mary Collins wanted her exhibition to reflect her interest in marine conservation.
"This show exemplifies changes in the marine system that can be traced back to anthropogenic sources, including fishery depletion, sea-level rise or the depletion of seagrass beds," she said. "Each print speaks to a different issue or change that is occurring."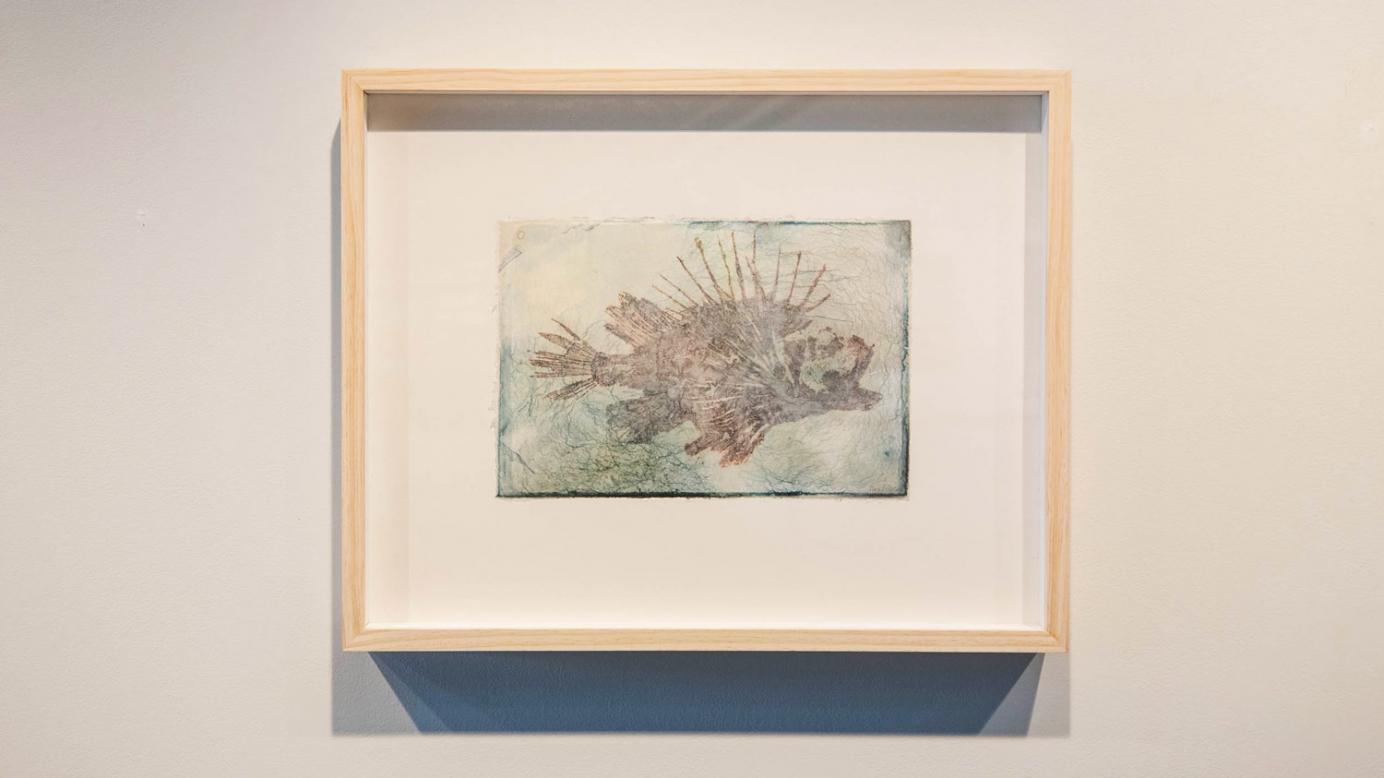 Collins was inspired by an ancient tradition among Japanese fishermen, who printed their catch in ink and sold the prints to nobles. Many of her prints were made directly from fish she bought at local groceries, while others were hand-drawn.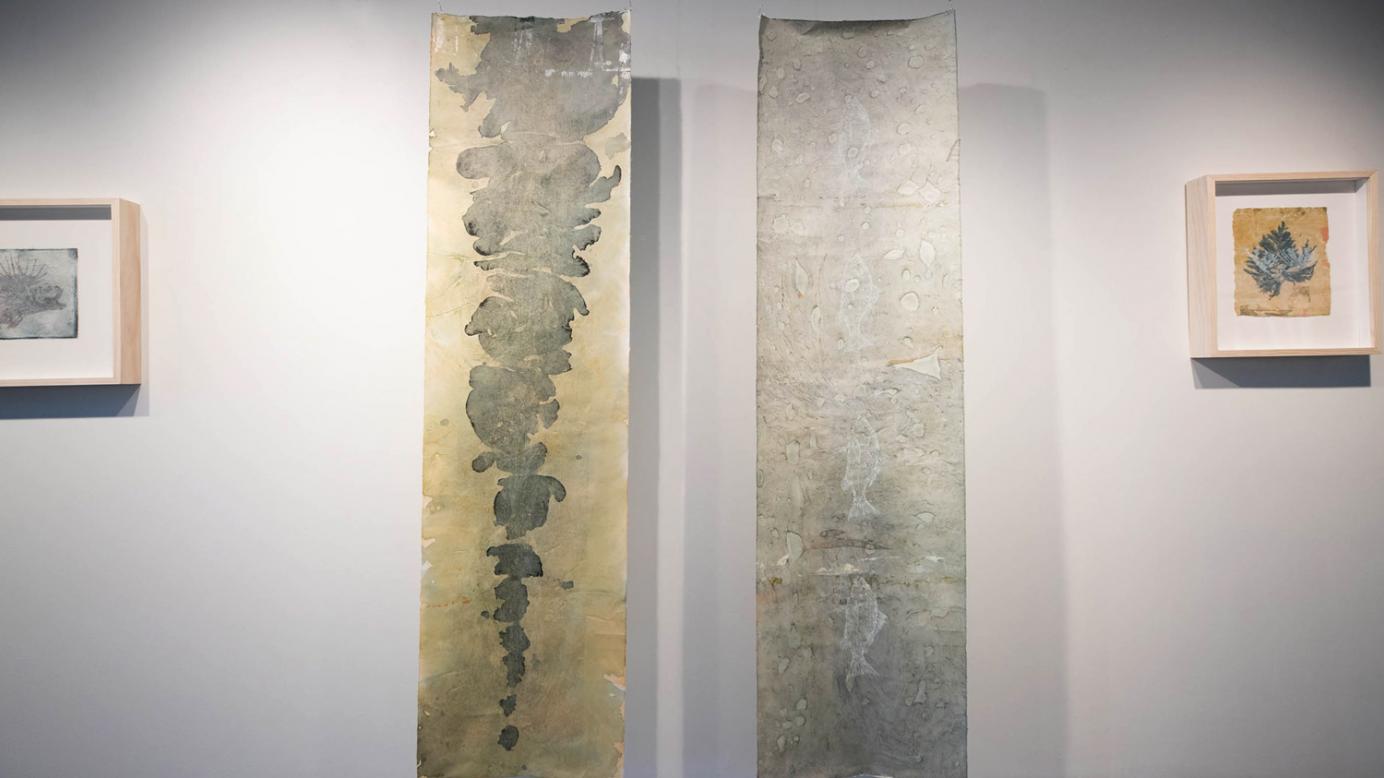 As she worked on the prints throughout the year, Collins mastered new staining techniques and made her own paper from the bark of a mulberry tree, a technique she first learned two years ago.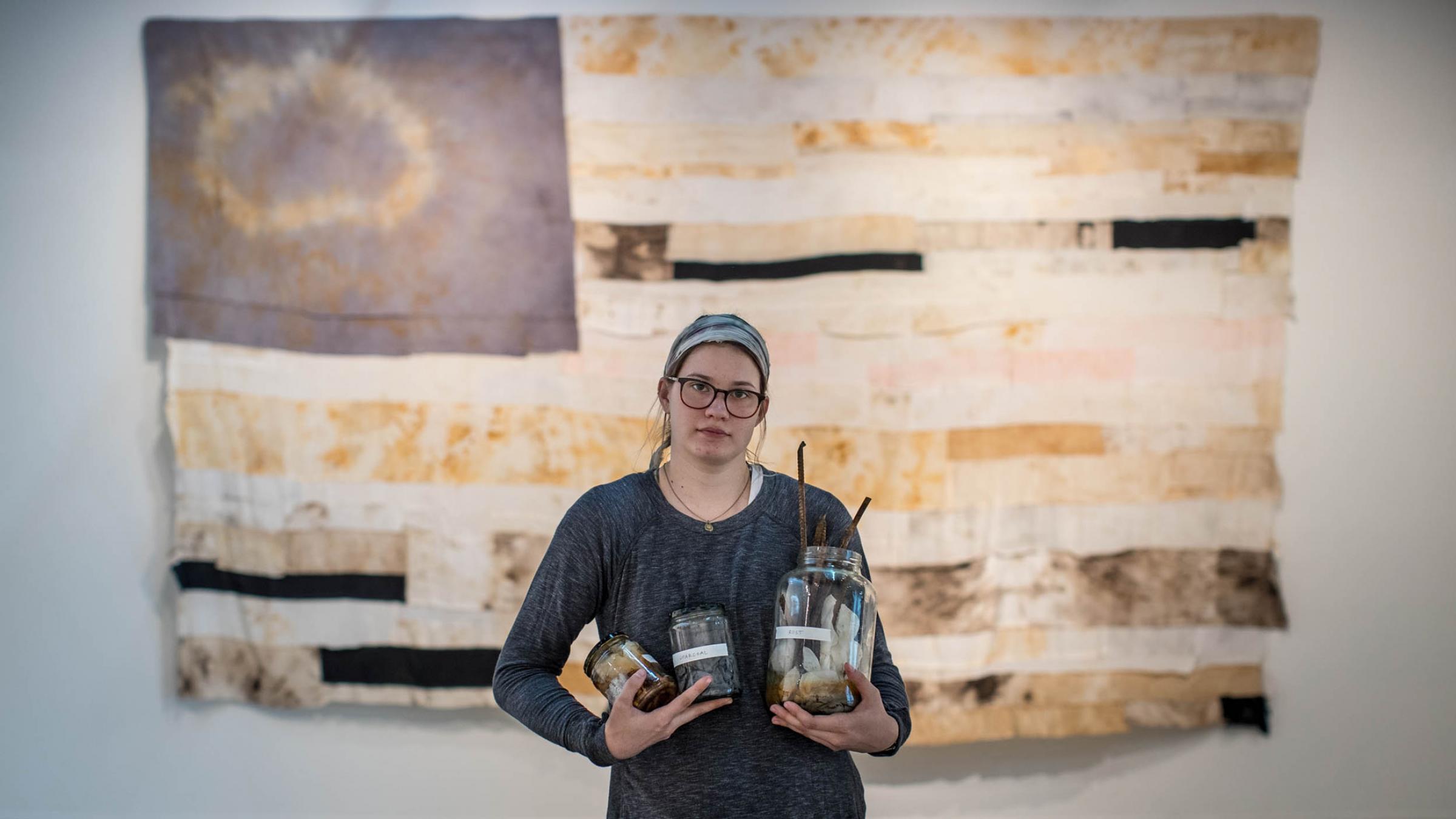 Alex Chriscoe: "Wastelands"
Like Collins, fourth-year student Alex Chriscoe is interested in environmental art. Her exhibition used hand-dyed cloth – dyed with waste materials like rust, tar or even cigarette butts – to create a large patchwork flag. Her work was displayed alongside oil paintings by fourth-year student Chandler Webb.
"I found a lot of methods of environmental art to be too romantic, creating a separate world where we were one with nature," Chriscoe said. "I empathize with that, but I also wanted something more critical."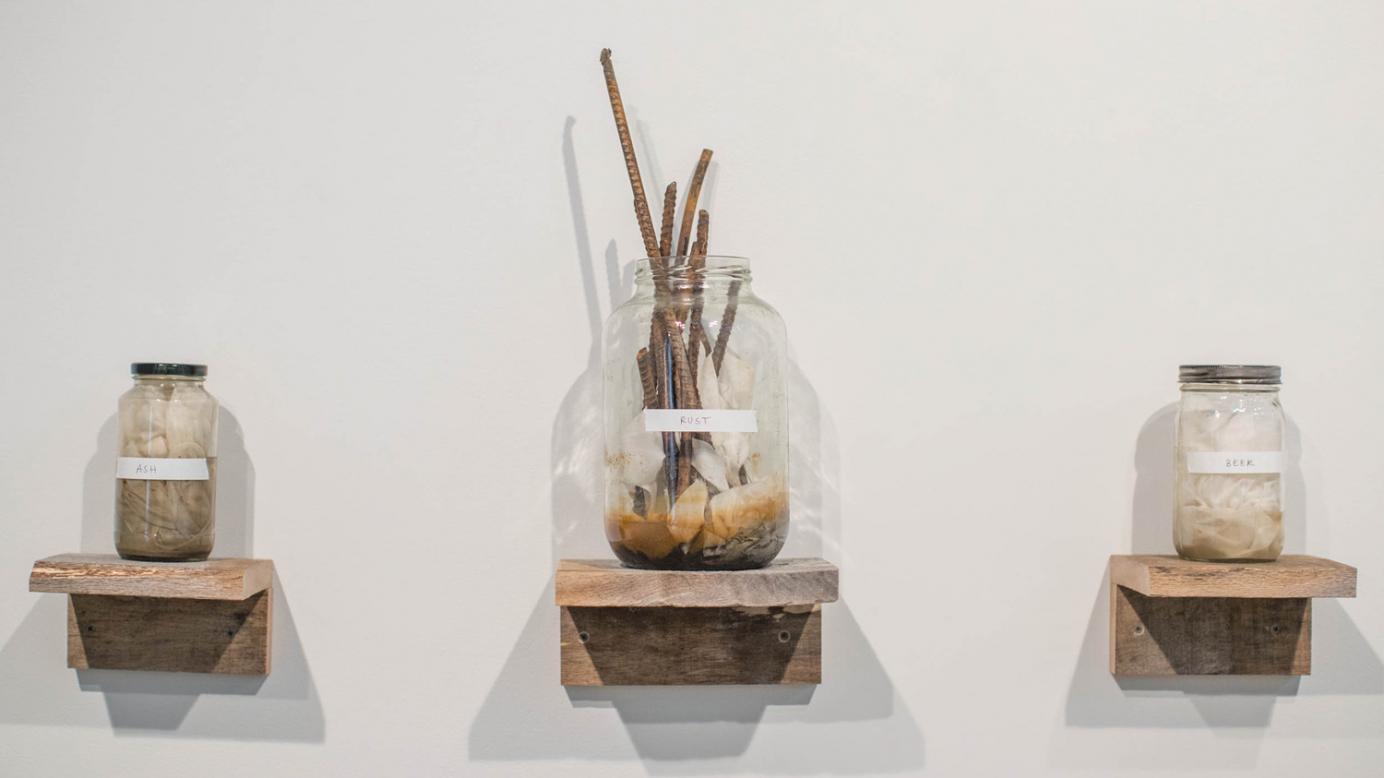 Chriscoe, who has been making her own dyes for years, decided to use waste materials instead of the typical flowers, indigo or clay. She spent about six months collecting materials and soaking fabric strips to create the colors she wanted. Each jar of dye was displayed on one wall of her exhibition, along with the final product, her interpretation of the American flag.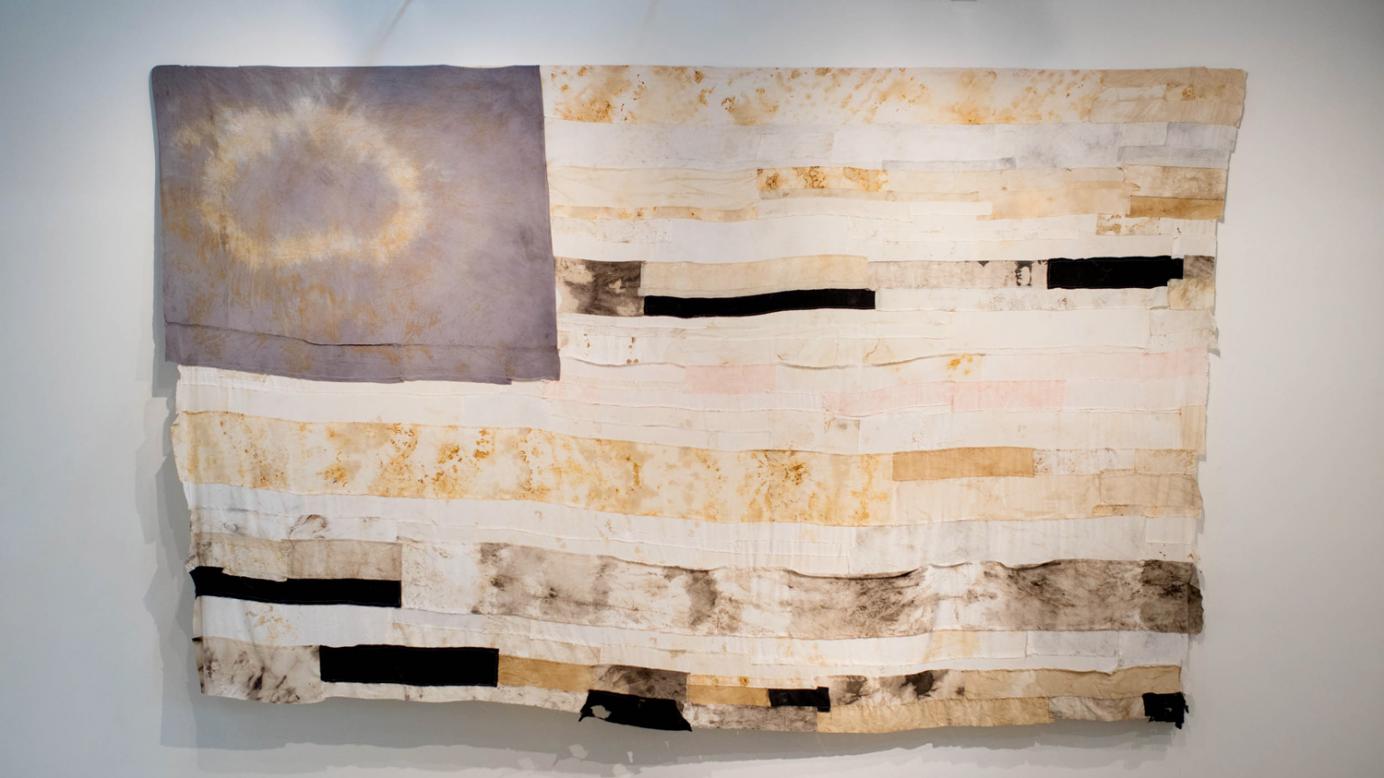 The flag, she said, was inspired by artistic traditions like the African-American quilters in Alabama's Gee's Bend community, or the work of feminist artists.
"Sewing and working with fabric is traditionally female," she said. "I titled the flag 'Reclamation' and I thought of it as my own way of recreating American citizenship as a woman."
Article Information
May 11, 2017
https://news.virginia.edu/content/these-final-exams-are-work-art