Fog frosted the treetops early Friday morning as the first members of the University of Virginia's Class of 2023 arrived to begin moving into their dorm rooms.
Families pulled packed cars into parking spaces all along Alderman and McCormick roads, where blue-shirted volunteer "Greeters" waited with strong arms ready to be filled with stuffed Ikea bags, microwaves, mini-refrigerators and suitcases.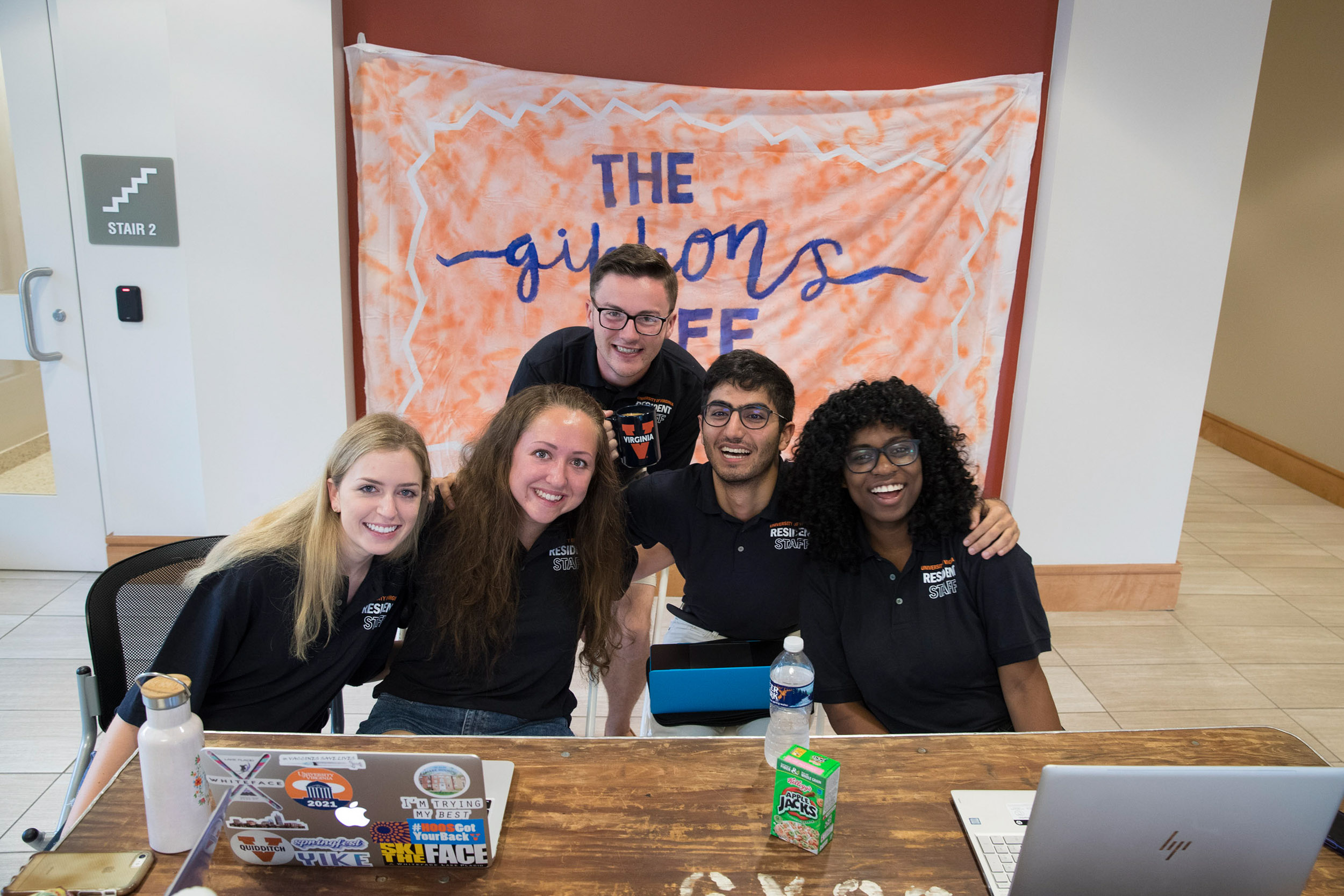 Senior Resident Elizabeth Gillespie, far left, and her team fielded questions about parking and how to get in dorm rooms. "It's going pretty well, and we are getting people where they need to be," she said.
According to preliminary numbers, the new first-year class is full of academic high-achievers, with 3,920 students averaging a mean SAT score of 1408. They hail from 78 countries and 47 states, and more than 500 are the first in their families to attend college.  
They are also, if Friday was any indication, pretty excited about moving into their new home.
Taylor Gibson of Chesterfield arrived at UVA with not one, but two vehicles filled with her belongings. She and her roommate decided to heed some good advice from UVA's co-chairs of the residence staff program, Adriana Allen and Nick Smith, and stagger their arrivals. "We thought it would be best so there were not too many bodies in the room at the same time," she said.
"I'm excited to meet new people. I don't know a lot of people coming to UVA, but I definitely love the vibe and the spirit and the campus – I mean Grounds," she added.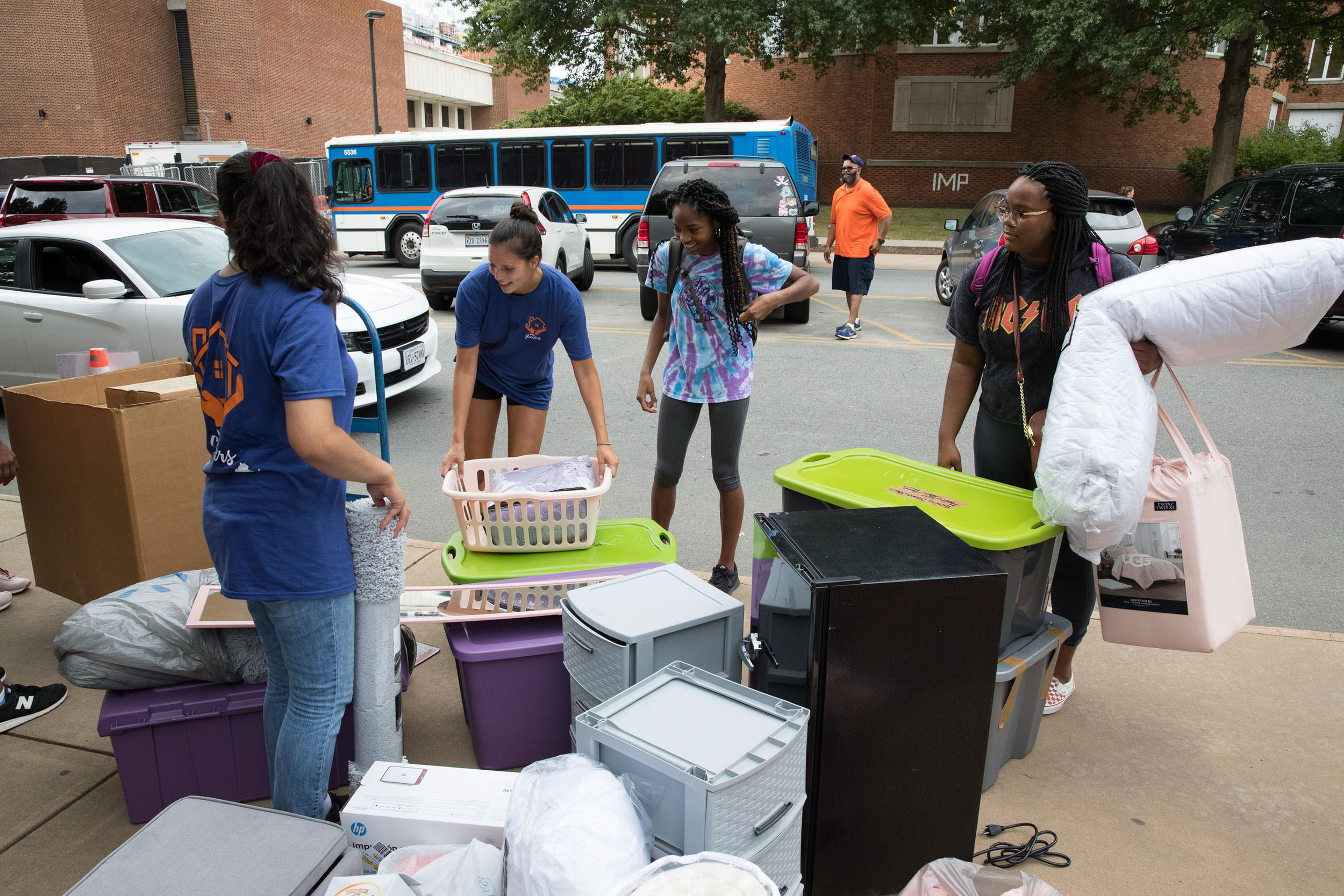 Taylor Gibson, far right, stands amid two carloads of belongings she hopes to fit into her room in Emmet. Her mother, Lisa, said she was prepared to have to bring some of her daughter's things back to their Chesterfield home.
Gibson, who was moving into Emmet House, is an only child. Her mother, Lisa, said, "I'm getting sad. I hope it goes well. We are hoping and praying."
Charlotte Milone also moved into Emmet House on Friday. "Right now, I'm in the College of Arts & Sciences. I'm currently undecided, but I'm thinking about going into education and applying to the Curry School," she said.
President Jim Ryan and his wife Katie set up a cookie and puppy station for new students and their families during move-in weekend.
Lyle Ring, a first-year student from Alexandria, moved his belongings into his second-floor dorm room in Tuttle-Dunnington House with the help of his parents, Roddy and Lisa.
"It was easy. We just parked outside and brought the stuff up," he said. "It wasn't really hard at all. It took about 20 minutes."  Ring said he was looking forward to the freedom that comes with being a college student. "I guess it's just a change of scenery from high school," he said. "Living independently is going to be fun, I think."
In addition to his laptop and video games, Ring, who is a musician, brought his bass guitar. "I've never really been in a band, so it would be nice to get into a college band of some sort," he said.
Third-year student Vinny Thota, the trusty Greeter we met last year during move-in, was on the scene again to help first-year and transfer students move in. Why did he come back? "Because it's just an awesome experience," he said enthusiastically. "It's just a way to bring in new memories and another way to give back to the community."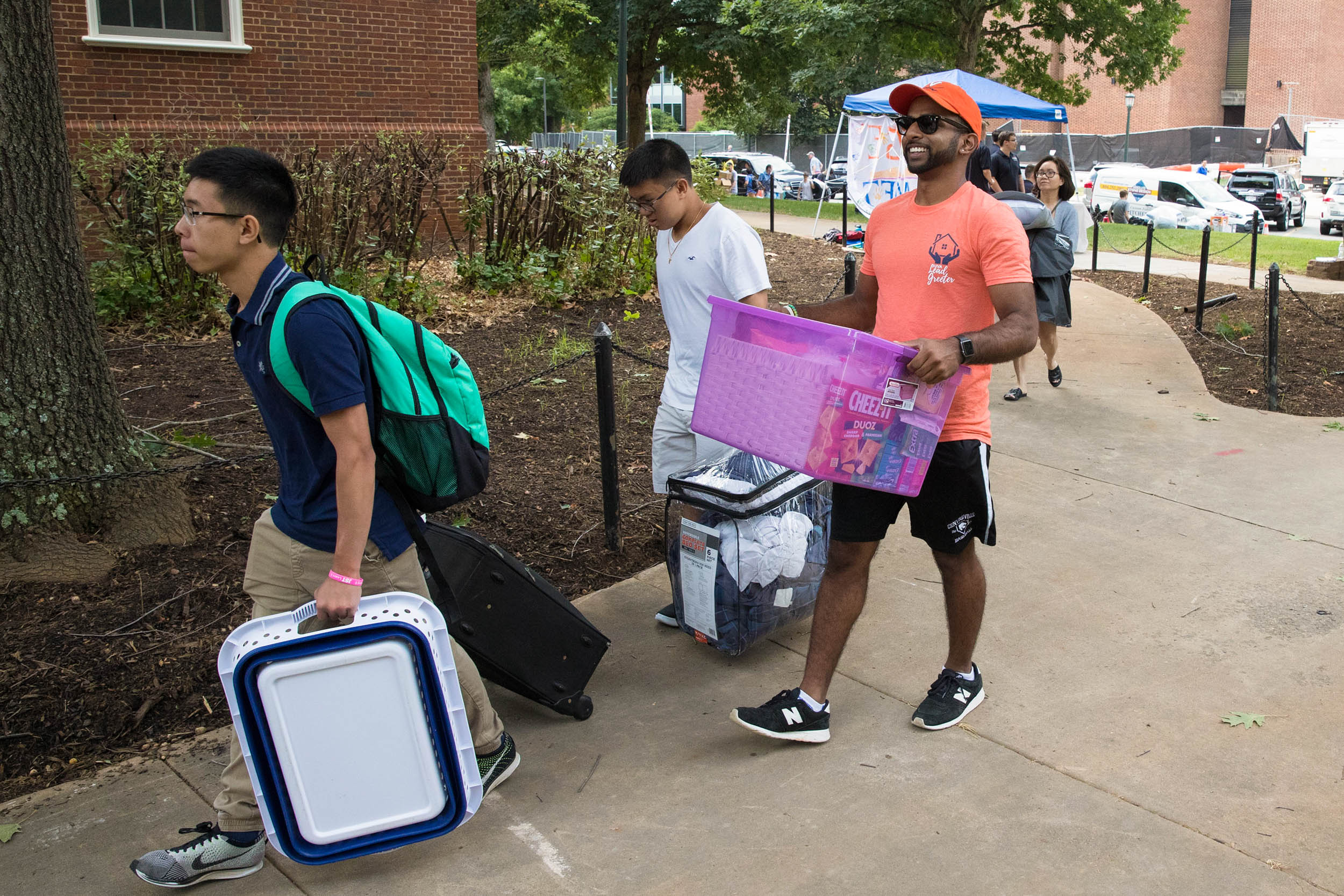 Vinny Thota sports his orange "Lead Greeter" T-shirt Friday, back for a second year to help families move their students into dorms.
Thota estimated about 65 Greeters are volunteering this year, including current students and alumni. They work in three-hour shifts; lead Greeters, like Thota, move from dorm to dorm throughout the day as the move-in cycle shifts.
By mid-morning, the fog had lifted and the sun made a brief appearance, heating things up in advance of afternoon rains.
"We're having a great time," Thota said. "We've got water and Cheez-Its. Just seeing all these parents moving in their students is just awesome."
Undergraduate move-in will continue on Saturday.
"Over the course of the next few days we look forward to welcoming over 3,900 first-year and transfer students to Grounds," said Gay Perez, the assistant vice president of student affairs and executive director of Housing and Residence Life. "It's always an exciting time of year."
Article Information
August 23, 2019
/content/theyre-here-class-2023-descends-grounds-move-weekend