Near the end of his preseason press conference at John Paul Jones Arena last week, University of Virginia men's basketball coach Tony Bennett went out of his way to laud former players Malcolm Brogdon, Joe Harris and Justin Anderson, who announced a few days earlier that they are collaborating with former UVA football star Chris Long to bring clean water to Africa.
"That warmed my heart more than almost anything – [their] thinking of others," Bennett said.
At the root of their philanthropy is a shared experience at UVA, where being a student is about so much more than any one thing that you happen to do while you're on Grounds – even more than, say, beating Duke.
With this in mind UVA Today posed several non-basketball questions to members of this year's team.
Q. What's your favorite class at UVA?
Kyle Guy: "I took a Disney class and it was unbelievable. I loved it. It was basically just showing how Disney promotes a kind of Utopian culture and that it's a good thing for society, but it also has its negative effects."
Marco Anthony: "I really like my philosophy class. Examining the meaning of life gets me to connect with myself."
Jack Salt: "Right now I'm in a kinesiology class that I really enjoy. It's very similar to the stuff we do in the weight room – a lot of physical-fitness testing and how and why we do certain kinds of testing. I enjoy that side of the weight room stuff."
Kihei Clark: "A physics class called, 'How Things Work.' I'm a math and science guy, not an English and history guy, so I like the science of it and the experiments intrigue me a lot."
Jayden Nixon: "A class from the new curriculum called 'Sounds of Resistance.' It's about how sound and music affect social and political change in the U.S. Music and discussing inequality and institutionalized racism in America have always been things I've been very interested in. Having both of those themes be part of one class is my dream. That's kind of what I want to pursue now, just because I took that one class."
Austin Katstra: "'Intro to American Politics' with James Todd. He's hands-down my favorite professor I've had. He's just a really awesome, funny guy."
Q. How and why did you choose your major and/or minor?
Braxton Key (history major): "I was a communications and broadcasting major [at the University of Alabama, before transferring to UVA this semester]. UVA doesn't offer that, but I was probably going to change anyway. History is just really interesting. You can't go wrong with learning about it."
Mamadi Diakite (global culture and commerce minor): "I'm really interested in trying to know information all about the world, history-wise and business-wise."
Jack Salt (anthropology major): "I enjoyed it in high school and I had a few really good experiences with anthropology professors at UVA, which led to me majoring in it."
Kyle Guy (American studies major). "It was between American studies and sociology, and I just thought American studies had a broader horizon."
Q. Other than John Paul Jones Arena, what's your favorite place on Grounds?
Braxton Key: "I like going by [the Fralin Museum of Art]. I have a class over there – Greek art history. It's just something different, a way to get your mind away from basketball. I always walk around the building just to see different pieces of art."
Marco Anthony: "I'm always at Clemons Library, just doing my work and stuff."
Austin Katstra: "The Lawn. Just walking by it and seeing all the leaves changing and the sun shining on the Rotunda – it's just really cool."
Ty Jerome: "The Pav" – short for Pavilion XI, a food court at Newcomb Hall.
Kody Stattmann: "As a first-year, I just really enjoy going around the dorms and meeting new people."
Jayden Nixon: "I think it would have to be 'the Harry Potter Room'" – technically, the McGregor Room – "in Alderman Library. I mean, everybody loves that room. But that room just makes me feel like I'm home. I can do work and anything I want and it's just really quiet."
Q. Who's the one guy on the team who you always find studying or has his head in a book?
Marco Anthony: "Jack's always studying. Whenever we're about to go eat somewhere, he always says he can't because he has to stay home and study."
Kyle Guy: "Jack, always."
Q. What's one thing people don't know about Coach Bennett?
Marco Anthony: "His favorite dessert in Charlottesville is the peanut butter s'mores pizookie at BJ's."
Kyle Guy: "He doesn't watch sports as much as you would think. He likes golf and he likes tennis, but he doesn't really watch other sports."
De'Andre Hunter: "He may not seem like a yeller, but he can definitely yell."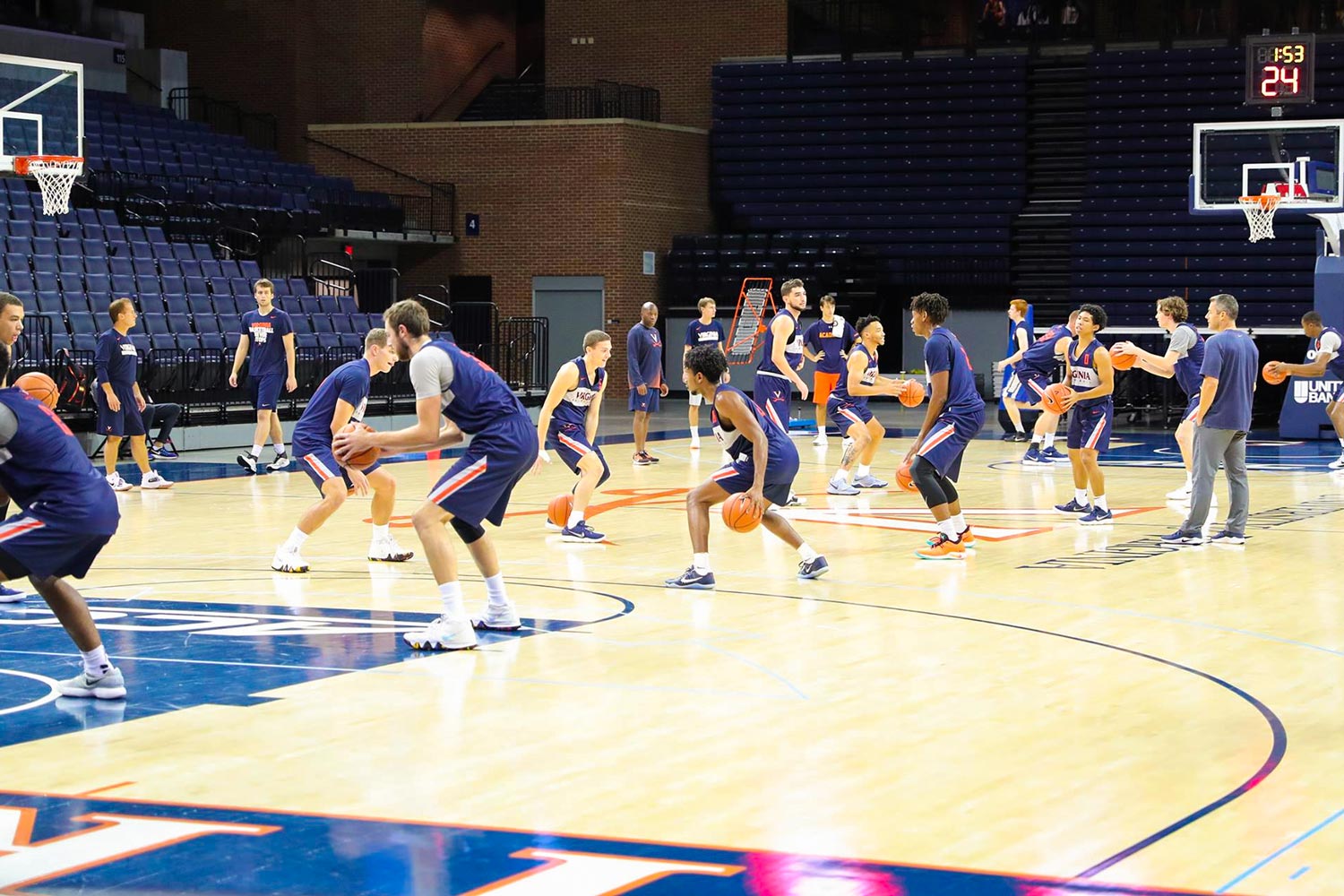 UVA, ranked in the top 10 nationally in several preseason polls, opens its season Tuesday night when it hosts Towson University.
Q. What's the best book you've ever read?
Braxton Key: "'The First Phone Call from Heaven,' by Mitch Albom."
Austin Katstra: "'Lead for God's Sake!' by Todd Gongwer, is up there."
Kyle Guy: "'The Alchemist,' by Paulo Coelho. Unbelievable book."
Francisco Caffaro: "'Harry Potter.'"
Q. What's the biggest misconception about student-athletes?
Braxton Key: "I think a lot of people think it's easy. It's really one of the hardest things. Trying to get your homework done and get ready for finals and practice and film sessions and weights – it's just a lot. We really don't have a lot of free time."
Kyle Guy: "Probably that we're illiterate or that we have more time than they think we do."
Ty Jerome: "Probably that we don't care about school, don't do school work, don't go to class."
Q. One person outside of sports who has inspired you?
De'Andre Hunter: "Definitely my mom. She takes care of my whole family. Just watching her do what she does just motivates me. I want to provide for her as much as she provided for me."
Kyle Guy: "My fiancée. She's been with me since I've been in eighth grade. We broke up for a couple of years, but we always stayed good friends. She's just always been there and had my back."
Ty Jerome: "My parents."
Francisco Caffaro: "My mom. She has always been there for me. We had hard times as a family, but she was always there working to get everything we needed and get food on the table and stuff. She's my hero."
Kody Stattmann: "I've just always looked up to my parents. They've done a lot for me, sacrificed so many things to get me where I am today."
Kihei Clark: "Martin Luther King. Just how courageous he was. He just tried to do what was right without thinking about what the consequences would be."
Q. What's your favorite thing about being a student at UVA?
Kyle Guy: "Just the fun-loving community. Everyone's nice to each other. And that goes for all of Charlottesville – not just the students. I really like that and how everyone just supports every single sport around here."
Ty Jerome: "How nice everyone is around Grounds."
Austin Katstra: "I would say the variety of activities and organizations that you can get involved with. There's a little bit of everything, so you can really pick and choose what you want to do."
De'Andre Hunter: "Just going to the school is amazing, honestly. It's a great place academically, one of the nicest places you could go and I get to play basketball here. It's just a dream school all in one."
Article Information
November 5, 2018
/content/theyre-more-players-9-non-hoops-questions-years-mens-team