Matthew Asper, a third-year aerospace engineering major at the University of Virginia, has been named among "Tomorrow's Technology Leaders: The 20 Twenties" by Aviation Week magazine, in collaboration with the American Institute of Aeronautics and Astronautics.
The awards recognize students nominated by their universities based on their academic performance, civic contribution and research or design project and is part of an over-arching effort to bring together technology hiring managers, students and faculty to recognize the full circle of what is required for business and academic success.
Asper, 20, of Haymarket, who also has a minor in material science engineering, is researching aircraft icing with Rolls-Royce to prevent ice accretion in turbine engines. The two de-icing methods he is currently researching involve a Rolls-Royce collaboration on a water-resistant coating applied to aerodynamic surfaces to mitigate ice accretion. He is also exploring a second method that involves the use of a ceramic, porous material that utilizes an air supply to help "levitate" water droplets on the surface, which helps the droplets roll off easier to reduce icing.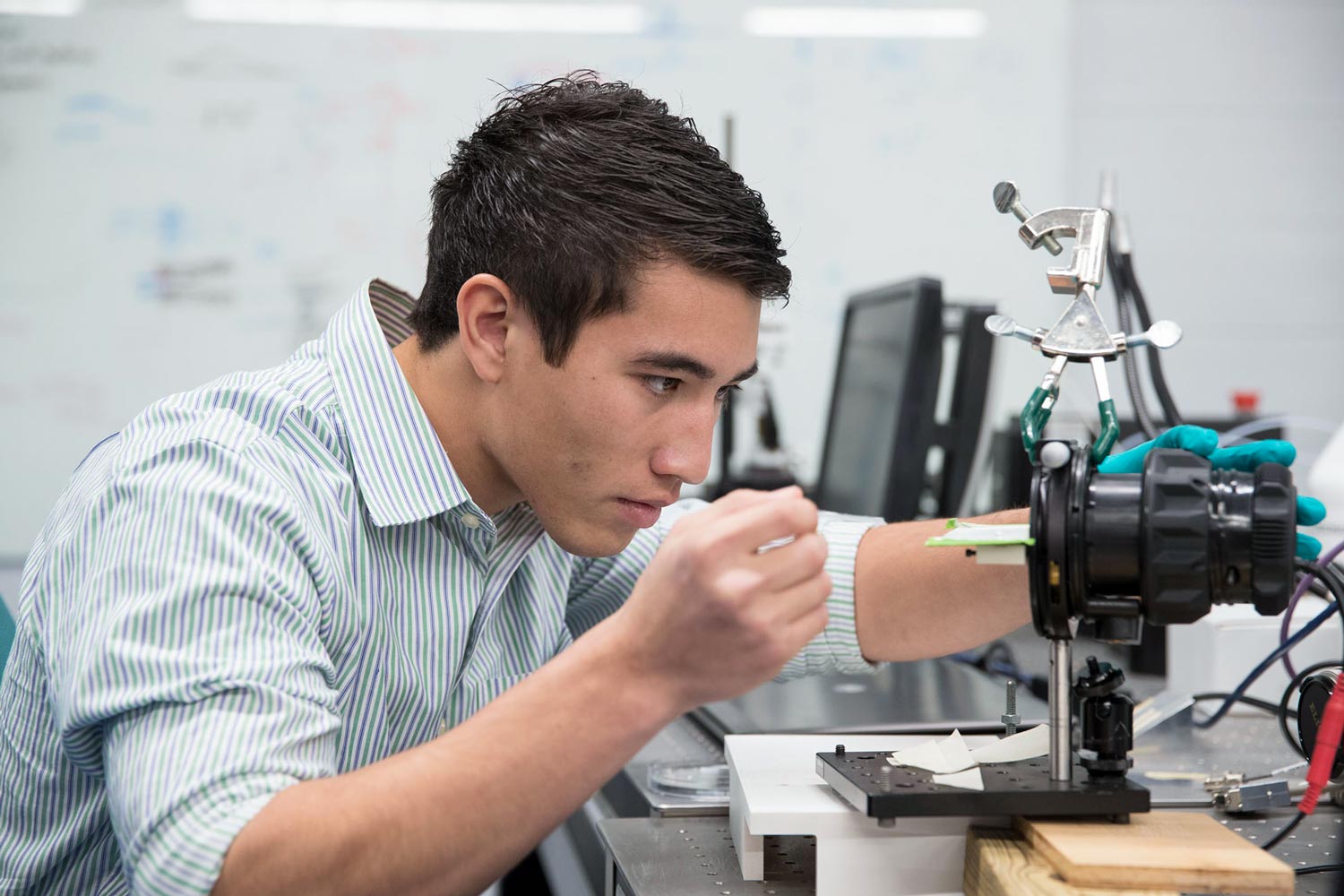 "In both methods we incorporate the use of innovative materials, especially to the aerospace industry," Asper said. "Ceramic materials have yet to be extensively used in aviation due to their brittle behavior, but research currently done here at UVA may spark a new interest in ceramics given their potential to reduce aircraft icing."
Asper said the award inspires him and showcases his aerospace engineering education at UVA.
"I applied to this award to help show professionals and members of the aerospace community that UVA is capable of doing groundbreaking research,"  he said. "This award has motivated me to continue working hard in research, academics and community outreach, and to realize that hard work doesn't go unnoticed."
Christopher P. Goyne, associate professor of mechanical and aerospace engineering and director of the Aerospace Research Laboratory, praised Asper's skills as a student and researcher.
"He has maintained this academic excellence while being involved in multiple research projects," he said. "Even though he is an undergraduate, Mr. Asper has displayed the research skills of a graduate student and feedback from faculty principal investigators has been excellent. Mr. Asper plans to present and publish his research at the 2018 AIAA Region 1 Student Conference."
Goyne also cited Asper's efforts in organizing an American Institute of Aeronautics and Astronautics student conference at UVA in 2017, with more than 100 participants.
"Thanks to Mr. Asper's leadership, enthusiasm and organizational skills, the conference was well-prepared, it was executed on schedule and the paper submissions, reviews, parallel talk sessions, accommodations, banquets and awards ceremony went off without a hitch," Goyne said. "This success was almost exclusively due to Mr. Asper's hard work and dedication. I have never seen an undergraduate student negotiate such a significant undertaking so successfully and so eloquently."
Eric Loth, who chairs the Department of Mechanical and Aerospace Engineering, highlighted Asper's research with Rolls-Royce.
"He joined my research group in the summer of 2017, whereupon he is conducting independent research to support a Rolls-Royce project on nano-composite coatings that can reduce icing on aerodynamic surfaces," he said. "In this project, Matt investigated a new concept in micro-blowing to determine the effectiveness with regard to icing mitigation. The results thus far have been extremely encouraging, and have been shared internationally with great interest."  
Asper was a founding member of the combat robotics team at UVA, which earned a fourth-place finish in the 120-pound category at the 2016 Robogames in San Francisco, the largest combat robotics competition in the U.S. In addition to the American Institute of Aeronautics and Astronautics' 2017 Region 1 Student Conference, he organized AIAA's 2016 Aeroday. He organized a 2017 AIAA Rotunda dinner to help grow the aerospace community at UVA and in Charlottesville, and raised more than $3,000 for St. Jude Children's Research Hospital as Tau Kappa Epsilon's 2017 philanthropy chair.
He is a member of the American Institute of Aeronautics and Astronautics and was the local chapter president in 2016 and 2017. He is also a member of Tau Kappa Epsilon fraternity, the Cycling Club, the Triathlon Club and the Combat Robotics club. A graduate of Battlefield High School, he plans to pursue a graduate degree in the materials/structures field of aerospace engineering.
"Universities around the globe nominated their top students for the 20 Twenties recognition, which is built on three pillars of what the aerospace industry values most – learning, civic service and high-value research," Greg Hamilton, Aviation Week Network president, said. "This year's nominees and winners definitely reflect these pillars while also bringing to the fore the innovation and creativity that are hallmarks for this generation."
Article Information
January 22, 2018
/content/third-year-aerospace-engineering-student-draws-national-attention