Each Tuesday night at 8 p.m., University of Virginia School of Medicine students Jeffrey White and Julia Preziosi broadcast their self-made trivia game show to up to 40 teams around the country.
They call it "Quarantine Trivia," and the cause far from trivial.
While White and Preziosi initially targeted medical students, the trivia group has now grown to include students in the Law School, Engineering School and undergraduate population, making it a competitive playing field. Each week, White and Preziosi encourage donations to various local service groups. So far, they have raised almost $3,000 for local charities, including the Haven, a local day shelter for the homeless; the Loaves and Fishes Food Pantry; and the School of Medicine's own Mask Task Force, which makes and distributes masks around the Charlottesville community.
White and Preziosi have also collaborated with other student groups, including the Student National Medical Association and the LGBTQ Student Association, to help raise funds.
"The response from our peers has been extremely positive, as people appreciate the weekly chance to reconnect with friends," White said. "One classmate told me it was the only thing their family could do together every week while they were separated."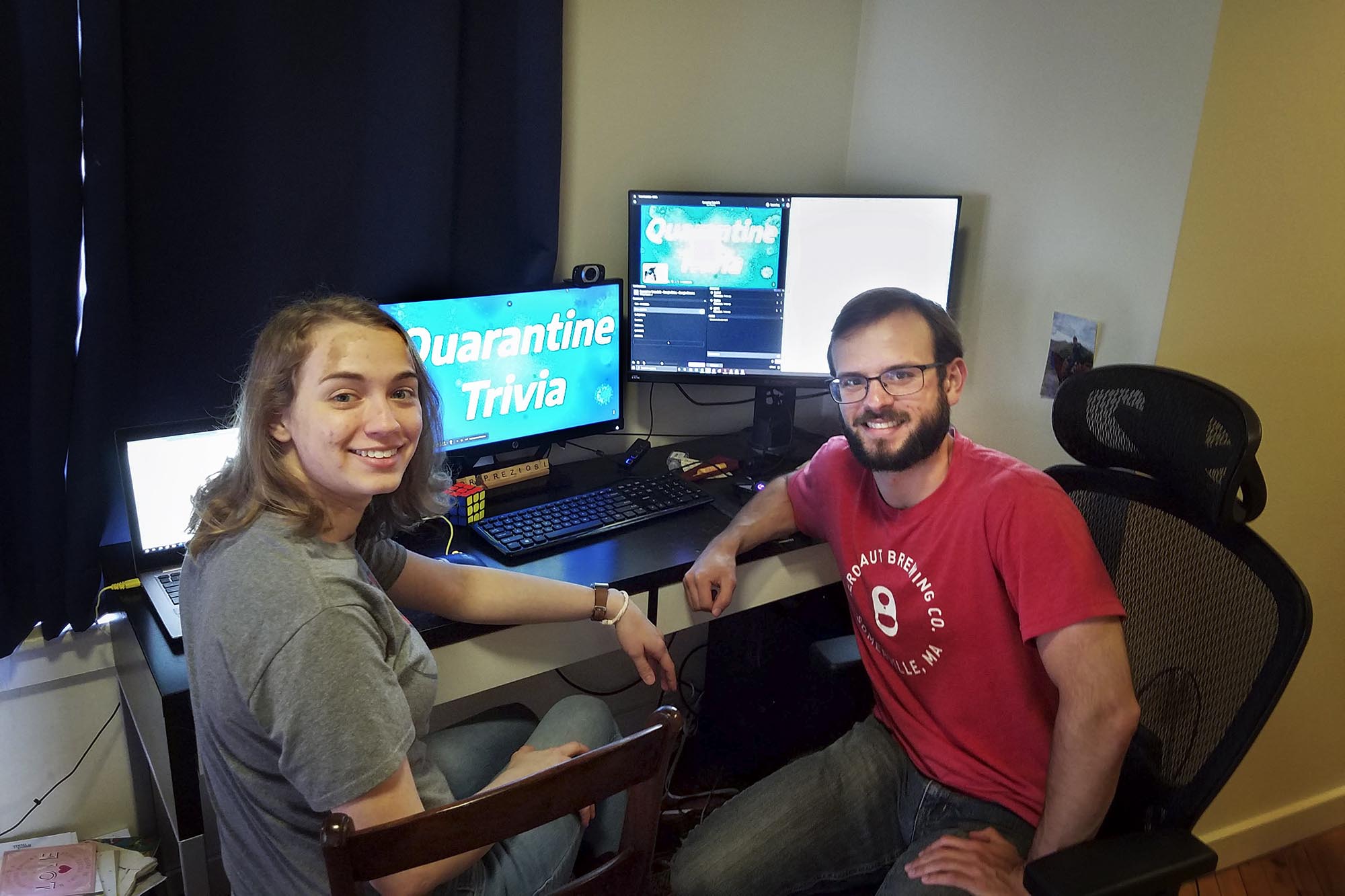 Jeffrey White and Julia Preziosi prepare a round of their charity-driven "Quarantine Trivia." (Contributed photo)
It's just one way that UVA's medical students – unable to study and work in the UVA Medical Center as normal, due to the coronavirus – have come together to help out. Hundreds of them are volunteering through the VMED COVID-19 Initiative, which has run ongoing donation drives, such as the trivia nights, as well as efforts to sew masks, establish a community call line, write cards to senior citizens in isolation, organize thank-you deliveries for medical staff, and much more.
Logan McColl, another student in UVA's School of Medicine, is spending his time away from the hospital ensuring that health care providers on the front lines of the COVID-19 pandemic have adequate supplies.
The Medical Supply Drive is a student-created and student-run non-profit organization that redistributes personal protective equipment from community donations to these health care providers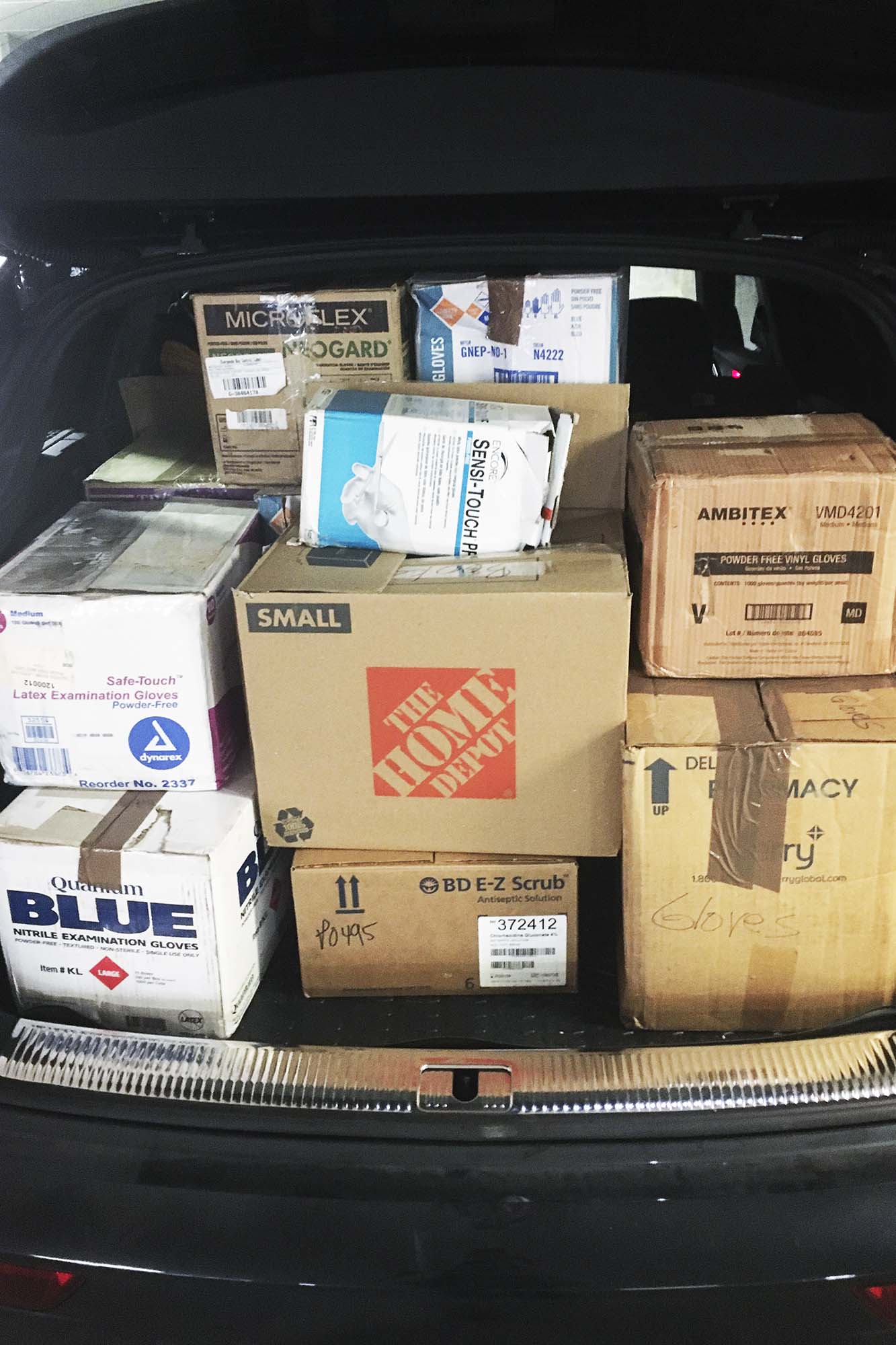 The Charlottesville chapter of the student-run Medical Supply Drive makes sure health care providers have the tools to fight COVID-19. (Contributed photo)
"By ensuring that health care providers have adequate PPE, we help protect our health care heroes, their patients and the community at large by reducing virus transmission," McColl said.
According to McColl, a group of medical students from George Washington University founded the Medical Supply Drive, which has since spawned student-run chapters all over the country.
"Our chapter here in Central Virginia has received donations of more than 51,000 units of PPE," McColl said. "As a national organization, we have received donations of more than 400,000 units of PPE."
Donations are collected through community outreach or directly through the Medical Supply Drive website, as well as through partnerships. They are currently seeking unused surgical masks, N95 and KN95 masks, non-latex gloves, bleach, hand sanitizer, face shields, isolation/surgical gowns, and Tyvek and hazmat suits.
Media Contact
Article Information
July 17, 2020
/content/trivia-medical-supplies-medical-students-step-during-global-pandemic