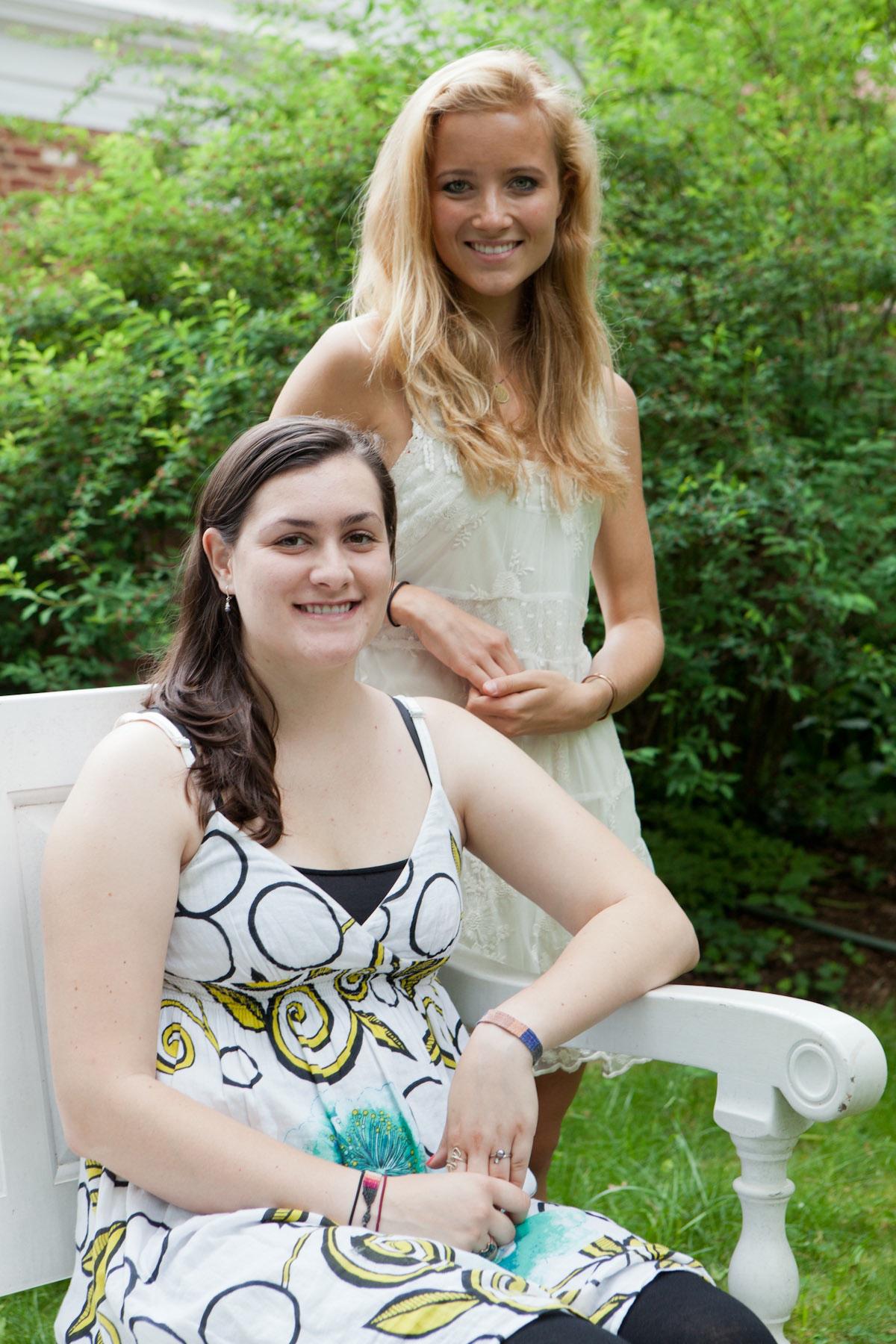 May 8, 2012 — Two University of Virginia fourth-year students have received the Davis Prize for Peace to create a health education and water filtration program in San Lucas Tolimán, Guatemala, a rural lakeside town.
Amanda Below and Andi Maddox, who both graduate this month from the College of Arts & Sciences with bachelor's degrees in anthropology, are already familiar with the area, having spent a study-abroad trip through the U.Va.-Guatemala Initiative.
Theirs is one of 100 "most promising and doable" proposals funded this year by the Davis United World College Scholars Program, which administers the Projects for Peace, for which college undergraduates are invited to design and propose grassroots projects they can implement during a summer. This is the fifth consecutive year U.Va. students have received a Davis Prize, which provides $10,000.
"Last summer, Mandy and I were part of a team that went down to San Lucas Tolimán to perform a comprehensive assessment of their water situation," Maddox said. "This summer, we are using the knowledge gained and relationships made to work with the community to create a health education and water filter program.
"Clean water is something so many people take for granted, but it is such a drastic indicator of health and quality of life."
They will collaborate with local health promoters, based on previous filtration projects in the lake basin. They plan to implement an education program for Guatemalans on water purification and hygiene. The courses will have a minimal fee and will conclude with the installation of a water filter in participants' homes. The U.Va.-Guatemala Initiative has set aside a supply of filters for use in the Atitlan communities.
The fee "confers a sense of ownership and responsibility for the water filter, as well as a sense of investment in the course for participants," Maddox and Below wrote in their proposal. "Additionally, the philosophy of offering courses and a filter for a small amount of money is in line with community members' request to 'not make their people into beggars.' "
Below said, "We applied to this grant in hopes of continuing our partnership in Guatemala and in order to return to the community with a tangible response to the concerns and priorities addressed in the community assessment conducted last summer."
Kent Wayland, a research associate in the Department of Science, Technology and Society in the School of Engineering and Applied Science, said the students want their actions to fit the community's desires and point of view, as well as to function sustainably.
"I have worked with Mandy and Andi for more than a year now, and they are among the most thoughtful and dedicated students that I've had," Wayland said. "They did excellent work last year establishing relationships in Guatemala, and those relationships have laid the foundation for exciting work this year. They will be excellent ambassadors for U.Va."
Below, 22, of Ashburn, is the daughter of Bettie Below and a graduate of Stone Bridge High School. She was a presentation team member of the Community-Campus Partnerships in Health Conference in Houston, a participant in the Global Health Case Study Competition at Emory University, 2012, and a Jefferson Public Citizens research grant recipient.
She is a member of the Alpha Phi Omega co-ed service fraternity, a Red Cross volunteer, an intern at the Virginia Department of Health, a volunteer tutor for athletes in the U.Va. Athletics Department and a volunteer trainer for the Crisis Hotline. She was on class councils for three years, was a site leader for Alternative Spring Break, and was a site leader for Project SERVE, coordinating a community service project in the community with student volunteers, as well as a volunteer for HIV/AIDS Services Group. She plans to pursue a doctorate in anthropology, while maintaining her interest in global health.
"So much of our previous project was based on a sustainable and continued partnership with the community," Below said. "Had we not gotten funding to return to Guatemala, I would have felt as if we were letting down our community partners who have worked so hard with us. "
Maddox, 21, of Reston, is the daughter of Mary and Ed Maddox and a graduate of Herndon High School. She has received a Jefferson Public Citizens Research Grant, studied abroad at the University of Auckland, New Zealand, and was a presenter at the Community-Campus Partnerships for Health Conference in Houston in April. She is a member of Volunteers with International Students and Scholars; the Levine Son-Rise Program, working with an autistic youth; and Alpha Phi Omega, a co-ed community service fraternity.
She has been the chair of public relations and student recruitment for Global Medical Dental Brigades, a Madison House volunteer, a site leader for Alternative Spring Break and a volunteer with the Charlottesville-Albemarle Rescue Squad. She was an intern at the National Peace Corps Association and a medical clinic intern for Cross-Cultural Solutions in Ayacucho, Peru. She plans a career in global public health, continuing to focus on Central and South America.
Both students plan to return to U.Va. in the fall to complete a masters' degree program in public health.
"Receiving the Davis Grant is a huge honor for the both of us," Maddox said. "It is also a testament to the fortitude and passion needed to be successful in work like this. Amanda and I both realized how very important it was to hold true to our promise to the people of San Lucas. We are very happy to be able to say that, with many thanks to those who have helped us, we have found a way to keep it going."
"The Davis program provides students with an extraordinary opportunity to envision and implement a meaningful project to promote peace somewhere in the world," said Lucy Russell, director of U.Va.'s Center for Undergraduate Excellence. "This particular project grows out of Andi and Amanda's experience on a Jefferson Public Citizens team and addresses a need identified by a community. It promises to have a long-term positive impact."
Davis Projects for Peace are funded by Kathryn W. Davis, a lifelong internationalist and philanthropist. Davis, who is 104 years old, has committed $1 million to fund numerous $10,000 projects.
– by Matt Kelly