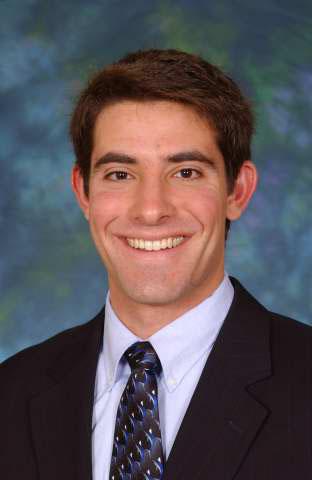 Additional Resources:
January 17, 2006 —Two University of Virginia graduates, Aaron M. Kurman (Class of 2005) and Margaret M. Brennan (Class of 2002), are among the 12 national recipients of the 2006-2007 George J. Mitchell Scholarship.
Since graduation, Kurman, a Rockville, Md., native, has worked for Search for Common Ground, an international conflict-resolution organization, in Washington, D.C. and is also currently a ski instructor in Wyoming. Manhattan resident Brennan is a producer and on-air reporter at the CNBC news network in New Jersey.
Both Kurman and Brennan have an interest in conflict resolution, particularly in the Middle East. Kurman, who will pursue a master's degree in peace and conflict studies at the University of Ulster, in Londonderry, Northern Ireland, majored in political and social thought and economics, with a minor in religious studies. Brennan, who will be working on a master's degree in arts and politics at University College Dublin, majored in foreign affairs and the Middle East, with a minor in Arabic.
Examining conflict resolution in Ireland will give them a better perspective on conflicts elsewhere in the world, they believe.
"I don't think we can look at countries and regions as being disconnected," Brennan said. She wants to examine the role of Ireland in Europe and the relationship of Europe and the Middle East.
Kurman said his program is one of the hubs of conflict studies and will provide him with a wealth of research opportunities.
"Aaron Kurman was one of the best students ever," said Peter W. Ochs, Edgar Bronfman Professor of Modern Judaic Studies in the department of religious studies, who worked closely with Kurman. "He combined politics, history and religious studies, all focused on issues of peace and diplomacy in the Middle East."
Ochs praised Kurman for his diligent work, exhaustive research and the passion he brought to his pursuits, as well as his humility. Kurman combined his studies with practical applications, Ochs said, citing his leadership of the Children of Abraham Club, which brings together Muslim, Jewish and Christian students. After graduation, Kurman received the first-ever Children of Abraham Award for the graduating student who contributed the most to peace among the Abrahamic peoples.
Brennan was "a superb student: tireless, imaginative, and intellectually disciplined," said David A. Waldner, associate professor in the department of politics. "Margaret can study emotionally explosive topics like the conflicts in Northern Ireland and the Middle East with passion but also with objectivity and analytic rigor."
Brennan received the Emmerich-Wright prize for her distinguished majors thesis, said Waldner, who added that while a journalist, she would keep one foot in academia.
Both students already have experience in Ireland. Brennan studied there while in high school and Kurman traveled around the country one summer while in college. Kurman is also friends with U.Va. student David Buckley, who won a Mitchell in 2004, and he lived on U.Va.'s Lawn near Marcus A. Weisner, last year's U.Va. Mitchell Scholarship winner, currently studying in Dublin.
Working after graduation has helped both winners put their continued education in perspective. "Last year I was still thinking about what to write my thesis on," said Kurman. "Working as a ski instructor has given me time to reflect on what I want." Brennan, who studied in Jordan while at U.Va., sees her years in television news as an asset that gives her more insight into what she can learn from the process. She plans to continue to write as a journalist while she is in Ireland. After earning her graduate degree, Brennan plans to remain in journalism – preferably in the Middle East. Kurman wants a career in mediation and conflict resolution. He may pursue a law degree or a doctorate after finishing his degree in Ireland. He also has been accepted at Cambridge University for post-graduate work.
"The University has been fortunate enough to have five scholars in four years," said Nicole F. Hurd, assistant dean and director of the Center for Undergraduate Excellence. "I am thrilled to see our students represented in this excellent program."
This is the fourth consecutive year that a U.Va. student or graduate has been honored as a Mitchell Scholar. Previous U.Va. recipients include Weisner, Buckley and John Keiss. Launched in 1998, the Mitchell Scholarship recognizes outstanding young Americans who exhibit the highest standards of academic excellence, leadership and community service. The scholarship, administered by the U.S.-Ireland Alliance, a nonpartisan, nonprofit organization based in Washington, D.C., is named in honor of the pivotal role George J. Mitchell, the former U.S. Senator from Maine, played in the Northern Ireland peace process. The Mitchell Scholarship program links future American leaders to Ireland.
There were 236 applicants from 171 American colleges and universities for this year's 12 awards.
Contacts:
Nicole F. Hurd
(434) 924-6082

Dell F. Pendergrast
(703) 821-8510

Carolyn Dillard
TV News Office
(434) 982-3030