Two scholars from the University of Virginia will study public policy and economics in China as part of the inaugural class of the international Schwarzman Scholarships.
Fourth-year student Benjamin Harris, 22, of Grundy, and 2010 alumnus Mostafa Allam, 26, of Cairo, Egypt, have been tapped for the program.
Schwarzman Scholars will receive funds for a one-year master's degree program at Tsinghua University in Beijing, a base for the country's scientific and technological research. The scholars will live in Beijing for a year of study and cultural immersion, attending lectures, traveling and developing a better understanding of China.
The inaugural class consists of 111 Schwarzman Scholars selected from more than 3,000 applicants, making the program one of the most selective in the world. Students were picked from 32 countries and 71 universities, with 44 percent from the United States, 21 percent from China and 35 percent from the rest of the world. The class will study and live at the newly constructed Schwarzman College on the Tsinghua campus. Expenses for each scholar are fully funded by the program.
Harris, a double-major in political and social thought and in physics, with a minor in foreign affairs, is writing his thesis on how nuclear weapons affect relations between nations, focusing on interactions between nuclear and non-nuclear states. He looks forward to continuing his research in China.
"I get to study the defining issues of my field in the most important arena," Harris said. "Perhaps more importantly, I'll be studying with, and taught by, amazing people from all around the world, and I'm really attracted to that sort of tight-knit community."
Allam graduated with a triple major in systems engineering, economics and Middle Eastern studies.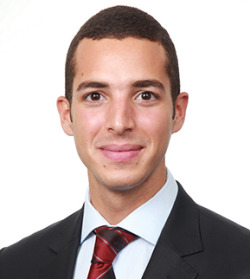 2010 alumnus Mostafa Allam

"My systems engineering capstone project and senior dissertation were focused on providing a safe, sustainable and affordable water filtration solution to a rural community on Guatemala's Lake Atitlan," Allam said.
His senior thesis, "A Culture-Centric & Sustainable Systems Engineering Approach: Water Filtration in Guatemala's Tzunana," was awarded the Institute of Electrical and Electronics Engineers Systems & Information Engineering Design Symposium Best Paper Award in 2010.
Since he graduated, Allam has completed a master's degree at the London Business School and joined Strategy& as a management consultant in the Middle East, working on projects for multinational corporations and government institutions. He has also completed a master's degree in business administration from the European Institute of Business Administration in Singapore; participated in the launch of Circles Asia, Singapore's fourth telecom operator; and published a novel, titled "Daydreaming in Cairo."
"We are very excited to have two University of Virginia students included in the first cohort of Schwarzman Scholars," said Andrus G. Ashoo, associate director of UVA's Center for Undergraduate Excellence. "For Ben and Mostafa, the greatest benefit is the opportunity to live and study in a foreign environment with 109 other amazing students from all over the world. Their experiences and reflections on the program will in turn make them valuable mentors for future UVA students and young alumni considering the program."
This past fall, Harris taught his own class about game theory and strategy, using popular board and video games, said William I. Hitchcock, Randolph Compton Professor of History.
"At the heart of these games are strategic trade-offs, and Ben and his students thought about how strategy fits into all our lives in many ways," Hitchcock said. "Ben Harris has a wonkish enthusiasm, infectious energy and an idealism for learning that can be astonishing to behold. He is a person who lights up a room with his mind."
Hitchcock said that Harris will be a good representative of the United States and UVA in China.
Harris, a Jefferson Scholar and an Echols Scholar, is a member of the Washington Literary Society and Debating Union, Phi Beta Kappa and the Raven Society. A graduate of the Mountain Mission School, he plans to pursue a Ph.D. and possibly teach international relations.
Dana Elzey, associate professor in the School of Engineering and Applied Science's Department of Engineering and Society, worked with Allam on the Guatemala water purification project, where a team of students and UVA faculty developed an appropriate, point-of-use water filtration system design and an education plan tailored to the local community. They collected filter test data and analyses, and generated a plan to continue the project through filter implementation, data collection and reporting.
"I recall Mostafa as among the most caring and conscientious people I have had the privilege of working with in my 18 years of teaching and leading various team-based, engineering design projects," Elzey said.
Hanadi Al Samman, an associate professor in the Department of Middle Eastern and South Asian Languages and Cultures, praised Allam as one of the most distinguished, well-rounded students that she had taught at UVA and cited Allam's background as the child of a diplomat, raised on five continents, for his global perspective.
"Mostafa's engagement with the world demonstrates his commitment to forging international connections and responsible business practices, while continuing to appreciate the artistic beauty and specificity of each respective culture," Al Samman said. "Inspired by the Arabic literature classes that he took at MESALC, Mostafa published a novella entitled 'Daydreaming in Cairo' in which he captures his journey back to Cairo, and the need to maintain both local and global belonging."
Allam, while a student at UVA, was a student ambassador, treasurer of the Middle East Leadership Council, director of communications and public relations for the Engineering Student Council and deputy prime minister of the International Residential College. In addition to the 2010 IEEE Best Paper Award, he received the Z Society Honorary Recognition for community service. He is a member of the National Society of Collegiate Scholars and the Omega Rho Operations Research Honor Society.
His ambition is to launch a consulting firm advising foreign investors, especially from the United States and China, on strategic agendas in the Middle East.
The Schwarzman Scholars program was inspired by the Rhodes Scholarship, which was founded in 1902 to promote international understanding and peace, and is designed to meet the challenges of the 21st century and beyond. Stephen A. Schwarzman, co-founder of the Blackstone Group, a private equity firm, contributed $100 million to the program and is leading a fundraising campaign to raise an additional $350 million from private sources to endow the program in perpetuity. The $450 million endowment will support up to 200 scholars annually from the U.S., China and around the world for a one-year master's degree program at Tsinghua University in Beijing.
For information about this and other national scholarships and fellowships, visit the Center for Undergraduate Excellence.
Article Information
January 20, 2016
/content/two-uva-scholars-picked-china-based-program-modeled-rhodes