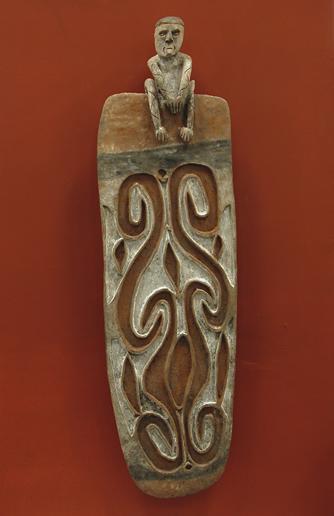 May 18, 2006 — Fueled by curiosity about foreign cultures, Europeans and Americans began collecting Oceanic art objects in the 1770s. At the start of the 20th century, artists began to draw inspiration from such objects, in response in part to a Western quest for the authentic.
The native artifacts originally were created for use in religious, cultural or utilitarian activities. In order to meet the demand for representations of authentic culture, native peoples responded by producing objects that resembled those that had intricate cultural significance. Drawing on the museum's collection of drums, masks and orator stools, the exhibition "Art/Not Art: Made in Oceania" will explore the intermediary space where western connoisseurship meets native arts — particularly examining the criteria used to determine when a work is authentic and when it is not.
The exhibit opens Wednesday, May 31 and runs through Sunday, Aug. 6.
Museum and exhibit curator Andrea Douglas will give a Gallery Talk on Saturday, June 3 at 4 p.m.
The museum is open to the public free of charge Tuesday through Sunday, 1 p.m. to 5 p.m.
For more information about the exhibition and the U.Va. Art Museum, call (434) 924-3592 or visit the museum
Web site
.