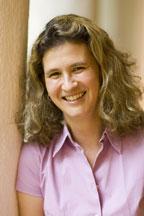 June 23, 2006 — Through the pioneering College Guide Program, University of Virginia graduates have been instrumental in increasing the number of Virginia students applying to and attending colleges across the state.

Created at U.Va. and funded by a $623,000 grant from the Jack Kent Cooke Foundation, the program teamed 14 recent graduates with local guidance counselors in nine school districts throughout Virginia to bring a fresh perspective about college applications to students who might not otherwise pursue higher education.

The program has increased college enrollment numbers from several Virginia public school districts. In Damascus, one of the target districts, Holston High School has traditionally sent about 50 percent of its graduates on to some form of higher education. But this year, that number has risen to nearly 85 percent, including three students who were accepted at U.Va.

"[The students] are very receptive," said Paulin Cheatham, 23, of Surry, a College Guide who met with every member of the junior and senior classes at Holston High School during the year. "They want to go to school, but they don't know how. I'm close to their own age and I come from a similar place and they think 'If he can do it, then I can, too.'"

Of the 63 seniors with whom Cheatham worked, 53 are continuing their education — 33 going to community colleges (24 of whom intend to transfer to four-year colleges), 13 enrolling directly into four-year colleges, and seven enrolling in vocational or technical programs including welding, auto diesel, auto body, cosmetology and licensed practical nursing.

And these numbers are not isolated. In Fluvanna County, the college matriculation rate increased from 63 percent to 82 percent. In Patrick County, the rate jumped from 61 percent to 86 percent. In addition to the increase in applications, Patrick County saw a 25 percent increase in the number of students taking the SAT and a 46 percent increase in students filing federal financial aid forms (FAFSA). Halifax County also saw an increase in the number of students pursuing postsecondary education. After College Guide Tiffany Meertins took the students for a tour of the Virginia Commonwealth University campus, Halifax County High School saw applications to VCU almost double.

"There is a high interest in career tracks and technical learning, such as emergency medical technician, mechanic or a mason," said Meertins, who worked with 364 seniors at Halifax County High School.

Halifax students are attracted to college, Meertins said, but many of them have not done the planning or the SAT preparation.

"I've tried to focus on the sophomores and the freshmen, to get them thinking about what they need for college," she said.

"The guides have served as an advocate for the students, calling schools and asking questions, taking them on college visits," said Nicole F. Hurd, assistant dean and director of the Center for Undergraduate Excellence, who developed the program. The guides also serve as role models, with their own examples of difficult circumstances, or of being the first generation in their families to go to college.

"The success of the program is in the students coming to college who would not have ordinarily," Hurd said.

The program has done more than open doors for high school students; it has changed guides' lives as well. Meertins, who had planned on going to law school, has opted instead for a career in education and will attend U.Va.'s Curry School of Education this fall.

"I had thought I was going into corporate law, but this [experience] gives me a deeper sense of purpose. I could crunch numbers and make the 'big bucks' but at the end of the day, I think I would feel much better about kids going to college," she said.

While Meertins will miss her students, she is taking three of them with her. A trio of her advisees have been accepted at U.Va, so she and they will be students at the University at the same time.

The program continues to receive support from the Jack Kent Cooke Foundation, with a recent award of $470,000. Of the 14 guides in the inaugural program, nine are returning for a second year, four in the same districts and more are joining the program. Aside from continuing work in public high schools, the funding also includes support for three new guides to work in community colleges in Virginia to increase transfer rates to four-year institutions.

The College Guide Program has become a national model for college access. Last week, the Jack Kent Cooke Foundation invited 175 institutions to apply for eight $1 million grants to create guide programs based on the U.Va. model.