Find the latest information on the University's response to the coronavirus here.
UVA Health received a shipment Thursday of the first batch of 20,000 FDA-approved surgical facemasks donated through a grassroots effort by UVA alumni and parents in China to bolster the health system's supply of personal protective equipment for its team members. 
"UVA Health's doctors, nurses, staff and administrators are putting themselves on the front lines and working nonstop to help stem the spread of the novel coronavirus," said Charlottesville-based Jerry Peng, a 2003 graduate of the University of Virginia's Darden School of Business, who coordinated with the UVA Chinese community to procure the masks. "We want to let our community members know that we stand with you and are ready to help."
Peng said word about the request spread of over a dozen of UVA community chat groups on China's social media platform, WeChat. UVA alumni, students, parents and faculty members worked with each other to raise money for the needed masks.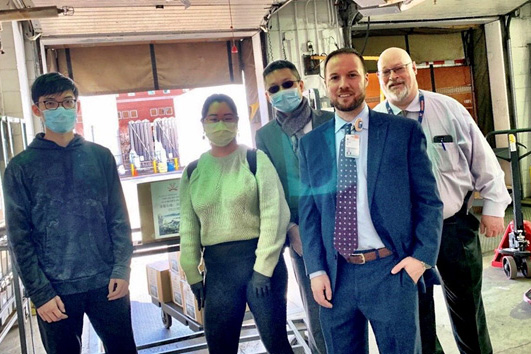 From left to right: UVA students Hao Li and Wendy Wang, Darden alumnus Jerry Peng, and Adam Momper and Jack Simpson, both of UVA Health, at the University Hospital loading dock. (Photo by Tyler Gallik, UVA Health)
Darden alumni volunteers in Beijing and Shanghai – Shaojian Zhang, a 1999 graduate; Yolanda Zhang, a Darden graduate; and Wei Jin, a Darden graduate – worked along with many parents, McIntire School of Commerce faculty volunteers and Chinese student organizations on Grounds over the weekend to secure the funds to buy the facemasks.
Chinese faculty on Grounds, led by professors from the McIntire School of Commerce, Jingjing Li and Natasha Zhang Foutz, also organized a fund drive at UVA that contributed to half of the masks donated.
UVA Health leaders shared their appreciation for the group's donation.
"This is a remarkable effort and a tremendous show of support for our frontline care providers as they work tirelessly to provide excellent care for our patients," Executive Vice President for Health Affairs Dr. K. Craig Kent said. "UVA is not experiencing shortage of personal protective equipment at this time, but it is comforting to know that we have friends of the University who stand ready to help us maintain our supplies that will be very much needed in weeks to come."
With the support from donations like this one from UVA alumni, UVA Health is asking that community donations of personal protective equipment be directed to other health care organizations in the Charlottesville area that are in great need. Support Cville and Equip Cville, a group of volunteers in Charlottesville and Albemarle County are coordinating the collection and delivery of personal protective equipment for local health care workers.
"This is a great example of the extraordinary ways our global community has come together over the last week," Ambassador Stephen Mull, UVA's vice provost for global affairs, said. "We appreciate the solidarity and the resilience of our community. We will get through these uncertain times together."
Article Information
March 27, 2020
/content/universitys-chinese-community-comes-together-donate-masks-uva-health