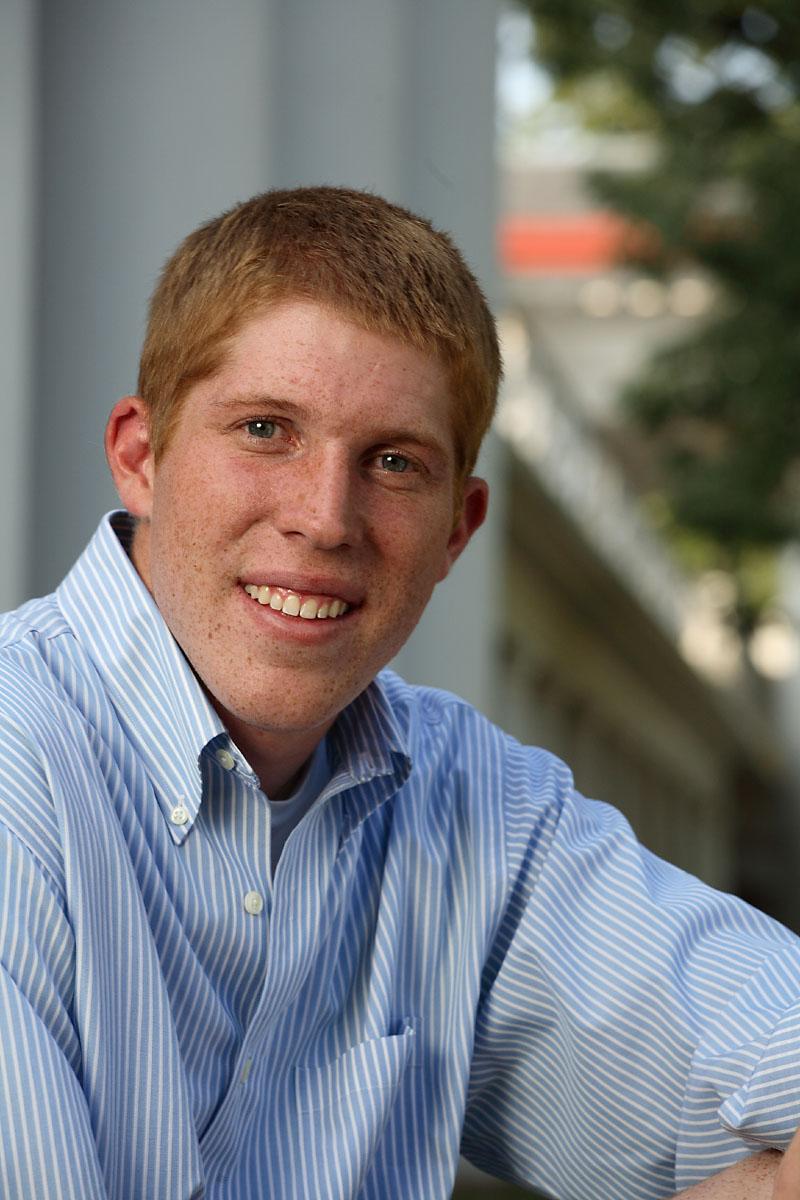 Nov, 29, 2006 -- E. Ross Baird of Atlanta, a fourth-year student at the University of Virginia, has been named a 2007 Marshall Scholar by the Marshall Aid Commemoration Commission.
Baird, 22, will study comparative politics at the University of Oxford for two years, beginning in the fall of 2007. Baird is one of 43 winners selected from colleges and universities across the country.
"For an academic, Oxford is like Disney World," Baird said. "It has some of the best people in the world in the areas I want to study. My U.Va. education has prepared me well to study at Oxford."
Baird plans to examine novel techniques of polling and civic participation that the European Union is utilizing to re-write its constitution, which was imperiled after being rejected by voters in France and the Netherlands in 2005.  "This constitution will determine the future of Europe," Baird says.  "They have to write one that people will buy into — and, at Oxford, I get to study it as it happens."
This is not Baird's first foray to Europe to study politics. He researched voter participation in Italy, Croatia, Austria and England in 2005 on a Harrison Undergraduate Research grant. He received a second Harrison grant in 2006 to study voter turnout in his native Georgia.
 Enrolled in the Politics Honors Program, he is considering a career in public policy, particularly public education and education policy.
"I want to go into government," he said. "The international education I will get at Oxford will allow me to look at universal political issues outside of just an American context."
"I expect to see him in public office," said Larry J. Sabato, University Professor and director of the Center for Politics. "We need to seek out the ablest among us to run for public office. Ross should be encouraged, because he takes politics and policy seriously and he will do the right thing."
While he has always been interested in politics, when Baird came to U.Va. he was considering five or six fields in which to study. He credits Sabato with setting his course.
"I was walking down the Lawn and we had an earthquake," Baird said about his first meeting with Sabato. "I had been walking by Larry Sabato's pavilion. He had just gotten off the phone with the seismologist's office and stepped outside to tell people who had gathered on the Lawn about the earthquake. We talked for quite a while."
 "I have often told my colleagues that you never know how or why or when we are influencing students," said Sabato, who described Baird as a "superb student."
"He is one of those all around students who is exceptional in the classroom and in his extracurricular work," said Sabato, who also praised Baird's research.
"He is trying to get people more involved in politics," he said. "He is doing primary research into topics that have not been investigated before. He has traveled to other countries, and done research here at home, on how and why people get involved in politics. This is really first rate work and he approaches it with energy and enthusiasm."
Baird also cited professor Brian Balogh for teaching him to think like a serious academic.
"There is a difference in being interested in something and studying it as an academic." Baird said. "To be an academic you need to think about things critically."
"Ross is one of the most talented students I have worked with at U.Va." said Balogh, the Mayo Distinguished Teaching Professor in the history department and the co-director of the American Political Development Project at the Miller Center for Public Affairs. "He is truly distinguished, combining intellectual curiosity and terrific scholarship with a nuts and bolts feel for politics. He will be the governor of Georgia  some day and he will be the best read and most informed governor Georgia has ever had."
Baird has received both Truman and Jefferson scholarships, as well as the Gray-Carrington Leadership Award, honorable mention in the USA Today All-USA College Academic Team and the Robert Kent Gooch Award. He is president of the Raven Society, a presidential fellow at the Center for the Study of the Presidency and an Echols Scholar, as well as president of the class of 2007. He has been a youth basketball coach, a University guide and a teacher's assistant for a third-grade classroom.
Each year, hundreds of America's brightest students compete for the awards given by the Marshall Scholarship Committee. The scholarship funds two years of study at any university in the United Kingdom, and is valued at $35,000 a year.
The Marshall Scholarship was created in 1953 by the British Parliament and is funded by the British government in honor of U.S. General George C. Marshall, who crafted the plan to rebuild Europe after World War II. About 1,500 American men and women have studied in more than 44 different universities in England, Scotland, Wales and Northern Ireland. Marshall alumni include a Supreme Court justice, members of Congress, members of the U.S. President's Cabinet, Pulitzer Prize winners and leaders in journalism, academia, business, entertainment, sports, the military, science, engineering and law.
William Gwym won U.Va.'s first Marshall Scholarship in 1954.
For more information on the 2007 Marshall Scholarship Winners, visit
http://www.marshallscholarship.org/winners.html