As winter and its cold, short days overtake us – and they will eventually – the University of Virginia's hardcore gardeners already are anticipating spring.
At the Morven Kitchen Garden, farm manager Emily Salle, who graduated in May with a degree in environmental sciences, is planning for the next growing season with a team of UVA student volunteers – and about to harvest the last produce after a fall planting.
Among the features of UVA's Morven Farm, which philanthropist John W. Kluge bequeathed to the University, is a one-acre organic, sustainable garden that since 2011 has served as a laboratory for students, who grow vegetables there. In the summers, students run a community-supported agriculture program, in which people subscribe early in the year to receive a monthly harvest of fresh produce.  
"Our mission," Salle writes on the garden website, "is to provide student leadership opportunities in sustainable market farming, inspire community participation in local food systems and offer an outdoor laboratory for agricultural research."
The students who serve on her executive team are full of enthusiasm about getting to spend time at such a beautiful place and growing food at the same time.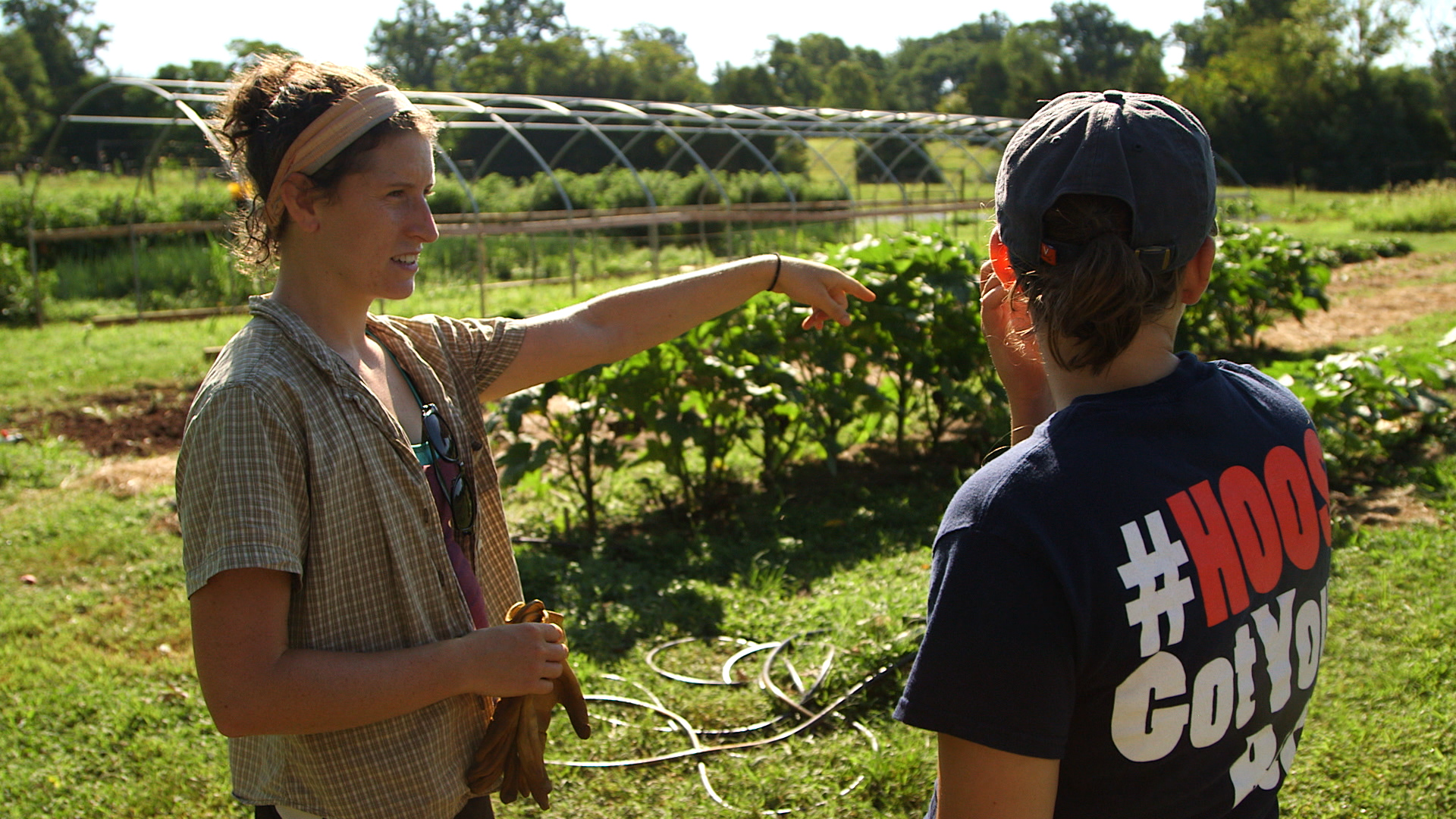 Emily Salle, who manages the Morven Kitchen Garden, talks with a student volunteer.

"Morven is like no other place on Grounds," said Allie Arnold, a second-year student hoping to study environmental thought and practice. "I want to introduce [the garden] to as many people as possible so they can experience the joy and fulfillment that I feel every day."
Fourth-year nursing student Audrey Baker said she loves spending time in nature with friends and "working together to improve food systems at UVA."
Before any of that white stuff falls from the sky, this video captures lush summertime in the garden and its colorful, healthy harvest.
Salle recently looked back at the growing season and revealed what's in store for next year.
Q. How long has the Morven Kitchen Garden and the community-supported agriculture program, or CSA, been operational?
A. The Morven Kitchen Garden was established in 2011 and – although I wasn't there – I believe the CSA began in the first year or so after the garden was planted.
Q. How did you do selling summer shares? Fall shares?
A. We sold out all our available shares each season this year and already have people on the interest list for next year. The shares went to students, faculty and community members alike, and are the most important income that we have in order to cover the operating expenses of running the farm. 
We had 26 in the summer, another 26 (coincidentally) throughout the fall. Six of those members carried over from the summer and a few more were included in the May share, so all in all we had about 50 different members from May through November. We keep it small so as to make it manageable from the student perspective, minimize risk and give us the chance to sell extra produce to restaurants or donate to the food bank. Plus, we always want the volunteers to have some to take home, too.
Q. What are you up to now in the garden?
A. The farm is an acre, but only 50 percent of the space is cultivated throughout the year. Right now we are hashing out the logistics of an expansion plan (look for a Kickstarter campaign coming soon) to turn one of the empty quadrants into additional vegetable production and designate the second empty quadrant for perennial fruits and herbs.
During the winter, we consolidate our winter growing into just one quadrant where we have spinach, turnips, kale, mizuna [a Japanese mustard green], carrots, dill, parsley, cilantro, swiss chard and mixed greens. This Sunday we will do an end-of-the-year harvest for students to take vegetables home with them for the break. 
Q. What are you planning for spring?
A. We also keep busy during the winter by finishing construction projects (we finished our [Green Initiative Funding Tomorrow] grant-funded hoop house two weeks ago and have plans for a new shed scheduled to begin in the first months of the year); preparing the spring and summer planting schedules (lots of seed catalogs and critiques of past seasons); and coordinating new projects and plans for our organization that we've been dreaming about since summer, but haven't had time to work on because of the growing season and the CSA. 
Q. What prepared you for this job?
A. I spent two summers working on vegetable and dairy farms before becoming the manager out at Morven. That provided me with an intuitive sense of how a small farm operates and then the rest (plant physiology, soil science, networking, volunteer management, business skills) I've picked up along the way from hands-on experience, my academic studies and small-farm literature.
Q. What has the feedback been like from student volunteers?
A. I hear so much positive feedback, even when we put them to work. Students have the opportunity to commit to the Morven Kitchen Garden at so many different levels. The students running the organization – the exec team – are all volunteers, just like those who come out once or twice a semester to pull weeds and plant lettuce. I think everyone finds different value at Morven, whether it's learning practical agricultural skills or just being able to get outside and away from Grounds for a couple of hours a week.
Article Information
December 10, 2015
/content/uva-alum-emily-salle-and-students-keep-morven-garden-growing