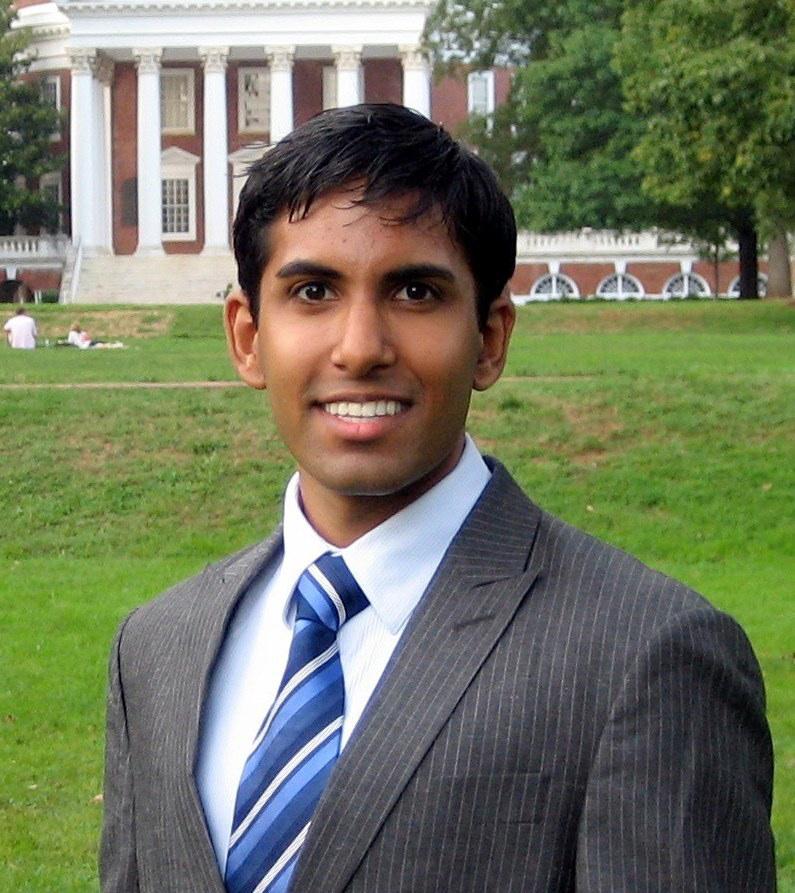 February 10, 2009 — Rahul Gorawara has been named as the student member of the University of Virginia's Board of Visitors.
Gorawara is a third-year student from Buffalo Grove, Ill., who plans to complete his undergraduate degrees in engineering, computer engineering and economics in May. He is also enrolled in the Batten School of Leadership and Public Policy, where he is working toward a master's degree.
"I am excited for this opportunity and honored to represent the students of U.Va.," he said. "The importance of student governance to U.Va. was an important factor that drew me to the University. I look forward to taking part in discussion of the University's future."
Gorawara was selected Feb. 6 to be a non-voting member of the board, which is responsible for the governance of the University. There has been a non-voting student member on the Board of Visitors since 1983. While board members serve for up to two four-year terms, the student member receives a single one-year appointment.
Gorawara will officially replace Adom Getachew as the student member at the conclusion of the April 3 meeting.
Student members always serve on the board's Student Affairs Committee and generally serve on the Education Policy and Diversity committees, after consultation with the rector. Gorawara said the student member's responsibility is to present student opinions to the board and to relay the board's priorities and thoughts to the student body. 
"An issue I hope to work on in the coming year is the expansion of the University's programs and curriculum, with an eye toward ensuring our graduates are competitive in today's global economy," he said. "Another issue I believe is a priority in the wake of the current financial crisis is the affordability and accessibility of the University to students of diverse backgrounds."
Gorawara is president of the McIntire Investment Institute. He is past president of the Future Business Leaders of America, a finance columnist for the Cavalier Daily, associate editor for domestic policy at the Virginia Policy Review, and will be a resident adviser in the 2009-10 academic year.
He is a Jefferson Scholar, a Rodman Scholar and a member of the Raven Society. He has received intermediate honors, the Engineering Class of 1986 scholarship and the ComEd Achievements in Science Scholarship.


— By Matt Kelly