A group of specialists is studying how best to use air-handling systems at the University of Virginia to limit the spread of COVID-19 virus.
Officially formed in June, this group focuses on identifying and assessing all of the different heating, ventilation and air conditioning mitigation strategies currently available. This includes modifying some of the University's air-handling equipment.
"The most relevant factors seem to be the extent to which an HVAC system can capture viral particles that are in air and dilute the air that carries them, so filtration levels and outside air supply have been the main focuses in terms of interventions," Roland Zumbrunn, associate director of housing facilities, said.
Zumbrunn is part of the group that regularly brainstorms how to modify building operations, evaluate risks, identify and implement best practices and educate the University community. And while modifications have been made to air handlers, proximity is still the main virus spreader.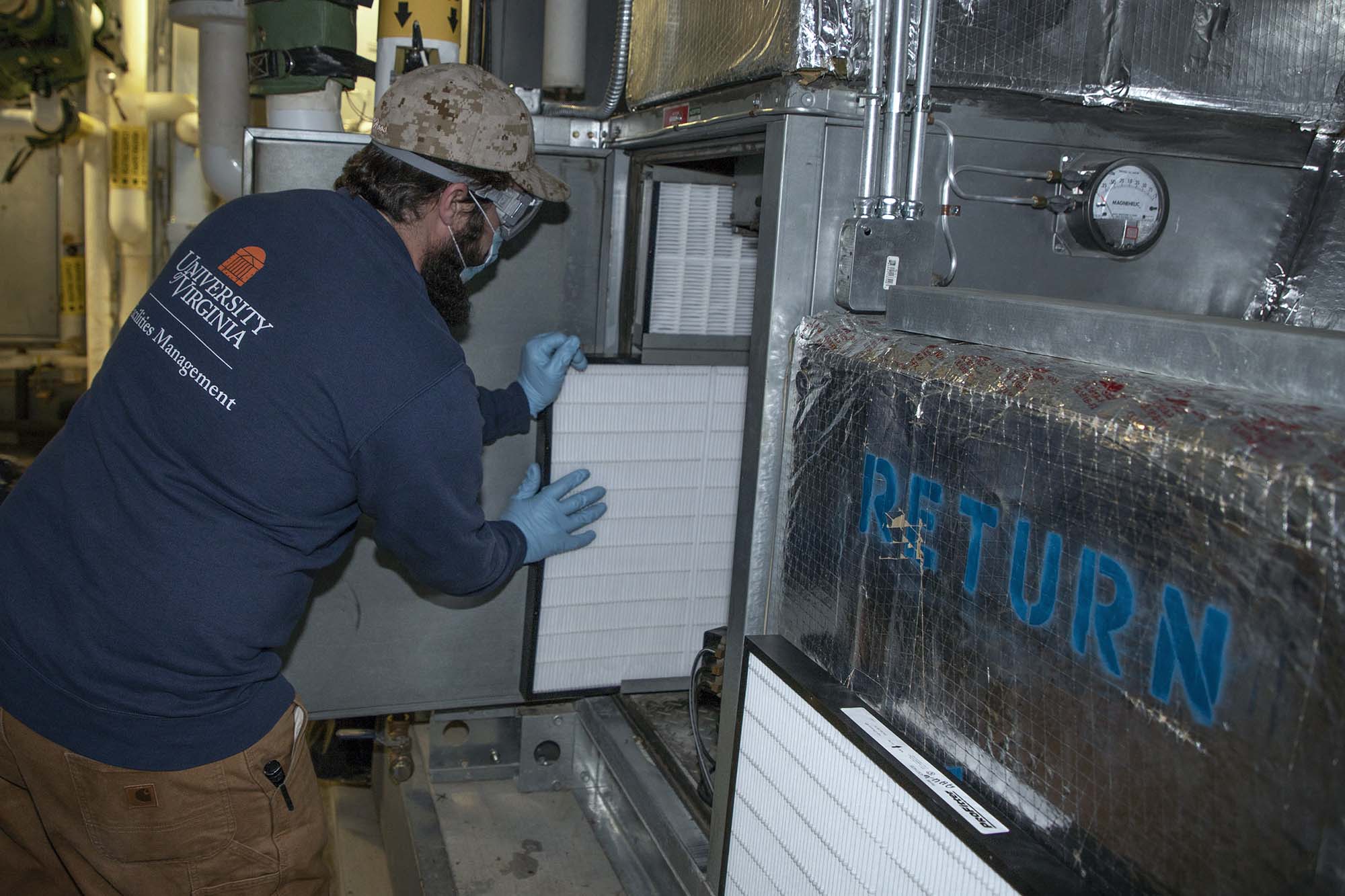 A Facilities Management employee installs a high-efficiency filter into an air-handling unit. (Photo by Jane DeGeorge Centofante)
"We strongly advocate for layered and additive, non-technical mitigation strategies like universal indoor face coverings in shared spaces and teleworking to decrease exposure in buildings," Zumbrunn said.
"As Facilities Management started to plan our return back to Grounds, we were designated as a standing task force that reported to the Operations and Logistics team," said Doug Livingston, associate director of Facilities Management's Automation Services.  "It is similar to Delta Force [a multi-disciplinary team that improves the energy efficiency of UVA buildings], in that achieving the goal of mitigating airborne transmission requires a cross-functional team effort to be successful."
The team is also working to conserve energy while implementing measures that provide a safe indoor environment.
"In the early days of the pandemic, it was looking like more intensive changes would be needed," Livingston said. "As the transmission of coronavirus is now better understood, organizations such as the Centers for Disease Control and the American Society of Heating, Refrigerating and Air-Conditioning Engineers have issued guidelines that the majority of our HVAC systems already follow."
Zumbrunn added, "The risks posed by typical air handling units and HVAC systems appear to be very limited compared to simple proximity to others."
Livingston said the group concentrated on identifying and assessing all of the known HVAC mitigation measures and ranked them for implementation on Grounds. The group is currently focused on three areas:
Implementing, where feasible, HVAC enhancements, such as the use of high-efficiency filters and increased ventilation rates, identified to provide an additional layer of mitigating airborne transmission in buildings.
Discussing new research regarding airborne transmission of COVID-19 and evaluating new technologies and strategies to help mitigate airborne transmission.
Serving as a resource to the University community on airborne transmission and HVAC mitigation. 
"The task force has identified two enhancements that go above and beyond those guidelines – enhanced air filtration and increased ventilation – that we are currently working to implement on Grounds where feasible," Livingston said.
University personnel are continuing to seek ways to limit the spread of COVID-19.
"Our task force is staying on top of new technologies that are entering the market, and we will evaluate them to see if they provide any additional benefit to our mitigation efforts," Livingston said. "We are also tracking professional and governmental organizations to make sure we are current on best practices. As we review new HVAC systems being installed in buildings under construction, we are applying our lessons learned so our systems can change from 'normal' operations to 'enhanced' operations."
Changes in the weather won't require major changes in the ventilation system, he said.
"It's important to remember HVAC systems are part of a layered intervention strategy," Livingston said. "The University community will still need to use measures such as face coverings, physical distancing, hand hygiene practice, enhanced cleaning, building de-densification, increased testing, etc. to further reduce the spread of coronavirus. That said, we are prepared to respond if we see new guidance from the CDC or public health agencies."
Zumbrunn recently led University President Jim Ryan on a tour of several Facilities Management operations tasked with handling different aspects of COVID-19 virus.
"We spoke to a team responsible for wastewater sampling, representatives from custodial services, an HVAC systems evaluation group, and staff from Systems Control Center in the Leake Building that monitors facilities systems 24/7," Zumbrunn said.
In reaction to virus concerns, Facilities Management has put together a web page of frequently asked questions.
Article Information
November 11, 2020
/content/uva-facilities-experts-use-air-handling-systems-battle-covid-19