MINNEAPOLIS — There is a lot of orange and blue in Minneapolis right now.
University of Virginia fans from around the country and the world converged on the city over the weekend. They kept arriving Monday, their excitement pervading the downtown streets as the men's basketball team prepared for UVA's first national championship game.
The prevailing mood was euphoric, and there were joyful reunions at every corner, as students, alumni, parents and fans found each other in the team hotel and the streets surrounding the hulking dome of U.S. Bank Stadium.
"We came from all over the country, to be here together for this," alumna Julie Tumasz said, sitting in the team hotel lobby with friends Jasmine Paul and Alexa Pao, both 2001 graduates. Paul is an asset manager; Pao works in finance; and Tumasz is pursuing a graduate degree is sustainable development at Columbia University.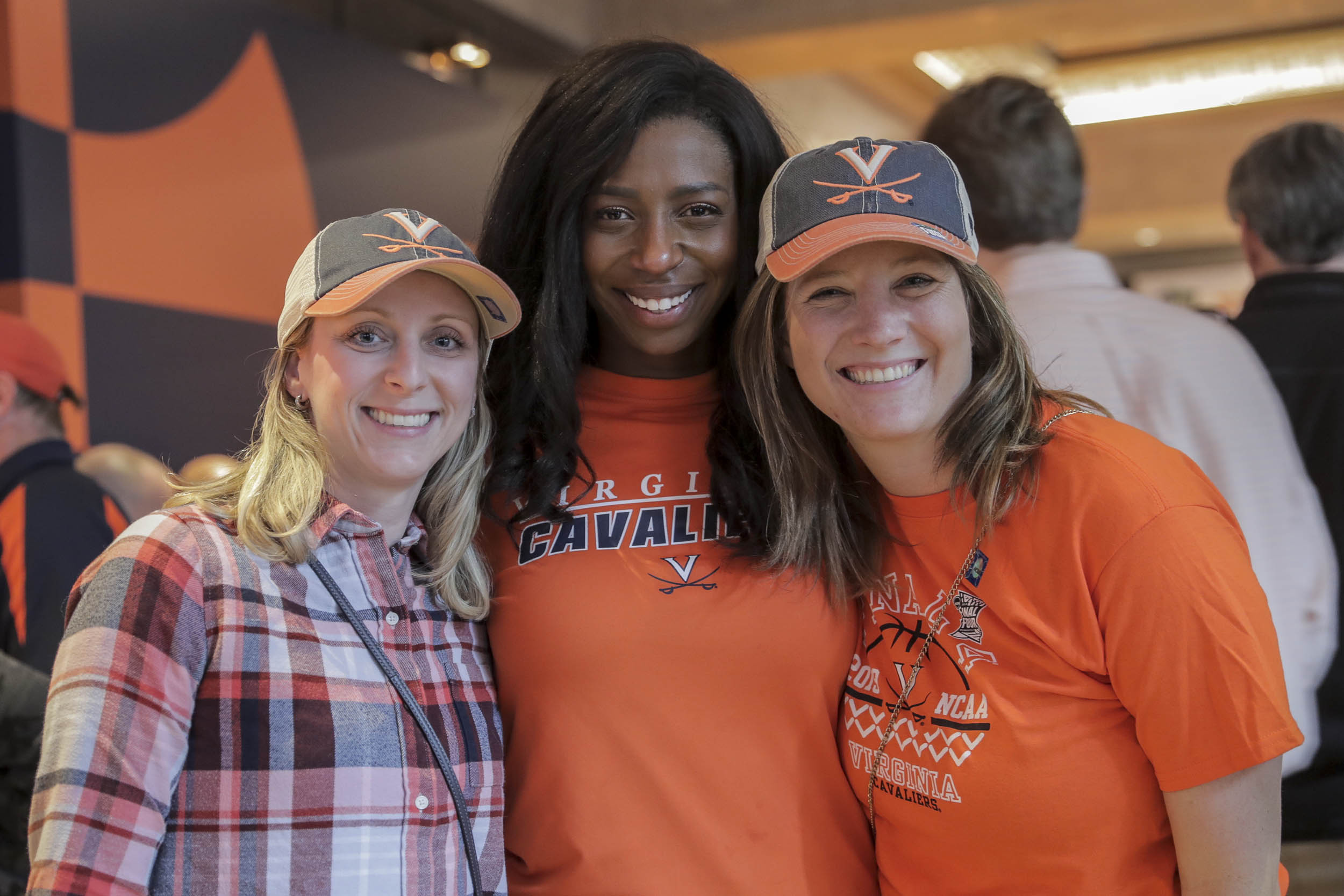 Alexa Pao, Jasmine Paul and Julie Tumasz were roommates at UVA and reunited for the Final Four.
"We have friends here from New York, D.C., Orlando, Los Angeles, Seattle, Wisconsin – so many places," Tumasz said. "We have been watching basketball together for years and couldn't miss this."
Celebrations began early. More than 130 Hoos roused themselves for a 7:30 a.m. run with UVA President Jim Ryan, continuing a tradition begun on Grounds this fall. They ran four miles, a stream of blue and orange winding through downtown Minneapolis. 
To the 130+ @UVA community members who showed up this morning — including the Mayor of Minneapolis — thanks for a good start to a big/exciting/crazy/stressful/wonderful/nerve wracking/special kind of day! Certainly gives new meaning to a Final Four "run." #gohoos pic.twitter.com/geDTtgXmGk

— Jim Ryan (@presjimryan) April 8, 2019
"I have been incredibly impressed by this team's ability to lean into adversity," Ryan told Jeff White of UVA Athletics. "Life is full of setbacks and disappointments—the real test is how we respond to them. I believe one reason these players and coaches have gotten as far as they have is because they've been able to accept and learn from last year's defeat instead of burying or ignoring it."
Back in Washington, D.C., Karen Talbert and her son, Chris, decked out in UVA gear, made their way to the airport for a last-minute flight to the championship.
They were representing a family of Hoos – Karen graduated from the School of Nursing in 1973; and her sons graduated in 2002 and 2004. Her late husband Bill, who died in September, was a double-Hoo, with degrees from the School of Engineering and the Darden School of Business. He was also an avid UVA basketball fan; the family always cheered on the Hoos together.
"We couldn't miss this," Karen Talbert said. "It's the chance of a lifetime. I hope we get to go again, but you never know."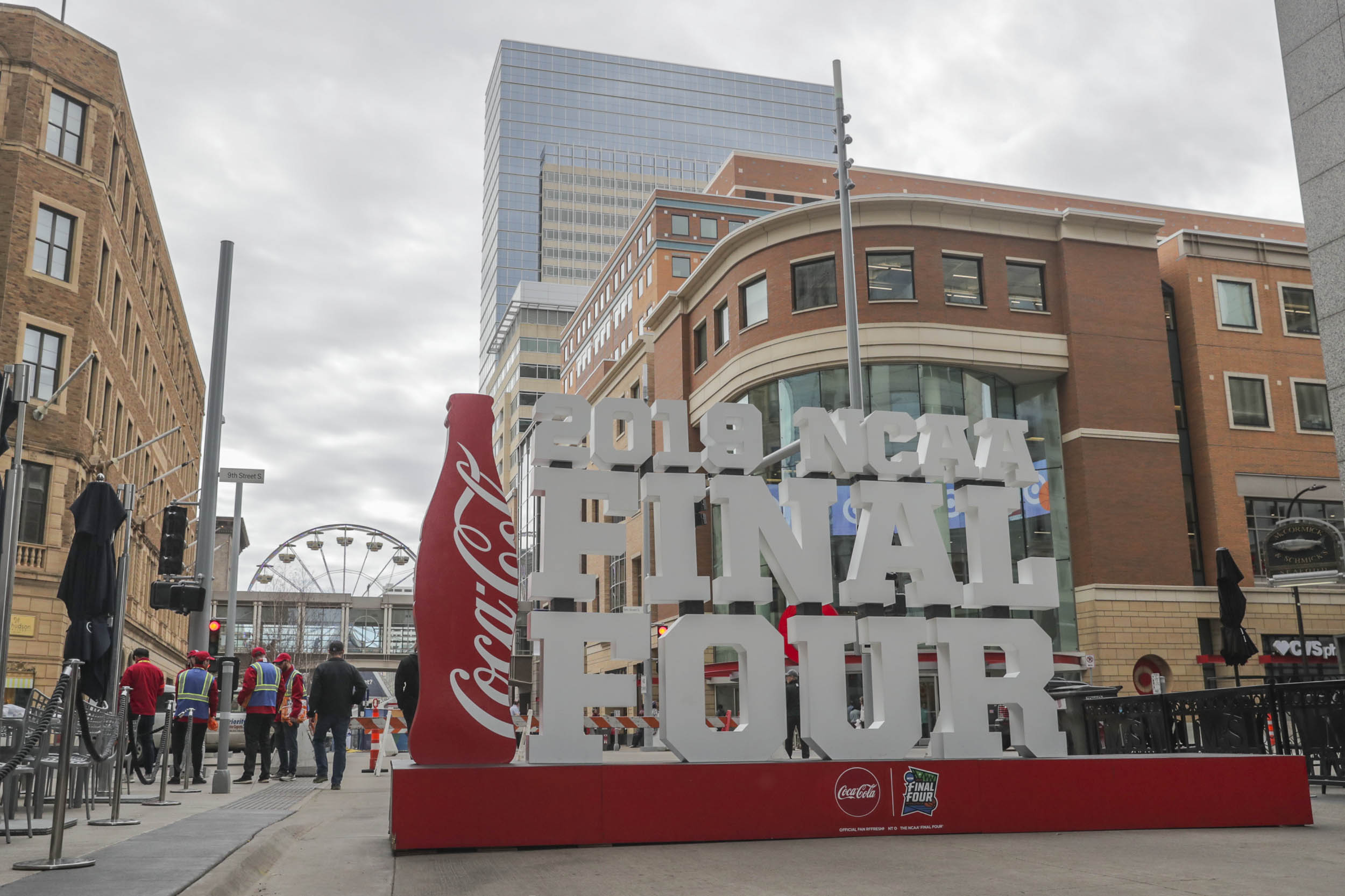 Downtown Minneapolis is decked out for Final Four weekend.
Mother and son agreed they were proud of the team's play in this year's tournament, but even more proud of the players' and coaches' attitudes after last year's first-round upset.
"I loved how they handled themselves after that," Chris Talbert said.
"Coach [Tony] Bennett is so impressive, the way that he coaches and treats his players," his mother added.
That sentiment prevailed in the lobby of the team hotel in Minneapolis as well, where fans met up and gathered to cheer on the team before they headed to the stadium. Among them were former Cavalier basketball star Ralph Sampson, who led UVA's 1981 Final Four run and attracted a crowd of fans; and novelist John Grisham, a Charlottesville resident and longtime UVA basketball fan who attends almost every home game.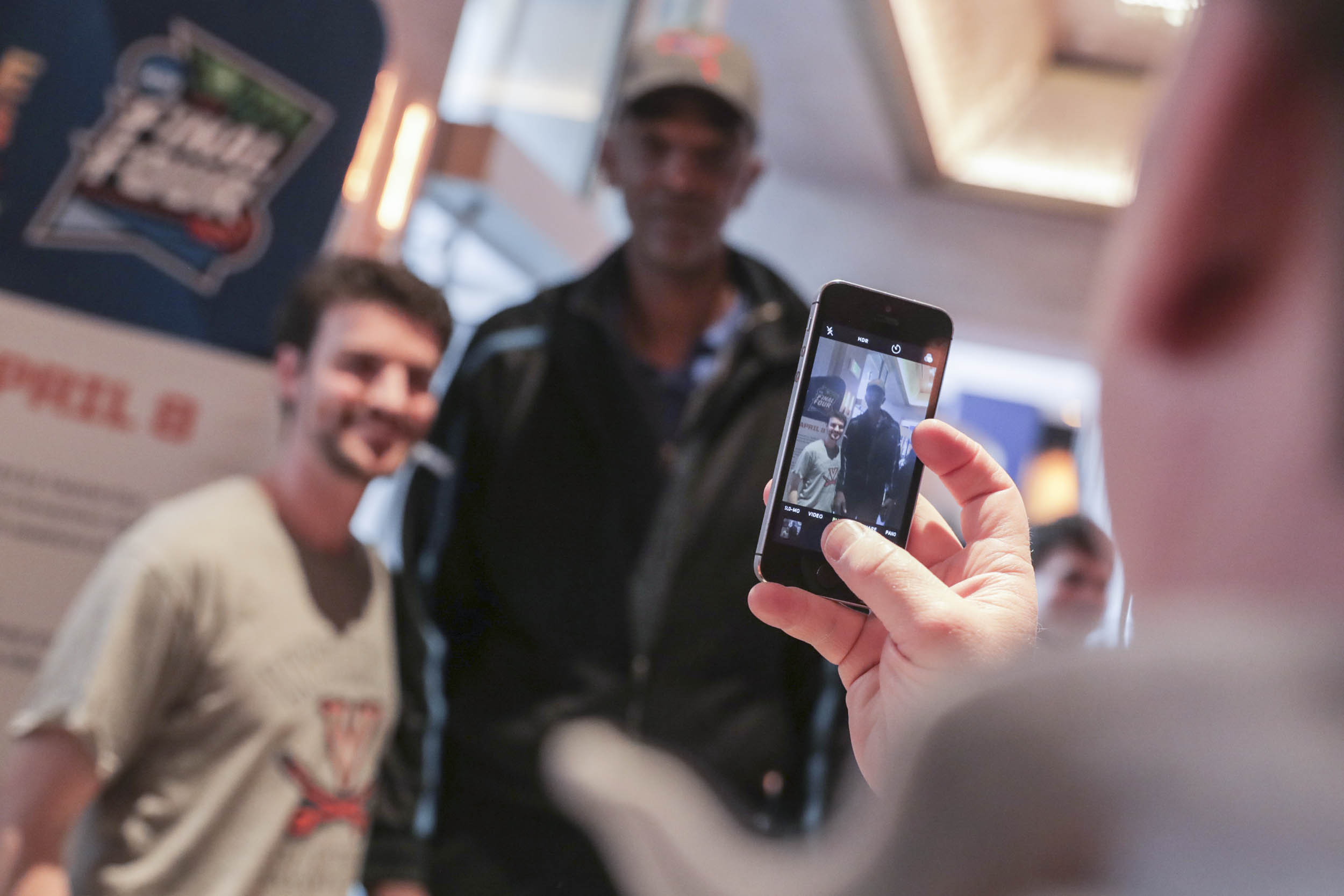 UVA basketball great Ralph Sampson poses for photos with fans.
"Tony Bennett and his team are very disciplined, very selfless," Grisham said. "I have a lot of respect for how they play the game, and they are just nice kids."
He described the atmosphere – especially after Saturday night's dramatic win – as "insane, just unbelievable."
"You can tell there is a lot of energy and pent-up demand among UVA fans," he said. "Everyone is excited to be here."
Alumnae Rachel Gordon, Megan Flanagan and Colleen Kohler, who graduated in May, said the atmosphere brought back the sense of community they loved at UVA.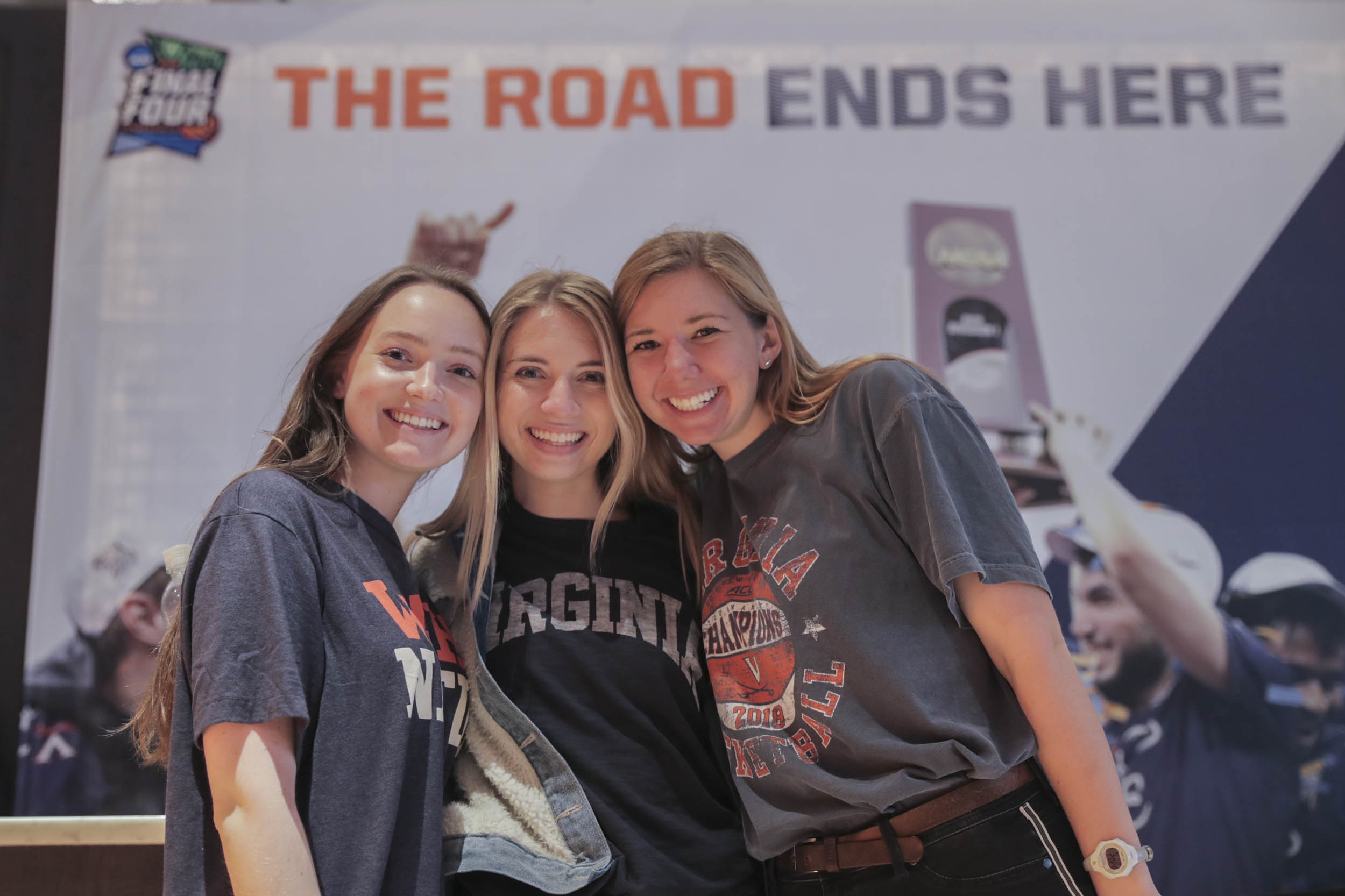 Rachel Gordon, Megan Flanagan and Colleen Kohler all graduated last year.
"It just feels like a family," Kohler said. "I have been so excited to see and talk to UVA fans around the city, and to see all of the alumni here with their kids and families. We keep saying that will be us, bringing our kids to these games one day. This is something we can tell them about."
One high school student in the crowd is hoping to apply to UVA next year. Taylor Dean grew up in Virginia, but moved to Wisconsin last year. She has been a UVA basketball fan for as long as she can remember.
"I love this team's tenacity," she said. "I'm so excited to be here. It's amazing."
Many fans brought up the team's extraordinary redemption story, going from a shocking upset in the first round of last year's tournament to this year's national championship berth.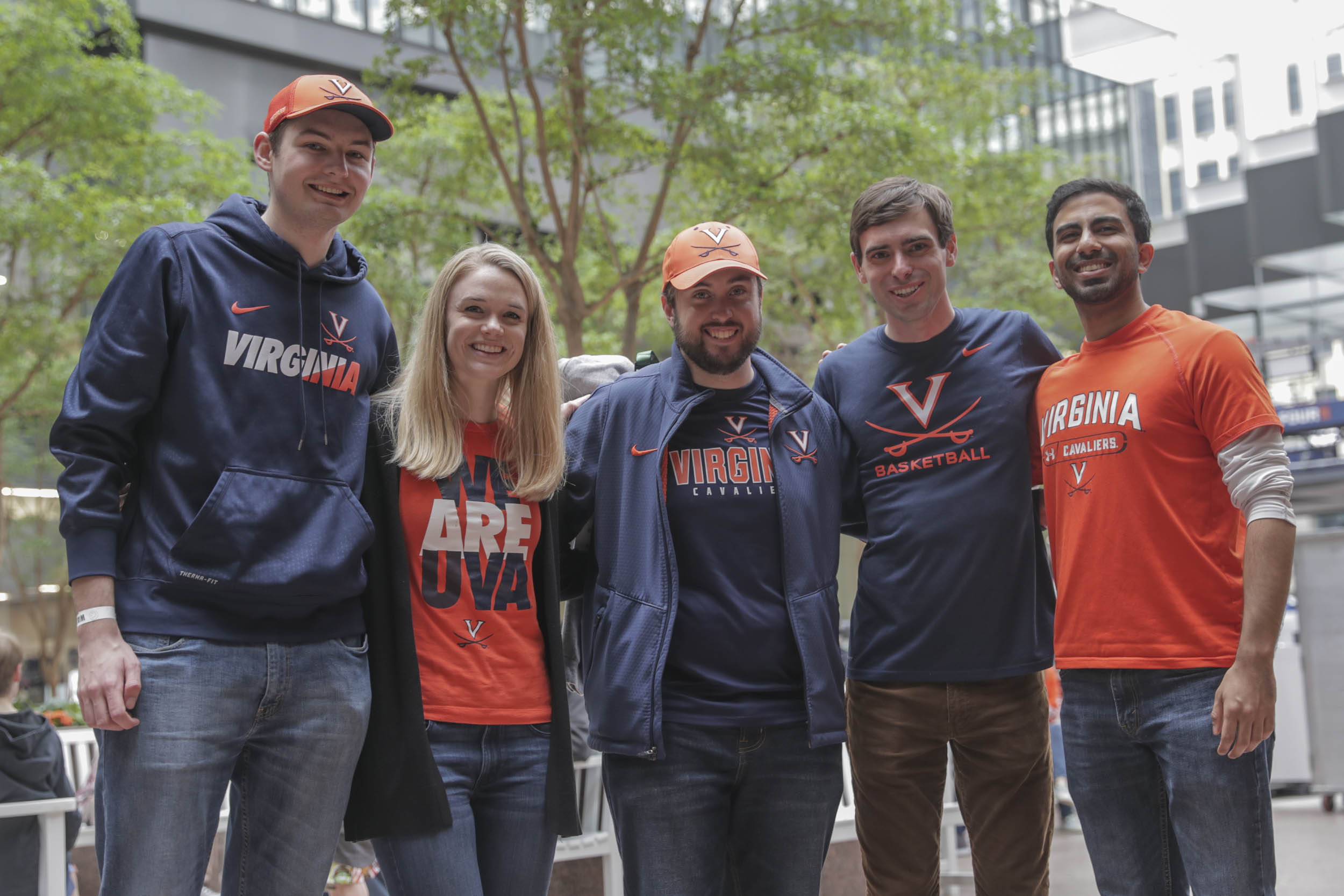 A group of 2014 graduates came together at the last minute for the championship game.
Asked to describe the UVA squad, one group of 2014 alumni threw out several key words – redemption, resilience, respect – to laud a team full of players who are true student-athletes.
UVA Director of Athletics Carla Williams, speaking from the team hotel lobby, summed it up.
"This is such a special moment, not just for the men's basketball team, but for the entire athletic program," she said. "I am so happy for Coach Bennett and his players, especially after the adversity they went through last year. It has been so rewarding to just be a part of this."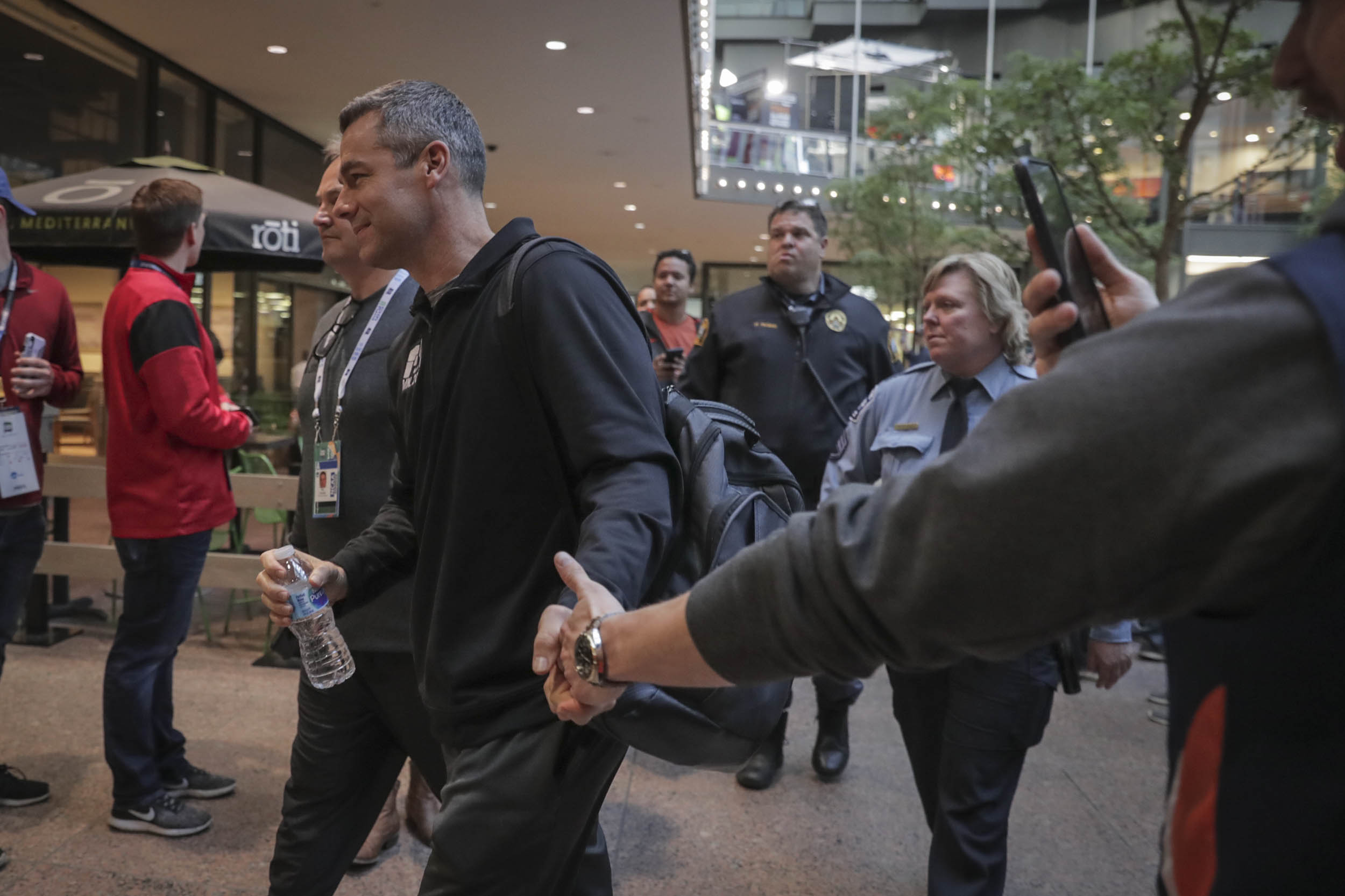 Coach Tony Bennett makes his way to the team bus, greeting cheering fans as he goes.
About an hour later, Bennett himself came through, leading his team through the hotel's atrium as they departed for the stadium. When he did, the general din, and the joyful conversation of hundreds of reunions, stopped for a moment, and coalesced into one familiar chant.
"U-V-A! U-V-A! U-V-A!"
Media Contact
Article Information
April 8, 2019
/content/uva-fans-turn-minneapolis-orange-and-blue