University of Virginia student Sarah Koch has been named one of the top 10 Army ROTC cadets in the country.
Koch, of Kansas City, Missouri, a fourth-year Middle Eastern studies major, is one of 10 cadets selected from a pool of 5,508 candidates on the Cadet Command's Order of Merit List. She is the fourth UVA Army ROTC cadet in five years to earn this honor.
The UVA Army ROTC program also placed eight cadets in the top 20 percent of the Cadet Command list.
"I'm honored by my ranking on the Order of Merit List," Koch said. "I also think it's a really good reflection on the UVA Army ROTC program. We definitely have one of the best programs in the country."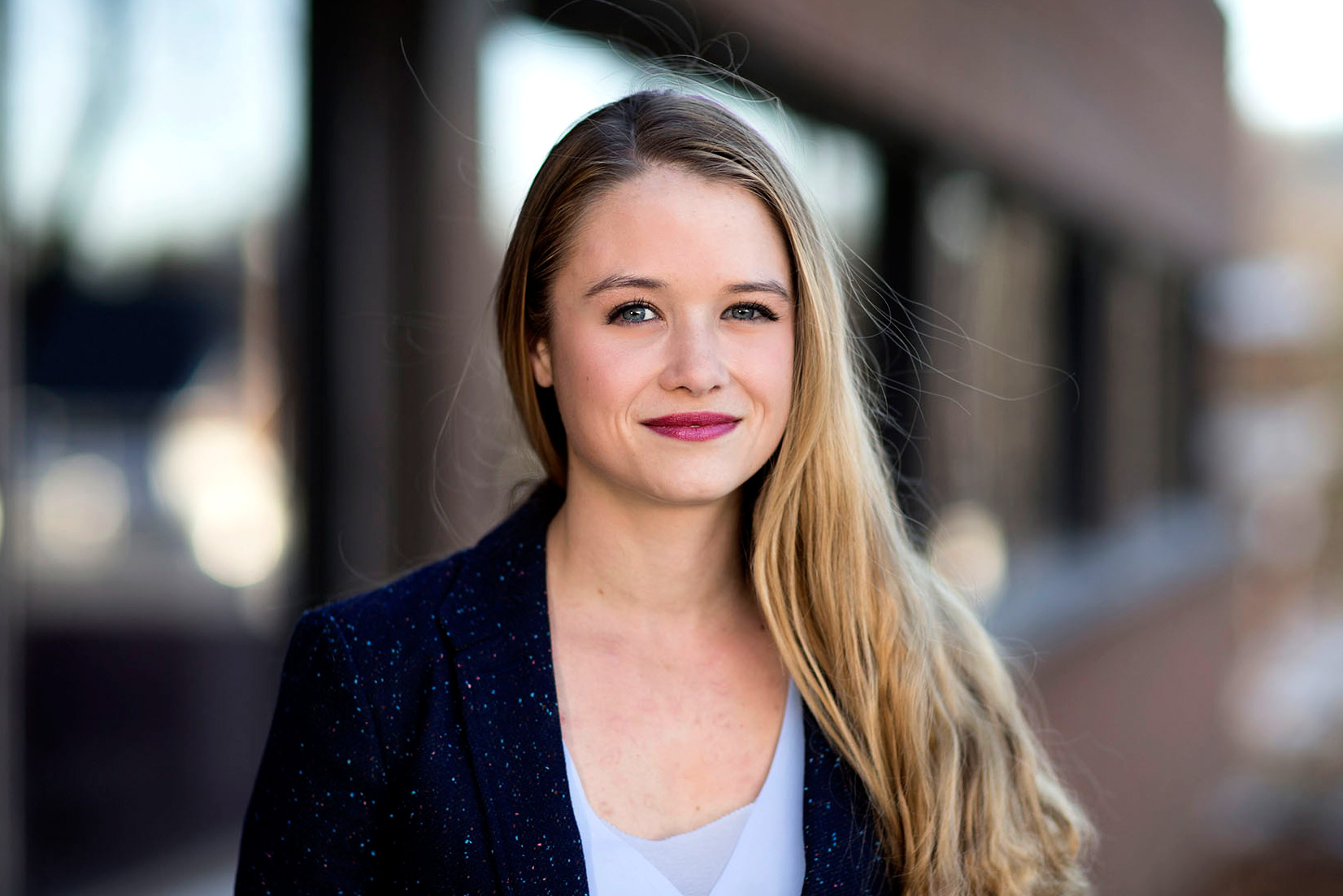 Sarah Koch is UVA's fourth Army ROTC cadet in five years to be listed among the top 10 in the nation. (Photo by Dan Addison, University Communications)
Cadet Command annually rank-orders its ROTC seniors, with the top 20 percent earning the designation of "Distinguished Military Graduate." The rankings are based on criteria including grade-point average, performance on the Army Physical Fitness Test, college athletic participation and performance during college ROTC training and Advanced Camp at Fort Knox, Kentucky.
Koch believes this ranking will open some doors for her regarding her duty assignment. She wants to start her Army career in the Military Intelligence Corps, eventually switching to Civil Affairs, under the Army's Special Operations Command. These officers have been referred to as "the warrior-diplomats of the Army," working on foreign humanitarian assistance, nation assistance, population and resource control, civil information management and support to civil administration.
"Unlike other soldiers who 'engage' the enemy from thousands of meters away, I would have the opportunity to use interpersonal skills to engage tribal leaders, village elders and other community members face-to-face," Koch said. "By building rapport with a foreign community, I can help accomplish the mission while providing aid to and protecting the area's civilians."
Koch credits her ethnographic research, comparing how girls and boys perform in science in Chinese schools, with giving her the foundation she will need to be a "warrior-diplomat." Her research was funded by a Harrison Undergraduate Research Grant and a UVA Minerva Award, a research grant offered by the College Council. She and her research partner, fellow ROTC Cadet Orion Williams, will have their findings published in The Oculus, the journal of undergraduate research.  
Koch started at UVA as a biology major, but realized she wasn't that enthused about laboratory work. "I like to work with people because people – and their cultures, languages and religions – are so much more nuanced than microorganisms," she said.
She transferred to the Middle Eastern Language and Literature Distinguished Majors Program, where she is studying Arabic and Persian, two languages that will help her in her military work. She is combining her education and military experience for her thesis, which is on "the relationship between soldiers and their translators, and the State Department's failure to support and protect them through the Special Immigrant Visa Program for Iraqi and Afghan translators."
While at UVA, Koch has been the executive officer and command sergeant major of the Army ROTC program, president of the UVA Cadet Association, vice chair of the Undergraduate Research Network, co-chair of the Women's Leadership Development Program and a founder and organizer of the R.J. Hess Memorial 5K Race. She also tutors in English for Volunteers with International Students, Staff, and Scholars. A member of the Raven Society, she is a Jefferson Scholar, an Echols Scholar and a Lawn resident.
Koch attained a rating in the top 15 percent at the ROTC advanced camp, and received the Superior Cadet Award for 2014 and 2016, as well as the Professor of Military Science Award for 2015.
Army Lt. Col. Mark Houston, commander of the Army ROTC unit at UVA, said Koch is a standout wherever she goes or whatever she does.
"Cadet Koch is at the top of a very talented fourth-year class at UVA Army ROTC," Houston said. "She is the epitome of a scholar, athlete and leader. She is just the kind of humble, intelligent, well-spoken, diligent leader we look for in producing Army officers. She is a leader among leaders at UVA and she has truly earned this well-deserved honor as a top cadet nationally in ROTC."
Article Information
October 11, 2016
/content/uva-fourth-year-student-among-nations-top-10-army-rotc-cadets