The University of Virginia's top leaders gathered Wednesday evening at the Boar's Head Resort to honor faculty members from across Grounds for their outstanding contributions to their fields of study and societal impact through their research and scholarly activities.
University of Virginia President Jim Ryan presented the 2019 Research Achievement Awards to 13 UVA faculty members at the dinner event.
"This is the first year of the Research Achievement Awards," Vice President for Research Melur "Ram" Ramasubramanian said. "We believe that as a university, we are what we celebrate. We want to acknowledge the talented UVA faculty who are leaders in their fields and are impacting the world in positive ways."
Provost Elizabeth "Liz" Magill said, "We're delighted to have a chance to celebrate the accomplishments and achievements of our faculty. From education policy to precision medicine to police-community relations, there are many different fields and individuals being honored by these awards."
"I'm awed and immensely grateful for the contributions the award winners have made to their respective fields and to the University of Virginia," Ryan said. "Our strategic plan focuses a good deal of attention on supporting research. ... Our ultimate goal is to make it possible for researchers at UVA to do their very best work."
The awards covered excellence in research, collaboration, mentorship, public impact and innovation.
Research Excellence Awards
Rebecca Pompano, assistant professor of chemistry and biomedical engineering, College of Arts & Sciences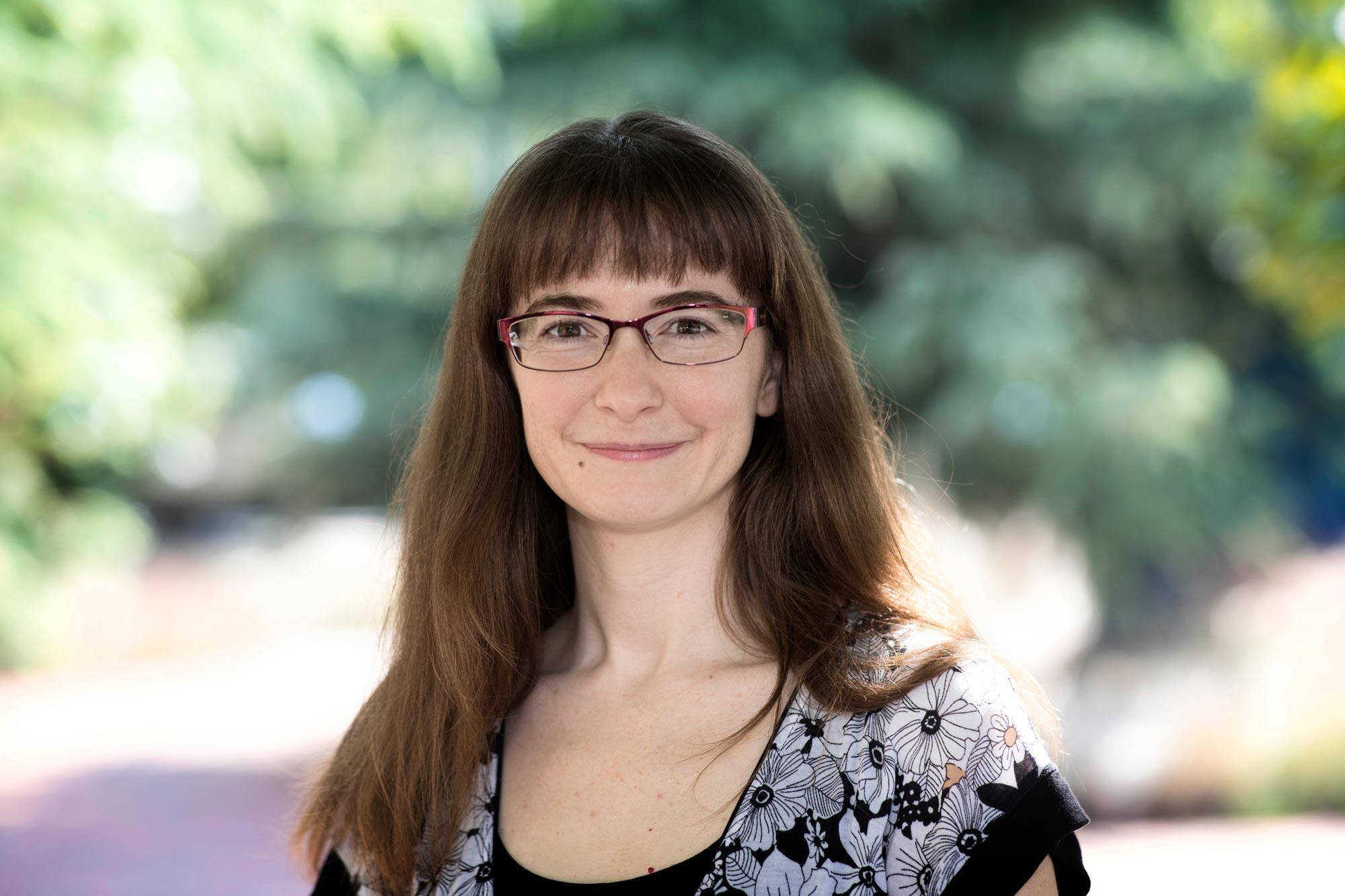 (Photo by Dan Addison, University Communications)
Pompano arrived at UVA in 2014 and assembled a robust research team in her lab. Pursuing new technologies and new questions, she is developing new approaches to study immunity. In the areas of immunoanalysis and immunoenineering, she is working to map out cellular activity in live tissues. Her group was recently awarded a large grant from the National Institutes of Health to develop an artificial lymph node on a microfluidic chip.
"Dr. Pompano chose the road less travelled by pursuing entirely new technologies and questions, rather than the safer route of building on the experiences from her Ph.D. or postdoc work," Jill Venton, chair of the Department of Chemistry, said. "This strategy required spending the first 2.5 years of her professorship laying new groundwork. Dr. Pompano is a research leader in the fields of analytical chemistry and immunoengineering."
Daphna Bassok, associate professor of education and public policy, Curry School of Education and Human Development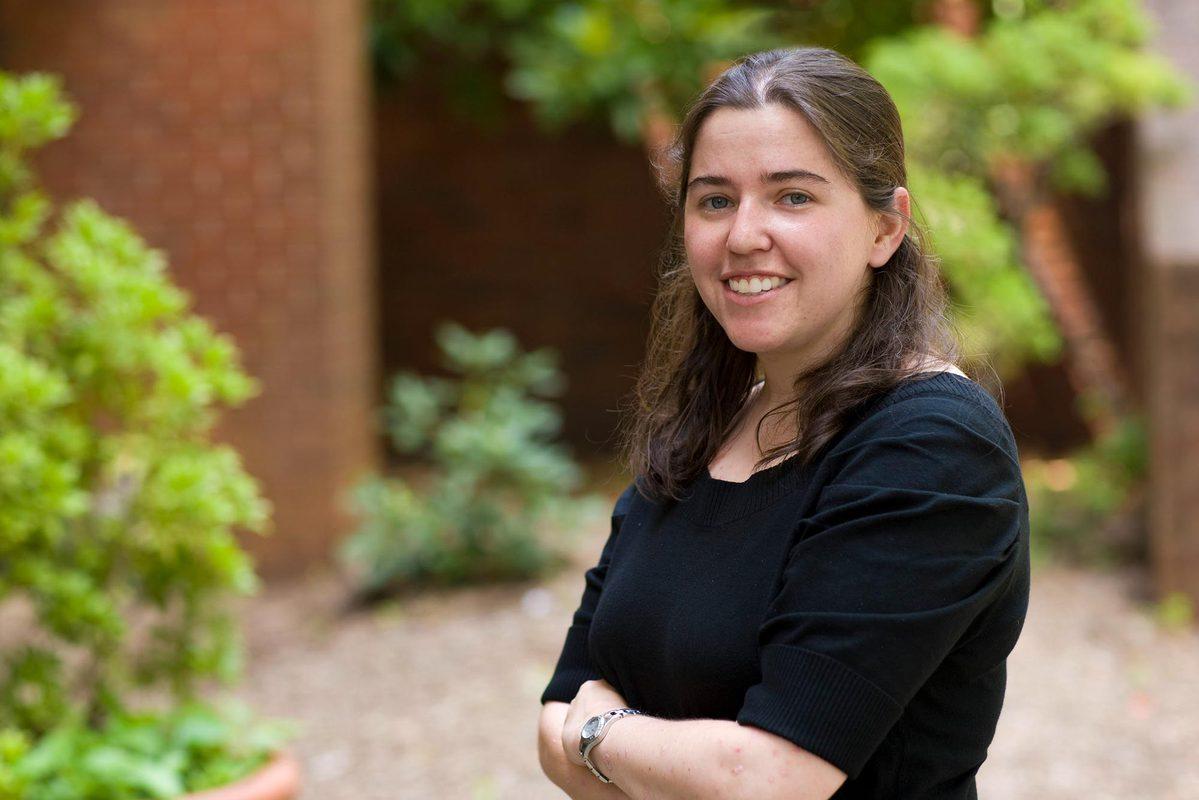 (Photo by Dan Addison, University Communications)
Bassok's work is in early childhood education, and her focus has been to find a way for it to both meet high standards and make a difference in the lives of young children. To do this, she has partnered with policymakers and school districts in Virginia and Louisiana to study how early childhood education opportunities can happen at scale.
In the past four years, her work has accelerated. She has published 16 articles and received more than $6 million in grant funding. In 2017, Bassok was honored with the Presidential Early Career Award for Scientists and Engineers.
"Daphna Bassok has raised the bar for the field and will motivate other scholars to do more insightful and rigorous work," said Katherine Magnuson, director of the University of Wisconsin's Institute for Research on Poverty.
Jeanne Alhusen, associate professor of nursing and acting associate dean for research, School of Nursing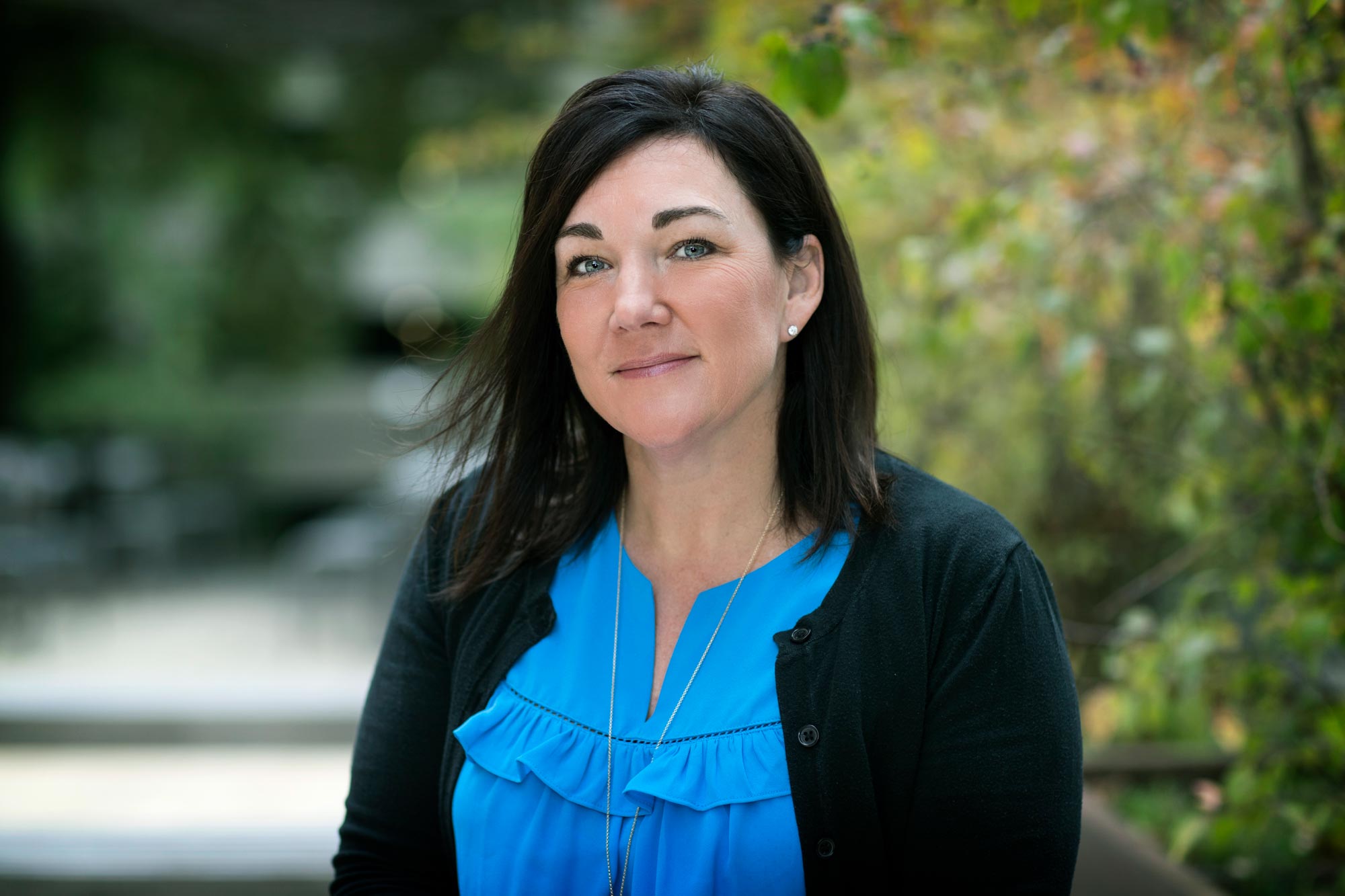 (Photo by Dan Addison, University Communications)
Alhusen's research focuses on improving maternal and early infant health outcomes for disabled women and women living in poverty. Her research has been funded by the National Institutes of Health, the Health Resources and Services Administration and numerous foundations, and the goal of her work is to provide higher quality care to vulnerable populations.
She has received numerous awards for her work, including the Southern Nursing Research Society Early Science Investigator Award; the Association of Women's Health, Obstetric, and Neonatal Nurses Award for Excellence in Research; and School of Nursing's Faculty Research Mentor Award.
Distinguished Researcher Award:
Ken Walsh, professor of research, School of Medicine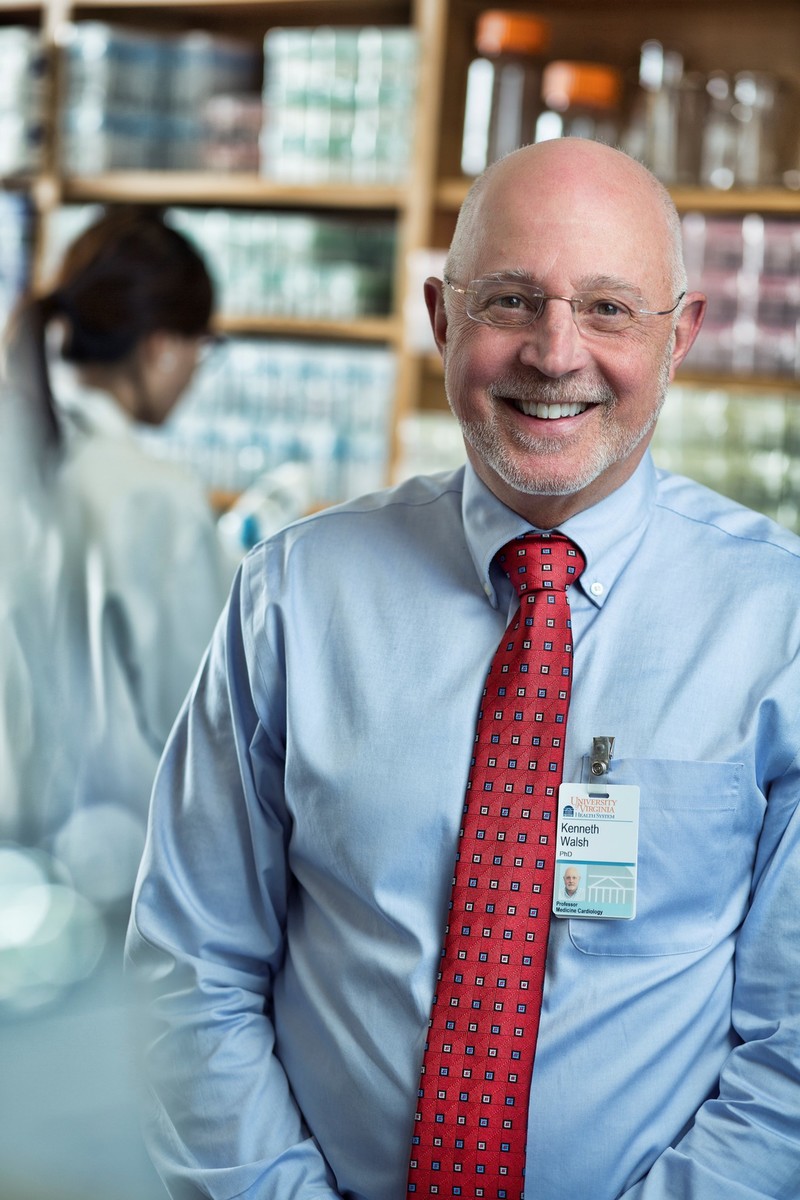 (Photo by Jackson Smith)
Walsh is Lockhart B. McGuire Professor of Internal Medicine and directs the School of Medicine's Hematovascular Biology Center. His research is focused on clonal hematopoiesis of indeterminate potential, or "CHIP."
In his lab, he is looking at how mutations in blood cells lead to chronic diseases like heart attack and stroke. Through precision medicine, he is identifying and combatting the out-of-control multiplying process in these mutations to fight age-related diseases, as well as blood cancers like leukemia.
Walsh has published more than 350 scientific articles and he is the recipient of multiple research grants from the National Institutes of Health, including a MERIT Award. In 2011, the American Heart Association designated him a "Distinguished Scientist" by for his contributions to cardiovascular research.
John R. Scully, professor, School of Engineering and Applied Science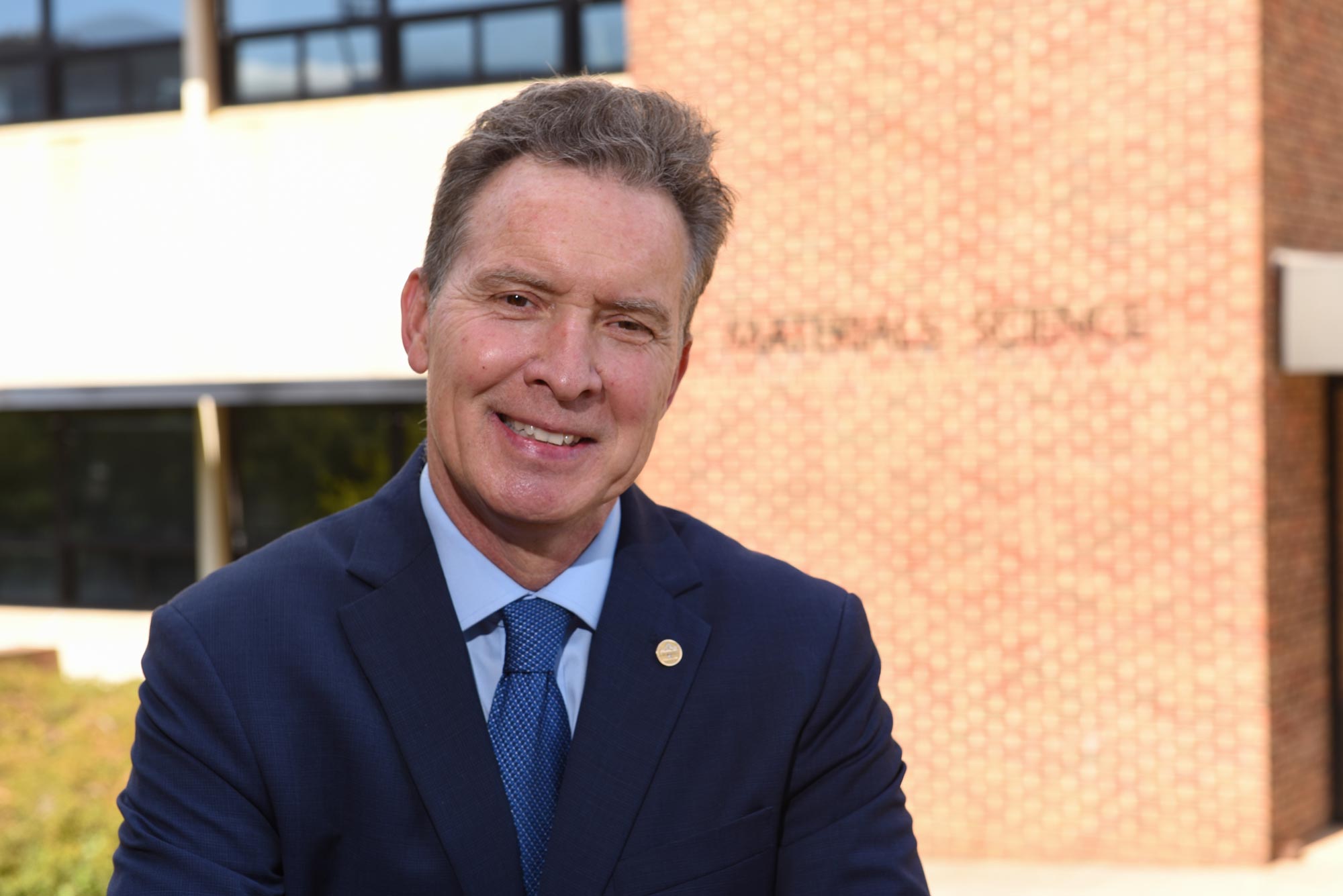 (Photo courtesy School of Engineering and Applied Science)
Throughout his career, Scully's research, scholarship and teaching have focused on the science of how corrosion occurs and the engineering required to prevent it. He has conducted research and collaborated with scientists around the world in numerous industries such as energy, transportation, infrastructure, aerospace, maritime and microelectronics.
His projects include two U.S. Department of Energy "Energy Frontier Research" centers, two Department of Defense multi-university research initiatives, as well as grants from the National Science Foundation, PPG Industries and Axalta (formerly DuPont), and the U.S. Office of the Undersecretary of Defense.
Scully, the Charles Henderson Chaired Professor and chair of the Department of Materials Science and Engineering, also co-directs the Center for Electrochemical Science and Engineering, one of the leading centers in the world focusing on materials degradation. The center has generated more than $30 million in research funding in the last 10 years and graduates on average four to five Ph.D. students per year.
Scully is technical editor in chief of CORROSION, The Journal of Science and Engineering, the premier international research journal for the field. He serves in several capacities as an ambassador for the materials-corrosion field, including several meetings to debrief the U.S. Congress on materials degradation issues of national importance.
"John Scully's contributions to corrosion can be characterized by quality, quantity and longevity," said Gerald S. Frankel, Ohio State University distinguished professor in materials science and engineering and a member of CORROSION's editorial board. "It is clear that he is a world leader, if not the world leader, in metal passivity, passivity breakdown and localized corrosion, and stress corrosion cracking."
James H. Lambert, professor, School of Engineering and Applied Science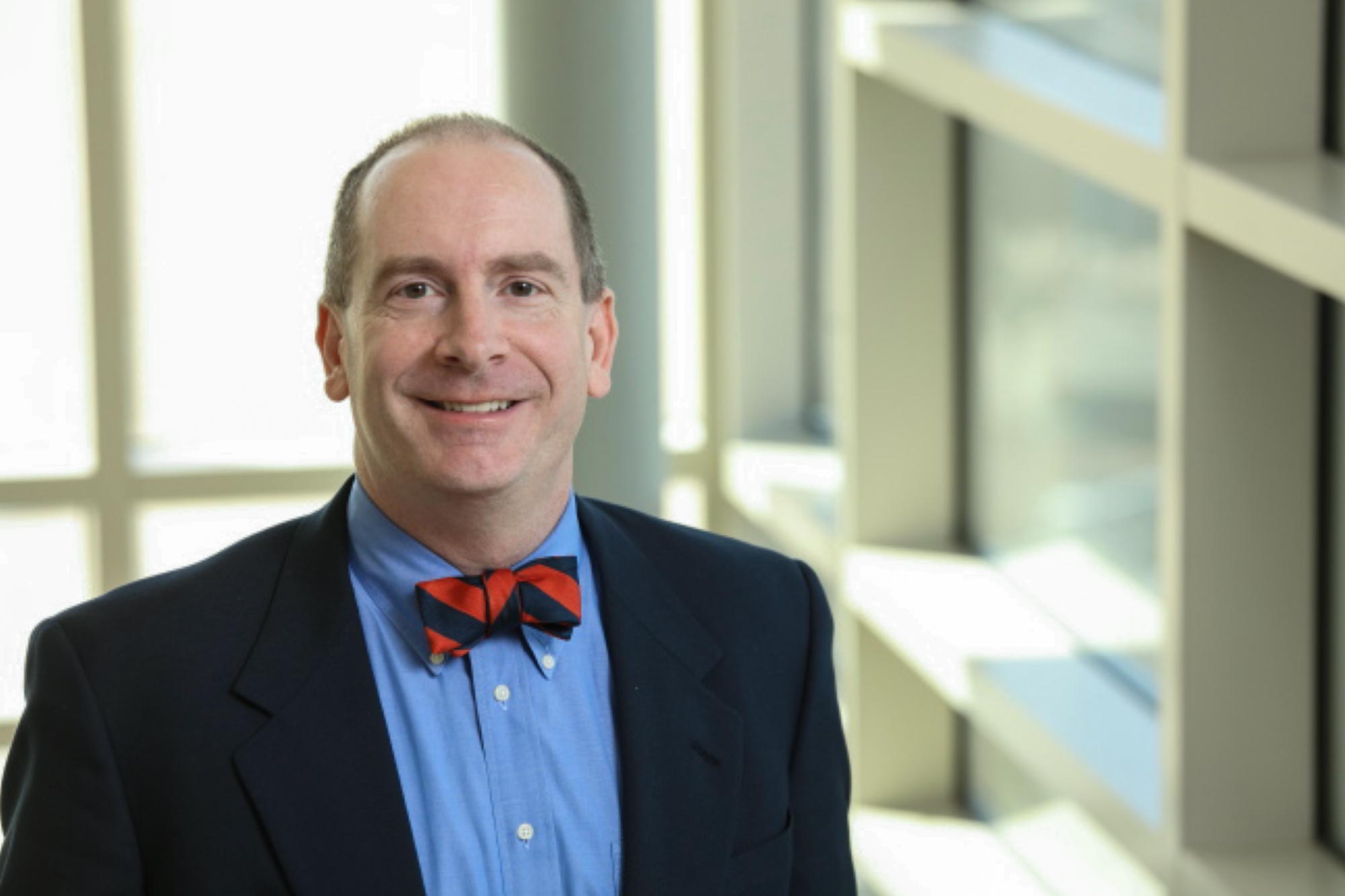 (Photo by Tom Cogill)
In more his more than 20 years at UVA, Lambert has advanced the science of risk analysis and systems engineering. He has led more than 60 projects related to advanced logistics systems for a total of approximately $25 million in research funding.
Lambert, a professor in the Department of Engineering Systems and Environment, has focused on the disruption of system priorities by emergent and future conditions, including technologies, regulations, markets, environments, behaviors and missions. His work has been applied to disaster resilience, energy infrastructure, coastal protection, economic development, transportation, biofuels and Olympics planning, among other challenges.
His research has been cited more than 5,000 times across more than 200 publications. In 2019, he chaired the Fifth World Congress on Risk, convening more than 300 scientists in Cape Town, South Africa.
"Professor Lambert is among the most accomplished and respected scientists of systems engineering and risk analysis in the world today," said Igor Linkov, Risk and Decision Science Team Lead for the U.S. Army Engineer Research and Development Center. Lambert "in his research invented the application of scenario-based preferences in risk analysis."
Research Collaboration Award:
Jessica Connelly, James P. Morris and Tobias Grossman, associate professors of psychology, College and Graduate School of Arts & Sciences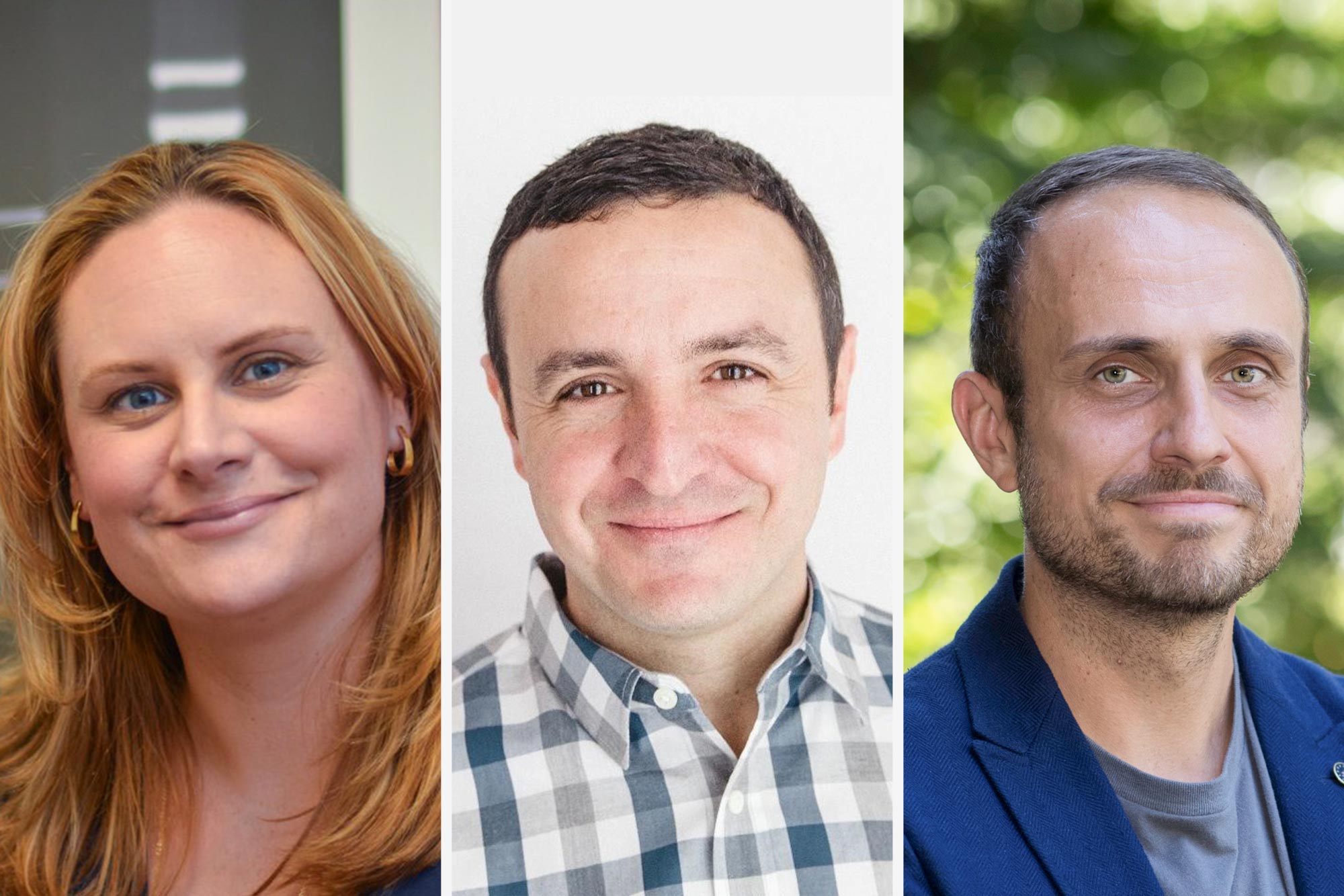 (Photo by Dan Addison, University Communications, contributed photos)
Connelly, Morris and Grossman worked together on a multi-disciplinary project to examine how early life experiences affect the brain and social behaviors. The team studies the brain, as well as social and cognitive development, during the first two years of life, focusing on oxytocin and its role in social behavior. Their research has helped to illuminate gaps in our knowledge about behavioral development in humans, and helps us better understand healthy and atypical development.
They received a National Science Foundation Research Award in 2017 for their cutting-edge approach in combining epigenetic, neuroscience and behavioral methods across their three labs, and their work has led to several publications.
Research Mentor Award:
Sean Moore, associate professor of pediatrics, School of Medicine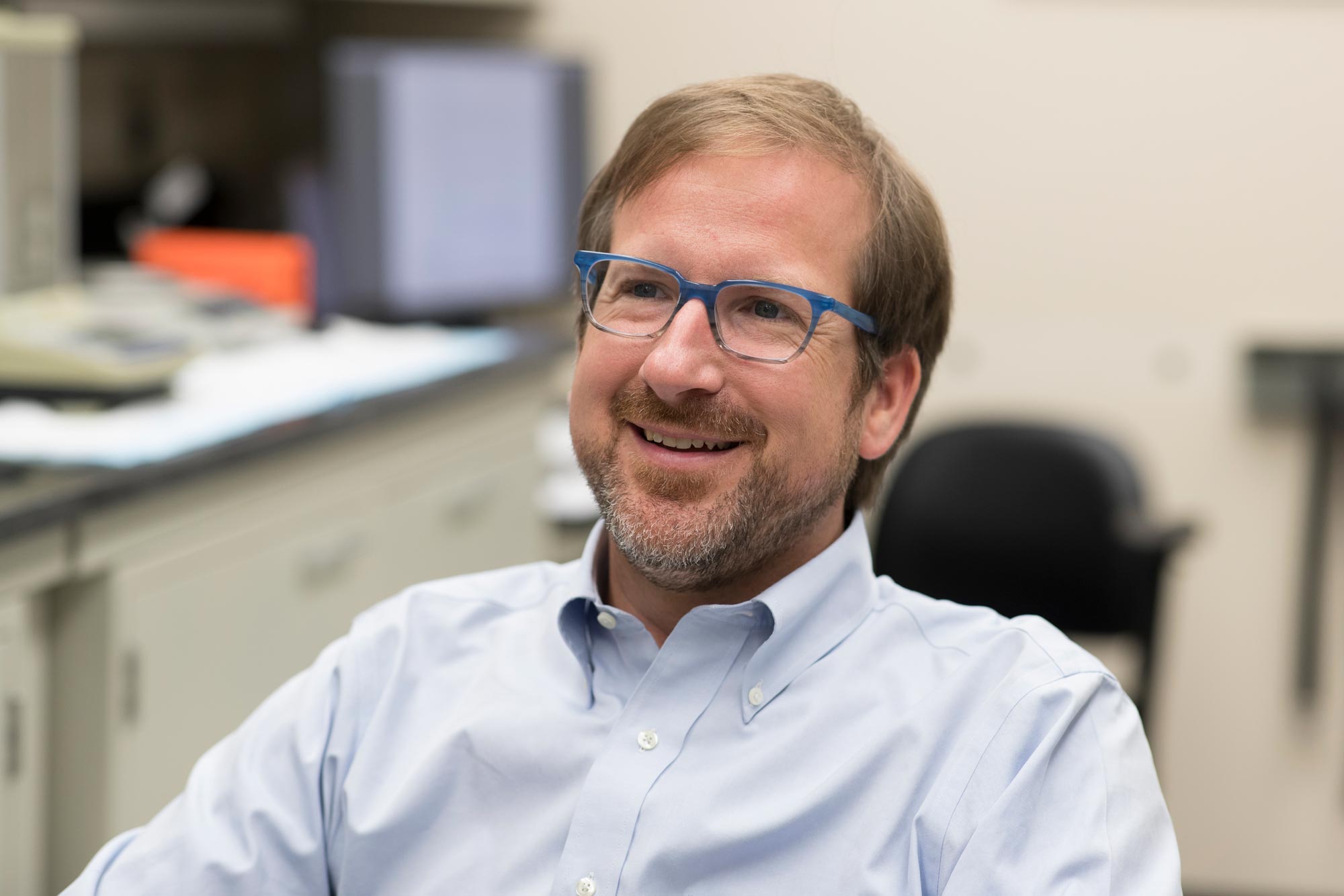 (Photo by Dan Addison, University Communications)
Moore is a busy physician-scientist with his own lab, and has recently become the division chief of Pediatric Gastroenterology, Hepatology, & Nutrition at UVA. He also co-wrote the application for a Trans-University Microbiome Initiative grant, which was funded last year by the University's Strategic Investment Fund in an effort to make UVA a center for microbiome research. But that has not stopped him from repeatedly aiding his colleagues and providing them with key resources when they needed them.
Three colleagues joined forces to nominate Moore for the mentorship award, mentioning his critical support, his generous sponsorship and advice, and his guidance as they dealt with grant applications and the logistics of their first accepted grants. Moore went above and beyond, donating lab space and reaching out to his networks to help them make the connections and give them a leg up in their careers.
Public Impact-Focused Research Award:
Brian Williams, associate professor, Frank Batten School of Leadership and Public Policy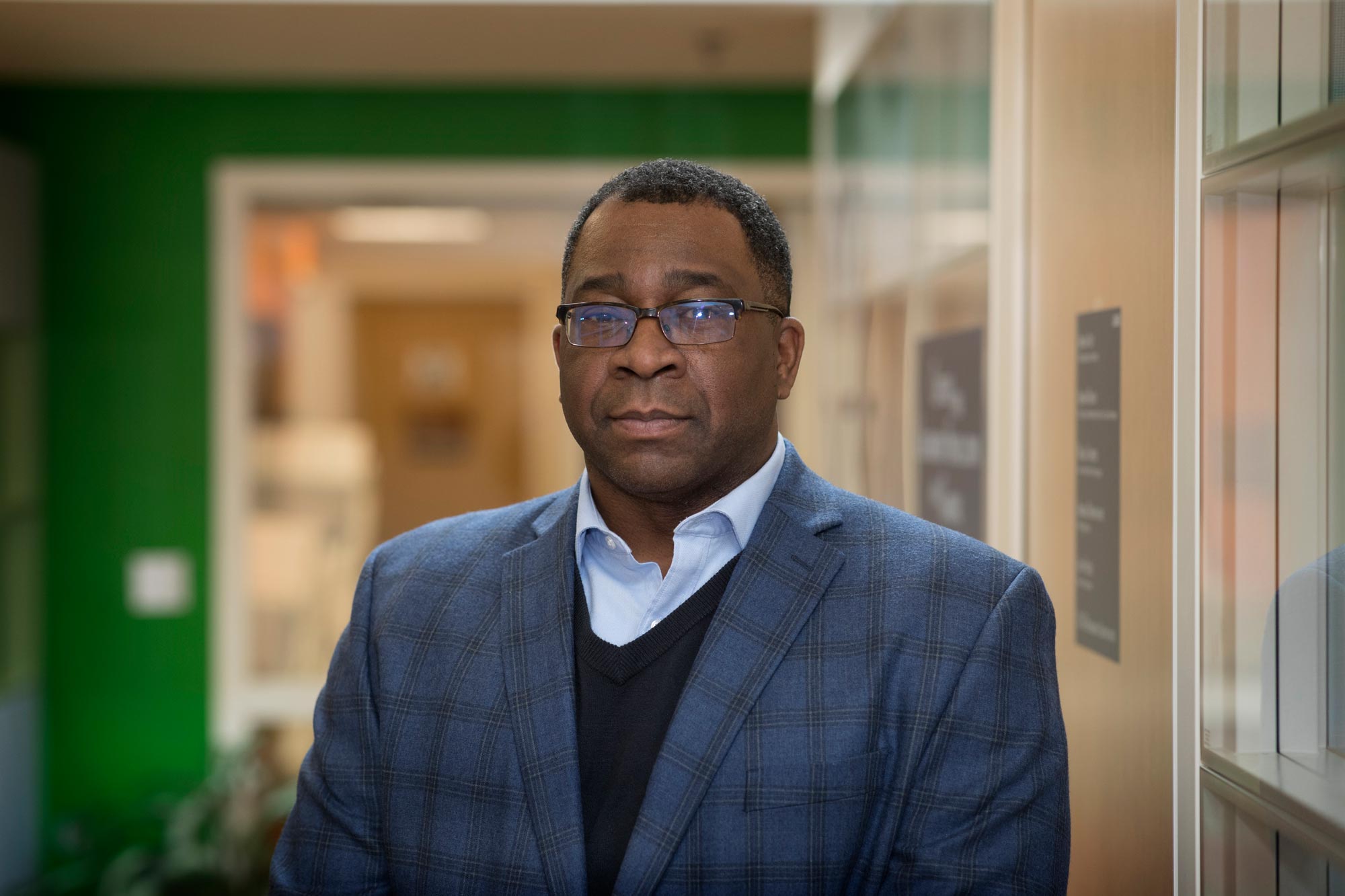 (Photo by Dan Addison, University Communications)
Williams only arrived at Batten two years ago, but after the violent "Unite the Right" rally in Charlottesville in August 2017 he was able to immediately show the value of his research and public service engagement to the University community.
Starting before he came to the University, he has spent two decades doing research in the field on police-community relations around racial profiling, community policing and the need for law enforcement officers to work with their community on issues of public safety. In all his work, he strives to make an impact on communities by building relationships and tackling problems wherever they crop up.
"Dr. Williams consistently uses his knowledge, experience and passion for the good of our city," Mindy Goodall, executive director of the Charlottesville Police Foundation, said. "Charlottesville is fortunate to have gained him as a citizen and champion of police and community reconciliation."
Edlich-Henderson Innovators of the Year
Rebecca Dillingham, director of the Center for Global Health, and Karen Ingersoll, professor, School of Medicine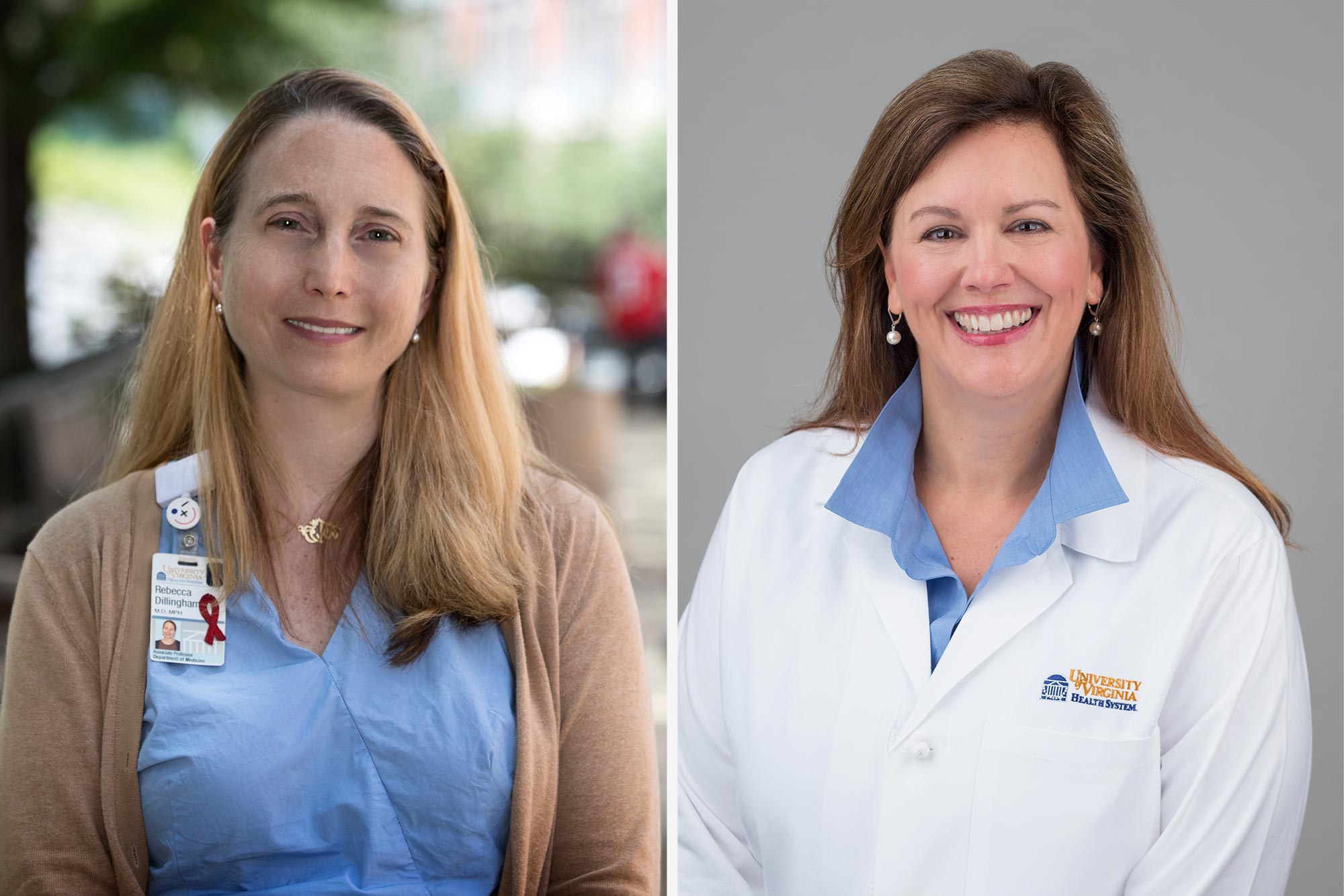 (Photos by Dan Addison, University Commincations, UVA Health)
The award for Innovator of the Year was presented to Dillingham and Ingersoll for their creation of PositiveLinks, an application designed to improve health outcomes and care for people living with HIV. They will give deliver a keynote lecture Feb. 18 in the Rotunda Dome Room.
Other researchers (in alphabetical order by school) were honored for being the top 25 in sponsored funding, top cited, national award winners, named to a national academy, or named as an outstanding researcher for their school:
School of Architecture
Timothy Beatley, Planning
Barbara Brown Wilson, Planning
Mona El Khafif, Urban & Environmental Planning
College and Graduate School of Arts & Sciences
Jessica Connelly, Psychology
Rita F. Dove, English
Kevin Everson, Art
Tobias Grossman, Psychology
L. Ilse Cleeves, Astronomy
Nitya Kallivayalil, Astronomy
Lee M. Lockwood, Economics
James P. Morris, Psychology
Ken Ono, Mathematics
Rebecca R. Pompano, Chemistry
Marilyne Stains, Chemistry
Alan S. Taylor, History
Biocomplexity Institute
Christopher Barrett, Director
McIntire School of Commerce
David G. Mick, Marketing
Curry School of Education and Human Development
Derrick P. Alridge, Leadership, Foundations and Policy
Daphna Bassok, Leadership, Foundations and Policy
Robert Q. Berry, Instruction and Special Education
Catherine Bradshaw, Human Services
Benjamin L. Castleman, Leadership, Foundations and Policy
Nancy L. Deutsch, Youth-Nex
Jason Downer, Human Services
Sara E. Rimm-Kaufman, Leadership, Foundations and Policy
William J. Therrien, Instruction and Special Education
Art Weltman, Kinesiology
Joanna Lee Williams, Leadership, Foundations and Policy
Amada P. Williford, Human Services
School of Engineering and Applied Science
Thomas H. Barker, Biomedical Engineering
Hilary Bart-Smith, Mechanical and Aerospace Engineering
Craig H. Benson, Environmental Engineering
Steven M. Bowers, Electrical and Computer Engineering
James T. Burns, Materials Science
Benton H. Calhoun, Electrical and Computer Engineering
Joe C. Campbell, Electrical and Computer Engineering
George J. Christ, Biomedical Engineering
Jason L. Forman, Center for Applied Biomechanics
Jeffery W. Holmes, Biomedical Engineering
Patrick E. Hopkins, Mechanical and Aerospace Engineering
Kevin A. Janes, Biomedical Engineering
James H. Lambert, Systems and Environment
Xiaodong (Chris) Li, Mechanical and Aerospace Engineering
Pamela M. Norris, Mechanical and Aerospace Engineering
Elizabeth J. Opila, Materials Science
Matthew B. Panzer, Mechanical and Aerospace Engineering
John R. Scully, Materials Science
Kevin Skadron, Computer Science
Mary Lou Soffa, Computer Science
John A. Stankovic, Computer Science
Malathi Veeraraghavan, Electrical and Computer Engineering
Frank Batten School of Leadership and Public Policy
Brian N. Williams, Public Policy
Jay Shimshack, Research Dean
School of Medicine
Jayakrishna Ambati, Ophthalmology
Ruth Bernheim, Public Health Sciences
Alison K. Criss, Microbiology /GIDI
Rebecca Dillingham, Infectious Diseases
Linda R. Duska, Obstetrics/Gynecology Oncology
Anindya Dutta, Biochemistry/Molecular Genetics
W. Jeff Elias, Neurosurgery
Edward H. Egelman, Biochemistry/Molecular Genetics
Robin A. Felder, Clinical Pathology
Eric R. Houpt, Infectious Diseases
Karen Ingersoll, Psychiatry and Neurobehavioral Sciences
Karen C. Johnston, Neurology
Jaideep Kapur, Neurology
Anne K. Kenworthy, Molecular Physics and Biophysics
Jonathan Kipnis, Neuroscience
Robert C. Klesges, Public Health Sciences
Boris P. Kovatchev, Psychiatry and Neurobehavioral Sciences
Thomas P. Loughran, Oncology and Medicine
Coleen A. McNamara, Internal and Cardiovascular Medicine
Wladek Minor, Molecular Physics and Biophysics
Sean R. Moore, Pediatrics
James P. Nataro, Pediatrics
Imre Noth, Internal and Pulmonary Medicine
Mark D. Okusa, Nephrology
Gary K. Owens, Cardiovascular Research, Molecular Physiology and Biological Physics
Kevin A. Pelphrey, Neurology
William A. Petri, Internal Medicine and Infectious Diseases
Kodi S. Ravichandran, Microbiology
Patricio E. Ray, Pediatrics
Stephen S. Rich, Public Health Sciences
Lukas K. Tamm, Molecular Physics and Biophysics
Gregory C. Townsend, Internal Medicine and Infectious Diseases
Kenneth Walsh, Internal and Cardiovascular Medicine
Katharine Hsu Wibberly, Public Health Sciences
Michael C. Wiener, Molecular Physics and Biophysics
Mark Yeager, Molecular Physics and Biophysics
James C. Zimring, Pathology
School of Nursing
Jeanne L. Alhusen, Nursing
Media Contact
Office of the Vice President for Research
Article Information
January 30, 2020
/content/uva-honors-its-leading-researchers-boars-head-banquet