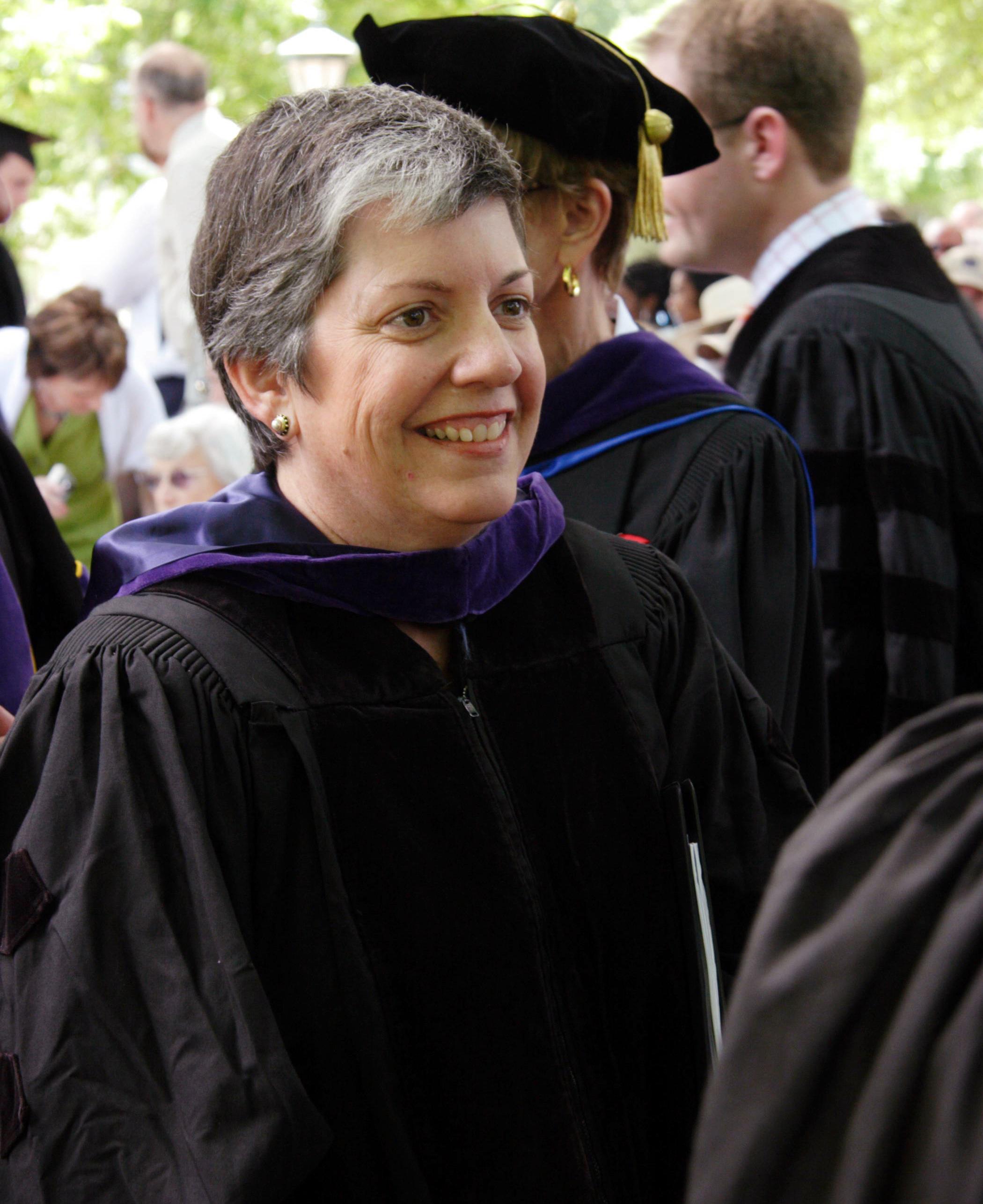 December 1, 2008 — Arizona Gov. Janet Napolitano, a 1983 graduate of the University of Virginia School of Law, has been nominated as the next secretary of the U.S. Department of Homeland Security, a Cabinet-level post. President-elect Barack Obama announced his decision today.
"Governor Napolitano has dedicated her career to public service, fulfilling an ideal that the University of Virginia Law School holds dear," said dean Paul G. Mahoney. "The nation is fortunate that President-elect Obama has chosen to bring her wide-ranging talents to a vitally important position."
Napolitano was chosen by Time magazine in 2005 as one of America's top five governors. She recently concluded her term as the first woman and first Arizonan chosen to chair the National Governors Association, and served as Arizona's first female attorney general prior to her election as governor.
In a 2007 interview with UVA Lawyer magazine, Napolitano stressed the importance of bipartisan governance and said neither party has a monopoly on good ideas.
"It is necessary for us to reach across the aisle to build consensus. In the end, the voters don't care whether you're a 'D' or an 'R' — they want results. What did you do in education, in health care, on job development, to protect the environment? They want to know what you produced besides a fight," she said.
"Excessive partisanship is troublesome because it's an artificial limitation on thinking about what's the best idea. And sometimes the best idea requires a compromise to get any of it done."
Napolitano also spoke at the Law School's 2007 commencement, where she challenged graduating students to make sense of the transformative nature of technology, international law and the rule of law.
"Your job will be to sort out where to alter the law and where to leave it alone," she said. "To know the law is to know how to make this world better through its proper application and to practice law properly is to engage in public service of the highest order. Never forget that being an attorney is not just a job, it is a calling — it is a way of life."
Napolitano was elected governor of Arizona in 2002 and re-elected in 2006. She is the first woman in the nation's history to serve as U.S. attorney, state attorney general and governor in immediate succession.
After Napolitano took office, she erased a billion-dollar deficit without raising taxes or cutting funds for public schools. She made education one of the key issues in her administration, and started a voluntary full-day kindergarten program. She has also reformed the state's Child Protective Services.
Napolitano helped create the Arizona Counter-Terrorism Information Center, a multi-agency intelligence fusion center that tracks and shares critical data. She created a prescription-discount plan for Arizonan seniors and her administration expanded the state's group health insurance plan to include more individuals and small businesses.
Prior to taking elected office, she served for four years as a U.S. attorney for the District of Arizona.
Born in New York City and raised in Albuquerque, N.M., Napolitano is a graduate of Santa Clara University. She has lived in Arizona since 1983, when she moved to Phoenix to clerk for a 9th U.S. Circuit Court of Appeals judge and then practice law.
Napolitano joins several other Law School graduates with high-ranking national security posts. Kip Hawley, a 1980 alumnus, is the director of the Transportation Security Administration. Robert Mueller, a 1973 graduate, is the director of the Federal Bureau of Investigations, and 1989 graduate Patrick Rowan is the assistant attorney general for national security.
Seven Alumni Serving on Obama Transition Team

At least seven U.Va. Law School alumni are serving on Obama's transition team.
Napolitano is serving on the advisory board for the transition, and at least six alumni are serving on agency review teams. According to the Obama-Biden Web site, change.gov, the agency review teams during the transition "will complete a thorough review of key departments, agencies, and commissions of the United States Government, as well as the White House, to provide the President-elect, Vice President-elect, and key advisors with information needed to make strategic policy, budgetary, and personnel decisions prior to the inauguration."
Two alumni serve as team leaders: 1985 alumnus Tom Donilon, a team lead for department of state review; and 1992 alumna Michele Jolin, a team lead on the council of economic advisors.
Other alumni serving the incoming administration as team members are: 1997 graduate Rachana Bhowmik, national security; 1988 graduate Kelley Shawn Coyner, transportation; 1992 alumnus Neil MacBride, justice and civil rights; and 1978 graduate Jonathan B. Sallet, science, technology, space and arts. Biographies of team leaders are available at change.gov.
Also, 1984 alumna Cynthia Hogan has been appointed counsel to Vice President-elect Joe Biden. Hogan has been a legal advisor to Biden for nearly 20 years, first joining his staff in 1991 as his counsel for constitutional law on the U.S. Senate Judiciary Committee, then as staff director and finally as chief counsel, during his tenure as chairman.
See change.gov for more information.
***
This article originally appeared on the School of Law Web site.