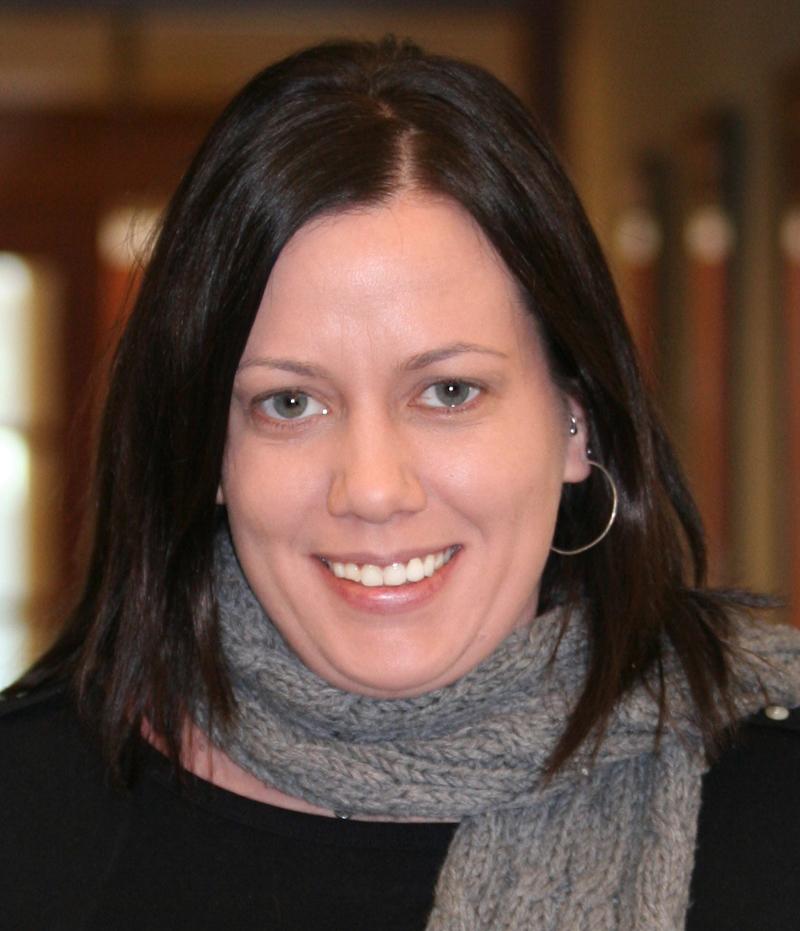 Dec. 20, 2007 — University of Virginia law student Amy Woolard has been named the 2007 recipient of the Law School's Powell Fellowship in Legal Services, an award given each year to a graduating student pursuing a public service career. Woolard will use the fellowship to work for the Legal Aid Justice Center's JustChildren program in Richmond and Petersburg, advocating on behalf of youths in the educational, foster care and juvenile justice systems.
Named for former United States Supreme Court Justice Lewis F. Powell Jr., the Powell Fellowship provides a $35,000 salary for one year, with the expectation of renewal the second year, allowing recipients to work at no cost to a partner public-interest organization. Recipients' loan payments are paid for the duration of the fellowship by the Law School's Virginia Loan Forgiveness Program.
Woolard was thrilled when she got the news on receiving the fellowship. "It seemed impossible," she said. "You design your dream job and then you get it. In a situation where these jobs are so few and far between, it's amazing to be doing the exact thing that you want to be doing."
Woolard is focused on education issues for children who are at risk of entering the juvenile justice system.
"What I really love about JustChildren and the Legal Aid Justice Center is their comprehensive approach to community change," Woolard explained. "It's investing in the community and helping parents become their own advocate that benefits the community as a whole."
JustChildren Legal Director Andy Block, whose staff help teach and supervise the Law School's Child Advocacy Clinic, sponsored Woolard's project and recommended that she work in their Petersburg and Richmond offices.
"We have known Amy since her first summer in law school and have always been impressed with her dedication to this work," he said. "I am confident that Amy's project will have a real and positive impact on the educational opportunities available to children in foster care in the Richmond region. There is a real need for the work she has proposed and we are excited to have her join our team."
Woolard's path to law was circuitous, but grounded in her love for writing. A U.Va. graduate in English, she also earned an M.F.A. in poetry writing from the University of Iowa's famed Writer's Workshop. Later Woolard earned a master's degree in communications at the Adcenter, part of Virginia Commonwealth University's School of Mass Communications. Although she's worked in San Francisco's dot-com industry, Woolard has lived many years in Charlottesville, where she once worked as a restaurant manager and later for SNL Financial's news department.
The camaraderie at SNL sparked long-dormant issues in Woolard's mind. "I began to see how much time I spent thinking about all the problems in the world and how little time I spent actually doing something about it," she said.
Woolard decided to enter law school, where her focus has since remained on public service. She has been actively involved in the Public Interest Law Association, CARE (Child Advocacy, Research and Education), the Domestic Violence Project, and the Conference on Public Service and the Law.
Before she applied for her first summer law job, Woolard sought the advice of her older sister Jennifer, a professor of psychology at Georgetown University, whose own career has involved work with juvenile justice and family issues. She steered Woolard to JustChildren, a program based in the Legal Aid Justice Center's Charlottesville office.
That summer's work changed her direction completely. "I went into the Child Advocacy Clinic right after that," Woolard said. "All the decisions I made regarding law school from then on were focused on the goal of working with kids."
She spent her second summer clerking for the District of Columbia's Juvenile Trial Division of the Public Defender Service.
"I really wanted to see the other end of the 'schoolhouse-to-jailhouse' experience. I wanted to know what these kids thought about how they got there and to look for ways to get them out and back to the other side." Woolard added, "Once they're in, a lot of them are just gone for good."
Although she's turned her career toward law, Woolard sees a place for her creative writing energies as well. "Creative writing tells you to keep looking at things, and if something isn't working, to look at it from another angle." She hopes to conduct writing workshops for kids in foster homes and detention centers as an ancillary project.
— Reported by Ken Reitz