Live musical performances are increasingly rare during COVID-19, as communities strive to find ways to stay positive and engaged during a global pandemic. So, in a new effort, the University of Virginia is offering "Musical Care Packages" to help build community and support a local arts non-profit.
Buyers have two options. They can purchase an in-person, physically distanced performance of a song for $30, half of which will go to the Charlottesville Relief Fund for Artists. The other half will support the student group spearheading the effort, University Records.
The second option is to purchase a virtual performance for $10, which will be emailed as a video link to anyone around the world. 
The feel-good effort is coming out of UVA President Jim Ryan's office. Ryan is a strong proponent of the arts, having commissioned and hosted virtual episodes of "Arts on the Hill," a weekly arts-themed video that debuted in the spring.
"President Ryan challenged members of his staff to come up with new ways to engage in the arts this semester and provide opportunities to strengthen and bring joy to our community," said Matt Weber, a senior assistant to the president. "Partnering with talented student musicians across Grounds – many of whom were already performing through Arts on the Hill – just seemed like a great fit for how music can sustain us through this pandemic."  
This is where Veronica Merril comes in. A fourth-year student who is also a devoted vocalist, Merril is president of the student group that is helping get Musical Care Packages off the ground in concert with the Office of the President.
Merril said she thinks the Musical Care Packages can fill a unique need. "I fundamentally believe that we turn to artists when things get difficult," she said, "and for a lot of students and for a lot of people, this is the most difficult time that they've experienced in their lifetimes. 
"I think that music is something that can bring comfort and peace to anybody who needs that. And so the idea for Musical Care Packages is to connect our community through these live and virtual performances to bring happiness and comfort to anybody who needs it."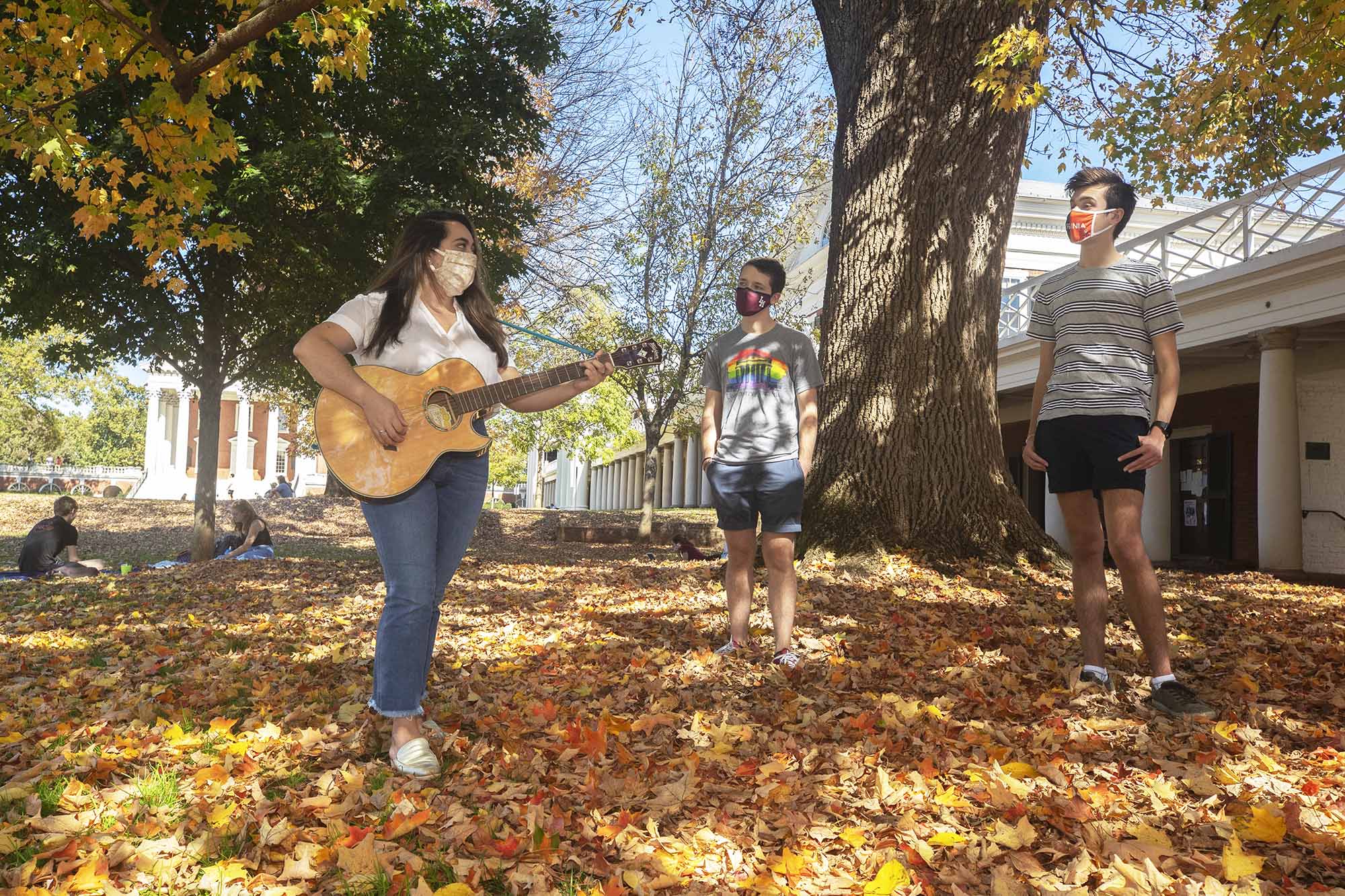 Veronica Merril performs for first-year students Jacob Moore and Lewis Kothmann on a stunning fall day. (Photos by Dan Addison, University Communications)
Merril is also working with Grant Frazier, who is getting his master's degree in public health, to make all of the commissioned performances available to patients on the COVID-19 unit at UVA Health.
Placing an order is easy; just visit the website and order one for anybody in the UVA community or beyond. All of the performances will be solo and in accordance with health guidelines. 
"We have mostly singer-songwriters who can sing pretty much any genre of music," Merril said. "There are also some musicians who just do acoustic guitar, so they can play guitar covers of pieces. We also have a few violinists."
"I'm working on recruiting a tuba player. I think that may be a popular request as tuba solos just feel right for month eight of a pandemic," said Weber, who is also offering up his own musical talents through the program. 
"I told Matt if anyone specifically requests a jazz triangle performance, he has first dibs," Merril said.
Students interested in joining the talent pool as a performer can contact University Records at universityrecordsatuva@gmail.com.
Merril said virtual Musical Care Packages can be ordered until Christmastime, but in-person performances will cease Nov. 24, when students return home for the remainder of the semester.
Article Information
October 23, 2020
/content/uva-offering-new-musical-care-packages-soothe-soul-benefit-arts-nonprofit