This month, the U.S. National Science Foundation announced that researchers in the University of Virginia's Department of Environmental Sciences, along with researchers from 11 other universities and research institutes, will take a leadership role in The Center for Chemical Currencies of a Microbial Planet, or C-CoMP, a virtual center coordinated through an administrative hub based at the Woods Hole Oceanographic Institution in Massachusetts.
The center will support research on the impact of climate change on the Earth's oceans and will promote education and outreach efforts to advance the global competitiveness of the United States in emerging STEM fields as well as inform the public of breakthrough scientific discoveries.
At a time when increased carbon dioxide levels in the atmosphere are causing global temperatures to rise dramatically and are making oceans warmer and more acidic, the center will work to make rapid advances in science's understanding of the microbial, chemical and biological processes that regulate the planet's ocean ecosystems.
The center will also make it possible for researchers and educators from UVA's College and Graduate School of Arts & Sciences, Columbia University, the University of Georgia, the University of Chicago's Marine Biological Laboratory, the Bermuda Institute of Ocean Sciences, Stanford University, Boston College, Ohio State University, the Massachusetts Institute of Technology, Boston University, the University of Texas Rio Grande Valley and the University of Florida to work more closely and communicate more effectively to close gaps in science's understanding of the complex interplay of marine ecosystems at the molecular level.
Scott Doney, a UVA professor of environmental sciences and one of the new center's lead researchers said, "I come from an ocean science background, and one of the really exciting things about the center is that we're bringing together a team of scientists from different disciplines – groups that I normally wouldn't interact with, people who come from systems biology and from molecular biology and bioinformatics. Through the synergies of the new center, the whole is going to be much greater than the sum of the parts."
Gaining a better understanding of the role of organic molecules and microbes in the ocean is critical. Much of the organic carbon derived from photosynthesis on Earth is involved in a rapid cycle in which biologically reactive molecules are released into seawater and converted back into inorganic form by marine bacteria within a matter of a few hours to a few days. Central to this cycle is a network of chemical-microbes connecting the production, release and consumption of dissolved organic molecules. However, the factors controlling this network and its sensitivity to changing ocean conditions are still unknown, which makes it difficult to predict the behavior of marine ecosystems in future climate scenarios.
"If we don't know the resilience of this chemical-microbe network to a changing climate, we're missing a pretty fundamental mechanism in the way the planet works," said Elizabeth Kujawinski, a senior scientist in WHOI's Marine Chemistry & Geochemistry Department, and the director of C-CoMP. "The overarching questions are what are the key molecules within this carbon pool, how quickly do they cycle, and what is the pool's sensitivity to the changing climate. The ocean is already changing, and we don't have time to wait to understand these fundamental questions."
"We are living on a planet that's undergoing rapid change from climate change, pollution and other human factors, and a lot of the decisions we're making are based on assumptions about how the world works, how the ocean works, for example," Doney added. "What we want to avoid are unintended consequences or surprises. We want to have a sense of what's coming, and the center will provide us a much better understanding."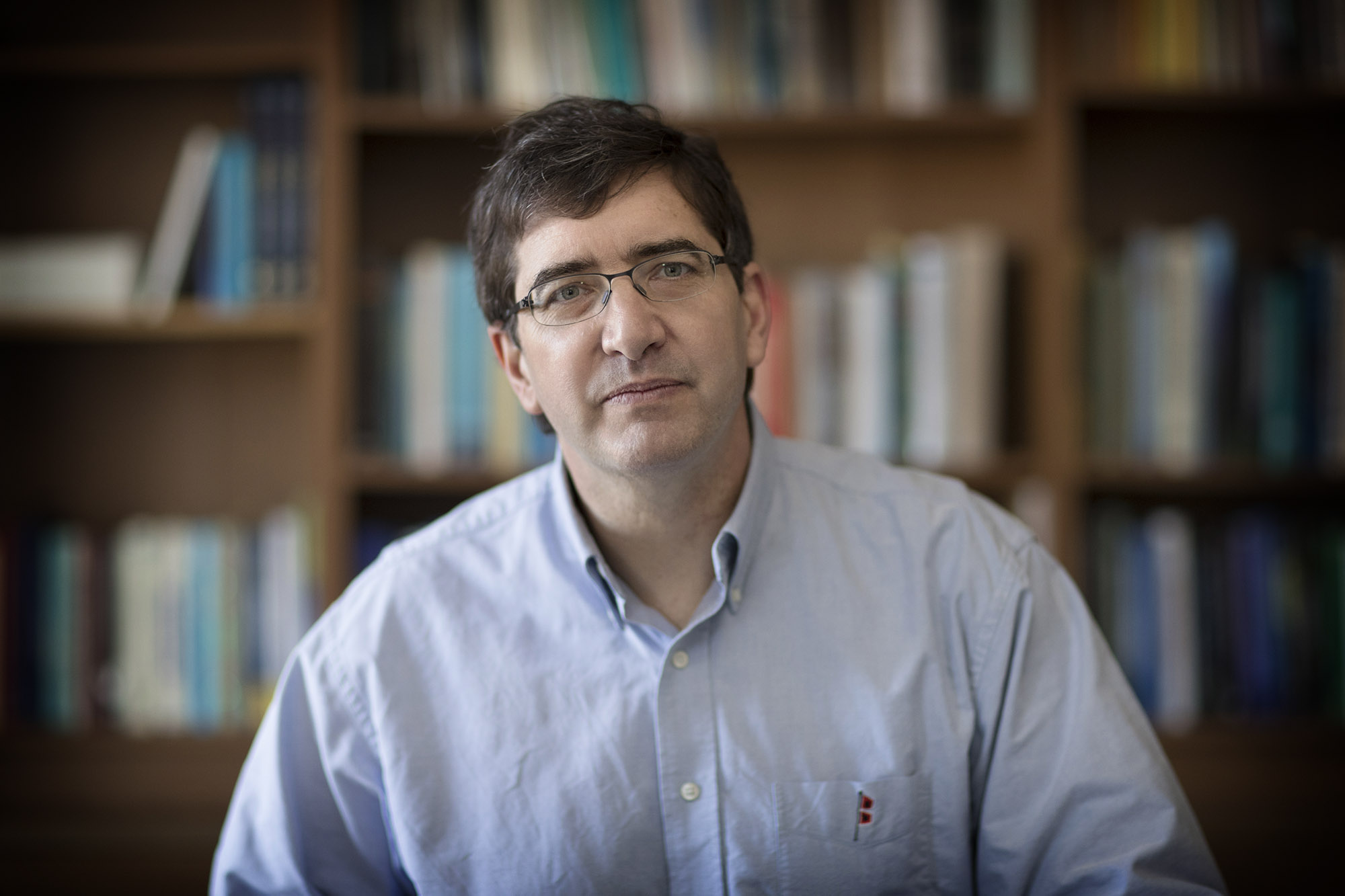 Scott Doney, Joe D. and Helen J. Kington Professor in Environmental Change at UVA, will be a lead researcher for the new NSF-funded Center for Chemical Currencies of a Microbial Planet. (Photo by Dan Addison, University Communications)
Doney's team of researchers and students will play a critical part in the center's work by analyzing remote sensing data and developing and testing models that will help researchers understand what the data is telling them.
"Part of our role in the center is to take what we find out from lab studies and field studies and think about what that means for the world moving forward," Doney said. "Under a warmer climate, under higher temperatures, are these microbes going to consume more organic carbon? Are they going to produce different types of organic carbon molecules? How does that feed up to other marine life that might feed on plankton?"
The work of the center could provide critical answers about the impact climate change has on our oceans and to help make projections about how those changes will affect life on the planet. It will also play a role in bringing greater diversity of views and perspectives to the environmental sciences.
"The center as a whole has a strong commitment to diversity, not just at the graduate level but also in trying to find ways of giving opportunities to undergraduates who wouldn't normally pursue a research path," Doney said.
Funding from the National Science Foundation will create paid internships for students who are considering careers in research and pursuing graduate degrees. It will also support the development of new curricula designed to engage students from a variety of STEM disciplines in the work of the center.
"These are some of the bigger investments that NSF makes to a team, and they're looking to have this be the seed for a larger community," Doney said. "In addition to the existing team members, we're hoping to bring in and catalyze the work of a wider community. We've all been working on our little corner of this problem, but now we're going to be able to look into everybody else's corners and really make a lot of progress."
Howard Epstein, chair of UVA's Department of Environmental Sciences, added, "With the new C-CoMP center, and the participation of Scott Doney, UVA will be in an excellent position to contribute to this important and dynamic area of global research, with broad institutional collaborations, and a focus on diversity and undergraduate opportunities."
Article Information
September 17, 2021
/content/uva-play-leading-role-new-nsf-center-study-ocean-climate-change