The University of Virginia community is joining with state leaders to mourn the loss of Thomas F. Farrell II, who stayed connected to the University he loved for most of his life. Farrell, a former rector and member of the Board of Visitors, died Friday after a long battle with cancer. He was 66.
[Read more about Thomas Farrell's life in the Richmond Times-Dispatch.]
Farrell's association with the University began when he was an undergraduate in the College of Arts & Sciences, receiving an economics degree in 1976. He then attended the School of Law and received a law degree in 1979. Farrell, who retired from his role on the executive board of Dominion Energy the day before his death, served on the Board of Visitors from 2001 to 2009 and was the University's rector from 2005 to 2007.
"I was heartbroken to learn of Tom's passing," University President Jim Ryan said. "He was a true friend and loyal alumnus who selflessly dedicated his time and talent to ensuring UVA's success – whether as rector or as a sports fan. But far more than that, he was a caring person and wise leader, and someone I could count on for counsel or conversation. His extraordinary service and leadership has left a lasting impact on not only the UVA community, but also on the Richmond area, the Commonwealth of Virginia, and beyond. I will always remember his generous, kind and thoughtful spirit, and I extend my deepest condolences to his wife, Anne Garland; his children; and all those whose lives he touched."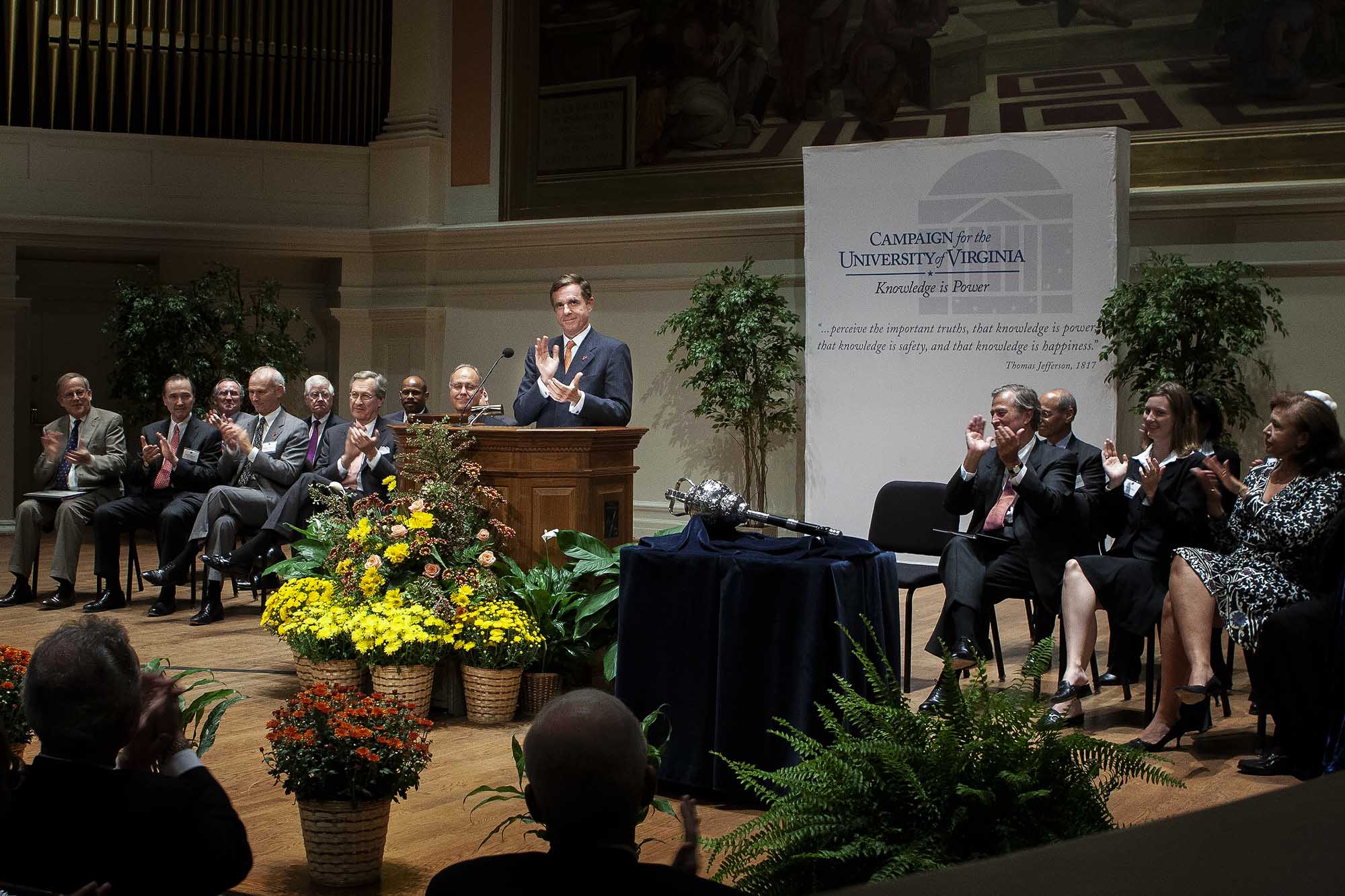 Patricia Lampkin, former vice president and chief student affairs officer at the University, said she will miss Farrell.
"Tom was much more than a rector or member of the board, and I learned early on that I could always count on him for great advice during difficult times because he cared so deeply about the University, the student experience and our students," she said. "He was politically wise, firm in his beliefs and unwavering in his loyalty to his family, his friends and to the University he loved. Despite leadership positions, he worked tirelessly behind the scenes, generous with both his time and his resources."
Lampkin said regardless of titles he had or his power and influence, family was always his first priority.
"To really know Tom was to see him with his family – his late parents, his wife Anne Garland and their sons Peter and Stuart, and more recently his grandchildren," she said. "Tom adored his grandchildren. To see his joy packing their stuffed animals into clear plastic bags so he could carry them into the football stadium for them was to see Tom's heart."
UVA President Emeritus John T. Casteen III, who worked closely with Farrell when he served as rector, said Farrell was "a gentle, solid friend" and "a powerfully capable and strategic CEO."
"As rector here, he led a board that was notable for understanding its many jobs and learned from Tom how to govern without intruding into management. He mentored new talent. He taught colleagues who came into positions of power or authority without prior experience how to lead and at the same time respect," Casteen said. "He understood and taught collegiality. His was a gentle spirit full of the will to serve others. He was a quietly good man."
Former Rector of the University Gordon F. Rainey Jr., an alumnus of both the College and School of Law, led the University's $3 billion capital campaign when Farrell served as rector. "The sudden loss of Tom Farrell is devastating," Rainey said. "He was a remarkable human being, an extraordinary civic and business leader, and as close to irreplaceable in all his endeavors as anyone I have ever had the privilege to call my friend. His commitment and loyalty to his family and friends, to the University and to the commonwealth will be terribly missed by all whose lives he touched."
Whitt Clement, vice rector of the Board of Visitors, said the University community had "lost a great friend and supporter."
"No alumnus demonstrated more loyalty and devotion to the University than Tom – remarkable by any standard, but even more so given his responsibilities as CEO of such a large corporation as Dominion Resources," Clement said.
Carol Wood, former director of communications for the University, came to look on her time with Farrell as a lesson in leadership.
"I remember Tom Farrell as being a thoughtful, fair-minded, quick-witted and efficient leader." Wood said. "While he listened carefully and made note of details, he was never one to prolong a discussion or a meeting. He had a keen legal and financial mind and provided extraordinary guidance to the University's administration on creating financial self-sufficiency when state support was dwindling. He encouraged reimagining what the future might look like in higher education."
Having studied at UVA, Farrell understood the University's importance to the students and their importance to it. 
"What I also remember about his tenure was his deep respect for the student experience," Wood said. "He seemed to understand its importance to the overall success of the University more than most. In fact, I think he thought it the key to what made the University different from other institutions. So aside from his responsibilities to the board and the University writ large, Tom took a deep dive into Student Affairs, getting to know its leaders, but also getting to know students and learning what made them tick. As a father of two University students, he made it seem like an easy extension of his 'University job.'" 
Wood said she considered Farrell an exceptional leader, deeply embedded in the University community. "I believe it was part of what defined him," she said. 
Article Information
April 5, 2021
/content/uva-remembers-former-rector-thomas-farrell