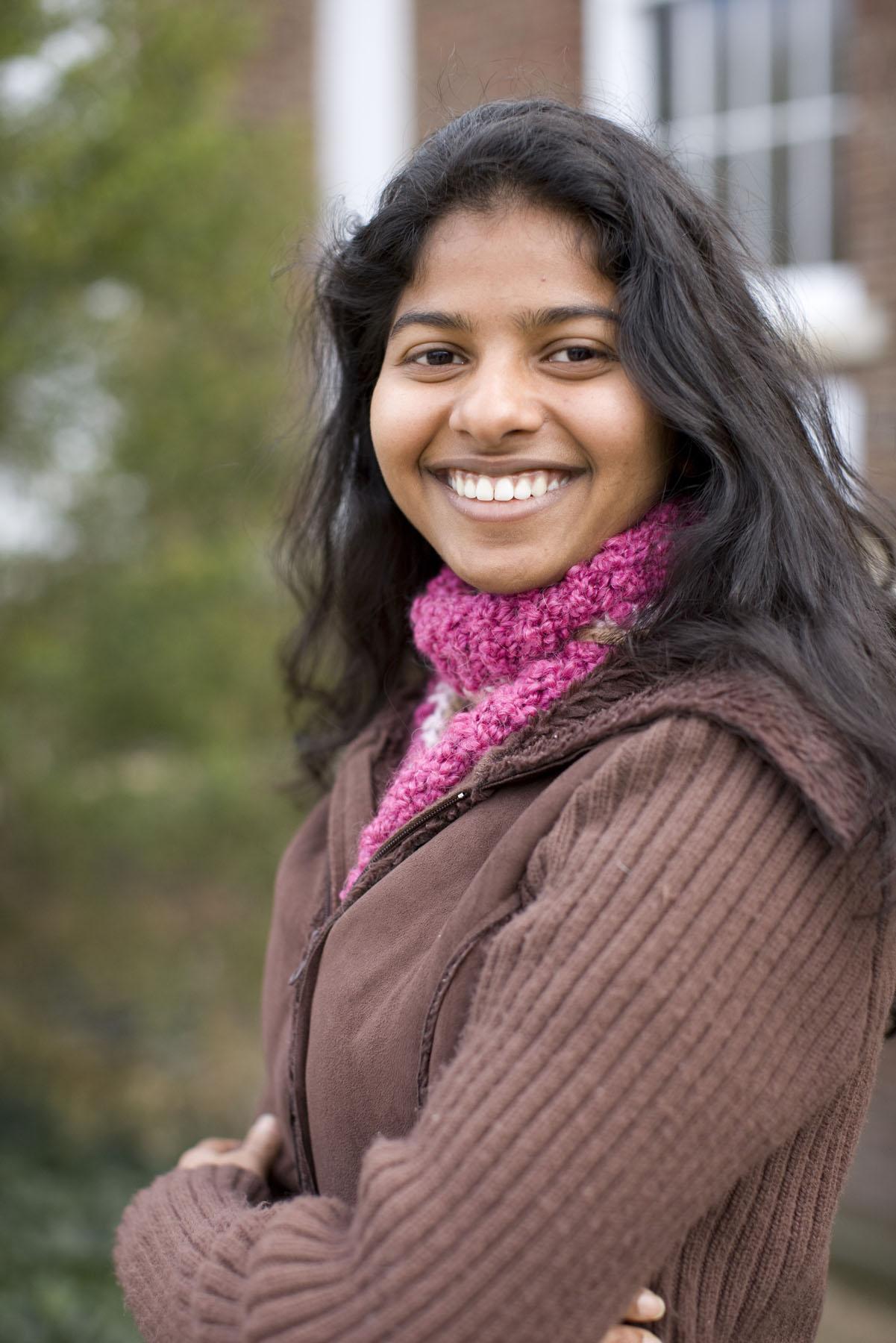 April 9, 2009 — Thushara Gunda, an environmental sciences major at the University of Virginia, has received a 2009 Udall Scholarship to support her research into in hydrogeological sciences.
The scholarship, given by the Morris K. Udall Foundation in honor of the late Arizona congressman, provides up to $5,000 for one year. Gunda was among 80 winners selected by an independent review committee based on their commitment to careers in the environment, health care or tribal public policy, leadership potential and academic achievement.
"My immediate reaction was one of disbelief," Gunda said. "I honestly didn't think I heard correctly."
Gunda, 21, daughter of Sailaja and Sankara Gunda of Alexandria, Va., has completed a minor in mathematics, another in dance, and is also seeking a degree in environmental thought and practice.
"U.Va. has never had a student like Thushara," said Janet Herman, a professor and director of the Distinguished Majors Program in the Department of Environmental Sciences. "She is unequaled in her ability to understand the science. She gets it – all of it. She so easily goes beyond what she is being taught because she sees the complexity in diverse topics."
Gunda said she developed an interest in the environmental sciences during her first semester at U.Va. because it seemed the perfect blend of hard science with direct implications for the surrounding world.
"It also struck me as one of few fields that was constantly aware of the natural world around us, an appreciation for which I had always had since my childhood," Gunda said.
Her career ambition is to earn a Ph.D. in hydrogeological sciences and conduct research, but she plans to join the Peace Corps after graduating. She said she also wants to pursue a joint law and master's of science graduate program.
"She's a star, there's no question about it," said hydrology professor Todd Scanlon, in whose lab group Gunda works. "She is very interested in combining science and policy. I can see her running the Environmental Protection Agency some day. She is bright and motivated and she has the rare combination of being very good in the classroom and a leader outside it. "
In Scanlon's laboratory, Gunda focuses on mercury levels left in the soil from burning coal.
Herman said Gunda has a three-dimensional view of problems. "She understands the economics of coal burning, the political pressure of the miners' unions and the lobbying in Congress," she said. "She's a third-year student and she is working on things with which Ph.D. students struggle."
Gunda is the chapter coordinator for the Hindu Students Council and a member of the Arts & Sciences Council. She has also received a Harrison Undergraduate Research Grant, with which she will study the effect of the distribution of mercury within the Shenandoah National Park this summer.
Herman praised Gunda for maintaining a 4.0 grade-point average while completing several minors and majors. She also admired Gunda's public service, such as leading a group to New Orleans to remove invasive species and working with Facilities Management to determine the University's carbon footprint.
"She will give of herself in order to improve things for other people," Herman said. "She sees science in connection to things in society and she will be a leader because she is able to do things."
Gunda thinks her approach to the environment fits well with Udall's legacy.
"I was particularly impressed with Rep. Udall's efforts in effectively balancing the seemingly conflicting demands of preservation and development in the Alaska National Interest Lands Conservation Act," Gunda said. "I sincerely hope that my future research will, at the least, contribute to the development of legislation that is similarly well-rounded in its basis on both scientific knowledge and economic principles."
The Morris K. Udall Scholarship and Excellence in National Environmental Policy Foundation was authorized by Congress in 1992 to honor Udall's legacy of public service. The foundation is supported by a trust fund in the U.S. Treasury and contributions from the private sector.
— By Matt Kelly