Like many of her peers, third-year University of Virginia student Rachana Subbanna found herself isolated at home this summer, facing a pandemic that eliminated many of her normal summer plans and even made it hard to help others.
"I felt helpless," she said. "I wanted to find ways to help out, but so many things felt unsafe, or like I might put others at risk."
That's when she heard about a nonprofit, called TeleHealth Access for Seniors, started by students at Yale University. In just a few months, the organization has recruited more than 210 volunteers – mostly college students – to collect and donate devices to seniors and lower-income communities. So far, they have donated more than 915 devices across 26 states.
The goal is threefold: to improve access to telemedicine, to help isolated citizens connect with family and friends through technology, and to provide tech support for anyone struggling to use the donated devices. Students have created streamlined user guides for different devices and volunteer to provide free tech support over phone or email.
"We know older and low-income patients are particularly vulnerable to this virus and to chronic medical conditions," volunteer and UVA third-year student Anika Iyer said. "By giving them an opportunity to access telemedicine, we can help them get the care they need while avoiding going into a doctor's office, where they might be exposed to the virus."
Iyer, Subbanna and third-year student Tanvi Nallanagula, who are all studying cognitive science at UVA, are leading an effort to donate devices to the Charlottesville Free Clinic, which provides free medical care to more than 2,600 uninsured and underinsured members of the community. The clinic was founded by Drs. Mohan Nadkarni and Paul DeMarco during their residencies at UVA; UVA Darden School of Business alumna Colleen Keller currently serves as executive director, and many UVA doctors, nurses and students volunteer their time there.
Clinic leaders told the students they would initially need about 25 devices to serve local patients lacking access to telemedicine, primarily patients age 18 to 64 who do not qualify for Medicaid but cannot afford health insurance.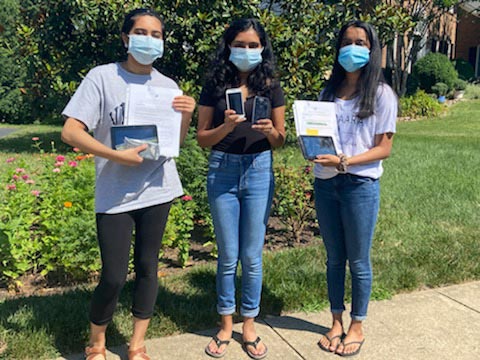 Left to right, UVA students Anika Iyer, Rachana Subbanna and Tanvi Nallanagula dropped off devices at the Charlottesville Free Clinic over the weekend. (Contributed photo)
The students delivered the devices last week, including both lightly used devices donated by friends, family and businesses, and new devices purchased with monetary donations. All devices had been sanitized.
Director of Medical Clinic Operations Meghan Hinger said the devices will provide immediate, tangible relief for patients who previously had trouble accessing telehealth services.
"The partnership between the Charlottesville Free Clinic and TeleHealth Access for Seniors will allow us to help our patients participate in video visits with their Free Clinic medical provider," she said. "This is invaluable, as 91% of our medical clinic visits were completed remotely from March to May."
Iyer, Subbanna and Nallanagula plan to continue collecting devices for the rest of the pandemic, and hope to reach out to news organizations, businesses and companies to expand their reach and encourage both equipment and monetary donations.
"Many people have found it easier to donate money, which also allows us to purchase chargers and other necessary accessories," Nallanagula said.
Putting devices in the hands of those who need them has been rewarding, the students said.
"It's a mission that, especially right now, is really easy to connect to," Nallanagula said. "Personally, it's hard for me to imagine going through this time without being able to contact friends and family over videocall or phone, and I worry about seniors who live alone, unable to see the people they usually have contact with. It's a mental health issue as well as a physical one."
Iyer agreed.
"I hope more and more people will get involved, because this something that is not difficult to contribute to, and the reward is just so great," she said. "We can make a big impact just by reaching out to our friends and communities, and I know that motivates me and a lot of our volunteers."
You can find more information about donating and volunteering here.
Media Contact
Article Information
July 13, 2020
/content/uva-students-mobilize-help-patients-need-connect-telehealth-resources